Valorant is a great game, but that doesn't mean its perfect. As with all games, players are bound to run into a few error codes along the way. In Valorant, there are a total of 59 error codes. Most of these codes have been addressed since the open beta back in April 2020. However, there is one that still finds its way in the game. This time players are suffering from error code 39
Players may have come across the error code 39 in Valorant when trying to play the game. Let's find out more about what exactly is error code 39 in Valorant and what it means.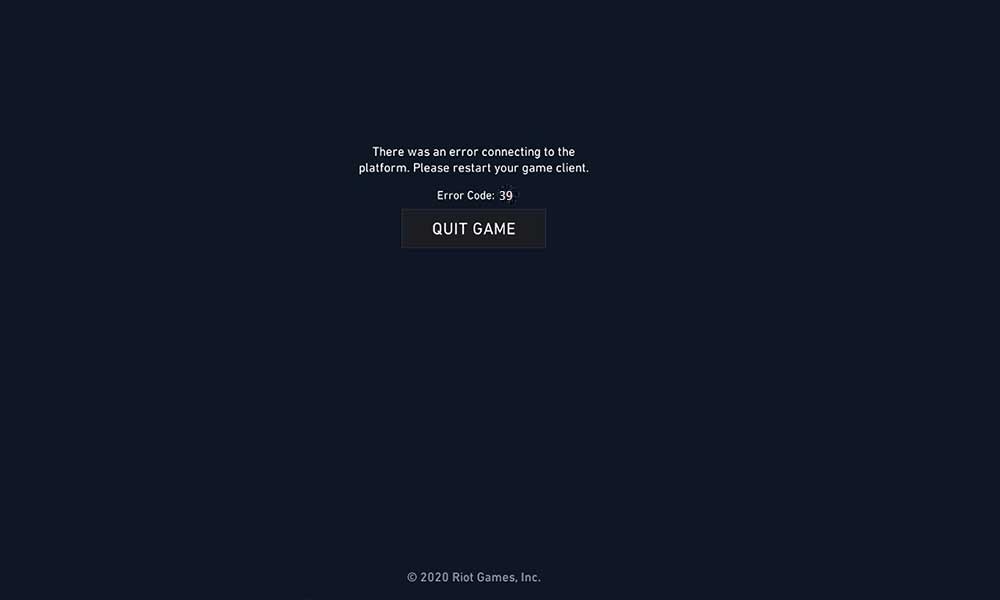 How to Fix Valorant Error Code 39
Error code 39 appears in Valorant due to issues within the game's servers. This means that players do not have to worry about it being related to errors with their system, rather it could imply that the Valorant game servers are undergoing some maintenance.
Most of the time, along with the code, the following message will follow suit "There was an error connecting to the platform." So the next obvious question is, how can I fix this? Check out the solutions below.
Fix 1 – Network Hardware
In certain cases, there might be a glitch in the network connection, and by restarting the router might help clear the error code 39 in Valorant. It can be due to a failure in establishing a stable connection with the Valorant servers.
Here's all you need to know with how to restart your network router:
Remove all plugs from the router or modem.

If the lights are still on, there might be an internal battery. Remove that as well.

Once the lights are off, wait for 30 seconds.
Replug all the cables and wait till the lights are stable
This should help clear the error code 39 in Valorant. If you are still facing this issue, please try out the next solution.
Fix 2 – Server Status Check
When you encounter the error code 39 in Valorant, the first thing to do is to check the status of the game's server. If the servers are currently undergoing maintenance, it can be the cause of this error. To check the server status, head over to the official Riot Games server status site and click on 'Valorant' from the list of games.
From the list, there will be a scheduled time and date for the maintenance, if there is any. In such cases, there is nothing that can be done to fix this issue. The only solution is to wait it out and check again after some time.
In case you are wondering if this error code is limited to particular users, you're wrong. Everyone trying to access Valorant will also face this issue.
In case, that there is no actual maintenance scheduled when checking the server status. Please try the next solution.
Fix 3 – System Restore
If the game servers are up and running and you are still encountering the error 39 code in Valorant, it means there is an issue with your system. The majority of players have reported that restoring the system to a previous stable condition clears out the issue.
Here's all you need to know with, how to restore your system:
Select Windows key + I to open Settings.
From the list, select Update & Security
Select View Update History
Click on the Uninstall Updates link from the windows.
Select the Update to be removed
Click uninstall and follow the instructions.
This concludes our guide on fixing Valorant Error Code 39. If you liked this, do remember to check our other Windows Guides, Gaming Guides, Social Media, iPhone Guides, and Android Guides to read more. If you have any doubts or feedback, comment down with your name along with the email ID, and we will reply shortly. Also, subscribe to our YouTube Channel for awesome videos related to Android and Gaming. Thank you.