Today we will list all the official and unofficial Supported TWRP Recovery for Huawei devices. TWRP or Team Win Recovery Project is considered to be one of the important contributions of the active developer community that Android has. This open-source custom recovery is in wide usage around the world. The touchscreen-enabled and easy-to-use interface is the important thing that made them so popular. TWRP recovery helps to install Custom ROM, Kernel, Mods, Root, or even back up and restore any ROM. Although there are many other custom recovery tools available for Android, TWRP stays at the top due to many reasons.
Although the Android operating system is easy to use, the recovery modes of these devices are always something that looked strange. The disabling of the touchscreen is a big issue faced by a lot of people. A common user can see this as something strange and dangerous to use. In addition to this, the stock recovery of Android comes with a few options for users. So a lot of Android users wherein searched for something better for a long time. This is where the importance of third-party recoveries came up among Android users. And TWRP recovery is a true leader on this list.
TWRP custom recovery is something that solves all the issues faced by users with the Android stock recovery. At the first the interface of the TWRP is touch-enabled. This makes TWRP much easier to use than the stock recovery available on Android devices. Secondly, TWRP comes with a lot of additional features which is not included in the stock recovery. So TWRP at the same time solves the issue of confusing interface and lesser options at the same time. Read through to find out the whole list of supported TWRP recovery for Huawei devices.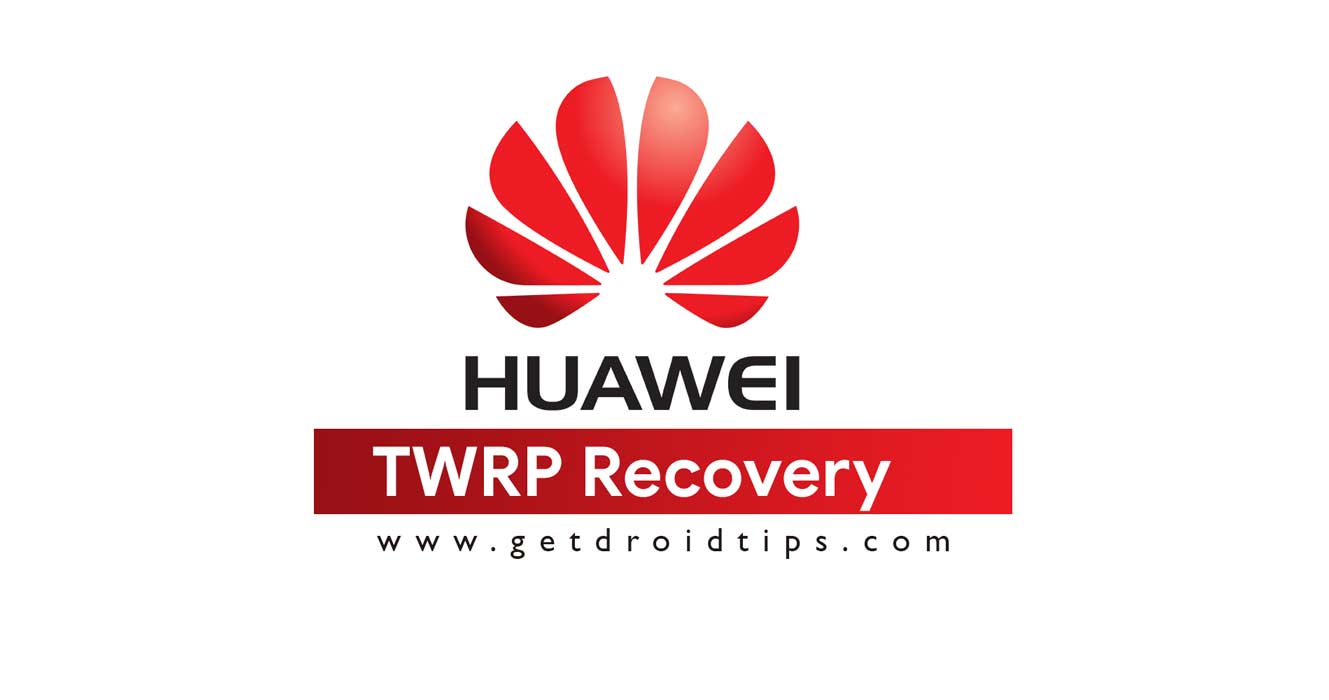 What is TWRP Recovery:
TWRP stands for TeamWin Recovery Project is a fully touch-based and open-source custom recovery for Android devices. It is the best custom recovery after ClockworkMod (aka CWM). Unlike Stock Recovery, TWRP helps to install Custom ROM, Kernel, Mods, or even root any Android devices in just a few simple steps.
[su_quote cite=" Wikipedia" url="https://en.wikipedia.org/wiki/TWRP"]Team Win Recovery Project (TWRP) is an open-source software custom recovery image for Android-based devices. It provides a touchscreen-enabled interface that allows users to install third-party firmware and back up the current system, functions often unsupported by stock recovery images. It is, therefore, often installed when rooting Android devices, although it isn't dependent on a device being rooted to be installed.[/su_quote]
Advantages of TWRP Recovery:
You can flash Custom ROM with TWRP Recovery
You can flash modding zip files to customize your phone
Easy to use Xposed Modules
Easy to Root and Unroot using TWRP Recovery flashable zip SuperSU
Easy to Create and Restore Nandroid Backup using TWRP Recovery.
Easy access to restore the Nandroid Backup.
You can flash the image file using TWRP Recovery.
Can remove all bloatware using TWRP Recovery.
To underclock and overclock.
You can clean Wipe, Cache, and Data.
List of All Supported TWRP Recovery for Huawei Devices
Here we have listed all the supported Huawei devices on which you can install TWRP Recovery. With each link, we have included the guide on How to install the TWRP Recovery. So read the step-by-step carefully.
Before doing the methods, I just want to warn you that, By doing this you will loose the warranty and sometime if you don't read the steps and do something wrong can brick your device.
[su_note note_color="#faf8e8″]Make sure you have followed the steps properly. Don't Skip and Read! – GetDroidTips or Staff editor are not responsible for any damage. Take your own risk.[/su_note]
TWRP Recovery For Huawei P Series:
| | |
| --- | --- |
| Device Name | Download Link |
| Huawei P Smart | Download Link |
| Huawei P Smart Plus | Download Link |
| Huawei P Smart 2019 | Download Link |
| Huawei P20 | Download Link |
| Huawei P20 Pro | Download Link |
| Huawei P20 Lite | Download Link |
| Huawei P9 Lite | Download Link |
| Huawei P8 Lite 2017 | Download Link |
| Huawei P9 Lite Smart | Download Link |
| Huawei P9 Lite Mini | Download Link |
| Huawei P10 Lite | Download Link |
| Huawei P9 Plus | Download Link |
| Huawei P9 | Download Link |
| Huawei P8 | Download Link |
| Huawei P8 Lite | Download Link |
| Huawei P10 Plus | Download Link |
| Huawei P10 | Download Link |
| Huawei P20 Lite 2019 | Coming Soon |
| Huawei P Smart Z | Coming Soon |
| Huawei P30 | Coming Soon |
| Huawei P30 Pro | Coming Soon |
| Huawei P30 Lite | Coming Soon |
| Huawei P10 (VTR) | Download Link |
| Huawei P30 Lite New Edition | Coming Soon |
| Huawei P Smart Pro | Coming Soon |
| Huawei P Smart 2020 | Coming Soon |
| Huawei P Smart Plus 2019 | Coming Soon |
| Huawei P50 Pocket | Coming Soon |
| Huawei P50 Pro | Coming Soon |
| Huawei P50 | Coming Soon |
TWRP Recovery For Huawei Nova Series:
| | |
| --- | --- |
| Device Name | Download Link |
| Huawei Nova 5 Pro | Coming Soon |
| Huawei Nova 5i | Coming Soon |
| Huawei Nova 5 | Coming Soon |
| Huawei Nova 4 | Coming Soon |
| Huawei Nova 4e | Coming Soon |
| Huawei Nova 3 | Download Link |
| Huawei Nova 3i | Download Link |
| Huawei Nova 3e | Download Link |
| Huawei Nova 2i | Download Link |
| Huawei Nova 2 Plus | Download Link |
| Huawei Nova 2s | Download Link |
| Huawei Nova 2 | Download Link |
| Huawei Nova | Download Link |
| Huawei Nova Plus | Download Link |
| Huawei Nova Smart | Download Link |
| Huawei Nova (hwcan) | Download Link |
| Huawei Nova 7i | Coming Soon |
| Huawei Nova 6 SE | Coming Soon |
| Huawei Nova 6 | Coming Soon |
| Huawei Nova 6 5G | Coming Soon |
| Huawei Nova 5z | Coming Soon |
| Huawei Nova 5i Pro | Coming Soon |
| Huawei Nova 5T Pro | Coming Soon |
| Huawei Nova 5T | Coming Soon |
| Huawei Nova Lite 3 | Coming Soon |
| Huawei Nova 8 SE 4G | Coming Soon |
| Huawei Nova Y60 | Coming Soon |
| Huawei Nova 9 Pro | Coming Soon |
| Huawei Nova 9 | Coming Soon |
| Huawei Nova 8 | Coming Soon |
| Huawei Nova 8i | Coming Soon |
TWRP Recovery For Huawei Honor Series:
| | |
| --- | --- |
| Device Name | Download Link |
| Huawei Honor 9 Lite | Download Link |
| Huawei Honor Holly | Download Link |
| Huawei Honor 8 Lite | Download Link |
| Huawei Honor View 10 | Download Link |
| Huawei Honor 5A | Download Link |
| Huawei Honor 8 | Download Link |
| Huawei Honor 7 | Download Link |
| Huawei Honor 6X | Download Link |
| Huawei Honor 6 Plus | Download Link |
| Huawei Honor 6 | Download Link |
| Huawei Honor 5C | Download Link |
| Huawei Honor 8 Pro | Download Link |
| Huawei Honor 4C | Download Link |
| Huawei Honor 4X | Download Link |
| Huawei Honor 7A Pro | Download link |
| Huawei Honor 7X | Download Link |
| Huawei Honor 5X | Download Link |
| Huawei Honor Holly 2 Plus | Download link |
| Huawei Honor 4C Pro | Download Link |
| Huawei Honor 9x | Coming Soon |
| Huawei Honor Note 10 | Download Link |
| Huawei Honor V30 Pro | Coming Soon |
| Huawei Honor V30 | Coming Soon |
| Huawei Honor 20 Youth Edition | Coming Soon |
| Huawei Honor Play 3e | Coming Soon |
| Huawei Honor Play 3 | Coming Soon |
| Huawei Honor 20S | Coming Soon |
| Huawei Honor Play 8 | Coming Soon |
| Huawei Honor 9x Pro | Coming Soon |
| Huawei Honor 20 Pro | Coming Soon |
| Huawei Honor 20 | Coming Soon |
| Huawei Honor 20 Lite | Coming Soon |
| Huawei Honor 8S | Coming Soon |
| Huawei Honor 20i | Coming Soon |
| Huawei Honor 8A Pro | Coming Soon |
| Huawei Honor 10i | Coming Soon |
| Huawei Honor Magic 2 3D | Coming Soon |
| Huawei Honor 8A | Coming Soon |
| Huawei Honor Tab 5 8.0 | Coming Soon |
| Huawei Honor Tab 5 8.0 Wi-Fi | Coming Soon |
| Huawei Honor Play 8A | Coming Soon |
| Huawei Honor V20 | Coming Soon |
| Huawei Honor 10 Lite | Coming Soon |
| Huawei Honor Magic 2 | Coming Soon |
| Huawei Honor Pad 5 Wi-Fi | Coming Soon |
| Huawei Honor Pad 5 | Coming Soon |
| Huawei Honor 8C | Coming Soon |
| Huawei Honor 8X Max | Download Link |
| Huawei Honor 10 GT | Coming Soon |
| Huawei Honor Play | Download Link |
| Huawei Honor 8X | Download Link |
| Huawei Honor 10 | Download Link |
| Huawei Honor Holly 3 | Download Link |
| Huawei Honor 6C/6C Pro | Download Link |
| Huawei Honor 4A | Download Link |
| Huawei Honor 4/4X/4 Play | Download Link |
TWRP Recovery For Huawei Mate Series:
| | |
| --- | --- |
| Device Name | Download Link |
| Huawei Mate 10 Pro | Download Link |
| Huawei Mate 10 Lite | Download Link |
| Huawei Mate 9 | Download Link |
| Huawei Mate S | Download Link |
| Huawei Mate 8 | Download Link |
| Huawei Mate 20 Lite | Download Link |
| Huawei Mate 20 X | Download Link |
| Huawei Mate X | Coming Soon |
| Huawei Mate 20 X 5G | Coming Soon |
| Huawei Mate 30 RS | Coming Soon |
| Huawei Mate 30 | Coming Soon |
| Huawei Mate 30 Pro | Coming Soon |
| Huawei Mate 30 Pro 5G | Coming Soon |
| Huawei Mate 30 Lite | Coming Soon |
| Huawei Mate 20 RS Porsche Design | Coming Soon |
| Huawei Mate 20 Pro | Coming Soon |
| Huawei Mate 20 | Coming Soon |
| Huawei Mate 20 Lite | Coming Soon |
| Huawei Mate 40 Pro 4G | Coming Soon |
TWRP Recovery For Huawei Y Series:
| | |
| --- | --- |
| Device Name | Download Link |
| Huawei Y5 2017 | Download Link |
| Huawei Y7 | Download Link |
| Huawei Y7 Prime | Download Link |
| Huawei Y5 II | Download Link |
| Huawei Y6 Elite | Download Link |
| Huawei Y6 Pro | Download Link |
| Huawei Y3 2017 | Download Link |
| Huawei Y6 | Download Link |
| Huawei Y560 | Download Link |
| Huawei Y635 | Download Link |
| Huawei Y3 II | Download Link |
| Huawei Y5 lite 2018 | Coming Soon |
| Huawei Y6 2019 | Coming Soon |
| Huawei Y7 2019 | Coming Soon |
| Huawei Y7 Prime 2019 | Coming Soon |
| Huawei Y7 Pro 2019 | Coming Soon |
| Huawei Y9 2019 | Download Link |
| Huawei Y Max | Download Link |
| Huawei Y7 Prime 2018 | Download Link |
| Huawei Y9 2018 | Download Link |
| Huawei Y9 Prime 2019 | Coming Soon |
| Huawei Y5 2019 | Coming Soon |
| Huawei Y6 2017 | Download Link |
| Huawei Y6s | Coming Soon |
| Huawei Y9s | Coming Soon |
| Huawei Y6 Prime 2019 | Coming Soon |
| Huawei Y6 Pro 2019 | Coming Soon |
| Huawei Y300 | Download Link |
TWRP Recovery For Huawei Other Series: