When it comes to a handheld on-the-go gaming device or console, Nintendo Switch is the best option right now in the market. Thanks to Nintendo Co. Ltd., for making such an awesome handheld compact gaming console and a wide range of compatible games as well. Now, plenty of users prefer to cast their Switch screen to a bigger screen but it seems that the Nintendo Switch is not Connecting to a TV.
In another sense, we can also say that some Switch users are reporting that it won't connect to the TV when docked and even when it's not docked. It's also worth mentioning that the method isn't as simple as connecting a single cable to the TV. That's why users are getting frustrated by the connectivity issue. Luckily, there are a couple of possible workarounds mentioned below that you should try out.
How to Fix If Nintendo Switch Won't Connect to TV
Before getting into the guide below, let's check out what are the possible reasons behind such an issue. It seems that the cables aren't properly connected to the TV, wrong input source, misconfigured Nintendo Switch settings, outdated switch firmware, faulty dock station, etc are one of the most common reasons so far.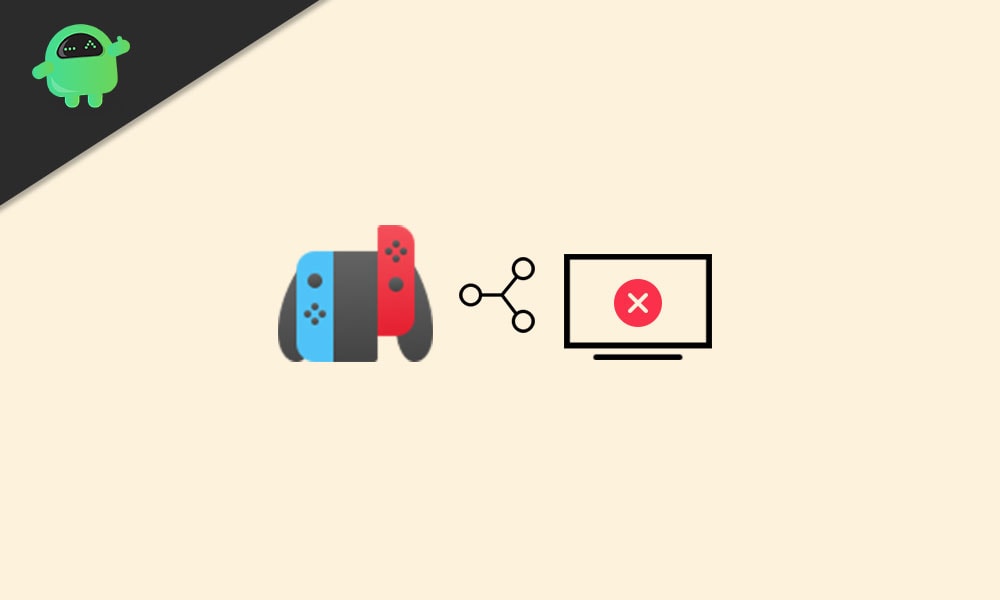 1. Properly Connect Switch to Dock Station
First of all, keep in mind that you've properly connected your Nintendo Switch console to the dock station without any obstacles. You should also try disconnecting and reconnecting the switch multiple times on the dock station.
2. Plug in all cables
If any of the cables are loose or not fits properly then your switch console may not work on your TV. Keep in mind that the dock station is connected to the power outlet to get enough electric power. Once connected, the green light will appear. But if not, you should follow the additional steps below:
Make sure to unplug all the cables from your Switch Dock and wait for a couple of minutes then plug back in the cables.
Now, check if the USB-C power adapter is connected to your Nintendo Switch dock or not.
Then plug in the HDMI cable to your Nintendo Switch dock and plug in the other end to your TV.
Then make sure to insert your Nintendo Switch in its dock > Turn it on.
Finally, you can check whether the Nintendo Switch is not Connecting to a TV or not.
3. Select the Correct TV Input
It's also worth mentioning to check whether the correct TV input has been selected on your TV or not. If your TV has more than one HDMI port then try connecting the HDMI cable to another port.
Additionally, if your dock is connected to HDMI port 1 then make sure that you've selected HDMI 1 in your TV input option using the remote. Selecting other input or another HDMI port number from the TV won't work.
4. Check TV Settings on Switch
Head over to the 'Home Menu' on your Nintendo Switch > Select 'System Settings' (gear icon).
From the left menu, select 'TV Settings' > Set 'TV Output' to 'Auto' from the right menu.
You can also set 'RGB Range' to 'Limited' or 'Full'.
Try turning off the Power Sync option and check if the problem gets fixed or not.
5. Use a different HDMI cable
You can try using a different HDMI cable as it may also happen that there is some issue with the HDMI cable to you're using a faulty one. If in case, you're using any old or torn HDMI cable then we'll recommend you to get an aftermarket HDMI cable. Whereas the higher-quality HDMI cable can also deliver a better user experience.
6. Use a different TV
If nothing seems useful to you, make sure to use a different TV to connect your Nintendo Switch console as sometimes there may be an issue with the existing TV that can easily cause multiple issues whatsoever.
7. Reset the AC Adapter
Make sure to also try resetting your AC adapter by simply disconnecting it from the dock station and leave it for a couple of seconds. Then directly connect the AC adapter to the console and place the switch console in the dock then turn it on. Sometimes this trick may also come in handy.
8. Update TV and Switch Firmware
We'll also recommend you to update both the TV and the Nintendo Switch console's firmware to the latest available version because an outdated firmware version or build can cause several performance or stability issues.
For TV:
Go to the TV settings menu by pressing the 'Home' button on your TV remote.
Now, head over to the Support tab > Choose to Software Update from the list.
Then make sure to select 'Update Now' and make sure that your TV is connected to the internet.
If there is an update available, just install it.
Once done, restart your TV to apply changes, and check for the issue again.
For Nintendo Switch:
Ensure the Nintendo Switch console is connected to the internet.
Now, head over to the HOME Menu > Select Software icon.
Press the + or – button on your switch controller > Select the Software Update option (Via the Internet).
If the update is available, install it.
Additionally, make sure to head over to the HOME Menu > Select System Settings. Head over to the System option > Set Auto-Update Software to ON. In that scenario, all the available updates will be automatically installed whenever the Nintendo Switch system is connected to the internet.
9. Power Cycle Both Devices
Performing the Power Cycle a device helps to reset all temporary configurations on the system like cache data or glitch etc. To do so:
Power off your Nintendo Switch console completely and remove all cables from the Docking Station.
Now, remove the power adapter from the power outlet and wait for around 30 seconds.
Then plug back all the cables and power on the Nintendo Switch.
Next, make sure to turn off your TV using the TV remote and do the same steps as above what we've mentioned for the console.
Once all done, connect the console to the TV and check for the issue again.
10. Replace the faulty dock station
It's worth mentioning that a Faulty Docking Station can also cause multiple issues with the connectivity. So, it's better to always check for the faulty dock station and replace it (if necessary). If in case, your Nintendo Switch is still under warranty then you can ask for a new dock station or just get a new one from the online or offline market.
11. Detach Joy-Cons on Switch
As a final resort, if nothing seems working to you, try detaching your Joy-Cons from the Nintendo Switch console by just gently pressing and holding the small button on the back of each side then lift them up. Sometimes it may also help you to easily connect to the TV using the Dock Station.
That's it, guys. We assume this guide was helpful to you. For further queries, you can comment below.