Overwatch 2 is a first-person shooting game that has got quite popular since its latest release. But just like any other online game, Overwatch 2 servers also face casual issues from time to time. Most of these issues are not disruptive in nature, and players can still play the game. However, there is a new issue surfacing with most Overwatch 2 players where the game is not showing friends list or not accepting a new request.
This issue also doubles when the players face multiple connection errors, making them wait in the lobby for extended periods. Playing with friends is one of the coolest features in the game, and this issue is preventing users from doing that. Today in this article, we will explore some of the common causes of this issue and will share some troubleshooting methods to fix the same.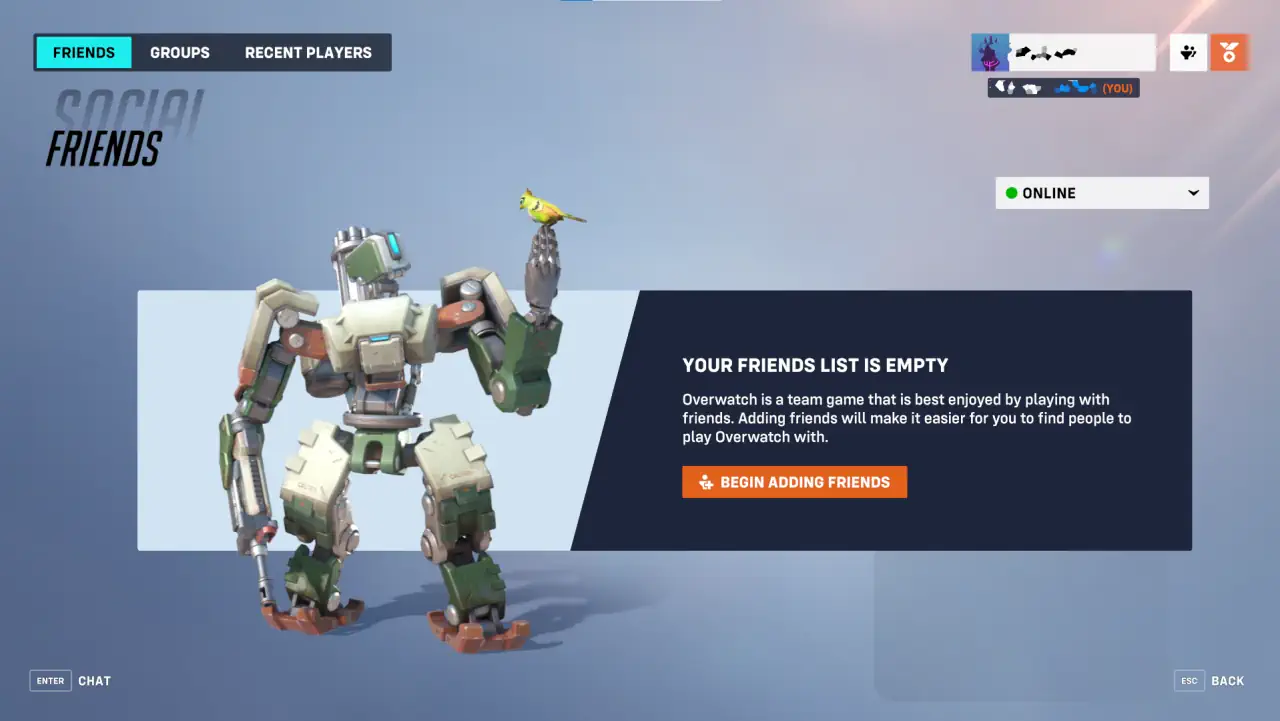 Fix: Overwatch 2 Not Showing Friends List or New Request
Whenever too many players want to play the game, the game server may overload and cause issues that can affect multiplayer features. In our case, the multiplayer feature, where your in-game friends are visible as a list, is not appearing. But don't worry; such issues are common, and you may follow the troubleshooting methods below to address the same.
Method 1: Restart Overwatch 2
There can be technical glitches in the game due to which your friend list is not being loaded in the game. Try to restart the game, and it will help fix the issue.
Comment
by u/Yeeter_Pan1459 from discussion Friends list not working, any known fixes?
in Overwatch
Comment
by u/Lyre_Fenris from discussion Friends list not working, any known fixes?
in Overwatch
If restarting doesn't help, you should also try restarting your PC/Console and see if the issue resolves.
Method 2: Sign Out & Sign In
Any issues related to your game friends are connected to your game account. Due to multiple sync issues, the game friends might not sync up and causing Overwatch 2 not to show the friends list issue. But don't worry, simply sing out of the game and then sign back in again. This will solve the issue in most cases.
Method 3: Check Internet Connection
If you are trying to play online multiplayer mode, then you need to have a high-speed internet connection. A fast internet connection will help you sync game data or game friends' data allowing you to choose whom to play with. If your in-game friend list is not loading, it's a sign of slow internet. Please check with your internet service provider (ISP) to check these issues.
Method 4: Check Game Region
Many users in the Overwatch Reddit community have suggested that checking for your game region might help fix the issue. If you are in the UK region, then your friends also must be registered in the UK region.
Comment
by u/showerty from discussion Friends list not working, any known fixes?
in Overwatch
If this often happens when you create a new account, your region is selected otherwise, which causes such in-game issues. Please crosscheck your game account region settings, and change them if needed.
Method 5: Add Friend as Battle.Net
If you are not able to add any friends to your Overwatch game, then you can add these friends to your battle.net account. Once they are added, the friends will automatically list in the friends section of the game.
Comment
by u/lumagotchi from discussion Social/Friends list bug
in overwatch2
In order to add friends to your Overwatch 2 account, first log in to your Battle.net account. Then go to the friend's section, here search for your friend's gamer tag or email ID, and send them a friend request. Once they accept the request, they will also be added to your Overwatch 2 game.
Method 6: Ask Your Friends To Send Invite
It's quite possible that the game friends feature is not working only in your case due to certain factors. But if the feature is working with your friend's game accurately, then you can ask them to send you a game invite as well. Once your friend sends you a request, you can accept the request and play together.
Method 7: Use In-Game Chat Feature
Overwatch game has an in-game chat feature that allows players to communicate o each other. This chat window also accepts certain in-game control commands which players can use to manipulate the game. You may also use the in-game chat feature to invite or join your friends to the game.
Open the chat window in Overwatch 2 game.
Type /invite USERNAME or /join USERNAME in the chat.
Press enter and the game request will be sent to your friend.
Once they accept the request, they will be added to the game.
Method 8: Re-Install Game
The game itself might have issues where the game files are either corrupted or not working correctly. According to many users in the Overwatch Reddit community, re-installing the game does help to fix the issue.
Comment
by u/Spoodnix from discussion Friends list not working, any known fixes?
in Overwatch
First, uninstall the game completely, along with all the residual files. Also, make sure to remove any cheat or game helper extensions/applications. Once it's done, download the Overwatch 2 setup from the official website or Battle.net and install it on your PC/console.
Method 9: Contact Blizzard Support
Your account might often have restrictions because of your gameplay activities, causing the friend list issue. If none of the above methods helps you, then you have to connect with the Blizzard support team for further clarification on the issue.
Conclusion
This brings us to the end of this guide for fixing Overwatch 2 not showing the friends list or new request issue. Please note that the issue can also be tied to your game account. So, if none of the above methods works for you, please connect with the Overwatch support team and request them to look into the matter.