Prime Video is also known as Amazon Prime Video which is an American Internet Video-on-demand service that is developed and owned by Amazon. This service offers exclusive online Amazon Originals videos along with movies and TV shows. You can start your free trial to watch content and then you will need a subscription pack to continue. Now, due to the increased number of active users or any software-related issues, users are facing playback issues. So, if you're also facing an Amazon Prime Video Playback issue with Disk IO Error, then check this troubleshooting guide.
Some of the users are complaining that whenever users download content on the Amazon Prime Video, it shows a Disk IO Error which is quite irritating for a multimedia consumer. Even if you go to watch any previously downloaded content, the same error message appears. However, there is no issue with streaming contents online. Though uninstalling and reinstalling the Amazon Prime Video app & rebooting the handset temporarily fixes the issue (for a day or two).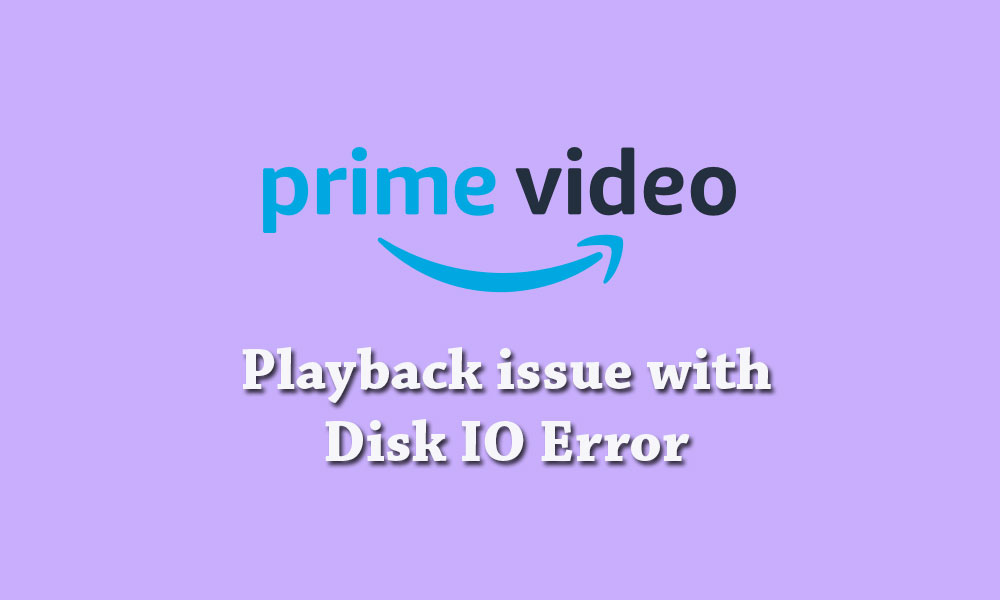 How to Fix Amazon Prime Video Playback issue with Disk IO Error
Keep in mind that if your Amazon Prime Video app is facing issues while playing video titles and getting error codes like 1007, 1022, 7003, 7005, 7031, 7135, 7202, 7203, 7204, 7206, 7207, 7230, 7235, 7250, 7251, 7301, 7303, 7305, 7306, 8020, 9003, 9074, then you should check all the mentioned workarounds below. The issue can happen on any of your Android devices, iPhone, iPad, Apple TV, Smart TVs, PlayStation 4, Xbox One, and other devices.
1. Restart your Device
As we all know, most of the time, restarting a device can fix a lot of issues or glitches of any system that can be either from the device system itself or any third-party app or even internet connectivity issue. If in case, any temporary file or cache stored on the device system or even the app data, rebooting the device system (soft/hard reboot) will fix most of the errors.
So, make sure to restart your smartphone or any other device which has installed the Amazon Prime Video app and try again to download or run any content. If the issue still persists, then follow the next step.
2. Check your Device Software Update
The software version is one of the most important parts of your device that needs to be updated properly. If in case, the device software version is outdated or missing any improved feature or stability, then the latest third-party apps may not run properly. So, it's better to always check for OTA updates on your device and keep updated as well.
3. Update your Web Browser
If in case, you're not using the Amazon Prime Video application on your smartphone or TV and run the content directly from the official Prime Video website by logging in, then you should also check whether the web browser is updated to its latest software version or not. As some times, the automatic software update process may not work on the web browsers. Just head over to the settings/menu of the web browser and check for updates.
4. Connect External Device to TV or Display using HDMI Cable
Locate an HDMI port on your TV. (labeled as HDMI 1, HDMI 2)
Get a compatible HDMI cable for the HDMI port. [HDCP 1.4 (for HD content) and HDCP 2.2 (for UHD and/or HDR content]
Connect the cable properly and turn on the TV.
Now, select HDMI 1/2 using the remote controller where you've connected the cable.
Finally, start browsing the content and enjoy it!
5. Pause Other Internet Activity
Make sure to pause or block other internet activity except for your essential work those are using your Wi-Fi network. If in case, multiple devices are connected to the same Wi-Fi network at the same time, then you may get slower internet speed or online content streaming issues.
If your friends or family members are using your internet connection, just tell them to turn it off until you finished watching your online content or downloading process. You can also change the Wi-Fi password or block active users from the router login page.
6. Check your Internet Connection
It's always recommended to check internet connectivity at first before going to any conclusion. Most of the time, users may not concentrate on the power socket or internet connectivity and gets confused with hardware issues or software issues.
Make sure that you have a working and stable internet connection for a smoother streaming or downloading process.
7. Connect your TV with Alexa
If you're using any Smart TV and want to connect it with the Alexa app or assistant, then you can do it quite easily. But if in case, your device is already connected and not working properly or you're getting playback issues with Disk IO Error, then try to unpair the device at first.
Once done, reboot your device and pair it again in the Alexa app or with the Alexa smart assistant (for any smart speaker). It will simply refresh the system cache and there will be possibilities that you won't get any error while downloading or playing videos.
8. Disable any VPN or Proxy Servers
If you're using any VPN or Proxy Servers on your smartphone or web browser, then the chances are higher that it's causing the trouble to you while downloading or playing videos on the Amazon Prime Video platform. There are almost the same steps for each web browser (PC) to turn off the VPN or Proxy. However, we have provided the steps below.
Internet Explorer: Go to Tools > Internet Options > Connections > LAN Settings > Uncheck the box for Proxy Server.
Google Chrome: Go to Menu > Settings > Proxy > disable extension.
Mozilla Firefox: Go to Tools > Options > Advanced Network > Settings.

In the Connection Settings window, select No Proxy > OK.
If you're using any Proxy service on your smartphone, then you can go to the device Settings menu and turn off Proxy servers. For the VPN application users, just open the VPN app and turn off the toggle or service. You can also uninstall the VPN app to clear the network or region restriction related issues. Once done, simply restart your device and try again to download or play content on Amazon Prime Video.
That's it, guys. We hope you've found this troubleshooting guide useful and the video playback issue with Disk IO Error has been solved on the Amazon Prime Video. If you've any queries, let us know in the comments below.