The US-based multinational semiconductor company, Advanced Micro Devices, Inc. (AMD), has been giving Nvidia graphics cards a run for their money in the technology market. Established 51 years ago with the hard work of Jerry Sanders, the company has now grown into an empire worth over six billion US dollars, as of 2019. With products as varied as microprocessors, motherboard chipsets, and graphics processors for servers, workstations, personal computers, and embedded system applications, AMD's products are well known for the care and skill with which they are crafted. They are known to strive for excellence, and the best is undoubtedly yet to come.
There have been, however, some inevitable technical issues with certain products. The users right now or more pronounced gamers are now facing a terrible issue while updating their graphics card driver, Error 182. The users are quite disturbed as most of the games or applications require updated graphics drivers, so even they start showing bizarre error codes. Now the error 182 has become common for the users while updating, so we decided to bring a fix. This is going to be a massive guide than usual, but as you want to fix this issue, it is better to be patient and follow the fixes accordingly. Moreover, if you are here, then probably you are facing the same error code, so why go anywhere else? Without any further ado, let's get started.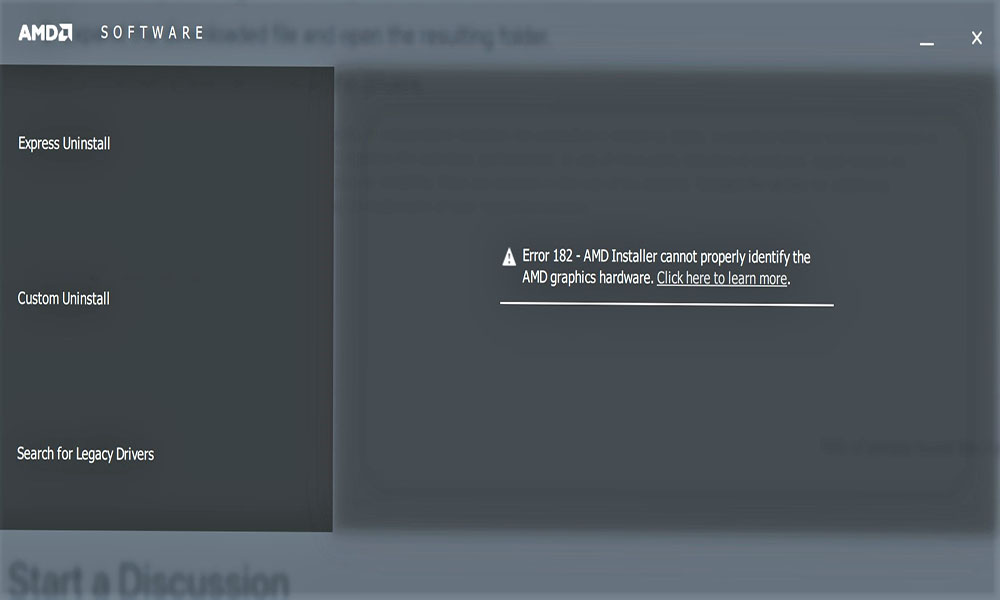 How to Fix AMD Graphics Driver Error 182?
A frequently reported problem has been the AMD Error 182, concerned with the inability of a number of Windows users to update their graphics drivers to the newest version contained in the AMD software. There are a number of reasons which could be behind this error. We have listed all of them below:
The AMD Product is not supported by the AMD Software: The AMD software is the primary resource of auto-updates for AMD, but it is not universally supported. For example, if you are using a customized AMD GPU, a legacy AMD GPU or an embedded AMD graphics card, it is possible that in order to circumvent the error, you will be required to update your driver using the AMD Driver Selector web-tool manually.
It is possible to update the GPU only through Windows Update – AMD happens to possess a wide selection of APUs that can only be updated through the Windows Update component. If you happen to be working with any of these models, you will have to update your driver through Windows Update.
GPU driver files becoming corrupt – This is another plausible scenario, in some cases. It might take place because of your AMD driver files or associated dependencies getting corrupted in some manner. If that's the case, a GPU clean install procedure is in order.
Legacy Integrated GPU is possibly confusing the updating utility – If you happen to be working with a legacy integrated ATI Radeon GPU (ATI Radeon 3000 or under), there is a good chance that the AMD Software utility is trying to update the integrated GPU driver, instead of the one associated with your discrete (dedicated GPU). In this situation, your only choice is to disable the integrated GPU: either through the Device Manager or directly from your BIOS settings.
Corruption of system files – There have been a number of reports regarding this from various users. It can also take place due to an inherent problem of system file corruption that is rooted in your actual operating system files. This is a tricky situation, and your only way out of here is to reset every Windows component in there, either through a clean install or a repair install.
Let us take a more detailed look at how to handle the AMD Graphics Driver Error 182.
How to work with the AMD Driver Selector?
There are a number of generic drivers present in the AMD Software application that support a remarkable range of graphic products. At the same time, there also happens to be some AMD products that the AMD Software does not support. We've listed these below:
Customized AMD Graphics (Custom made for an OEM)
Legacy AMD graphics (AMD products that are over five years old)
Embedded AMD graphics
If your particular graphic card solution happens to fall into one of the categories listed above, there is a great possibility that the updating software is unable to update your driver because it happens to belong to a product group that is not supported.
In this situation, there really is only one method to update the driver: by using the AMD Driver Selector to find and download the appropriate driver. Given below is our guide using this web tool to download and install the latest driver:
Open your browser and click this link (here) to access the AMD Driver Selector utility.
Focus on scrolling down to the section below and look for your graphics card solution using the search bar. As an alternative, simply select your GPU product manually by using the menu below. After you have selected the correct product, click "Submit" and wait for the results to be generated.
When the results have been successfully generated, click on the "Drivers" tab and expand the drop-down menu related to your current operating system. After that, click on the "Download" button and wait for the process to be completed.
After the download has been completed, open the installation .exe file and follow the on-screen instructions to finish updating the driver. Reboot your PC to finish the installation process.
If this fails to fix the error, keep reading below for more potential solutions.
Updating the driver through Windows Update
It is important to remember that in the case of AMD, some APU's (Advanced Processing Units) are simply not designed to be updated by conventional methods (through Adrenalin or Driver Selector, for example). In the case of some models, graphics driver support is managed more or less exclusively by Windows Update. If you happen to have a GPU model like this, you will have to update it through Windows Update, because the AMD Software is not capable of updating it.
Given below is a list of APU's that can be updated only through the Microsoft Windows Update component.
[APU Stands for Advanced Processing Units. They include a graphics processor along with the main logical processor]
AMD A4/A6/A8-3000 Series APUs
AMD E2-3200 APU
AMD E2-3000M APU
AMD E2-2000 APU
AMD E1/E2-1000 Series APUs
AMD E-200/300/400 Series APUs
AMD C-Series APUs
AMD Z-Series APUs
If your AMD unit is one of those listed above, then you can follow the instructions given below to update your AMD graphics driver through Windows Update:
Press the Windows key + R to open up the Run window. Now type ms-settings:windowsupdate and press Enter to open the Windows Update tab of the Settings tab. If you are using Windows 7, type 'wuapp'
Move to the right-hand section of the Windows Update screen and click on the "Check for Updates" button.
After the initial scan has been completed, start installing every pending update, including AMD drivers.
Reboot your PC to finish the installation process.
If this fails to fix the error, move on to the next solution below.
Perform a Clean Installation of the GPU driver
In case all of the above techniques fail to work for you, it is quite possible that you are now dealing with a severe case of corrupted driver files or dependencies, due to which it is not possible for the AMD Software to install the latest driver version.
In this situation, the best solution is simply to do a clean install of the GPU. For this, you will have to uninstall the driver conventionally, delete the root AMD driver folder, and then use a third party GPU driver uninstaller to get rid of any leftover corrupted files. This will ensure that the nest installation is done without the interference of any leftover files.
To do this, you can follow the instructions given below:
Press the Windows key + R to open the Run window. Type 'control' and hit Enter to open up the Control Panel.
Now in the Control Panel, scroll down to 'Programs and Features.'
Move down through the list of installed items in the Programs and Features menu, select everything that has been published by Advanced Micro Devices INC. by right-clicking on them and then clicking on 'uninstall.'
After the uninstallation is complete, reboot your PC.
Open the File Explorer, navigate to C:/AMD, and delete everything in there to ensure that there are no leftovers remaining.
Download the most recent version of Display Driver Uninstaller. This is a third-party freeware that can deep clean any remains of your GPU drivers.
Unzip the contents of the DDU archive and restart your PC in Safe Mode.
Double-click on the .exe file that you previously extracted and click "Yes" when you see the UAC (User Account Control) prompt.
In the main Display Driver Uninstaller interface, select your GPU from the "Select Device" type drop-down menu in the right section of the screen). Click "Clean" and restart to begin the clean-up process.
Try to reinstall the AMD drivers once again.
If the error still persists, try the next solution given below.
Disabling the Integrated GPU
If your laptop or PC configuration has an integrated ATI Radeon GPU (most likely ATI Radeon 3000), it is very much possible that the AMD Software utility tries to update it instead of the dedicated GPU.
If you are still using an integrated ATI GPU, first disable it from your BIOS settings in order to fix the AMD Error 182. As you are dealing with a legacy integrated-GPU, this will also fix a large number of other issues as well.
You will have to disable the integrated GPU. Depending on your specific situation, disabling it through the Device Manager might be enough, or you might have to disable it from your BIOS settings.
Keep this in mind, and we have produced two guides here. The first one will show you how to disable the integrated GPU from Device Manager. The second one will show you how to do it directly from the BIOS settings.
Method 1: Disabling integrated GPU via Device Manager
Press Windows key + R key together to open the Run window. Type msc and hit Enter to open up the Device Manager.
Scroll down through the list of installed devices and open up the menu linked to Display Adapters. Right-click on your integrated GPU and click "Disable device" from the context menu.
When the icon of the integrated GPU has changed to indicate that it has disabled, reboot your PC.
At the next start-up, try to install the pending AMD GPU driver once again. Check if the problem is now fixed.
Method 2: Disabling Integrated GPU via BIOS Settings
Reboot your PC in case it is already turned on. Once you are at the initial loading screen, repeatedly press the Setup (BIOS key) until you gain access to all of your BIOS settings.
In the case of most motherboard models, the setup key will be displayed on the initial screen. But if you are unable to see it, search online for specific steps about accessing your BIOS settings.
Choose the "Advanced" tab and look for a category called "Integrated Peripherals". Disable IGP or Integrated Graphics there. If you have the option to choose between Integrated Graphics and Discrete Graphics, then choose the latter.
Now save your recently made changes and reboot your PC.
Try to update the driver again.
Now check if Error 182 still persists. If it does, move down to the next potential solution below.
Performing a Repair or Clean Install of the Game
If none of the methods listed above managed to fix the error, the only thing left to do now is to simply reset every Windows component, using a procedure like a clean install or repair install.
A repair install will refresh every OS component without affecting your personal files. It is a sort of clean install procedure that lets you keep your apps, games, and personal files present on the OS drive.
If you are not concerned about any data loss, you can simply choose the traditional clean install procedure.
After performing all the fixes you will surely get rid of Error 182 in your AMD driver upgrade.
We hope our guide proves helpful as you work on getting rid of the AMD Graphics Driver Error 182. GetDroidTips works seamlessly for you people day and night to offer the best iPhone Tips and Tricks, PC tips and tricks, Games and Android Tips and Tricks. So it does become your task to subscribe to our YouTube Channel. Moreover, there, the benefit is yours. We are offering a $150 giveaway contest for all our subscribers who watches our videos there. Now signing off here, to prepare another best guide for you. You can also comment down below with your feedback and queries with your name and e-mail ID, and we will love to help Happy gaming!