The CPU of a computer plays a major role in its functioning. The main reason is that it is the processing power of the computer and responsible for everything going on your computer. So, choosing the best CPU for your gaming needs is of utmost importance. In case you're confused between choosing AMD Ryzen vs Intel CPU for your gaming PC build, then this guide will help you.
AMD and Intel are the leading brands in the Computer CPU. We have to check which one of these two provides the best gaming performance. While building a gaming PC, the CPU should be considered the first thing to look for. So, we look into some of the points like Specification, Performance, Core Thread, Overclocking, etc. to determine which CPU is the best for gaming.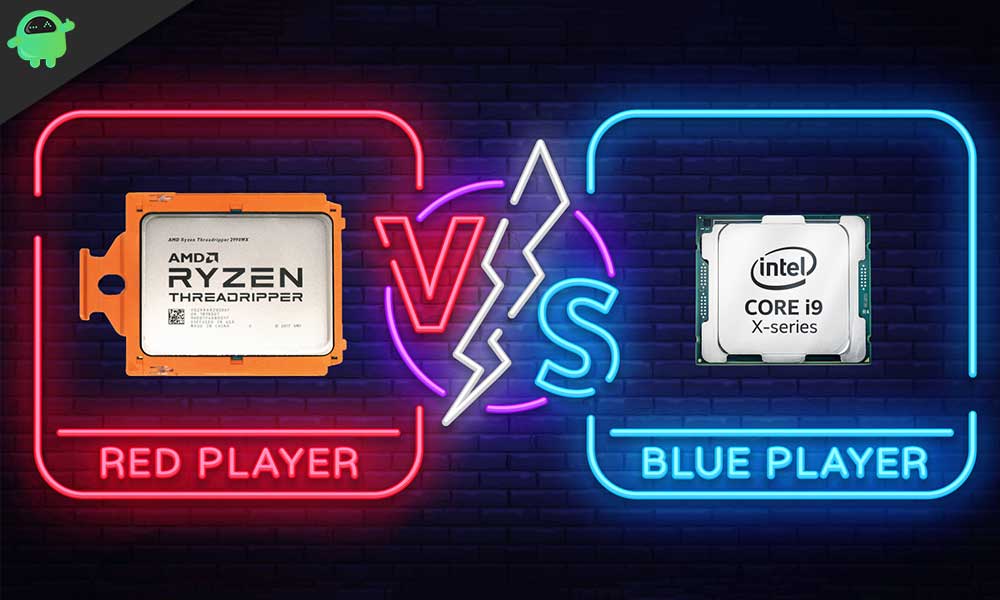 AMD Ryzen vs Intel – Which CPU is The Best for Gaming
When it comes to gaming, well all have different needs for CPU processing power. Some go for intel CPUs, and some go for AMD Ryzen CPUs. But which one is best among AMD Ryzen vs Intel CPU battle? Today we will compare both o these CPU chipsets and see which one of them are the best.
Specification
The specification in both the processor is fantastic. Firstly, if we talk about AMD, then their main processor lineup is their Ryzen processors. And this the main reason it is able to give a good fight to the Intel processors. The main specification of the AMD processors is that it mainly focuses on the more cores and threads, high clock speed to make them one step ahead of the Intel.
On the other hand, Intel also has changed there processor's lineup after some of the best product releases from AMD. Before the launch of Ryzen gen three processors, Intel was the only and the best option for a Gaming CPU. But as you know, they have also upgraded there lineup. They have focused more and more on providing high clock speed and the best performance with a single-core processor.
Lookign for Building Your Gaming PC?
If we come to a conclusion, then Intel processors were used to be the best. But right now, with the latest specs of Ryzen processors, they are surely overpowering Intel.
Performance
The performance of the CPU matters a lot when you mainly want to use it for gaming. So, you have to choose one which will be compatible with your gaming needs. Intel's processor was used to be known for its gaming performance. But after Ryzen came up with their three gen chips, it has been giving a very much competition to the Intel processors.
Mainly the AMD CPUs are known for providing multi-core CPUs, which are always not good for gaming. But with their new-gen CPUs, they have made some of the best changes which have increased the gaming performance of their CPU.
| | | | |
| --- | --- | --- | --- |
| INTEL CPU TYPE | CORE | AMD CPU TYPE | CORE |
| Core i3 | 4 | Ryzen 3 | 4 |
| Core i5 | 6 | Ryzen 5 | 6 |
| Core i7 | 8 | Ryzen 7 | 8 |
Suppose we compare the latest processor from Intel (i9-9900K) and AMD (Ryzen 9 3900X). The results we get are clearly giving us the idea of the increase in the performance of this new-gen processor from AMD. So, these both manufacturer has come up head to head in terms of performance.
Core Threads Count
The core count in the CPU determines the efficiency of multitasking on your computer. The more core count will be there, the multitasking you can do. Ryzen CPUs are mostly famous for there multiple-core CPUs, which gives them advantages over their competitors. Intel also gives the hyper-threading feature, and after that, they also have given some great performance in terms of Core counts.
| | | | |
| --- | --- | --- | --- |
| INTEL CPU TYPE | THREAD COUNT | AMD CPU TYPE | THREAD COUNT |
| Core i3 | 4 | Ryzen 3 | 8 |
| Core i5 | 12 | Ryzen 5 | 12 |
| Core i7 | 16 | Ryzen 7 | 16 |
But when we compare the CPUs of both brands of the same price. We have found that the Ryzen CPUs are ahead in terms of core count and threads. However, it is not only the thing which you should consider for a gaming machine. But it does give a slight edge to the AMD over the Intel.
Overclocking
Clock Speed of the processor is also very important if your main consideration is gaming. It mainly boosts the speed of your CPU, which offers an instant increase in the performance of your system.
| | | | |
| --- | --- | --- | --- |
| INTEL CPU TYPE | MAX BASE CLOCK | AMD CPU TYPE | MAX BASE CLOCK |
| Core i3 | 3.80 | Ryzen 3 | 3.80 |
| Core i5 | 4.10 | Ryzen 5 | 3.80 |
| Core i7 | 3.80 | Ryzen 7 | 3.90 |
Both AMD and Intel mainly come with Over Clocking feature, but it may vary according to there prices. There are some of the models of the intel processor with different letters that provide overclocking. If we talk about AMD, then all the Ryzen chips come with overclocking, but some of it does not support the automatic one.
| | | | |
| --- | --- | --- | --- |
| INTEL CPU TYPE | MAX TURBO CLOCK | AMD CPU TYPE | MAX TURBO CLOCK |
| Core i3 | 4.60 | Ryzen 3 | 4.20 |
| Core i5 | 4.80 | Ryzen 5 | 4.40 |
| Core i7 | 5.10 | Ryzen 7 | 4.70 |
The increase in performance and speed will only be determined by the chip you are using. The new processors are also coming with some application that you can use to change the clock speed of your CPU.
Compatibility
The compatibility of the CPU is determined if the socket and Chip are compatible with the motherboard. The socket is one of the main components as it is responsible for the connection of CPU to other parts of the PC through the motherboard. After that, the CPU can communicate to other parts of the PC using the chipset.
Also read: How to Use Anti static wrist strap while building pc
The chipset and socket in AMD CPUs are always the latest, which are only created for them. Intel CPUs come with an LGA1151 socket. They are continuously using it for more than three years and upgrading it with new chipsets.
Both of the CPU chipsets are great. But the AMD's socket and chipsets are more futuristic than Intel. If you have a PC with the previous-gen processor, you can easily upgrade it to a new-gen AMD processor because of 0f its great compatibility. While if you want to use a newer Intel processor, then you also require a new chipset version.
Conclusion
There is no doubt that Intel and AMD provides the best value CPU and are better in their own aspects. But right now, AMD Ryzen's processors are providing way more value than Intel. They are providing long term support at a great price. And we also know that they are more compatible with new-gen processor support also which will provide you more gaming support.
Intel processor may be more powerful than AMD, but if we compare them at prices, they are so much high. So, if you want a more powerful processor for gaming with the best performance, then Intel is the best for gaming. They are also best for professional work. Other than that, if you just want to play games, then AMD processor works very fine.