Google finally publicly released the Android 13 stable build in August 2022 as the thirteenth major Android OS, a successor of Android 12. It brings plenty of significant features and improvements apart from revamped visual changes that users appreciate. However, it has some bugs or stability issues that we can't deny. Meanwhile, multiple users are encountering the Android 13 Bluetooth not working Issue while connecting to other devices.
Even though transferring files via Bluetooth isn't that convenient for smartphones, listening to music wirelessly or connecting to smart IoT devices, etc., are quite useful for Android users. It might be frustrating enough for Android 13 users to experience Bluetooth connectivity issues, signal dropping issues, etc while connecting to other Bluetooth devices. Well, that particular problem may occur due to several possible reasons whatsoever.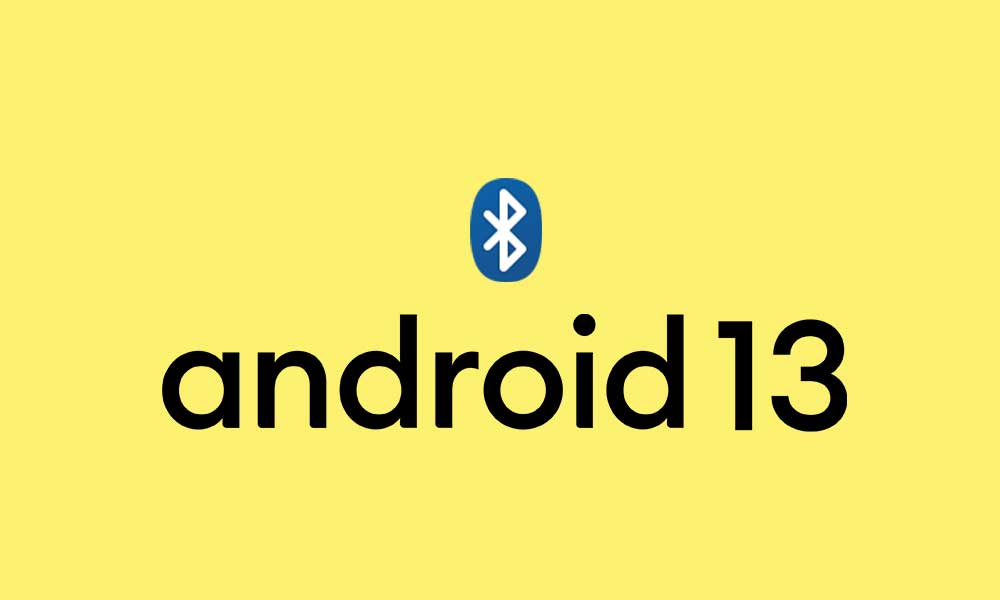 How to Fix Android 13 Bluetooth Not Working Issue
Whereas some affected users also mentioned that the "Unfortunately, Bluetooth has stopped" error appears quite often, which is irritating. Maybe there is an issue with the device Bluetooth settings or the issues with the internal hardware somehow troubling Android 13 users a lot. While the Bluetooth device is out of range, an outdated system software build, insufficient battery to run Bluetooth, too many Bluetooth devices are connected, etc. can be a reason.
Luckily, here we've shared some troubleshooting methods for you that you can follow below. So, without wasting any more time, let's jump into the guide below.
1. Restart your Phone
It's highly recommended to reboot the Android 13 handset and the other Bluetooth device that is having issues with the connectivity to refresh the system. Restarting the Bluetooth device will ensure that the temporary system glitch or cache data will get wiped out easily. Most of the affected Android device users have found this trick useful. So, try it once. Just press and hold the Power button on the phone > Select Restart.
While you'll need to long-press the power button on the Bluetooth device to turn it off.
2. Forget and Pair Bluetooth Again
The second thing you should do is forget the connected Bluetooth device and reconnect (re-pairing) it with the Android 13 device. If in case, your specific Bluetooth device is working fine with other Bluetooth devices, this method will come in handy. To do so:
Open the Settings menu on the phone.
Tap on Bluetooth > Select Connected Devices.
Now, select Previously connected devices.
Find out your Bluetooth device from the list.
Tap on the Settings icon (i) next to it > Tap on Forget.
If prompted, make sure to confirm it.
Once done, turn off & on Bluetooth on both the mobile and the problematic Bluetooth device to refresh it.
Next, tap on the Pair new device option > Allow the connection to get established.
You're good to go.
3. Check Bluetooth Settings
It's also suggested to cross-check the Bluetooth settings options on your Android 13 smartphone whether the Bluetooth visibility or the discoverability is set to 'ON' (Visible to Everyone) or not. If in case, your handset Bluetooth isn't visible to other Bluetooth devices then obviously other Bluetooth devices won't be able to find or connect to your Android 13 handset. To do so:
Tap on Settings > Open Bluetooth.
Tap on the Bluetooth toggle to turn it ON.
Now, enable the Bluetooth Visibility of the phone to Everyone.
Once done, turn off & on Bluetooth, then check for the issue again.
4. Delete Bluetooth Cache and Data
The chances are high that somehow your Android 13 smartphone is having a temporary glitch or cache issue with the Bluetooth system. If the above methods didn't work for you, try deleting the Bluetooth cache and data on your handset by following the steps below so that your device can be able to work properly with Bluetooth. To do this:
Open your device Settings menu > Ensure to Turn Off Bluetooth.
Tap on Apps & notifications.
Tap on All apps (Show System apps) from the three-dots icon menu.
Now, locate Bluetooth and tap on it to open the App Info page.
Tap on Storage & cache > Make sure to Clear Storage Data and then Clear Cache.
Once done, reboot your handset to refresh the system.
Finally, you should be able to connect and pair Bluetooth with other devices.
5. Check for Software Updates
Sometimes an outdated Android OS build or lack of the latest security patch version might gonna conflict with Bluetooth connectivity issues due to bugs or security reasons. It's better to check for the available software updates and then install the same manually to cross-check whether the Bluetooth of your device is working fine or not. To do that:
Open the Settings app on your phone.
Now, scroll down to the bottom, and tap on System.
Tap on System update and it'll automatically check for the available software updates.
If there is an update available, tap on Download and Install.
Wait for the updating process to get completed and then reboot your handset to apply changes.
Well, some of the Android 13 system updates or security patch updates might appear via the Google Play System Update. To check for the same:
So, open the Settings menu on your device.
Tap on Security > Tap on Google Security Checkup to check if there is a security update available or not.
Next, tap on Google Play System Update to check if there is a Google Play system update available or not.
If available, make sure to follow the steps on the screen to complete the update.
Once done, you'll need to reboot the device to apply changes.
6. Remove All Paired Bluetooth Devices
You should also try removing all of the paired Bluetooth devices to ensure there is no conflict with the already paired Bluetooth devices on your handset. Sometimes a huge list of connected devices might gonna trouble you a lot which can be fixed easily. To do this:
Open your device Settings > Tap on Connected Devices.
Tap on Bluetooth > Select Previously connected devices.
Now, make sure to locate your connected Bluetooth device from the list.
Then tap on the Settings icon (i) next to it > Select Forget.
If prompted, confirm the same > Next, go back to the Bluetooth menu.
Tap on Pair new device to reconnect your Bluetooth device with the Android 13 handset.
7. Ensure to Remove Obstacles
Make sure to remove any kind of obstacles from your place in between the mobile device and other Bluetooth devices (if both the devices are not kept closer). Sometimes obstacles or other objects in between the Bluetooth devices might cause signal interference that you should check out. Try keeping both Bluetooth devices' obstacles-free and keep them close enough.
8. Boot your Phone in Safe Mode
In most scenarios, your device may not work properly or the Bluetooth connectivity starts bothering you quite often whenever any third-party software or application conflicts. So, it's better to boot your handset in Safe Mode to cross-check whether third-party software is causing some issues or not. To do so:
Press and hold the Power button on your handset until the Power Menu appears.
Now, touch and hold Power off until the Reboot to safe mode option appears.
Tap on OK to restart your device in Safe Mode.
Note: You might uninstall any third-party apps or games that you've installed recently.
If in case, you want to exit Safe Mode then make sure to reboot the phone normally when in Safe Mode.
9. Reset Bluetooth Settings
It seems that the above methods didn't work for you and somehow the Bluetooth settings or configuration has some issues or corrupted data on your handset might conflict with the connectivity issue. For that reason, you should reset the Bluetooth settings to the factory default by following the steps below. To do so:
Open the Settings app on your device.
Tap on Settings > Choose System.
Tap on Advanced > Tap on Reset options.
Select Reset Wi-Fi, mobile, & Bluetooth. [On some devices, it may look like Reset Networking Settings]
Tap on Reset settings > If prompted, confirm the reset by providing the lock screen password, pin, or pattern.
Once done, wait for the reset to complete > Reboot the device to apply changes.
Finally, you can connect the Bluetooth to the other device to check for the issue.
10. Issues with Internal Hardware? Visit Service Center
If still the problem troubles you then make sure to visit your nearest service center to get your handset checked properly whether there is an issue with the internal hardware or not.
That's it, guys. We assume this guide was helpful to you. For further queries, you can comment below.