Since the release of Android 13, many users are facing a nagging screen flickering issue, making it tough to use their phones. Many forums are filled with users expressing their frustrations and looking for answers to this unexpected problem.
It looks like there might be some problems with the update itself, as it is affecting a wide range of Android devices. We hope that a coming update will sort out this issue if it indeed originates from the recent upgrade.
If you're dealing with this screen flickering problem after the Android 13 update, this article offers easy and practical solutions to ease this inconvenience until a permanent solution is available.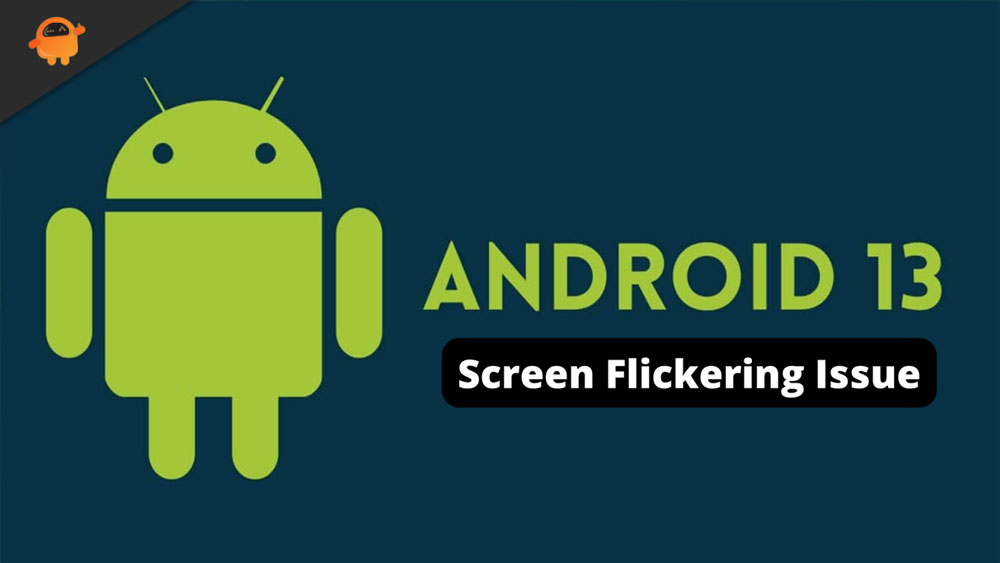 Why is The Screen on My Phone Flickering?
System caches are like app caches; they store necessary data that helps your phone start up and run correctly. Sometimes, the screen might flicker due to corrupted or mishandled GPU data. Clearing out the cache can help fix this. So, let's look at some solutions that can likely fix the screen flickering issue in Android 13 after the update.
How To Fix Android 13 Screen Flickering Issue After Update
If you've been encountering screen flickering issues after updating to Android 13, don't worry, you're not alone. Many users have reported similar problems. Here are a few methods you can try to hopefully resolve this issue.
Method 1: Close All Background Apps
Action: Close all apps running in the background.
Reason: Apps running in the background, especially heavy ones, consume many CPU and GPU resources and might affect the device's performance, causing issues like screen flickering.
How: Navigate through your device's app settings and close all active background apps.
Check: After performing this step, check if the screen flickering issue has been resolved. If not, please proceed to the next method.
Method 2: Force Restart Your Device
Action: Force your device to restart.
Reason: Sometimes a quick restart can solve many glitches causing the screen to flicker.
How: The process may vary between different Android devices, so refer to your device's manual or look up online on how to force restart your specific model.
Check: After restarting, see if the flickering has stopped. If the issue persists, move on to the next step.
Method 3: Uninstall Suspicious Apps
Action: Check and uninstall any suspicious or prank apps.
Reason: Some apps available on the Android Market can cause your screen to flicker as a prank. Although mostly harmless, it's best to remove such apps.
How: Go to the 'All apps' section in your device's settings menu and uninstall any app that seems suspicious or irrelevant.
Check: Once you've removed such apps, check your device again for any flickering.
Method 4: Factory Reset the Device
It always comes as a surprise when we hear about a factory reset because we fear losing our data. However, the screen flickering issue should be fixed if you are experiencing it due to a firmware issue, in this case, a factory reset should solve the problem.
If you factory reset your device, ensure all your important files are backed up to your SD card, Cloud, or another device. To do so, follow these steps:
Go to the

Settings

of your device.

Select

Backup & Reset

under

System

.

Choose to

erase all

data from the erase option.

Lastly, select

Format Phone Storage

and click

Clear Now

.
Nonetheless, if none of these options work, we have a few other options. Several users have already reported that these solutions have been helpful to them, and they recommend them to others.
Method 5: Adjust Screen Resolution
Sometimes, using HD screen resolution can lead to the screen flickering issue. Many users have reported that altering the resolution from HD to FHD has resolved the problem. Hence, adjusting your screen resolution could potentially be a viable solution to mitigate the screen flickering issues on Android.
Method 6: Perform Malware and Virus Check
If the screen is flickering and there is no major defect in the device, there could be a chance that your device might be infected with malware or a virus. In cases of virus or malware infections, such flickering problems can occur. To counter this, consider running a malware and virus scan using any credible antivirus app available on the Google Play Store to secure your device from potential threats.
Method 7: Clear Cache Partition
Clearing the cache partition often turns out to be one of the most effective solutions to such problems. This technique has already been successful for many users facing similar issues. To proceed with this, you will need to reboot your device into the recovery mode and choose the option to fix or repair apps from there, aiding in resolving any glitches present in the apps on your device.
Method 8: Check Hardware
Some hardware faults in the screen component itself could be causing the screen flickering problem. If there is a hardware fault, your screen must be replaced through the authorized service center.
Reminder to Users: After implementing the aforementioned methods, users are advised to check if the screen flickering issue has been resolved. If the problem persists, please proceed with the next suggested step until the issue is rectified.
Conclusion:
Dealing with screen flickering after updating to Android 13 can be quite bothersome, but thankfully, there are several simple solutions to try. Adjusting the screen resolution, scanning for malware and viruses, or clearing the cache partition can help tackle this annoying issue. Trying out these steps can offer relief by resolving any hidden glitches causing the flickering and improving your overall user experience with the device.
It's also comforting to know that as Android 13 develops further, upcoming updates are likely to fix these early-stage problems, making the operating system even more stable and user-friendly for everyone. So, stay patient and keep your device updated to enjoy a smoother and more seamless Android experience!