In this tutorial, we will list out the steps to complete the Ferris Bueller Challenge in BitLife. This real-life simulation game beholds quite a lot of things that you could carry out throughout your life. From choosing a plethora of career options to committing crimes, the list is spread across varied domains. Furthermore, there are tons of interesting challenges that they get blessed with. In this regard, the Surprise Millionaire Challenge, Dog House challenge, Tiger King challenge, House Flipper Challenge, were some of the more famous ones.
However, nowadays these challenges seem to have taken an interesting turn. We are seeing that they are being based on Hollywood movies. At first, there was the Forrest Gump Challenge and now the Ferris Bueller Challenge has made its way over to BitLife. In this tutorial, we will list out all the prerequisites that are required to successfully complete this mission set. So without further ado, let's get on.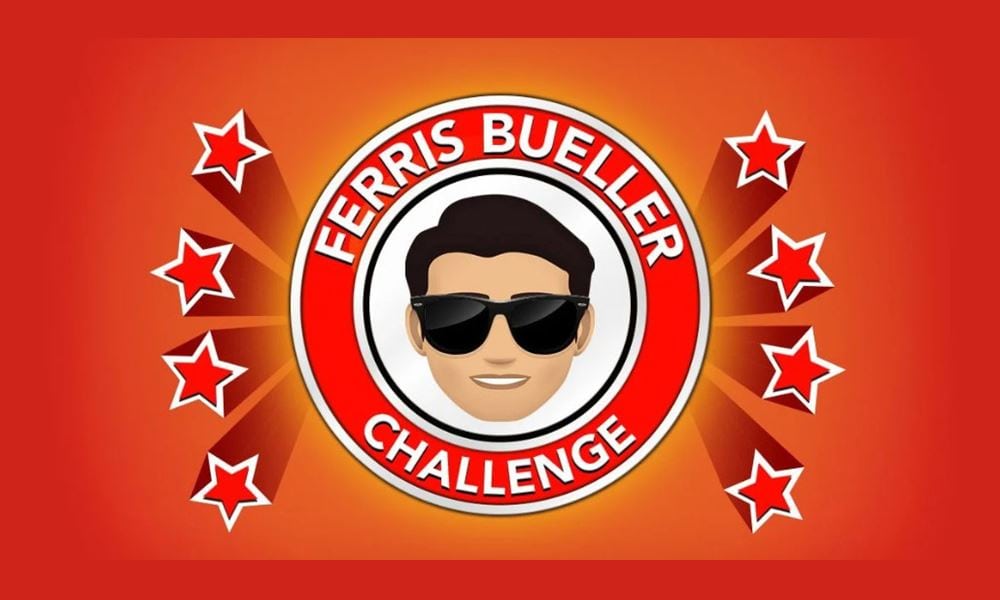 How to Complete the Ferris Bueller Challenge in BitLife
The thing with this mission is the fact that all its quests are hidden. In other words, as opposed to other challenges, BitLife hasn't listed out the requirements and have rather kept them as a secret. One way to deal with this is to go and watch the movie. But let's face it doesn't sound a good idea or even a viable move. So the other and more feasible approach will be to take the help of this guide. We have mentioned all the requirements that need to be met from your end to complete the Ferris Bueller Challenge in BitLife. Follow along.
The Prerequisites
Here are the five quests that you need to complete for this mission:
Be a male born in the United States in Chicago
Skip School at least once
Insult the Principal and Get Suspended
Date a girl from your Class
Steal a car
Be a Male
The first requirement calls for you to be a male and you should have been born in the city of Chicago in the USA. If you don't fulfill this, then the only way out is to start off with a new character and making sure it ticks marks the aforementioned things.
Skip School at least once
This option will be available once you reach high school and have attained the age of 11 years or older. So once that is done, head over to the Education section of the game and go to the School tab. There you should find the option to skip school. Do so and you would have completed the second quest out of five for the Ferris Bueller Challenge in BitLife.
Insult the Principal and Get Suspended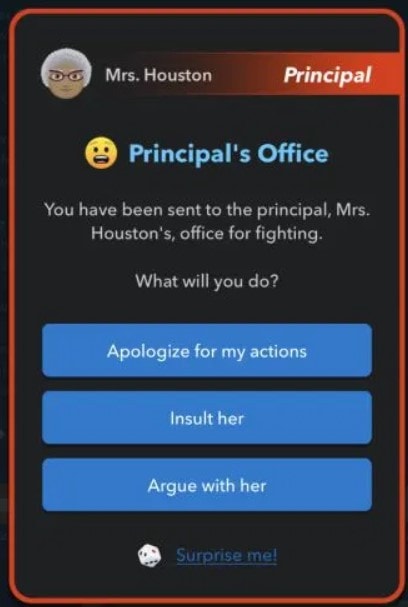 You will now have to insult the Principal. For that, you could either take a direct or indirect approach. The former could be done by heading over to the Education tab and then having a chat with the Principal, just make sure that this chat is more along the lines of insult and not just a normal conversation.
On the other hand, the indirect route involves insulting your classmates, fighting with them, arguing, and disrespecting your teachers. Do all such actions and you will be taken to the Principal's office. Once you reach there, insult him/her and you will be successful in your objective.
Date a girl from your Class
For this quest of the Ferris Bueller Challenge in BitLife, there are a few tips that you should keep in mind. To begin with, it would be much better if you try approaching a girl that has a green relationship stat. Then start a conversation with her, ask her to a date, shower her with gifts, compliments, and praise her. Carry out all these things and there is a high chance that she agrees to be your other half. Likewise, you could also go to the gym and try dating the girls, but this doesn't come with a high success rate.
Steal a car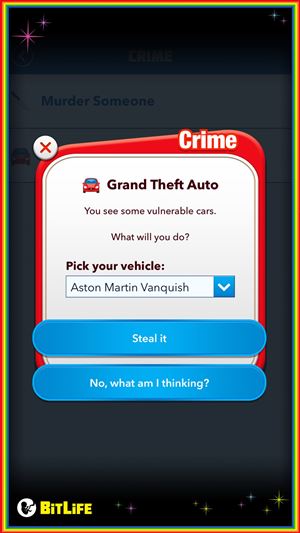 Lastly, you will also have to steal a car. While in the movie, Ferris stole a Ferrari, there isn't any restriction as such here. You could steal any car of your choice from the available ones. So head over to the Activities section > Crime and select the Grand Theft Auto option. Then select any of the cars from the drop-down to steal and that's it. You have successfully completed the challenge.
With this, we conclude the guide on how to complete the Ferris Bueller Challenge in BitLife. if you have any queries, do let us know in the comments section below. Rounding off, don't forget to check out our iPhone Tips and Tricks, PC tips and tricks, and Android Tips and Trick section as well.