Spotify is an audio streaming and media services provider that has been launched back in 2008. It offers a subscription-based audio streaming service to the users. However, some of the unfortunate users are experiencing issues with the playback. Whenever they try to play songs on the Spotify player, they receive an error message that says "Spotify Can't Play This Right Now. If you have the file on your computer you can import it." So, if you're also facing the same problem, make sure to check out this troubleshooting guide completely to fix it.
Since Spotify music can be played on different devices, users can take advantage of a free pack as well as a paid subscription pack. Meanwhile, some of the advanced users can also download music files locally to their computer and try to play them via Spotify player. But somehow it starts triggering multiple issues to the users which is very much frustrating. There are some of the most common issues or errors Spotify users can experience related to it such as playback fails, fails to play from a certain album, playback fails to download local files, songs can't be played on other external receivers, etc.
Also Read: PS5 Spotify Crashing or Not Working | Fix If Something Went Wrong
Fix: Spotify Can't Play This Right Now Error
If you're also unable to play songs on the Spotify player as we've already mentioned above, then don't worry. Here we've shared all the possible methods to easily fix this issue. However, before getting into any solutions, keep in mind that if in case any specific song title is grayed out due to regional restrictions or something like that, you'll need to cross-check it properly. That's not the Spotify player issue most probably.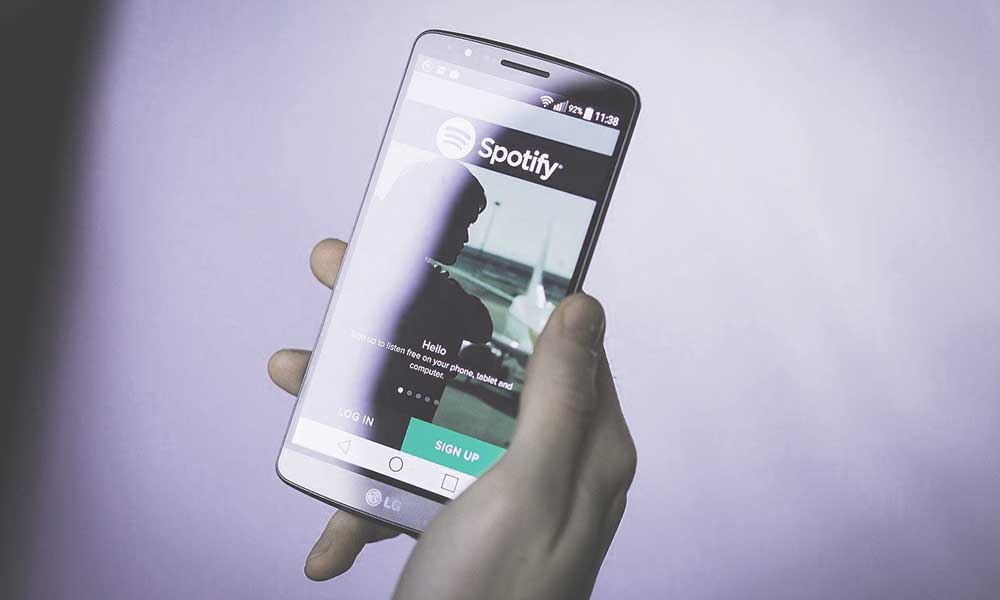 However, if there is any hardware settings, software settings, local cache file related issue present, follow the steps below.
1. Reboot your Computer
Well, this is one of the most common and useful tricks to easily resolve any kind of issues or glitches. Try restarting your computer once after closing all the running applications on your PC/Laptop to cross-check the issue. In most cases, this should fix the songs not available or can't play this song right now issue completely. However, if this doesn't help you, try the next method.
2. Disable Hardware Acceleration
The Hardware Acceleration feature can be used to overwrite the software algorithms to take full control and advantage of the hardware. It's more efficient and powerful than the software algorithms. Although Spotify comes with the Hardware Acceleration enabled by default, it can be turned off easily. Because it can trigger some issues with the music playback rather than optimizing music decoding or streaming. To turn it off:
Windows Users:
Open the Spotify app on your computer.
Click on the three dots icon at the upper-left corner.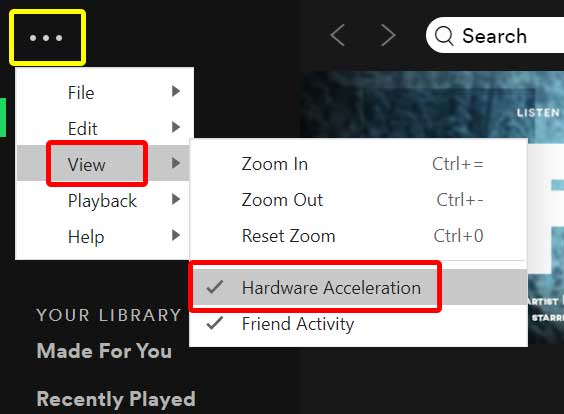 Select View > Click to Uncheck the Hardware Acceleration feature.
Once done, restart Spotify.
Mac Users:
Open Spotify on your Mac > Click on the Spotify tab from the top bar.
Click to Uncheck the Hardware Acceleration option.
Now, try playing a song on Spotify to check whether the Can't Play This Right Now Error is appearing or not.
3. Delete Spotify Local Files Cache
If your Spotify can't play local tracks and you've already tried multiple times then you can delete the local files cache to clear temporary glitches. To do so:
For Windows Users:
Make sure to fully close the Spotify app.
Type %appdata% in the search box > Open the file folder.
Go to Spotify > Users > xxxxxxxxxxxxxx-user. (It should be your Spotify username)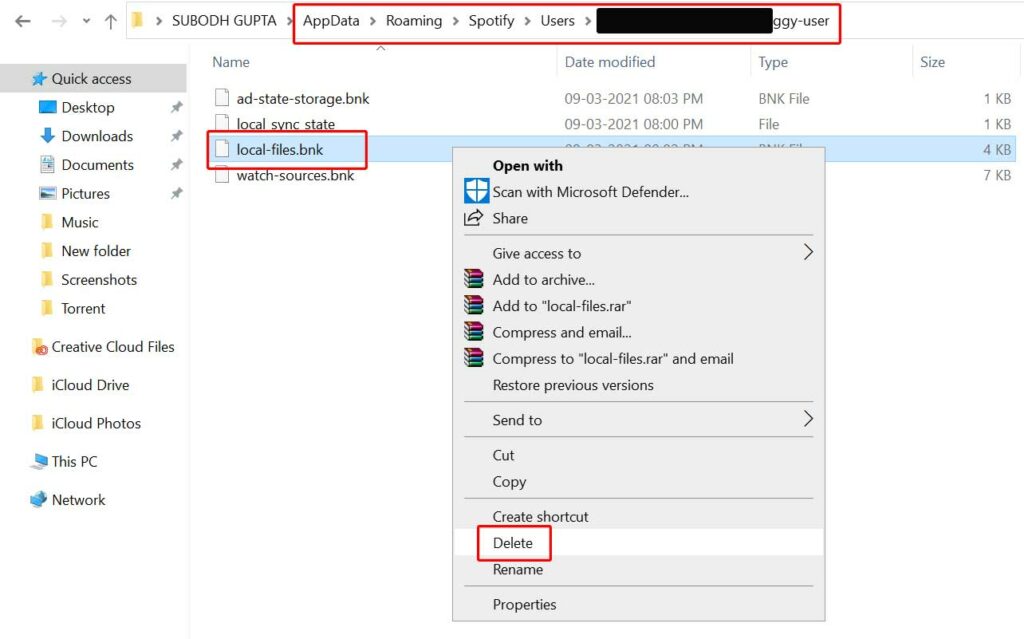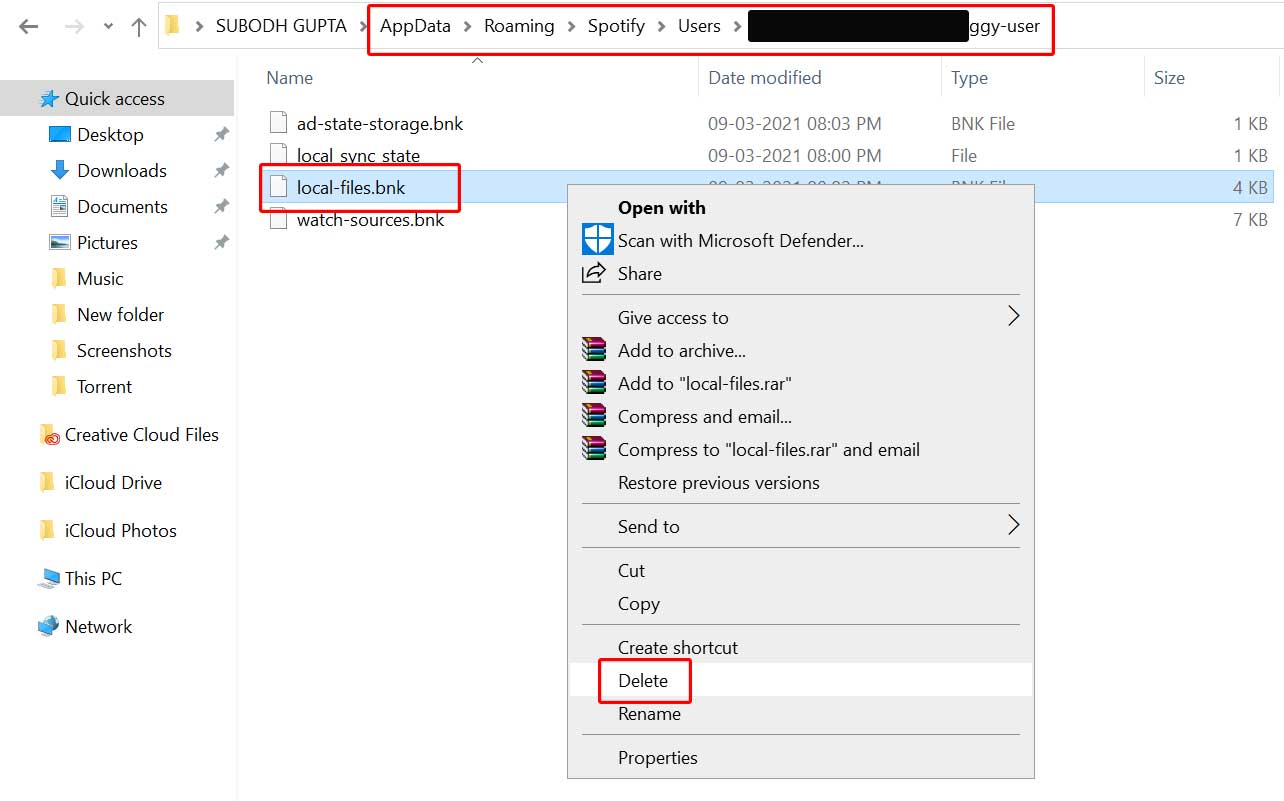 Now, delete the local-files.bnk file.
Once done, open Spotify > Check for the issue again.
For Mac Users:
Close Spotify > Go to /Users/*your username*/Library/Application Support/Spotify/Users/*your_Spotify_username*-user location.
Then delete the local-files.bnk file to clear the app file cache.
Make sure to restart your Mac and try playing music to check if Spotify Can't Play This Right Now Error is still bothering you or not.
4. Tweak Audio Streaming Quality
Spotify offers both the free and premium account that includes several sound quality and different range of songs. Obviously, the Spotify Premium account users will get more benefits. But if in case, you've canceled your premium subscription on Spotify and you're willing to play a song in a high-quality mode for free, it may throw you an error something like can't play this song right now, etc. So, you should change the sound streaming quality.
Open Spotify on your computer > Go to Settings from the Profile menu.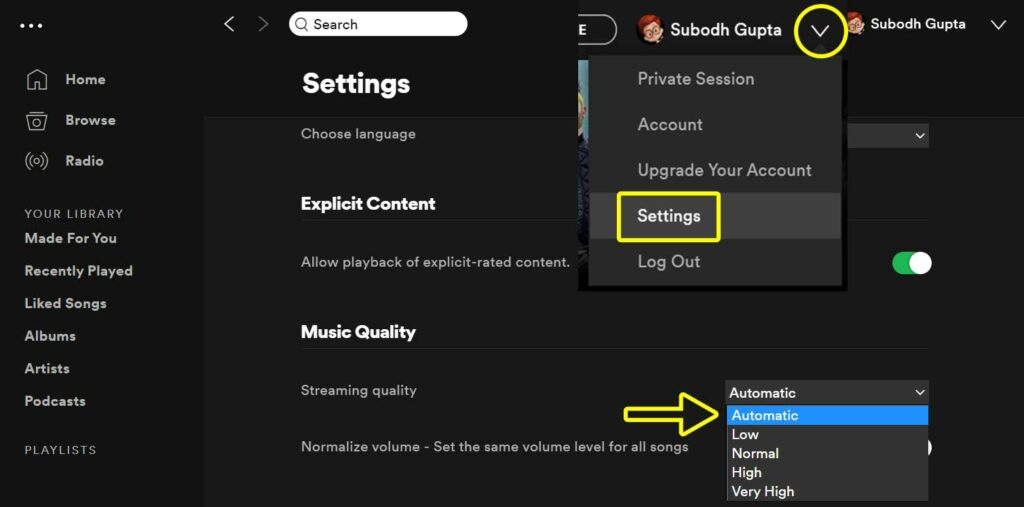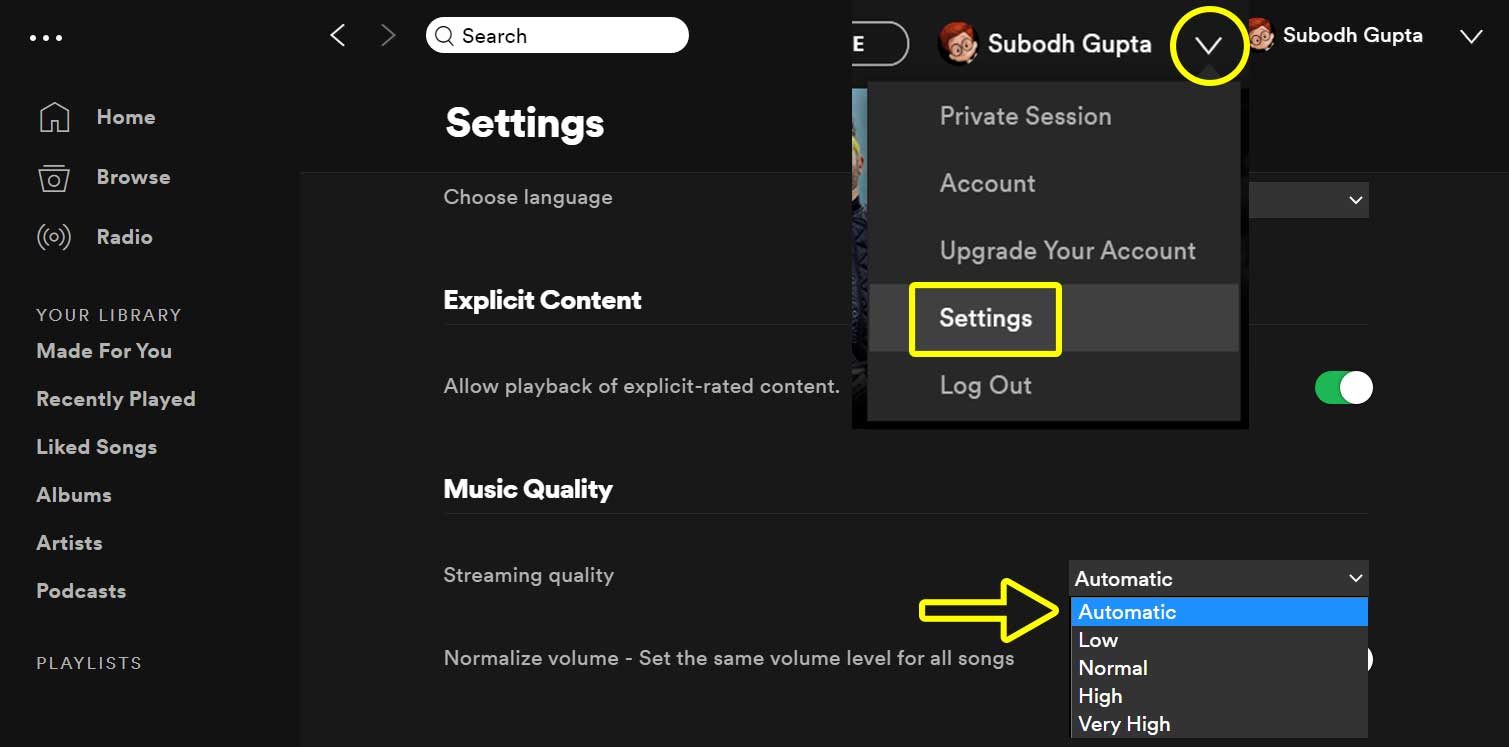 Choose Normal or Automatic for Music Quality (Streaming Quality).
Now, you can try playing a song on Spotify to check for the error again. If not fixed yet, follow another method.
5. Tweak Crossfading Value
Most of the online and offline music players do come with crossfading music playback feature and so the Spotify music app. If in case, your playlist or songs aren't available properly, Spotify's crossfading feature will show you such kind of errors. To fix it:
Open the Spotify desktop app > Go to Settings from the profile section.
Head over to Advanced Settings > Turn On Crossfade Songs in the Playback option.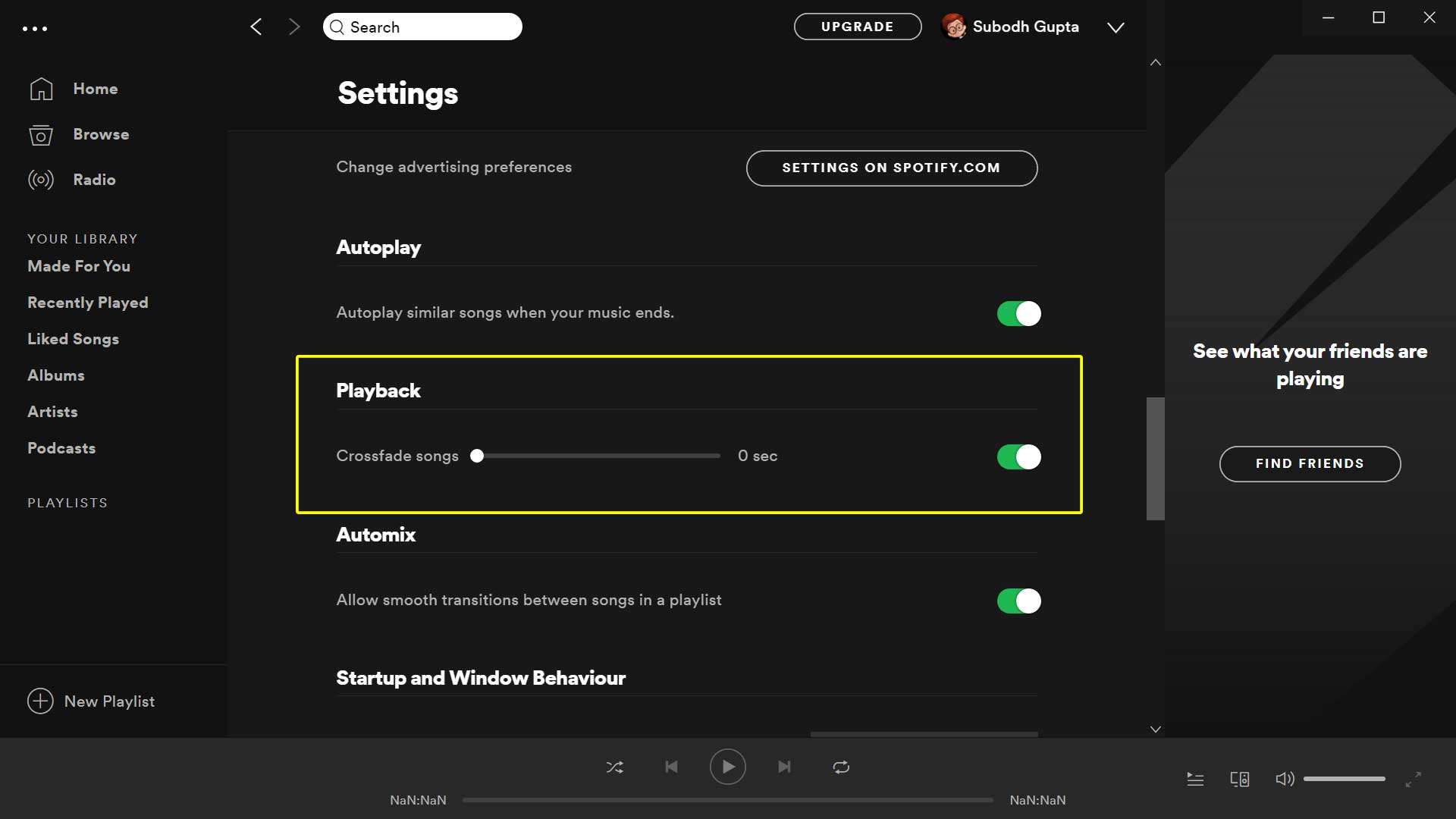 Adjust the value from 5 seconds to 0 seconds manually.
Alternatively, you can simply turn it off to reduce playback errors if there is an issue with your Spotify songs or playlist.
Must Read: How To Delete All Spotify Songs
6. Change Playback Speaker/Device
Make sure to change the playback speaker or audio device on your Spotify to cross-check the issue.
Right-click on the volume icon from the taskbar.
Select Playback Devices > Select a different speaker or audio device from the Playback section.
Open the Spotify app and try playing music to check whether it's still showing you Can't Play This Right Now error or not.
It's quite common that you've somehow deleted some of the songs from your computer but the Spotify app is still showing them in the songs list or playlist. Obviously, you can't play those songs because they're not available on your computer. So, enabling the 'show unavailable songs in playlists' option will help you to detect easily. To do that:
Open Spotify app > Go to Settings.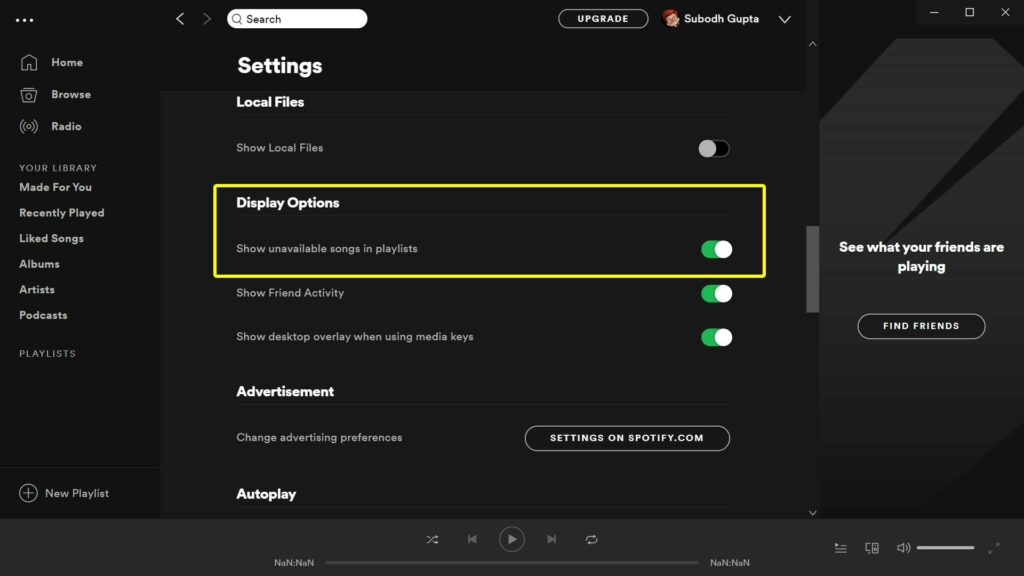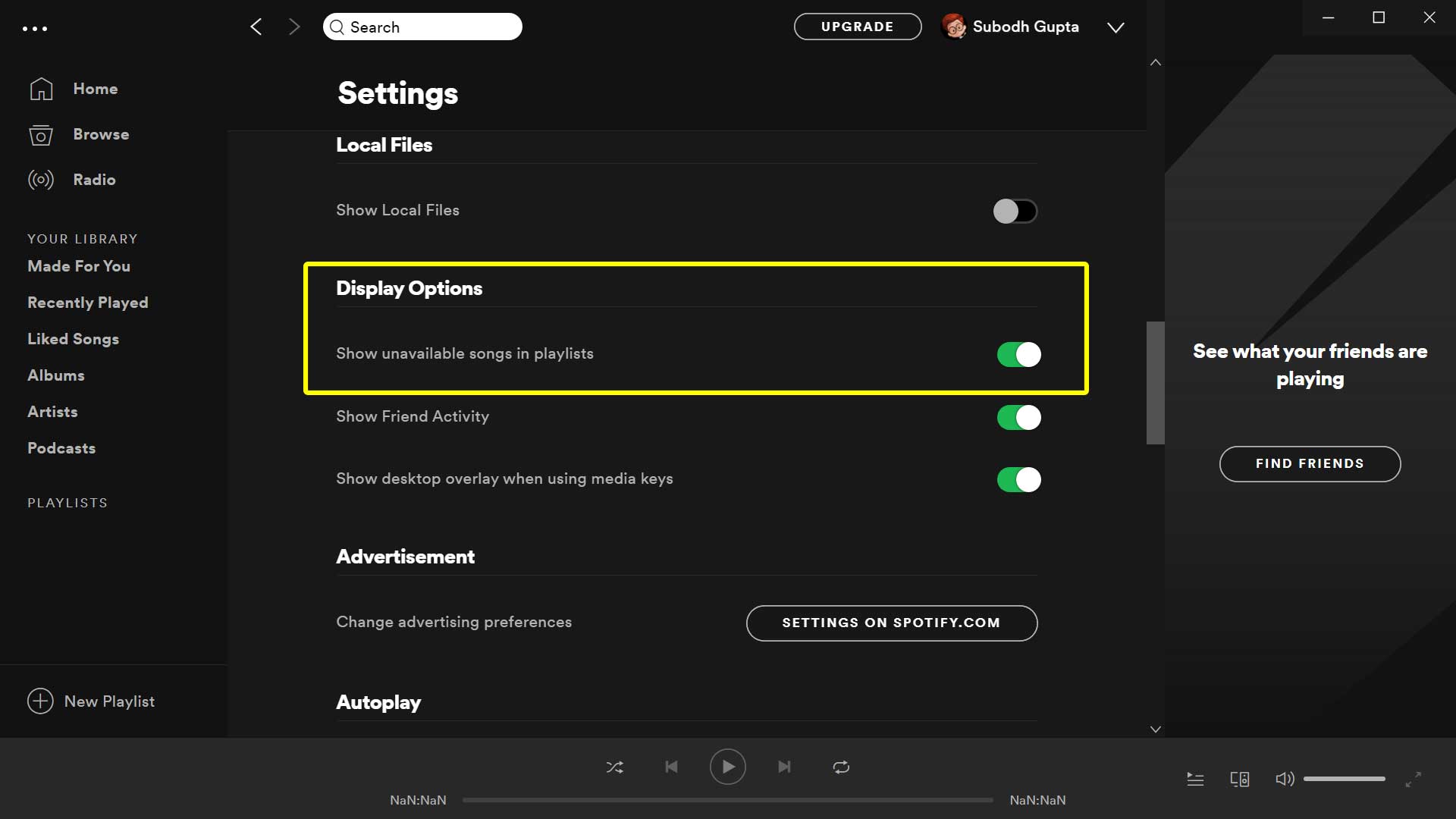 Head over to Display Options > Turn On the 'Show unavailable songs in playlists' toggle.
Now, you'll be able to identify which songs are unavailable on your computer. If you want, you can download those songs again to fix the Spotify Can't Play This Right Now Error.
8. Try a Different USB Port for Audio Device
Sometimes the wrong USB port of the audio device or headphone or speaker can also cause several issues and audio playback issues mostly. So, it's highly recommended to try using a different USB port for your connected audio device or speaker or even headphone to ensure the cause of the error.
9. Reinstall Spotify
If none of the above methods worked for you, try uninstalling and reinstalling the Spotify desktop app on your computer. It'll basically remove the Spotify cache files and corrupted files (if any) from the system. To do this:
Press Windows + I keys to open Windows Settings.
Now, click on Apps > Scroll down and locate the Spotify app.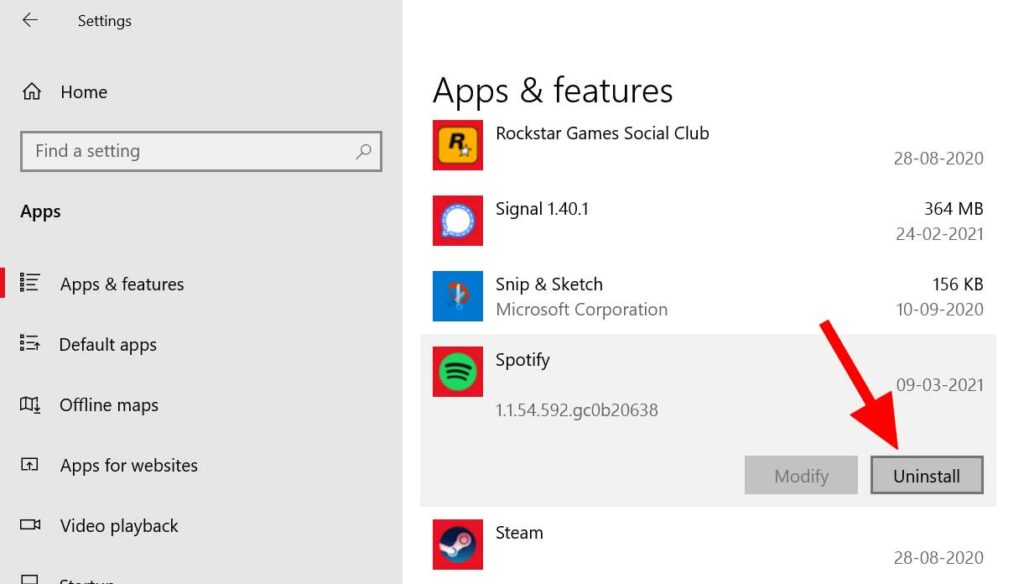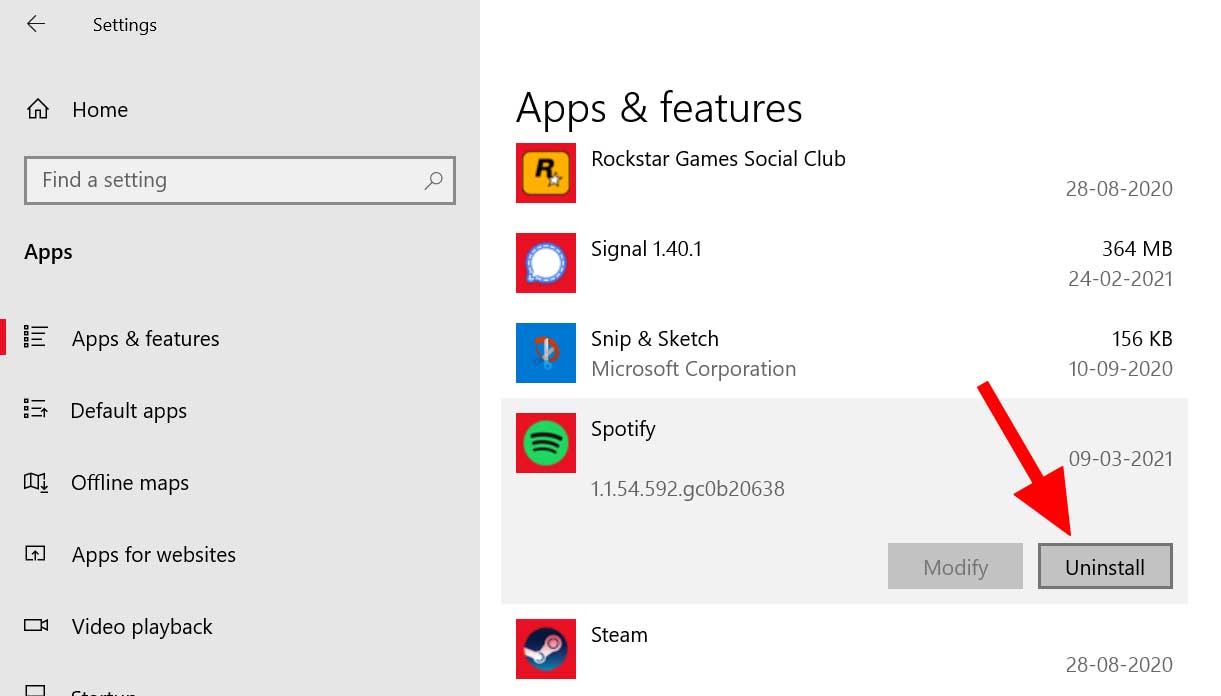 Click on it to expand the option and select Uninstall.
Follow the on-screen instructions and complete the removal process.
Once done, restart your computer.
Next, go to Microsoft Store and install the Spotify desktop app. You can also directly visit the Spotify website on your web browser and get the desktop app.
Once installed, log into your account > Check whether the problem still persists or not.
That's it, guys. We assume this guide was helpful to you. For further queries, you can comment below.