For some users, the latest iOS 16 updates is not showing on their iPhone and iPad. There can be multiple reasons behind this issue, such as the wrong beta profile downloaded or not on the iOS 15 release. Again we will explore the possible workaround for this problem, so make sure you read till the end.
Apple's latest iOS 16 is now downloadable, announced at the recent WWDC 2022 conference. Apple wants developers to have early access to IOS 16 so that they can update and design their apps accordingly. iOS 16 will be rolled out for the public in mid-September, and many users have already started getting update notifications.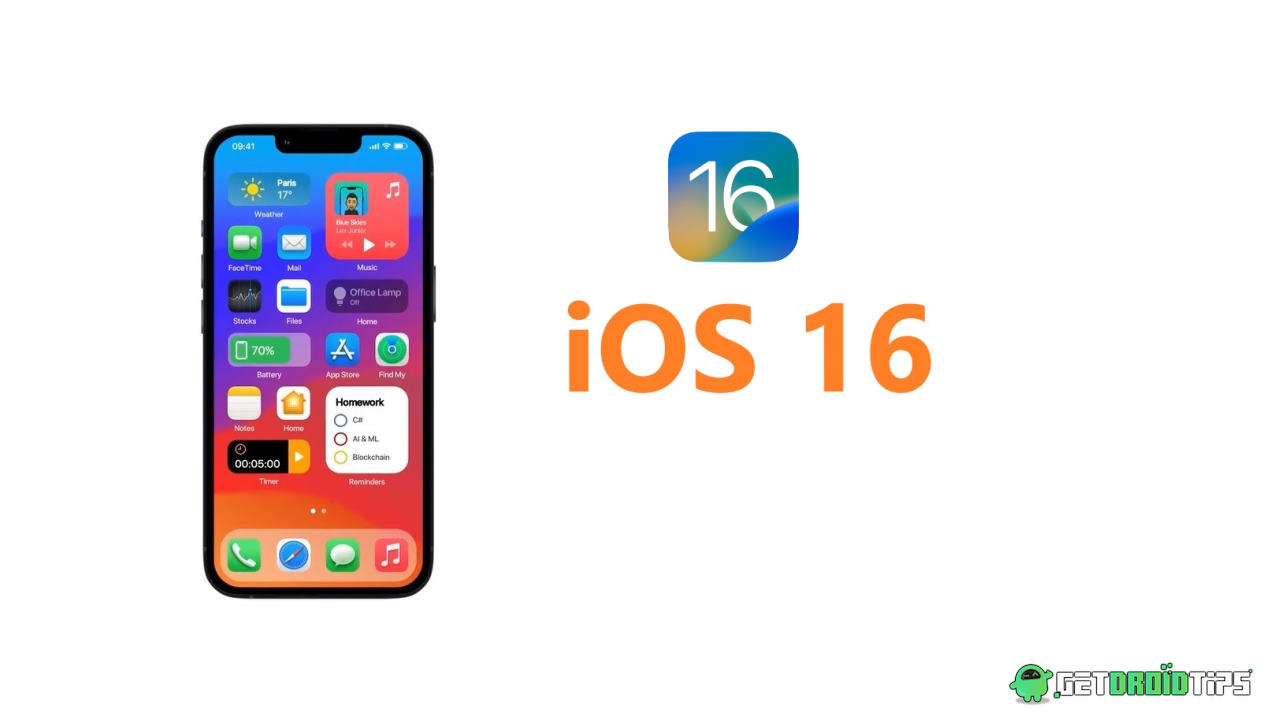 How to Fix iOS 16 Update Not Showing on iPhone and iPad
Apple wants users to have a taste of iOS 16 features, so many users have already received the invite to download and install the new OS. You will get a notification under Settings > General > Software update regarding the latest iOS 16. But for some people, it's not showing, and here are some troubleshooting methods to fix the same.
Method 1: Check IOS 16 compatibility
If you're not able to get the iOS 16 update notification, then the first thing we should check for is compatibility. According to Apple's official news, any iPhone older than iPhone 8 will not get an iOS 16 update. Customers having iPhone 6 or iPhone 7 will not get the latest update.
Method 2: Remove the iOS Beta Profile
Many users tend to install beta profiles, which gives them access to beta updates. However, if you have an iOS 15 beta profile installed, then you will not get the iOS 16 updates. So make sure to delete the beta profile as follows:
Open the settings app and navigate to general.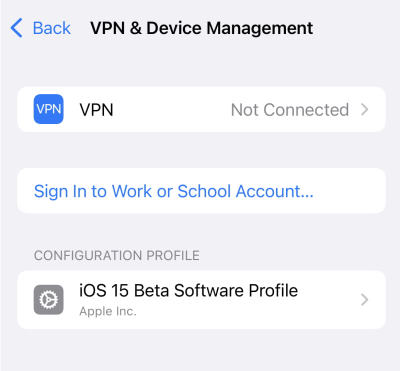 Here go to VPN & Device management option.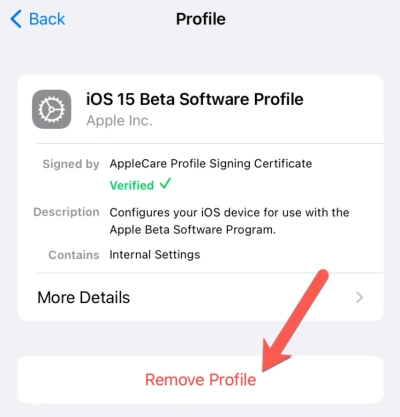 You will find the iOS 15 beta profile here, make sure to remove the profile.
Once you remove the profile, check for the iOS update again to see if it works.
Method 3: Reboot Your iOS Device
Sometimes the update is not shouting up due to a technical glitch. Such things happen occasionally and are a general nature of technological devices. However, you can solve this problem by shutting down your iPhone and turning it back on again.
Method 4: Ignore iOS 15 Update
Apple has finally decided to give users an option to choose IOS 15 or IOS 16 update to be installed on their iPhone. But as a result, you will only see iOS 15 updates in your notifications. But iOS 16 is still available, and you can also download that. Here's how you can do that.
Open the Settings app on your iPhone and check for any update notification.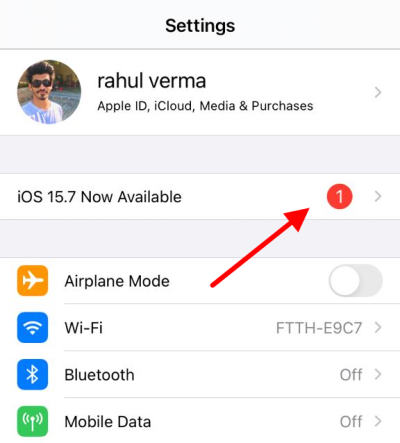 Choose iOS 16 in the update option.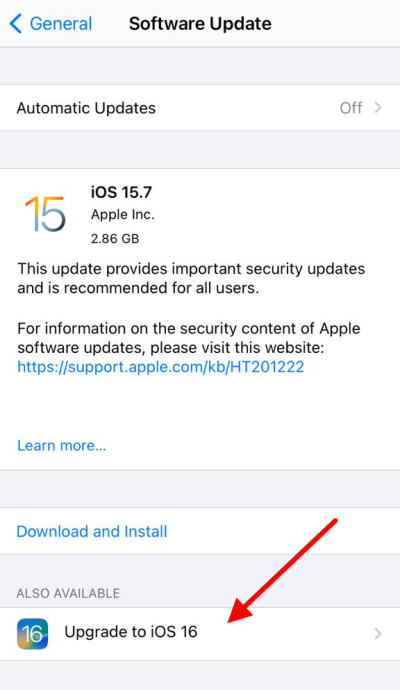 Now you can download iOS 16 from here.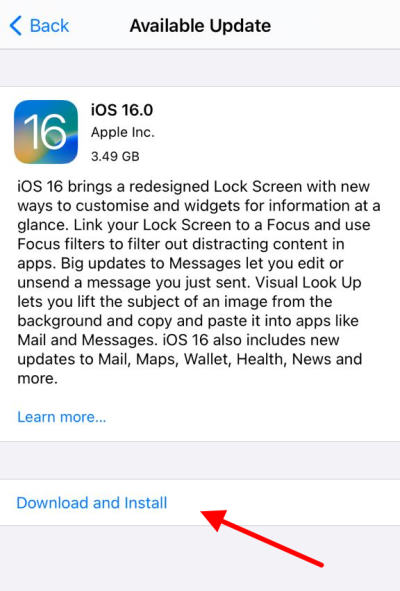 Your device will take some time to download and complete the installation process.
Method 5: Check for Update Manually
Usually, you will get a notification in the Settings app about the latest update. But if not, you can also check manually to the update section. Here is how you can do that:
Open the settings app and navigate to the general > Software update section.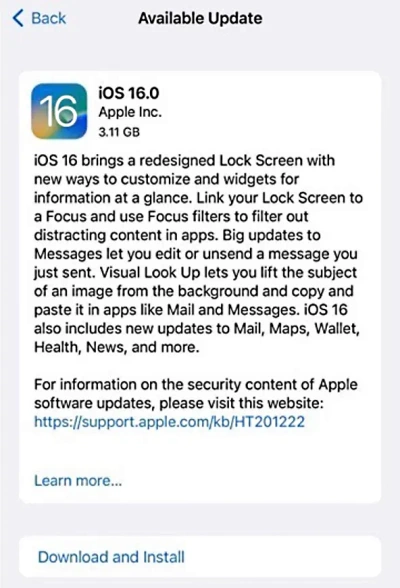 Here your iPhone will check for the latest update available.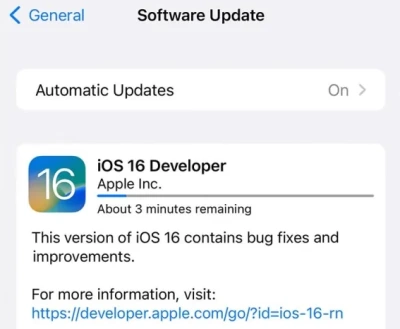 Choose iOS 16 and click on Download and install.
The update will download and installed shortly.
Method 6: Check System Status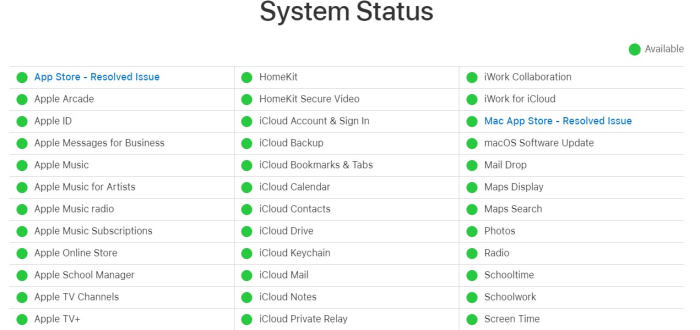 In some instances, it's possible that Apple services are down, which is why you cannot update your devices. Such instances have happened in the past, so Apple has a dedicated page where you can check server status easily. You can check the server status here, and check if all the services are marked green.
Method 7: Check Your Internet Connection
iOS updates are usually 2-3 GB in size, and the latest iOS 16 is 3.4 GB in size. So make sure your internet connection is fast enough to download such files. Also, you can only download updates via Wifi, so make sure you are connected to high speed wifi before downloading the latest iOS 16 updates for your iPhone or iPad.
Method 8: Disable VPN connection
Many users like to surf the internet with a VPN connection as it protects them from any vulnerabilities and also protects their data. However, iOS 16 updates might not work in the same, so make sure you disable any active VPN services and then try again.
Method 9: Reset the Network Settings
Sometimes, network settings are corrupted on your device, and that's the reason why updates are not showing up or not downloadable. But you can easily reset the network settings as follows:
Open the settings app and navigate to the general > Reset section.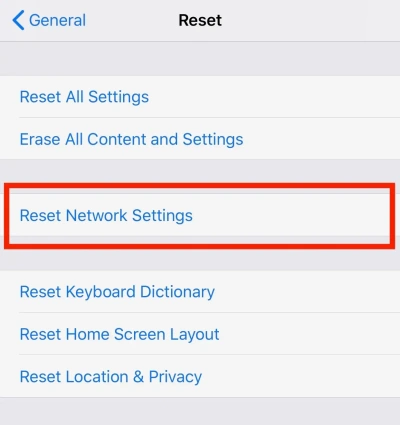 Here choose the reset network settings option. It will take a few minutes to complete the process.
Once done, you can restart your phone and again check for the iOS 16 latest update.
Method 10: Do Factory Reset
If none of the above methods work for you, the best solution is
to factory reset your iPhone. Factory resetting will solve most of the issues regarding the update. But make sure to take a complete backup of your phone before doing that.
Conclusion
This brings us to the end of this guide for fixing any problem related to the iOS 16 update not showing on iPhone and iPad. Please note that the above methods should help you out. If not, then it is a good idea to wait for it, as Apple always releases the iOS update in batches. So even if you dont have the update notification today, you will get it within the upcoming 3-4 days.