All the primary gadgets we use such as laptops, smartwatches, and smartphones they all run on battery. Before starting our day we charge them sufficiently. No one wants their gadgets to run out of juice in the middle of the day. Still, with extensive use gadgets do tend to lose battery power fast. Apple's new wearable the Watch Series 6 also runs out of battery quite fast. This is what a few folks that I know have been complaining about. So, in this guide, I will tell you a few tricks to improve battery life on your Apple Watch Series 6.
Do not worry. I will not tell you to minimize your smartwatch usage. Apple Watch is something that people wear almost 24-hours a day. This means it is undesirable to set your Apple watch on charging repeatedly. There are a few simple tweaks that you can follow and fix the battery life of your Watch Series 6. Let's check out how.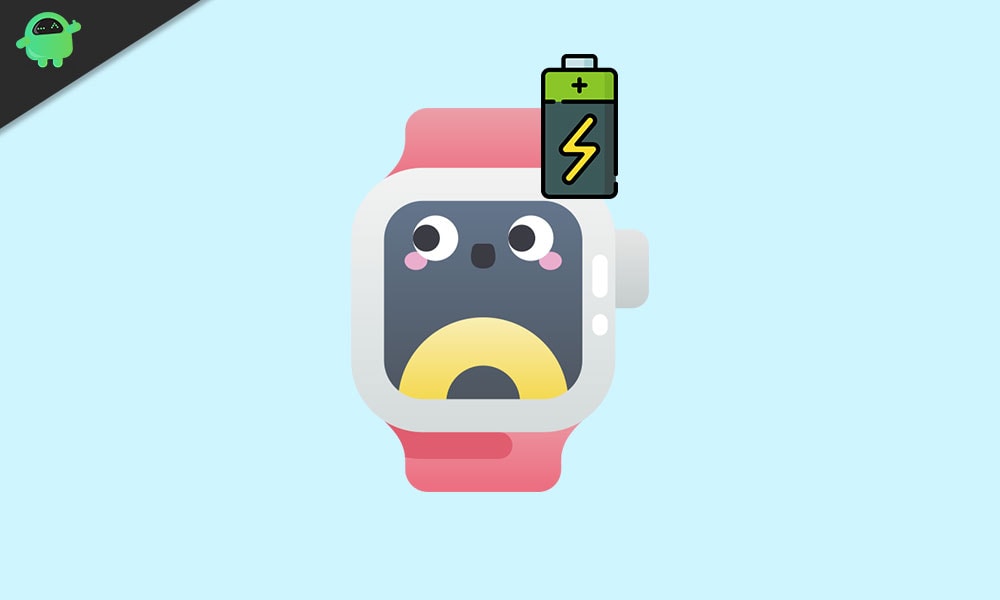 Improve Battery Life on Apple Watch Series 6
This simple troubleshooting that I have shared below doesn't only restrict to the newer Apple Watch Series. You can also implement it on the other previous generation of Apple Watch you are wearing.
Cut Down on the Animations
The latest watchOS packs a cool set of animations that you can have on your Apple Watch Series 6. As it goes, with more use of animation battery will deplete faster. So, disable the animations to improve the net battery life of your Apple smartwatch.
Launch the Watch app on your iPhone
Navigate to Accessibility
Tap on Reduce Motion [It will be set to off by default]
Touch the toggle to enable Reduce Motion. [toggle will turn green]
Use Minimal Brightness on the Apple Watch Display
I personally like to save battery on all my gadgets by using a moderate brightness. Unless you're someone with visual conditions, you can minimize the brightness of your Apple Watch display.
Navigate to Settings on your Apple Watch
Under that go to Display and Brightness
Tone down the brightness depending upon your visual comfort.
Always-On Display May Suck the Battery Life Out
AOD is definitely cool and helps you access various details on-the-screen 24X7. Still, this drains the battery quite faster. So, try to disable it
Open the Apple Watch app
Scroll to Settings > tap on Display and Brightness
Go to the option Always On Display
Tap on the toggle beside it to turn off AOD
Pair your Apple Watch Once Again With Your iPhone
The drill is simple. You have to unpair your Apple Watch from your iPhone and pair it back again. We have a full guide that will help you Pair your Apple Watch. Check it out.
Disable the Blood Oxygen Monitor
The Watch Series 6 comes with the most important feature that is the instant measurement of the suer's blood oxygen level. Given the COVID-19 situation, it is a great tool to stay aware of your health conditions. But this feature when not in use will drain out the battery. So, you can disable it which is easy to do.
On your Apple Watch Settings navigate to Blood Oxygen
Tap on the switch beside the option to turn it off
Later, when you wish to check your Blood O2 level, ten you can enable it and take the measurements.
Disable Raise to Wake Feature
This is a gesture that displays the screen when you lift your wrist. if you want to preserve the precious battery life of your Apple Watch Series 6, then you can disable this. Then to view the time you have to tap on the display of your Apple Watch. Pretty straight-forward.
Go to the Watch App
Tap on General > Wake Screen
Under that, there is the feature Wake on Wrist Raise
Tap the toggle to disable it
Release the Apps You Don't Need
Your Apple Watch may support a lot of Apps, but ask yourself how many of those apps you actually use every day. For those apps, your answer is no, remove them immediately from your Watch Series 6.
Open the Watch App
Go to the Installed On Apple Watch tab to see the list of active apps installed on your smartwatch
Tap on any of the apps that you wish to uninstall
Then you will see an option Show App on Apple Watch
Remove that app by tapping on the switch
Repeat the above steps for all those apps that you do not need on your Apple Watch Series 6
Getting rid of these apps will help you save battery life significantly.
Rebooting your Apple Watch Series 6
One of the most simple solutions to fix the battery draining issue is to reboot your Apple Watch. Rebooting fixes up a lot of mess in almost all gadgets. Normally due to some simple firmware bug, these issues like battery drainage may happen. So, trying to reboot is a common technique used by all tech enthusiasts to fix the problem.
Long press on the side button and the crown of the Apple Watch
Keep it pressed for a few seconds till you get to see the Apple logo on the Watch display
Then release the buttons and the crown
Disable Notification for the Apps on Apple Watch
Normally, everyone checks their iPhone every now and then. So, they won't miss out on the notifications too often. This means there is no need to get the same notification on your Apple Watch. I know the instant access to the notification such as a message or email is really helpful.
However, if you are worried about fast battery drainage from your Watch Series 6, then I suggest you disable notification from the Apps on Apple Watch that you absolutely do not need. You will anyway check them out when you unlock your iPhone. Hence, you won't be missing out on anything important.
Open the Watch App > go to Notifications
You will see the list of apps for which you can receive notifications on your Apple Watch
Simply tap on the toggle to disable notifications from those apps from whom you do not wish to get notifications anymore.
Disable Mobile Data on Your Apple Watch
We know the Apple Watch Series 6 comes in two variants. The GPS model and the Cellular variant. If you use the latter one, then follow this trick to fix its battery drainage issue.
Access the control center of the Apple Watch
Look for the Mobile data icon that looks like a symbol of a tower emitting signals. Tap on it
Then disable the Mobile Data toggle by tapping on it
Keep the Watch in Power Saving Mode During Workout
Almost every Apple Watch user tracks their fitness goals while wearing them during their workout session. So, if you are one of the users, then you can enable power saving mode that will disable the heart rate sensor and calorie counter on the watch. This will save a good amount of battery on your Apple Watch Series 6.
Later after your exercise, you can re-enable the heart sensor by disabling the power saving mode. This way you can save a decent amount of battery every day on your Apple Watch. To enable the power saving mode,
Open the Watch app
Navigate to Workout
Under that enable Power Saving Mode
Always Keep the Optimized Charging Enabled on Your Watch
With optimized charging, in the long run, your Apple Watch will perform efficiently in terms of battery life. To enable it,
Go to Settings
then navigate to Battery and access Battery health
Check that Optimized Battery Charging is active. If not, tap on the toggle to enable it
So, these are all the simple solutions that you can try to preserve the battery life of your Apple Watch Series 6 and improve its performance. You do not have to use all the fixes I mentioned here. I believe two or three of the methods can do the trick for you. Try it out and let me know in the comments.
More Apple Watch Guides,