When manually downloading any Samsung firmware file, the exact names according to the model number are very important. CSC is abbreviated as "Customer Service Customization" or "Country Specific Code". Moreover, as we all know, firmware updates are mostly rolled out region-wise; these CSC codes are crucial as they include region-specific settings, customizations, and system configurations. The region-wise updates also include system language and APN settings as well. This is why you would see a different CSC code for the same device in different regions. You will find any person living in the U.S. and owning a Samsung smartphone will have a different CSC as compared to a person with the same phone but living in India. In this post, we will share the list of Samsung CSC Codes for all countries [Country-Specific Codes].
Moreover, the firmware updates are divided into two categories, i.e. the PDA and CSC. Now, you might wonder what PDA is. Whenever Samsung releases any update, the PDA will indicate the Android system changes that the update brings for the smartphone. On the other hand, the CSC will show you all the region-specific changes or updates the update brings for the Samsung device. Besides, the PDA or the CSC will not be very important for any average user who downloads all the updates officially via OTA. But, for people who would like to root their device and install TWRP Recovery or restore to a completely stock ROM, knowing the exact CSC of the firmware becomes essential.
Also Read: Fix: Samsung Phone Showing Error "This Device Will Be Locked in 24 Hours"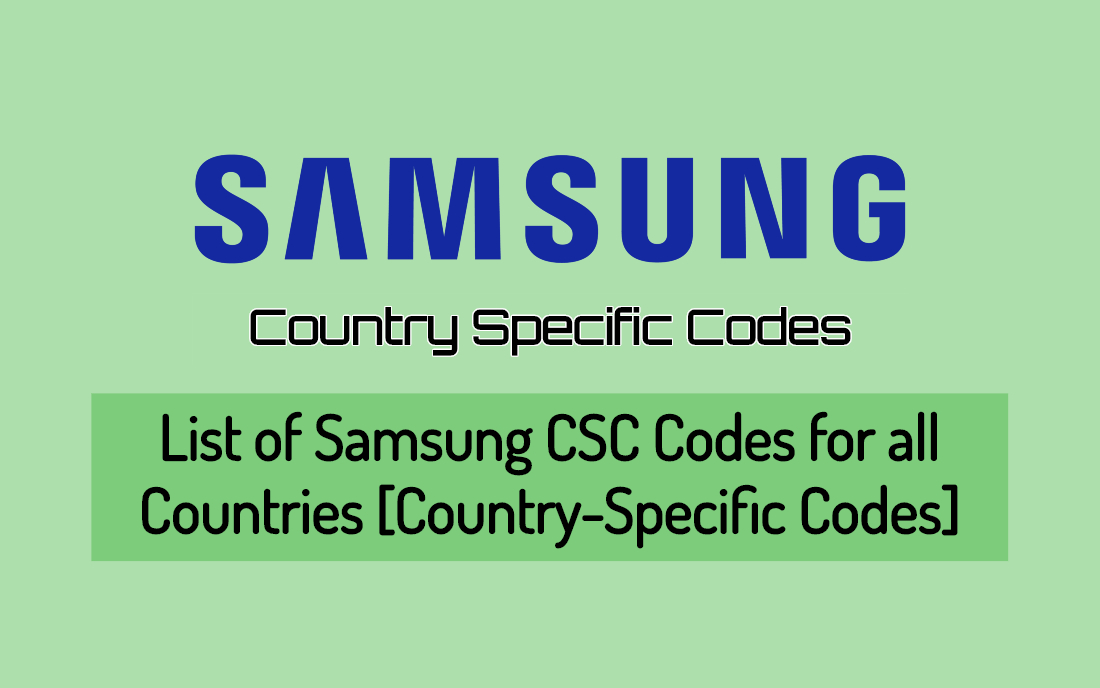 List of Samsung CSC Codes for all Countries [Country-Specific Codes]
We have created the list of Samsung CSC Codes, alphabetically so that it will be easier for you to search and find out the CSC for your country. You can also press Ctrl + F button on your keyboard and type in your country name to search for the CSC for your country. Check out the list below;
A
Afghanistan: AFG
Algeria: TMC, ALG, ALR
Austria: ATO (Open Austria) AOM, DRE (3 Hutchinson), MAX (T-Mobile), MOB (A1), MOK, ONE (Orange), TRG (Telering), TTR
Albania: AFV (Vodafone)
Aruba: ARU
Australia: XSA, OPP, OPS (Optus), VAU (Vodafone), TEL (Telus), HUT (Three/Vodafone)
Argentina: ANC, ARO, CTI (Claro), UFN (Movistar), PSN (Personal)
B
Bahrain: ARB
Baltic: SEB
Belarus: MTB, VEL
Belgium: BSE, BAE, PRO (Proximus), XEB
Bangladesh: BNG, , TML , ETR
Bosnia: ERO, BHO, BHT (BH Telecom), TEB
Brazil: ZTO, BTA, BTM, TMR, ZTA (Claro), ZVV (Vivo), ZTM (TIM)
Bulgaria: BGL, CMF, GBL, MTE, MTL (MTL), OMX, PLX, VVT (VVT)
C
Cambodia: CAM, RCG
Canada: BMC (Bell), RWC (Rogers), TLS (Telus), KDO (Koodo)
Chile: CHO, CHB, CHE (Entel PCS), CHL (Claro), CHT (Telefonica)
China: CHN, CMC, CUH, INT, M00, TEC, TIY
Colombia: COO, CGU, COB, COL, COM
Costa Rica: ICE
Croatia: CRO, TRA, TWO, VIP (VIP-Net), DHR
Cyprus: CYV (Vodafone), CYO
Czech Republic: ETL, KBN, O2C, OSK, TMZ, VDC (Vodafone), XCS, XEZ
Caucasus Countries: CAU
D
Denmark: DTL
Dominican Republic: CDR, TDR, DOR
Dominica: CST, DCN, DOR
E
Ecuador: EBE, ECO, BBR
Egypt: EGY
El Salvador: DGC, TBS
F
Finland: ELS, SAU
France: XEF, AUC, BOG, COR, DIX, FTM, NRJ, OFR, ORC, ORF, OXA, SFR, UNI, VGF
Fiji: VFJ (Vodafone)
G
Germany: DBT, DTM (T-Mobile), DUT, EPL (E-Plus), MAN, MBC, OXA, VD2 (Vodafone), VIA (O2), XEG
Ghana: SPN, ACR
Greece: EUR, AOC, COS (Cosmote), CYO, GER, OXX, TGR, VGR (Vodafone), ILO (HotMobile)
Guatemala: PCS, TGU, PGU, CGU
H
Hong Kong: TGY
Hungary: XEH, PAN (Telenor), VDH (Vodafone), WST, TMO, TMH (T-Mobile)
I
India: INU, IND, INA, INS, IMS, REL
Indonesia: AXI, SAR, XSE, XID
Iran: THR
Iraq: MID
Ireland: 3IE, VDI (Vodafone), TSI, MET
Israel: ILO, CEL, PCL, PTR
Italy: ITV, FWB, GOM, HUI, OMN (Vodafone), OXA, TIM, VOM, WIN, XET
Ivory Coast: IRS, SIE
J
Jamaica: JBS, JCN, JCW, JDI, CWW
Japan: DCM, SBM, VFK
Jordan: LEV
K
Kazakhstan: EST, KCL, KMB, KZK, OXE, SKZ
Kenya: KEN, KEL, AFR
Korea: SKT, LUC, SKC, KTC
L
Latvia: SEB
Libyan Arab Republic: MMC
Lithuania: TLT
Luxembourg: LUX
M
Macao: VTN
Macedonia: TMC, MBM, VIM
Malaysia: CCM, FME, FMG, MXS, OLB, XME
Mexico: SEM, TCE, TMM, UNE, IUS
Mongolia: MPC
Morocco: FWD, MAT, MED, MWD, SNI, WAN
Montenegro: TMT
N
Nepal: NPL
Netherlands: PHN, BEN, KPN, MMO, ONL, QIC, TFT, TNL, VDF (Vodafone), VDP, XEN
New Zealand: VNZ, NZC, TNZ
Nigeria: ECT, GCR, MML
Nordic Countries: NEE
Norway: TEN (Telenor)
P
Pakistan: PAK, WDC
Panama: TPA, BPC, PCW, PBS, CPA
Peru: PEB, PET, SAM, PNT, PVT,
Philippines: FAM, GLB, OLB, SMA, XTC (Open Line) , XTE
Poland: ERA, IDE, PLS, PRT, XEO, OXA, OXX, DPL, TPL
Portugal: OPT, OXX, TCL (Vodafone), TMN, TPH , XEP
Puerto Rico: CEN, PCI, TPR, PCT
R
Romania: ROM , CNX (Vodafone), COA, HAT, ORO, OXX
Russia: AZC, BLN, EMT, ERS, GEO, MTV, OXE, SER , SNT
S
Saudi Arabia: KSA , JED, ACR, WTL, STC, XFU
Senegal: DKR
Serbia Montenegro: MSR, OXX, PMN, SMO, TOP, TSR
Singapore: MM1, XSP, SIN (Singtel), STH (Starhub), BGD, XSO
Slovenia: MOT, SIM (Si.mobile),SIO
Slovakia: ORX, GTL, IRD, ORS, OXX, TMS
South Africa: XFA, XFE, OXX, XFC, XFM, XFV (Vodafone)
South East Europe: SEE
South West Asia: SWA
Spain: PHE, FOP, AMN (Orange), ATL (Vodafone), EUS, XEC (Movistar), YOG (Yoigo)
Sri Lanka: SLK
Sweden: BAU, BCN, BME, BSG, BTH, COV, HTS, SEN, TET, TLA, TNO, VDS, XEE
Switzerland: AUT, MOZ, ORG, OXX, SUN, SWC (Swisscom)
T
Taiwan: BRI , CWT, TCC, TCI, TWM
Thailand: CAT, OLB, THE, THL, THO, THS, LAO, MYM
Tanzania: SOL
Trinidad and Tobago: EON, TTT
Tunisia: TUN, ABS, RNG
Turkey: TUR, BAS, KVK, TLP, TRC
U
Ukraine: KVR, SEK , UMC
United Arab Emirates: ARB, ITO, MID, OXE, XSG
United Kingdom: BTU, EVR (EE), BTC, CPW (Carphone Warehouse), H3G, O2I, O2U (O2), ORA (Orange), OXA, TMU (T-Mobile), TSC, VIR, VOD (Vodafone), XEU (EE & Three)
USA: ACG (Nextech/C), ATT (AT&T), BST, CCT (Comcast), GCF, LRA (Bluegrass Cellular), SPR (Sprint), TFN (Tracfone), TMB (T-Mobile), USC (US Cellular), VMU (Virgin Mobile USA), VZW (Verizon Wireless), XAA (unbranded/default), XAS
Uzbekistan: CAC, UZB
V
Venezuela: VMT (Movistar), DGT, MVL
Vietnam: DNA, FPT, OLB, PHU, SPT, TLC, VTC, VTL, XEV, XXV
So, there you have it from my side in this post. Let us know in the comments below if we have missed any CSC for any country in the above list. Until the next post…Cheers!