Paramount Network is among the most recognized networks operated by the ViacomCBS networks International. The network offers several television channels, Paramount Pictures Film Catalogue, and many TV series of ViacomCBS productions. As a Paramount Network User, you need to subscribe to one of their available plans to enjoy their startling services. However, that is where most users come into trouble as they get confused about which plan would be best suitable for them.
Users often mess up while selecting between the Paramount Plus Essential and Paramount Premium plan. If you are new to Paramount Networks, you must be well aware of your requirements, as it will help you to select the right subscription plan. Both Paramount Plus Essential and Premium plans offer a specific set of channels to ensure a better service to the users as well as allow them to save some money and time.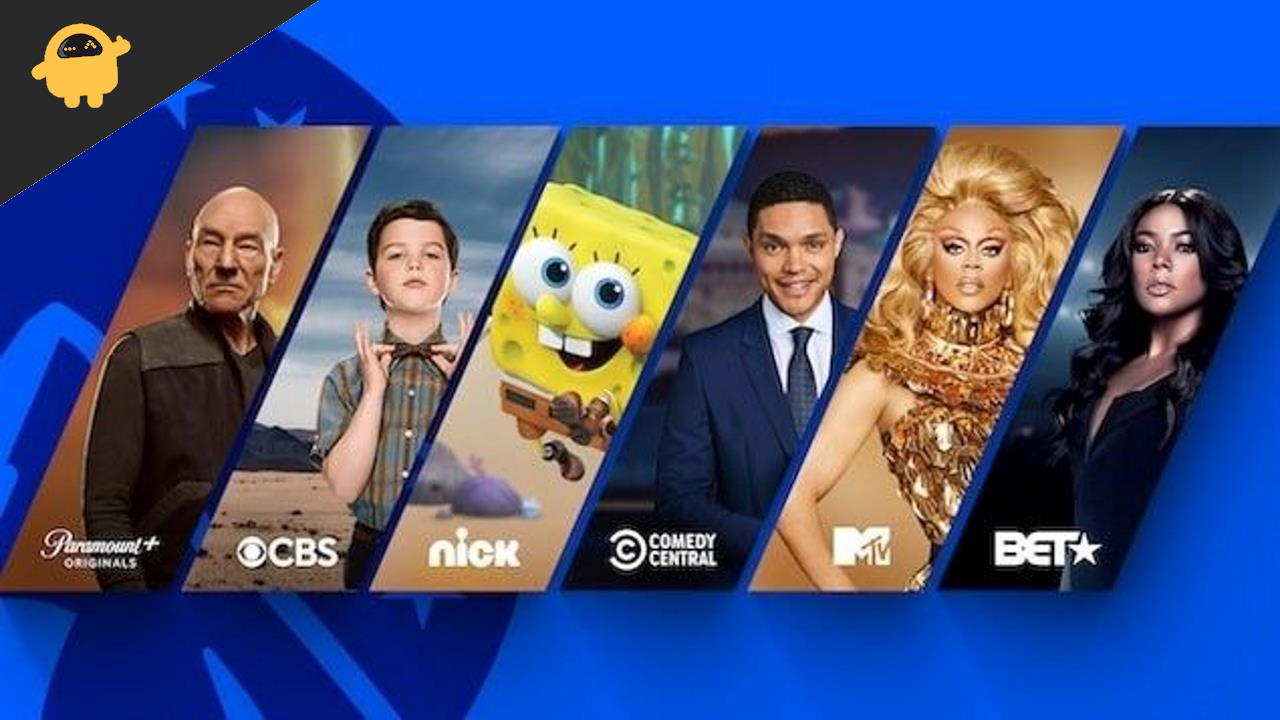 Paramount Plus Essential vs Premium Plan
A short summary to describe the basic difference between both plans would be, the Paramount Plus Premium plan, also known as the all-access plan, offers you a variety of channels. It lets you access all local live CBS channels along with a commercial-free stream. Although the live TV streams contain few ads, to keep you updated about the upcoming shows on the channel.
On the other hand, the Paramount Plus Essential plan offers you relatively fewer options. As a Plus Essential subscriber, you won't be able to access the local live CBS channels. Although the plan includes a seamless streaming experience with limited commercials. Besides, you will get access to a variety of on-demand entertainment channels with up-to-date movies, series, and other content.
Paramount Plus Essential vs Premium Plan Comparison: Differences Explained
The Paramount Premium is the top-most tier plan from Paramount, while the Plus Essential plan provides a decent service for the least cost. Here is a brief comparison between both plans in terms of the many factors.
Paramount Plus Essential vs Premium Plan: Contents
The number of contents and channels is probably what creates most of the differences between the two plans. The Plus Essential plan offers more than 30,000 TV Shows, movies, and other entertainment content to watch from including Paramount Plus Originals and other exclusive programs. It also includes NFL on CBS and Champions League Live, and 24/7 national news along with limited ads in the loop.
The Paramount Premium plan also includes all the services available in the Essential plan and has, even more, to offer on the list. You can access to a variety of entertainment content, including movies, music, series, and more. Additionally, it provides NFL on CBS, top soccer, and various other interesting sports. The premium plan comes ad-free except for the Live TV and a few selected shows. The most important part, however, is you get access to all the local live CBS channels and the facility to download your favorite shows to watch later.
Paramount Plus Essential vs Premium Plan: Pricing
Paramount Plus Essential is the cheapest Paramount subscription plan, costing even less than the previously discontinued base plan. The Plus Essential plan is available at a price of $4.99 per month. While the premium plan is available for both a monthly and yearly basis. It charges around $9.99 per month or $99.99 per year.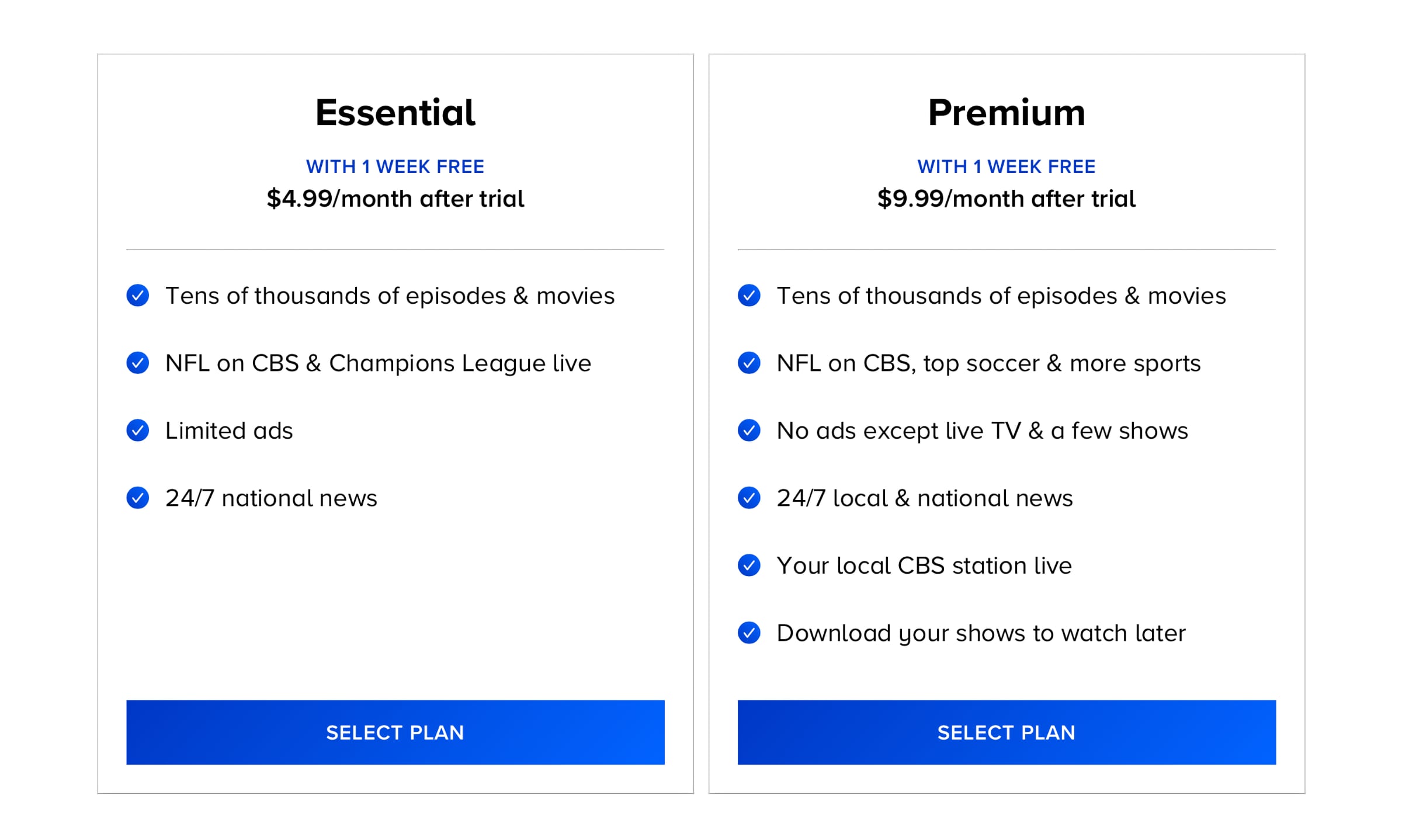 Moreover, both plan includes a 1 week free trial, so you can get your trial before going for an absolute choice. Try both and select the one that you feel satisfies your needs.
Paramount Plus Essential vs Premium Plan: Streaming Quality
Coming to the streaming quality of both, Paramount Plus Essential plan does not come with support for HDR10 or 4K streaming. Moreover, it doesn't even have the support for Dolby Vision content as well.
However, you will get all the above facilities with the Premium subscription, including 4k streaming. The only thing you need to care about is having a highly stable internet connection.
Conclusion
Looking at the differences, it is clear that the primary difference between both plans lies in the number of contents and ad-free streaming. Now, selecting a plan would, of course, carry personal choices. If you prefer ad-free streaming or have the requirement of the local live CBS channels, obviously the Premium plan looks like a better choice. However, if you are not a regular streamer or don't have any such preferences, Paramount Plus should offer you a satisfactory service. Anyway, comment below on which plan is more suitable for you and why?