Microsoft Teams is a great application for project collaboration and working on an assignment in teams. However, the app is very heavy on most desktop PCs and runs automatically upon starting. This is creating a headache for many customers as Microsoft Teams software is slowing PC. So obviously, people want to know how to stop Microsoft teams from starting automatically on Windows 11/10. If you are also facing the issue where Microsoft teams are station automatically and slowing your PC, then do not worry. The issue is pretty simple and can be fixed permanently.
In Windows PC, the startup sequence has a list of programs that it executes, in the shortlist of the program, which will run automatically upon login in. So we will help you edit that file so you can remove Microsoft teams from windows startup. After that, you will not have the issue of Microsoft Teams starting automatically on Windows 11/10. This will save you time, and your PC will run without getting slow.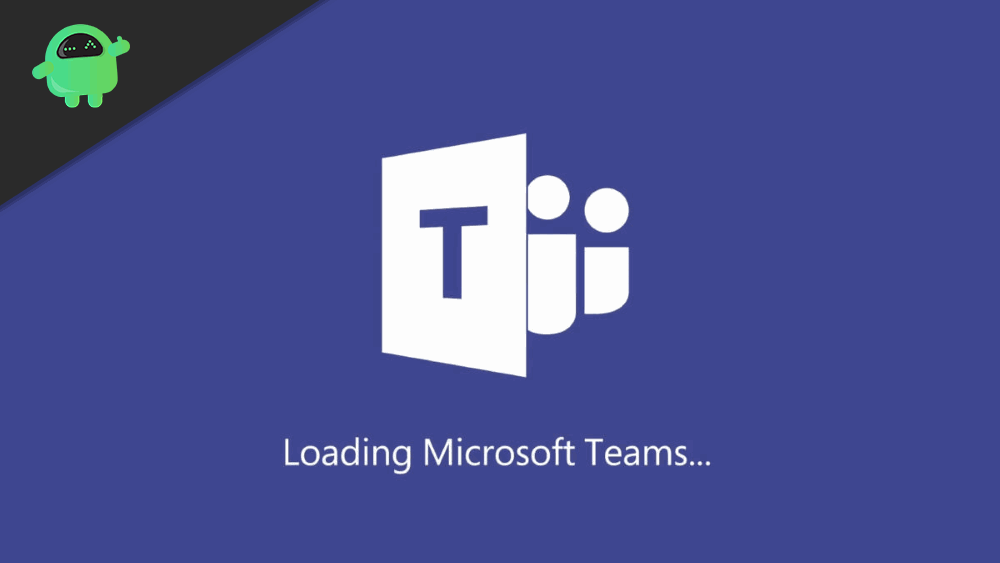 How to Stop Microsoft Teams From Starting Automatically on Windows 11/10?
Microsoft Teams is a robust collaboration, chatting, meeting workspace application. It is a very useful application. However, the app behaves in a certain way, which sometimes we don't to. One of the annoying behavior you may have seen in Teams is Autostart. Whenever you power on your device and open up your Windows, Teams always run in the background. This leads to a lack of performance because Teams consume a good amount of memory and processor power. So probably you might wanna disable this Autostart feature of Teams. To know how to disable the feature read the guide mentioned below.
There are three ways to disable the autostart on startup feature in Microsoft Teams.
Disabling Auto-start Feature in Teams from the icon
Every app or software comes with one auto-start feature which you can enable or disable by choice. thankfully Microsoft teams also come with such a feature and you can disable it to prevent it from starting automatically on your Windows 11/10 PC.
Step 1) Click on the Team icon located at the bottom right corner of the screen on the taskbar, in the additional application icons section.
Step 2) Right-click on the Teams icon and move the cursor to the Settings option.

Step 3) Now, select the Do not auto-start Teams option.
Disabling Auto-start Feature in Teams from Windows settings
Step 1) Click on the Windows icon and click the Settings icon to open up the Windows Settings.
Step 2) Now, go to the Apps, on the left pane of the window, click on the startup option.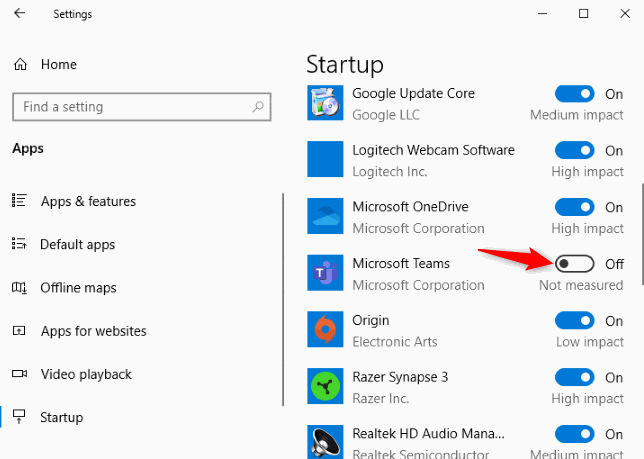 Step 3) Navigate, scroll down, and find Microsoft Teams, Toggle the option to turn it off.
Disabling Auto-start Feature in Teams using the Task Manager
There is a Windows autostart system that keeps track of app and services which start upon boot time. You can enable or disable such services which are taking too much space, CPU time, or RAM. You can also disable Microsoft Teams' auto start feature in Windows 11/10.
Step 1) Type task manager in the windows search bar and open up the Task Manager app.
Step 2) Go to the Startup tab.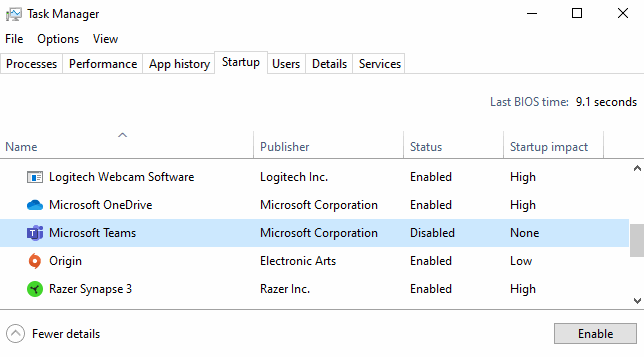 Step 3) Scroll down to find Microsoft Teams, right-click on it, and select the Disable option. You can also select the Microsoft Team option and click the Disable button below the task manager window.
Conclusion
Disabling the Microsoft Teams app or changing the auto startup apps setting can fix the issue for Microsoft Teams From Starting Automatically. Further, you can also stop other startup apps in Windows 11/10 as well. This will make your PC faster, and it will take less time to boot. But do keep in note that if you disable the auto-start feature of Microsoft teams, then you will not get automatic updates or assignment details. You have to manually open the software to check such things, which down really take much a time. If you have any other issues related to teams, then check out our Microsoft Teams troubleshooting guide for more info.