Windows Insider Preview Program is made for Windows users to join in the preview beta builds of the upcoming versions. Once you enrolled yourself in this program, you will start receiving the early preview builds instead of the stable releases whether it has bugs or not. Not only you can test out new features or use the user interface but also provides essential feedback to the developers for a stable bug-free release. However, sometimes the Windows 10 Insider Preview Build may expire and you'll start receiving This Build of Windows Will Expire Soon Error in Windows 10 pretty occasionally.
This error occurs because the Windows preview version you're using isn't existing or no longer supported by Microsoft officially. So, in that case, some of the unfortunate users may start getting this error message most of the time. So, if you're also experiencing the same error message then how to resolve this one. Let's check out the troubleshooting guide below.
This Build of Windows Will Expire Soon Error in Windows 10: How to Fix?
As mentioned, the Windows Insider Preview Program lets you download and install the preview build (beta) of the upcoming stable release to test it out or get an early taste of it. It's meant to be released for the early beta users so that they can give feedback to the developers in which things are not working properly or if there is any serious bug or lack in features, etc.
Now, the Insider Preview program runs very fast, and enrolled users may receive multiple updates very frequently. Therefore, it's possible for the users to receive the build expiration notification or error message whenever a new preview build releases for a while. To be very specific, your enrolled Insider Preview Build may expire due to a couple of reasons.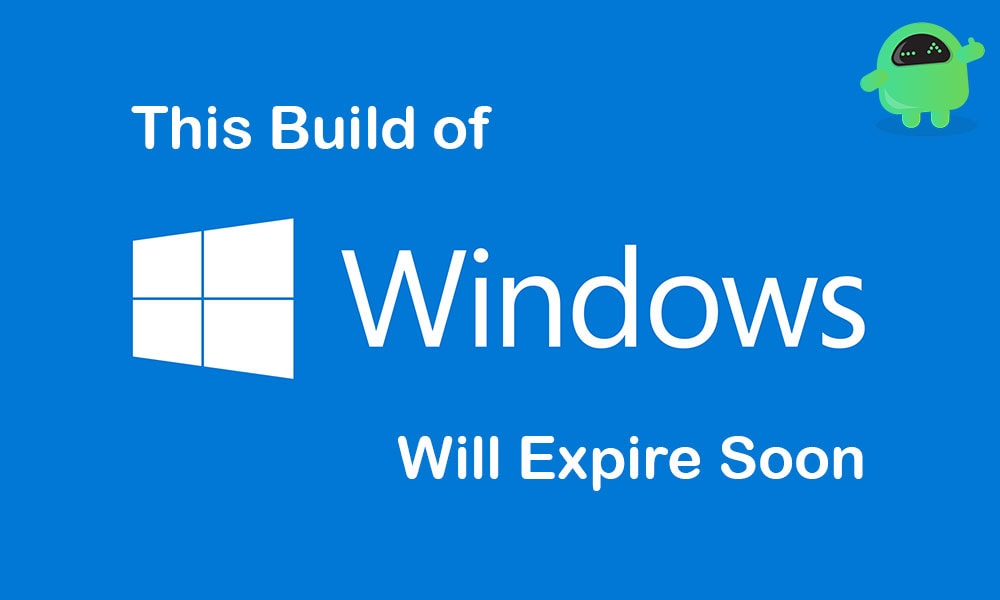 Such as either there is a new Preview Build has been released already or you've opted out for the preview builds program or you've switched to the Dev Channel to the Beta Channel or you didn't turn on your computer for a long time. So, what are the possible solutions? Well, you can change the Insider Preview Channel settings or reinstall Windows using an Insider Preview build (ISO) or simply install the Windows 10 standard edition (stable).
1. Change Windows Insider Preview Channel Settings
This solution is mainly applicable to those who stuck on the Beta Channel of the Windows Insider Preview build.
> Dev Channel: This is the latest Windows 10 developer builds in its early stages.
> Beta Channel: Normal users or early beta testers can use this beta build which is more stable or reliable that the Dev Channel.
> Release Preview Channel: It's considered to the more stable than Dev or Beta Channel. All the early access to the upcoming Windows 10 update is included in this build along with specific key features and minor bugs.
Press Windows + I keys to open up the Settings menu.
Select Update & Security > Choose Windows Insider Program.
Here you can see all the above-mentioned Insider Program channels. You can select any one of them according to your preference.
Now, go back to the Windows Update interface and click on Check for updates.
If the latest Insider Preview build update is available, simply Download & Install it.
Wait for the system to initiate and it will automatically ask you to restart the computer.
Simply restart the computer and don't turn it off until it completes the installation process. This may take a couple of minutes so, have some patience.
It's also worth mentioning that once you're booted into the new Insider Preview program, you can simply change your early beta channel.
2. Reinstall Windows via Insider Preview Beta Channel (ISO)
Make sure to take a full data backup at first of your C drive or any Windows installation drive (important files only).
Then simply download and install the Insider Preview Beta Channel on your machine using the ISO file format. This will also ensure that you have to stay on the Beta Channel until the final stable version releases.
Now, visit the official Microsoft Windows Insider Preview Downloads page. Scroll down to the bottom of the page and choose the Beta Channel or Release Preview Channel version for your computer.
According to the language option and Windows system version (32-bit or 64-bit), select the build from the dropdown list to download it.
Once downloaded, double-click on the installation file to start the installation process. Windows System will automatically mount the ISO file and you will get the Windows 10 Setup wizard.
Select Keep personal files and apps under Choose what to keep option.
Then Keep personal files and apps will appear on the Ready to install page.
Finally, click on Install > It will take some time so, please be patient.
Your computer may restart several times during the installation process which is normal. Don't panic and don't turn off your computer during the installation or setup initialization process. That's important!
You're done. Enjoy!
3. Install a Clean Windows 10 (Standard/Stable)
Last but not least, opting out of the Windows 10 Insider Preview Program will definitely help you to get out of this problem. That means you can easily go back to the Windows 10 standard edition or the official stable version.
However, a clean and full installation means wiping out all the data from your C drive or whichever drive you're using for Windows installation. So, make sure to keep a full backup of the all-important data like documents, media files, apps, etc. Then we can proceed to the steps below.
First of all, you will require the Windows 10 Media Creation Tool that you can download here.
Launch the Media Creation Tool > Accept the License Terms > Select Upgrade this PC.
Once the Windows 10 Setup finished downloading and preparing Windows 10 to install, you can follow the below steps.
Now, the Windows 10 Setup Wizard will appear and you will have to select Nothing (Recommended) under Change what to keep option as you're going for a clean installation of Windows. However, if you want to keep your important things, you can either select Keep personal files and apps or Keep personal files only according to your choice.
Now, wait for the system to complete the clean Windows 10 installation process.
Again it may restart multiple times and can take a couple of minutes. So, don't do anything and keep turning on your computer until the setup process finishes.
You're good to go.
That's it, guys. We assume this guide was helpful to you. You can comment below for further queries.