Transfer Photos and Videos from Facebook to Google Photos and keep a copy of your photos in your Google Photos folder? Then this is the right time! Transferring your Facebook photo wall to Google drive has never been easier. Facebook allows users to download a complete package of their photos, which users can upload to any platform. Down below, we discuss the ways to upload and transfer your Facebook photos and videos to Google Drive.
Facebook is a Social Media platform founded in 2004 by Mark Zuckerberg and others. The journey of Facebook from that day to today is remarkable. Although facebook that we know now is not the Facebook that was back in the old days. Notably, many elements have changed, and many more features have been added. At first, this was started as a website for students of a particular college. But later, due to its popularity, its boundaries expanded to other college students and eventually to the world. Now millions of people use Facebook as their primary social media network.
Facebooks primary features are adding friends and sharing photos. People can share photos, and others can like and comment on it. But for some reason, you may want to save the photos to other cloud services like Google drive. Probably for keeping a copy, backup or, sharing it with others. It is possible, and in this article, we will provide the exact steps and procedures for transferring your photos from Facebook to Google Drive.
How To Transfer Photos From Facebook To Google Drive?
Followed by the introduction of the General Data Protection Regulation (GDPR)in Europe, many companies like Facebook, Microsoft, and Twitter have signed the Data Transfer Protocol. Meanwhile, the Data Transfer Protocol is an open-source project that helps people to transfer their data across the web. For now, the only target option available on Facebook is Google Photos. Since Google photos use Google drive as storage, we can use this to accomplish our task.
However, people can also download their data from Facebook and move or upload it to the cloud. But that procedure requires so,e extra steps. Since this procedure is available both in-app and Browser(Desktop), it the best.
Steps To Transfer Photos From Facebook To Google Drive?
If you use Facebook on a desktop or a laptop, you can use this method. To copy photos from Facebook,
Open the Facebook page on a browser and login using your credentials.
On the main page, click on the inverted triangle icon on the top right corner.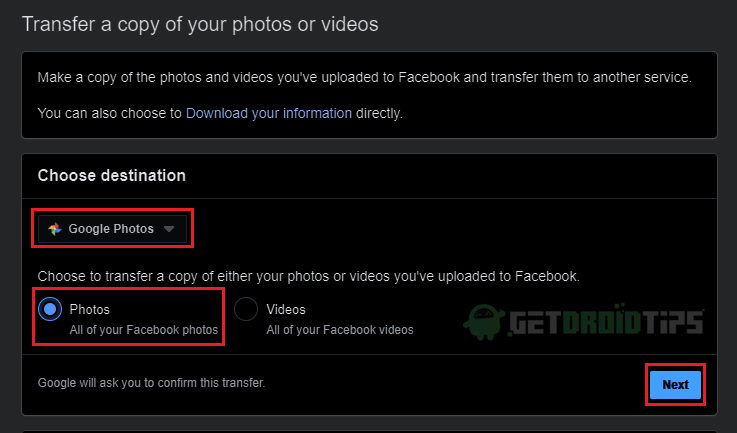 Click on Settings and Privacy and then on Settings.
From the page that loads, click on Your Facebook information from the left Tab.
So, now you have to click on View under the option "Transfer a copy of your photos or videos."
Provide your password and click on continue. From the next page, click on choose a destination and select Google Photos.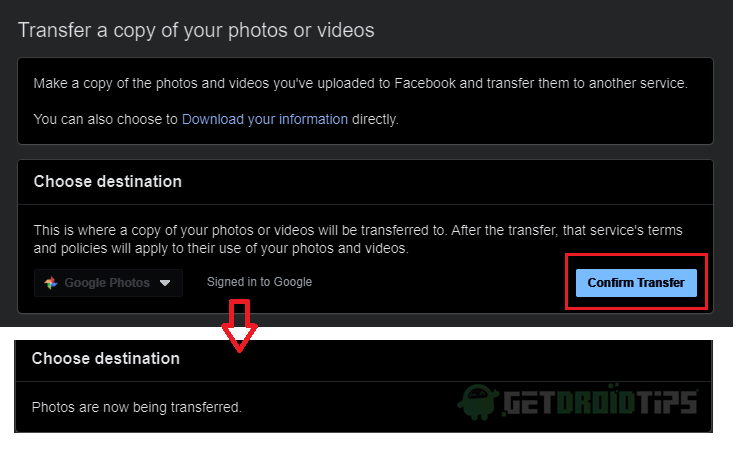 Now select what you need to copy, either your photos or videos. And click on next.
Now, as Google authentication loads, log in to your Google account and allow access to Google photos.
Once login completes, click on Confirm transfer from the Facebook page. Finally, just wait as the photos get transferred.
Transferring Using Mobile App (Android):
The procedure remains the same for the mobile application. Open the app, login, and follow these steps.
Tap on more options. (three lines in the right corner)
Tap on Settings and Privacy and then on Settings.
Now Scroll down to Your information and tap on Transfer a copy of your Photos.
The rest of the procedure is the same as above.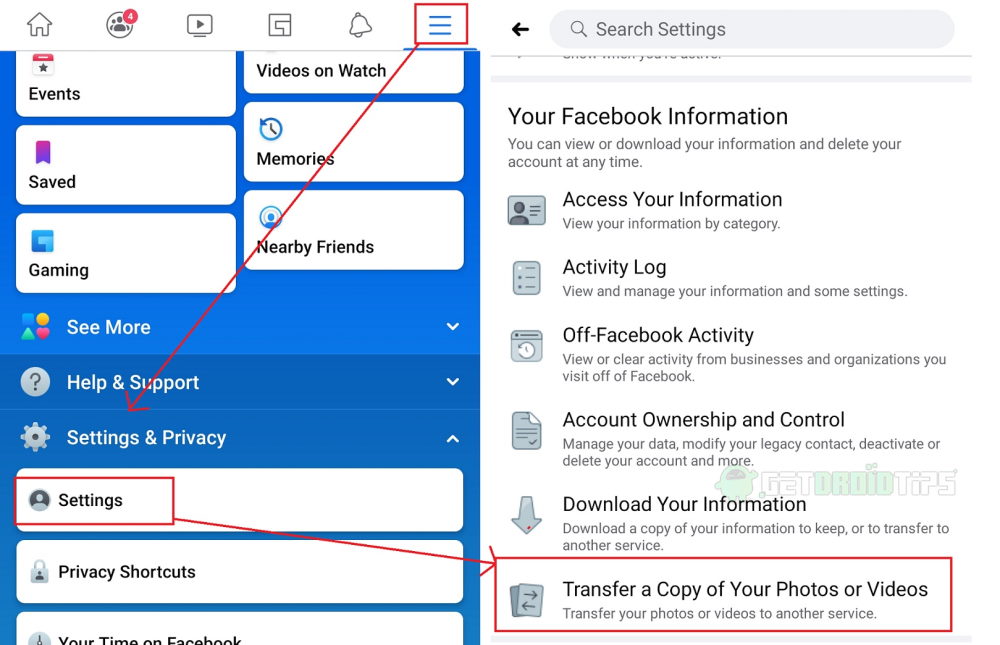 Conclusion
So to conclude the article, the method of transferring photos to Google Drive is easy and quick. This was possible because of the open-source Data Transfer Protocol. It is always wise to keep another copy of our memories. Cloud technologies have a great impact on modern tech. So, we should utilize them whenever it is possible.