When it comes to the Call of Duty titles, multiple errors or issues are bothering a lot of players no matter which specific edition you're playing. Even if you're currently playing COD Modern Warfare II or Warzone 2.0, you might have encountered an unlimited number of issues, irrespective of the device. Meanwhile, COD Warzone 2 is stuck on searching for the match error is one of the issues.
Due to this specific error, it becomes quite frustrating for the affected players to get into the battle royale match arena in online multiplayer mode. Some reports suggest that this Call of Duty Warzone 2.0 game 'Searching for a match' loop or stuck issue is one kind of bug that can happen at the server end or due to the poor internet connection. Well, if you're a victim, don't worry.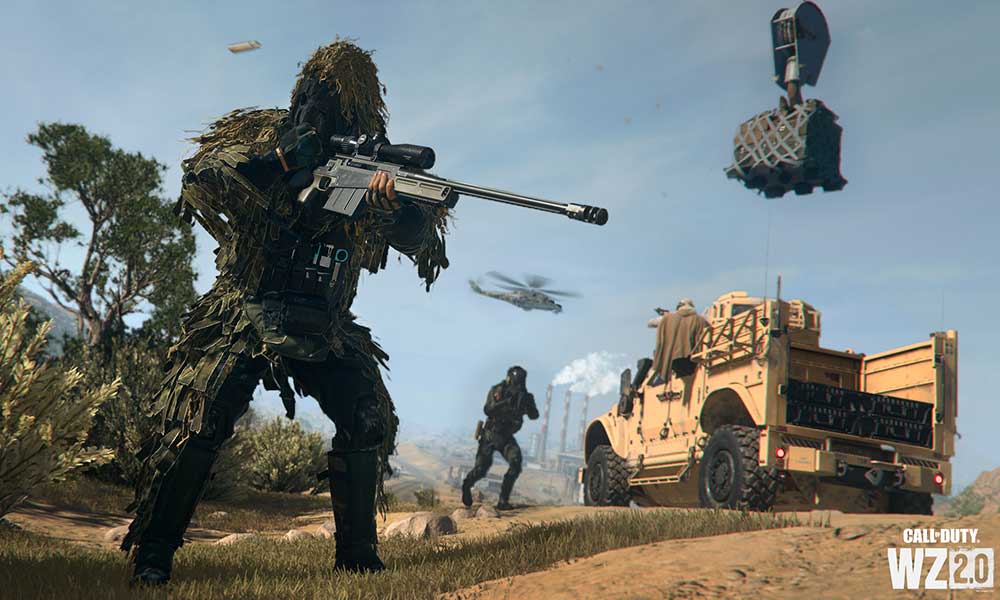 How to Fix Warzone 2 Stuck on Searching for The Match
To be precise, this bug prevents players from getting into the matches and keeps returning to the affected players quite often. Therefore, players are forcefully thrown out to the lobby while searching for matchmaking. Although this issue isn't new to the COD Warzone fans and other online battle royale video gamers, there is nothing extra to do at your end to fix it.
The chances are high that with the new Season 1 Reloaded inclusion, several bugs or glitches are also included in the game, troubling many players in multiple ways. Luckily, here we've shared a couple of possible workarounds for you that should be useful. So, without wasting any more time, let's jump into it.
1. Check for Your Activision Account Status
First, check your Activision account status before getting into any other workaround. It'll be helpful to the Call of Duty title players to ensure whether there is an issue with the Activision account. Sometimes a buggy patch update can also affect the anti-cheat regulations unexpectedly, and your Activision account might have banned. You should also ask technical support to fix it if there is any mistake.
2. Check Your Internet Connection
You can next check the internet connection status at your end, whether you're using a wired (ethernet) connection or a wireless (Wi-Fi) network. Sometimes multiple device connectivity with the same network can cause slower speed and unstable stability. Sometimes, it's better to switch between wired and wireless or vice versa to check for the same.
Additionally, you can check for the data speed test online while connected to the same network or try playing any other multiplayer online game to check for the issue.
3. Restart the COD Warzone 2.0 Game
You can also try rebooting the COD Warzone 2.0 title on your respective gaming device to forcefully refresh the temporary glitch or cache data issue. Even a normal reboot of the game can also fix minor bugs or glitches quite easily rather than performing lengthy processes. Though this method might not work for everyone, you should try it once.
4. Update the Warzone 2.0 Game
You can manually check for the game update by following the steps below to ensure the game is not outdated. An outdated game version can cause launching issues, server connectivity issues, and more.
For Battle.net:
Open the Battle.net desktop app on your PC.
Now, click on the COD: Warzone 2.0 game.
Click on the cogwheel icon (settings) next to the Play button.
Finally, select Check for Updates and wait for the process to be completed.
If there is an update available, make sure to download and install the game update.
For Steam:
Open Steam and go to Library.
Click on COD: Warzone 2.0 from the left pane.
Steam will automatically search for the available update.
If there is an update available, click on Update.
Make sure to wait for some time until the update completes.
Once done, ensure to reboot the PC to apply changes.
For PlayStation:
Turn On your PS4/PS5 console > Go to the Home screen.
Now, navigate to the main menu on top.
Head over to the Games tab.
Scroll down to Call of Duty: Warzone 2.0 and highlight it.
Press the Options button on your controller.
Finally, choose to Check for Update from the drop-down menu.
For Xbox:
Make sure to turn on your Xbox One or Xbox Series X|S gaming console.
Press the Xbox button on your controller to open the menu.
Now, scroll down to the right > Select Settings.
Scroll down until you see Updates & downloads.
From the next page, select Keep my console up to date and Keep my games & games up to date to enable the checkbox.
5. Verify and Repair Game Files
Sometimes corrupted or missing game files on the PC might also trouble you a lot regarding the installation or updating of the game. You really can't do anything for the issue to happen. But most of the game launchers do come with a built-in option to verify and repair the game files automatically that you can use whenever you face any issues. To do this:
For Battle.net:
Launch the Battle.net client on your PC.
Now, click on the COD: Warzone 2.0 that you're trying to repair.
Click on the cogwheel icon (settings) next to the Play button.
Select Scan and Repair > Click on Begin Scan.
Wait for the repair to finish > Once done, close the launcher and reboot the PC to apply changes.
For Steam:
Launch Steam > Click on Library.
Right-click on COD: Warzone 2.0 from the list of installed games.
Now, click on Properties > Go to Local Files.
Click on Verify Integrity of Game Files.
You'll have to wait for the process until it gets completed.
Once done, restart your computer.
6. Enable the Crossplay Feature
Waiting in the line queue or stuck in the matchmaking process in COD Warzone 2.0 becomes quite common among Call of Duty players while connecting to the multiplayer mode. It's mostly happening due to the high traffic in the specific server region while an overloaded number of active players are trying to get into the matches.
It also can be affected with the crossplay feature turned on/off from the game settings menu. It's better to turn on the crossplay feature in Warzone 2 manually.
For PlayStation:
Launch Warzone 2.0 on PS4/PS5.
Press the Options button on your connected PlayStation controller.
Now, go to the Settings menu > Scroll down to Account and Network.
Make sure to Turn On the Crossplay feature.
For Xbox:
Turn on your Xbox console > Navigate to General Settings.
Select Online safety and family.
Go to Privacy and Online Safety > Select Xbox Privacy.
Visit View Details and Customize.
Choose Communication and Multiplayer.
You'll have to select Cross-network play > turn it OFF.
For PC:
For the PC version of Warzone 2.0 players, it's worth mentioning that the Cross-play feature comes enabled by default on both the Steam and Battle.net launcher. You can't manually turn it off. So, as a PC version player, you'll have to go with the crossplay feature out of the box. However, console players can put PC players in the lobbies only if the console players are using teammates with PC players.
7. Check for the Activision Online Services
You can also check for Activision Online Services by visiting this link and selecting Refresh to get the status report. Most of the time, you'll get the online status for all platforms, which should be. But sometimes, if there is an issue with the online services or server, wait a few hours and try again. It's highly expected that the developers will try fixing the issue at their end asap.
8. Try Using a Different Region Server
The chances are high that using a different region server at your end might help somewhat reduce the stuck-on-the-queue or matchmaking issue. If you're using the Battle.net client to play Warzone 2.0, close the game and head over to the Battle.net interface. Click the globe icon next to the game's title above the Play button to change the server region. If you're using Steam, Xbox, or PlayStation, you might not be able to do so.
9. Don't Use VPN or Proxy Servers
Remember not to run VPN or Proxy Servers on your PC or Wi-Fi router while playing multiplayer online games like COD Warzone 2.0. It requires a lower ping delay and the best possible nearby servers in your region. However, using the VPN service might help you in some cases to easily connect or play other games, but the same trick might not always work. Turn off VPN temporarily before playing the game and check for the error again.
10. Contact Activision Support
If none of the methods worked for you, contact Activision Support for additional help. You should also create a support ticket for the same to get a better resolution asap.
That's it, guys. We assume this guide was helpful to you. For further queries, you can comment below.