Blue Archive is comparatively a brand new name in the RPG list. And this game no doubt refreshes your experiences for all RPGs you might have played until now. With unique questlines, features, characters, and some pretty awesome mechanics, it is definitely worth a try. The most unique thing about Blue Archive is that it features only female characters throughout the entire game. So, if playing with a bunch of cool and pretty girls really holds your attention, you should definitely check it out.
Well, unlike any other RPGs, Blue Archive Global also ranks its characters into different tiers based on their power and various other skills. So, coming back to the characters, they can be generally separated into four different categories: Attacker, Healer, Tank, and Support. Again, each category holds multiple characters and not all of them are equally balanced when it comes to skills.
If you are looking to start your new adventure, you will probably need a well-balanced team to survive and keep going till the end. And as a result, you must have proper knowledge about each character and which tier they belong to. Therefore, here is a complete tier list of all the Blue Archive characters that you must check out before entering this new world.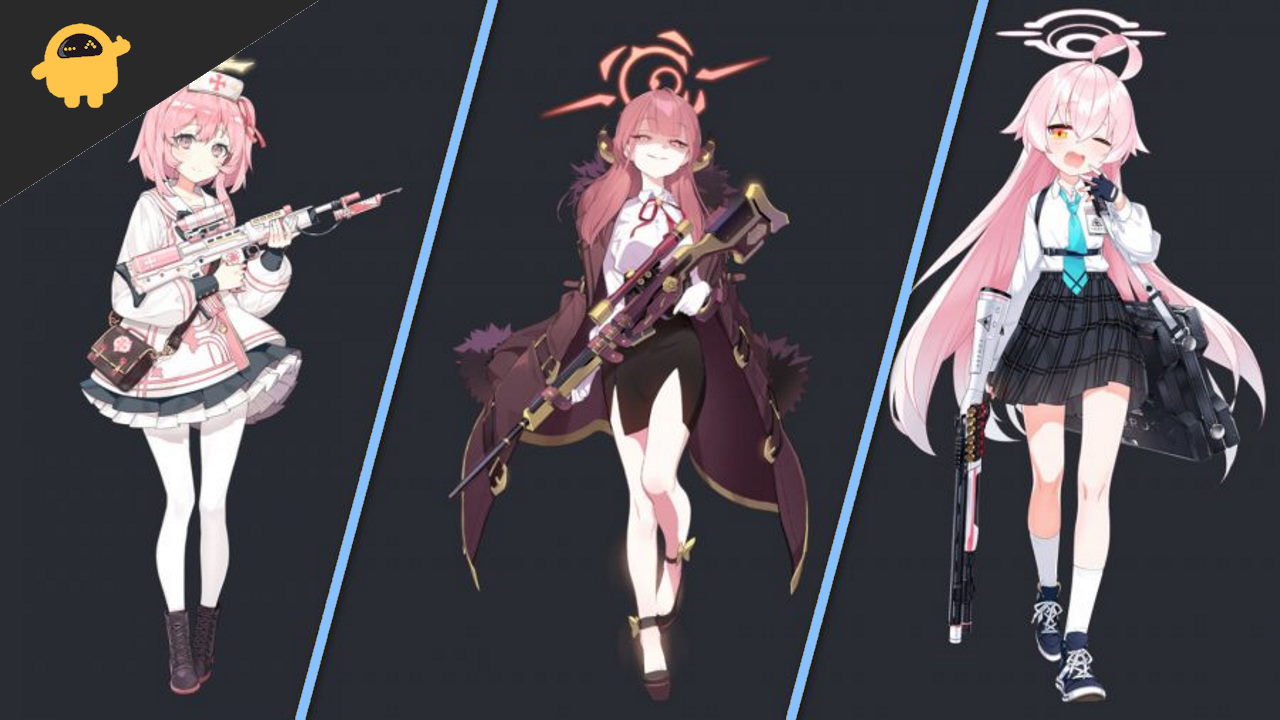 Blue Archive Tier List: All Characters Ranked By Class
The Blue Archive tier list is divided into five different tiers namely Tier-Z, Tier-S, Tier-A, Tier-B, Tier-C, and Tier-D. While the most formidable characters belong to Tier-Z; Tier-S and Tier-A also feature heroes with significant power. Likewise, as you keep going down, the potential of the characters will eventually decrease and finally end with the weakest and non-recommended characters in Tier-D. With that said, let's move on to our tier list for the day without wasting another second.
1. Blue Archive: Tier Z Characters
Hibiki
Iori
Karin
Tsubaki
2. Blue Archive: Tier S Characters
Azusa
Bunny Neru
Cherino
Haruna
Hoshino
Kosaka Wakamo
Koharu
Kotama
Kuromi Serika
Shun
Swimsuit Hina
3. Blue Archive: Tier A Characters
Amami Nodoka
Amau Ako
Arisu
Aru
Asagao Hanae
Bunny Karin
Chidori Michiru
Hanaoka Yuzu
Himuro Sena
Hina
Ikekura Marina
Izuna
Junko
Kozeki Ui
Mashiro
Midori
Momoi
Mutsuki
Natasume Iroha
Nonomi
Sorai Saki
Swimsuit Iori
Swimsuit Tsurugi
Yuuka
4. Blue Archive: Tier B Characters
Akari
Azusa (Azuza)
Bunny Girl Asuna
Cherino Hotspring
Chinatsu
Eimi
Fuuka
Ihara Yoshimi
Kagami Chihiro
Kasumizawa Miyu
Maki
Mashiro
Natsu
Serika
Shiroko
Swimsuit Asuna
Swimsuit Hifumi
Swimsuit Izumi
Tsukiyuki Miyako
Violets
Wakaba Hinata
Yakushi Saya (Casual Version)
Yakushi Saya
5. Blue Archive: Tier C Characters
Akane
Fubuki
Neru
Shiroko
Shun Younger Version
Tomoe
Tsurugi
6. Blue Archive: Tier D Characters
Asuna
Fina
Hasumi
Himonia Chinatsu (Hot Spring Ver.)
Izumi
Kirino
Mimori
Morizuki Suzumi
Onikata Kayoko
Toyomi Kotori
Conclusion
There are a lot of cute characters in Blue Archive. Interestingly, such a variety of powers, skills, and characters will lure you into playing the game more and more. Surely, you can rely on the Tier-Z and Tier-S characters without any doubt. Even the Tier-A characters can be quite intimidating considering their decent skills. However, coming to the Tier-B/ C/ D, you will notice a vast difference in their powers.
Still a balanced team with characters from different tiers might prove to be greatly beneficial throughout the game. With that said, we would like to end this tier list here. Let us know which characters do you find more favorable and why.