The Dying Light 2 game is exciting and has beautiful graphics that compliment the ambiance of the game when it needs to. The only thing I felt was that was a little lacking was how mundane the main protagonists were developed.
Somehow, I feel that Aiden was created as more of a laid-back and relaxed kind of person. While yes, there are some bugs and issues, like screen flickering on PS4 and PS5, due to which you may easily get bothered. However, the good news is that the developers are very well aware of this issue and assured their users that they would soon roll out some fixes that will help you get rid of this situation.
But, until they provide some fixes, what can you do? Well, simple, you can simply follow this guide because here we have mentioned some workarounds that will surely help you fix the flickering screen issue on PS4 and PS5. So, let's see how.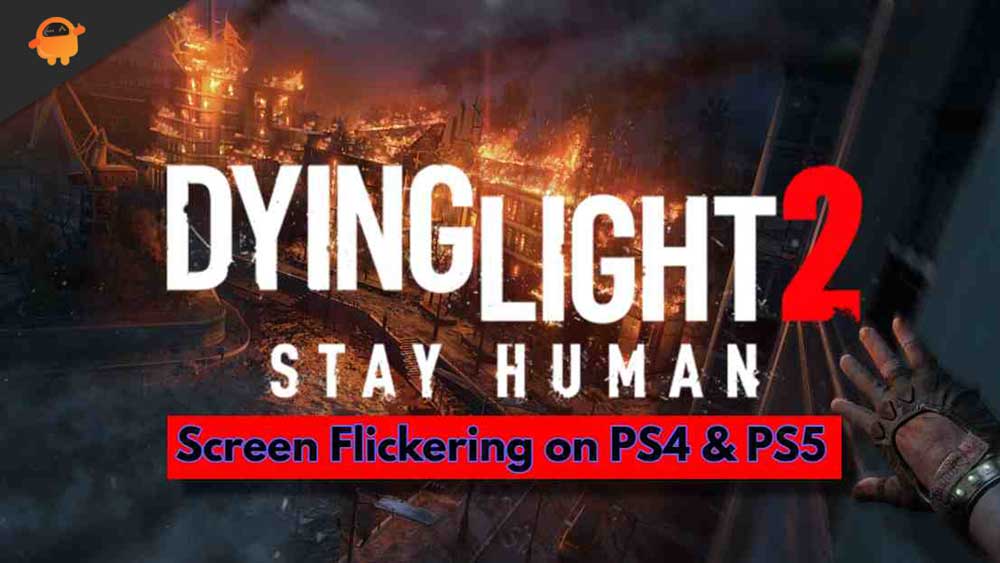 How To Fix Dying Light 2 Screen Flickering on PS4 And PS5
This game feels soo clunky; the movement doesn't feel fluid at all, and combat is so slow, and the addition of these kinds of issues really makes this game unplayable. But, no worries more because I'm pretty much sure that these steps will surely help you get rid of this situation. So, let's see and apply them:
Fix 1: Reboot Your PlayStation
As always, I suggest you reboot your System as this helps you remove many kinds of temporary files stored on your PlayStation. Yes, whenever you open any app or program on your device, the AI stores a stale image of that page or file and store it on your internal storage, so that further when you visit that page again, you won't have to wait for that application to load as it is already loaded.
However, although these are known as cache files, but sometimes, these files may prevent your PS4 or PS5 from working correctly. So, when you reboot the whole system, these files will automatically get deleted, which gives your PlayStation a fresh new start to work properly. Therefore, once you reboot your device, simply run the Dying Light 2 and see if the flickering screen issue gets resolved or not.
Fix 2: Check The HDMI Port
Sometimes, this issue occurs due to a faulty or damaged HDMI port. So, we suggest you check the HDMI port that helps you to make a connection between the TV and Console. Well, to check the current HDMI port, you can plug your HDMI cable into the other HDMI port and see if the screen flickering issue gets resolved after that.
This means that the HDMI port you are previously using may get damaged, due to which you are facing this issue. Therefore, until you repair that port, we suggest you use the secondary HDMI port to play the Dying Lights 2 to your PS4 and PS5.
Fix 3: Check The Hard Drive
Did you check your hard drive is working properly or not? Well, there are chances that your Hard Drive may have some internal problem due to which your system is unable to read the game files and resulting in showing you different issues. So, to check your hard drive, firstly turn off the power button and remove all the wires connected to your Console.
Then, use the proper screwdriver and remove the back panel of your Console. Thereafter, remove the hard drive. Then, clean and check it properly for any kind of damage. After that, again place it inside and put the back panel. Now, simply plug in all the cords and turn the power button on. That's it. Now, run the game and check if the screen flickering issue gets resolved or not.
Fix 4: Reset or Rebuilt Database
If the hard drive issue is still not resolved, then there is one and only option that has the potential to fix the hard drive issue, due to which you are getting annoying errors. Yes, you guessed it right! You need to reset or rebuild your console database. Many users are there who reported that this helps them fix the screen flickering issue; therefore, we suggest you try this out and let us know if it really helps or not. So, in case you don't know how to reset your PlayStation, follow the steps mentioned below:
Firstly, hit the

power button

to turn off the Console and then hold and press the

power button

for a few seconds until you hear the

Second beep

sound.

After that, connect your DualShock controller using the

USB cable

and press the

PS

button.

That's it. Now, select the

Rebuild Database

option from the list of options and wait until the process gets completed.
Fix 5: Give It Ample Space For Ventilation
Another thing that may be the reason behind this issue. You have to make sure that your Console gets a proper and ample amount of space for ventilation. This is because when you are gaming for long hours, your Console may get overheated, due to which many issues start appearing, and in that case, to cool it down, proper ventilation is needed. Therefore, make sure to place the Console in a place from where it gets a proper space for ventilation.
Fix 6: Manually Eject The Disc And Clean It
There are chances that your blue-ray game disc may have some dirt that needs to be cleaned. So, I will suggest you clean the disc manually with a soft cloth. To do so, simply press the console button to eject the disc and then clean it. But, keep one thing in mind to do not use a wet cloth or any spray to clean it. So, once you clean the disc, put it into the Console and run the game to check if the problem get fixed or not.
Fix 7: Change Your Transfer Rate Settings
Many users previously reported that changing the transfer rate will help them to get rid of this situation; therefore, we suggest you change the 4K video transfer rate by following the below-mentioned steps:
Firstly, hover over to the

PS5 Settings

, and click on the

Screen and Video

.

After that, choose the

Video Output

option, and tap on the

4K Video Transfer Rate

.

That's it. Now, change the Automatic transfer rate to

-1

or

-2

and save the changes you have made.

So, now launch the game and again check if the issue gets resolved or not. Most probably, this time, the screen flickering issue gets resolved.
Fix 8: Power Cycle Your PlayStation
If you are still stuck with the same error, then we suggest you power cycle your Playstation as this will have the potential to resolve this type of issue. Also, many users previously reported that this fix is very useful for them.
To do so, you can simply power off the PS4 or PS5 and remove all the cords. Then, wait for at least 5-1- minute. After that, plug all the wires in and turn the power on. That's it. Now, run the game and check if the issue gets fixed or not.
Fix 9: Install The Latest Updates
Did you check if your Console is running on the latest OS version? Well, it is imperative to keep your Console up-to-date. So, you are still unaware of this thing, then we suggest you regularly check if there are updates available for your Console and immediately update it. So, in case you don't know how to check for updates, then follow the steps mentioned below:
First of all, hover to the PlayStation

Settings

window.

After that, go to the

System

and tap on the

System Software.

Then, if you have a PS4, click on the

System Information

. Well, in case you own a PS5 device, then ta on the

Console Information

option.
However, once you have updated your Console, don't forget to reboot it. After that, open the game and check if the issue gets fixed or not.
Fix 10: Adjust Screen Resolution And Enable Performance Mode
There are reports in which users claim that decreasing the screen resolution of their TV and enabling the performance mode on PlayStation helps them to resolve this kind of issue. So, you should also try this out and check if it really helps or not. So, adjusting the screen resolution totally depends upon the TV you are using because the steps may be different for different models.
But, to enable the performance mode, you can simply go to your PlayStation Settings and then, from there, enable the performance mode. Thereafter, again run the game and check if the issue gets vanished or not.
Fix 11: Book A Repair
Unfortunately, if none of the above-mentioned methods or tricks helped you fix the issue, then we recommend you book a repair at your nearest Sony service center and ask them to repair the issue. They will surely help you get out of this situation. But, keep in mind that this your Console isn't falling under the warranty period, then this is going to cost a few dollars, depending upon the problem.
Bottom Line
So, that's it on how to fix the screen flickering issue on PS4 and PS5 while playing the Dying Light 2. We hope the fixes we have mentioned earlier in this guide helped you. But, in case you still have any questions, let us know in the comment section. Our team will help you further.