Founded in Qingdao in Shandong Province, the Hisense Group manufactures white goods and electronics worldwide. Founded in 1969, Hisense initially made radios. But, slowly and steadily, the company's range of devices is expanding; currently, HiSense is one of the biggest smart tv brands in the USA.
Users generally like its touchscreen interface, the inclusion of the essential apps, and the quality of the picture. But, you know what? Some users started complaining that their new HiSense TV is not responding or not turning on the remote, due to which they are getting furious.
Thus, we've decided to provide them with a few fixes to correct this error, and guess what? We have included all the fixes right here in this guide. So, you just have to make sure to apply all the fixes to resolve this error permanently. Therefore, let's get started with it.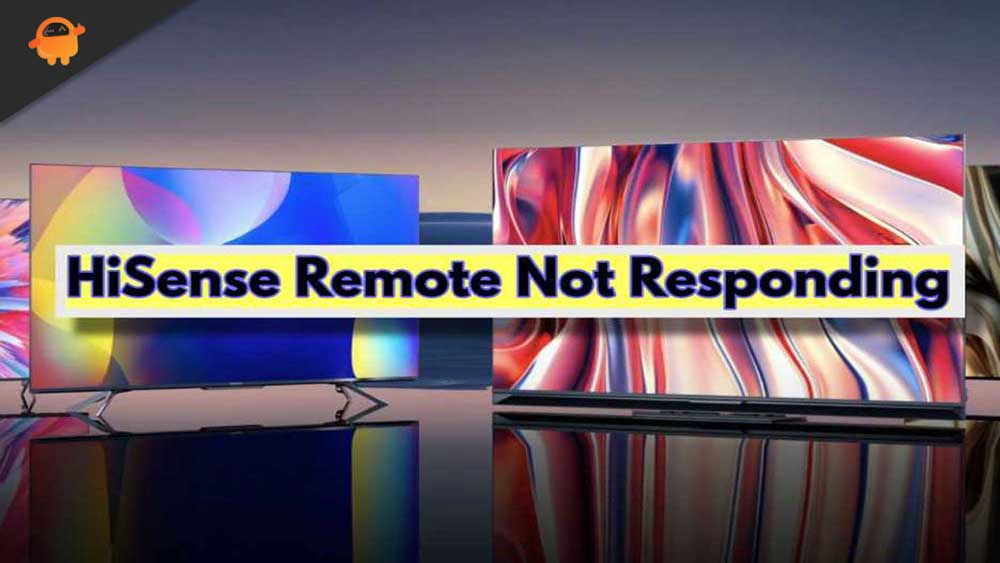 How To Fix HiSense TV Not Responding or Not Turning On Remote
There might be multiple reasons behind this error, but right now, there is no proper reason, in my opinion, that potentially causes this issue. But, still, we have managed to find out some great ways in order to fix the issue for you. Therefore, make sure to follow them carefully and don't leave the guide.
Fix 1: Restart Your TV
So, our first recommendation is to reboot your TV as this is the best initial fix that has the potential to resolve this type of error. Generally, due to some temporary file that is stored on your TV when you open anything. So, basically, when you open anything, the system stores a stale copy of that action to ensure that you won't have to wait for so long next time you visit the same page on your TV.
But, sometimes, these files may get damaged or corrupted due to which you are getting this kind of errors. So, you have to remove those files, but how? Well, here, when you reboot your TV, all these temporary files. Therefore, I think now you get an idea why we are recommending you to restart your TV. So, try again to check if the issue gets resolved or not.
Fix 2: Check The Batteries
There are chances that your HiSense TV remote's batteries may get damaged, due to which you are getting this error. So, we suggest you try to check the batteries and if possible then replace them with the new ones.
If the issue is occurring due to the dead batteries, then we are sure that by doing this, your HiSense not responding or not turning on the remote may get resolved. However, there are many reports from users worldwide who claim that this helped them to fix the issue. But, we want you to try and check yourself.
Fix 3: Clean The Batteries Contacts
Did you change your remote batteries and still get the error? Well, it is possible that there is some dirt stuck between the connection point of the batteries and the remote connection plate. However, in many cases, users reported that after cleaning the connection plate, they were able to resolve the error. So, you should also try this out and check if the issue gets fixed.
Fix 4: Reset The Remote
If you are still getting the error, then there is a chance that there's some issue in the remote due to which it is unable to make a connection to your TV. So, you can fix it by resetting the remote. But, in case you don't know how to do it, then make sure to follow the instructions given below:
Initially, hold and press the

Menu

button for at least 10 seconds until the screen turns blank.

Then, release the button, then the remote enters into its default factory settings.

That's it. Now, use the remote and check if the error gets fixed or not. If you still face the error, then perform the above steps again.
Fix 5: Check Your Network
In case you are still not checking your network speed, then make sure to check it. We are recommending this for you because sometimes, due to poor network connection, the linking between your remote and TV may face some delays and result in getting HiSense TV not responding or not turning On the remote issue.
So, you can simply hover over to the Ookla speed tester website and check your network connection speed. However, suppose you find that the network connection is poor, then to manually fix it, it is advised to power cycle your router and check if the internet is again starting working. Meanwhile, if the issue is still not fixed, contact your ISP provider. After that, once the internet connection is fixed, then check again if the remote starts working.
Fix 6: Check The HDMI Cable
Did you check your HiSense TV's HDMI cable is connected properly or not? Well, there are chances that the HDMI cable may be damaged, and sometimes due to this, you may face this kind of issue. So, it is advised to thoroughly investigate the HDMI cable and look if there is any damage occurred on the cable. However, if you find any damage, replace it with a new one and see if it helps resolve the error.
Fix 7: Power Cycle It
If the issue is still bothering you, then we advise you to power cycle your HiSense TV to fix the not responding or not turning on the remote. There are chances that you are getting this issue due to some random bugs that occur on your TV. Therefore, power cycling is the last technical option that you have. So, try this out and verify if the issue gets fixed or not.
Fix 8: Contact To Support Team
So, you have tried all the fixes but are still stuck on the same issue! Well, if so, then excepting contacting the official support team, you have no other option. Therefore, it is suggested to contact your HiSense official support team and explain about this issue. After that, if possible, they will surely help you get rid of this situation.
Bottom Line
So, that's how you can fix the HiSense not responding or not turning on the remote issue. We hope this guide has helped you. However, comment below if you need any information regarding the HiSense TV. Also, if you are new here, then make sure to check out our other latest guide too.