Instagram is a great way to share your skills using photos and videos. The reason behind using Instagram over other social media app is that a user doesn't need to compromise with the quality of pictures or videos. You can share good quality images and videos on your Stories as well. Recently, some users reported that their Instagram stories are blurry, even when the original photo or video is of good quality. This doesn't happen most of the time, but it is a big issue for the majority of accounts especially influencer accounts.
There are a few reasons behind this issue. It might be a simple one or a complex one, but we got you guys covered. After getting reports from our readers, we looked into the matter and found out the reasons behind these issues and the solutions as well. First, we will discuss the possible reasons why Instagram stories are blurry, and after that, we will provide solutions accordingly.
Also Read: How To Stop Automatically Zooming Images in Instagram
Why Are Instagram Stories Blurry – Possible Fix?
First of all, we are going to look into some basic reasons, and after that, we will get into the complex ones.
Method 1: Check your internet connection
When you are on mobile data or a slightly slow WiFi network, your stories may appear blurry. The reason behind this is that Instagram automatically lowers the quality of stories if the Internet speed is slow while uploading.
Because of this, your stories seem normal to you while uploading, but the quality goes down after upload. So, we highly recommend you check your internet speed, and if it's low, then change the network and reupload the stories to fix the blur issue.
Also Read: Instagram Keeps Crashing on iPhone or Android | How to Fix?
Method 2: Adjust Instagram data setting
Instagram has a feature that limits the data uses if a user is on a mobile network. Because of this feature, a user can save his data and use Instagram. This sounds great at first, but there is a drawback to it. Because of limited data use permission, your stories will also get affected.
If your stories are getting blurry and of lower quality, then you should turn off the data-saving feature while uploading stories. It is pretty simple to do. Just follow the steps mentioned below.
First of all, open your Instagram app and tap on your profile icon that is located at the bottom right corner of the screen.

On the profile page, you will see a 'more' option with a symbol of three horizontal lines. Tap on it. This will open a new menu from the side. Tap on the setting option from that menu.
Now, you will see various settings option on the next screen; tap on the account option.
This will bring you to the next screen, and there you need to look for an option named cellular data use and tap on it. Lastly, you will see a toggle button on the right side of the data saver option. Tap on that button to turn it off.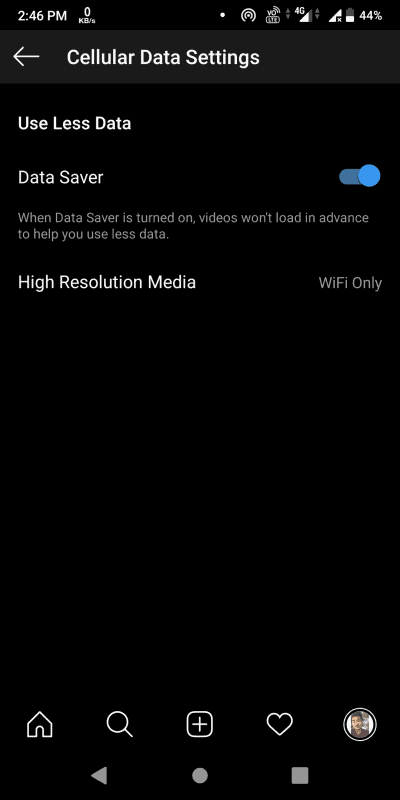 That's all you need to do to turn off the data saver. This way, you will be able to fix the blurry story issue.
Method 3: Use the Instagram camera
See, the camera app of your phone might be good, but that can be an issue too. To be more specific, your default camera app is set to click the best possible picture using the camera. It means a picture with high resolution as an outcome.
Instagram lets you upload the stories in the highest possible quality, but there is a limit to it too. This means if the picture is bigger than it is supposed to be, then Instagram will automatically make it blurry by Lowering the resolution.
To avoid these issues, use the app camera because it is set according to the need of the app. In simple words, the Instagram camera takes a picture in a suitable format for the app. Thus there is no need for lowering the quality, and the issue of blurry stories will be fixed.
Method 4: Update the Instagram app
Instagram app updates itself when your device is connected to a WiFi network. Sometimes this doesn't go the right way, and the app fails to update automatically. If your Instagram app is not of the latest version, then your stories may appear worse.
This happens because of the version differences of the app. So you should get the latest app as soon as possible to upload the best quality stories.
Method 5: Resize your photos before uploading
As we discussed before, Instagram lets you upload good quality images but there a limit to it. To be more specific, Instagram lets you upload a photo with maximum quality of 1080 pixels. This means if your pictures are of higher quality, then it will get compressed to 1080p, and this may make it appear blurry.
To fix this issue, you can resize your pictures to 1080p using any third-party photo editing app. Picsart, Snapseed, and Adobe Lightroom mobile are some of the best apps to adjust picture quality.
Conclusion
So this was the list of all possible solutions to fix the blurry Instagram stories. One of these solutions will surely fix your issue. However, if none of this works, then you still got one more way. You can report this issue to Instagram support by reporting it. To report, simply go to settings > help > report a problem. That's all! submit the problem and wait for a fix and wait for feedback.