When it comes to one of the independent online gaming platforms that also offers game development, then Roblox is one of them. It's available on Windows, Xbox, Android, iOS, macOS, Macintosh, etc, operating systems, allowing players to enjoy games even on the lower configuration. However, some players are reporting that Roblox Not Launching in 2023 due to some unexpected reasons.
If you're also one of the victims, then follow this troubleshooting guide completely. Usually, there are two traditional ways to play Roblox games on a Windows computer: using the web browser or installing the Roblox launcher on your PC via the Microsoft Store. But several reports are coming out that Roblox won't launch on PC, causing players not to get into the Roblox games.
Why Roblox Won't Launch?
It seems that there are a couple of possible reasons behind such an issue which we've mentioned here in brief. A game that won't launch on PC indicates that maybe the game launcher doesn't have the admin privilege or the PC is running an outdated graphics driver or even an outdated Windows OS build.
Additionally, an incompatible PC configuration, missing or corrupted game files, unnecessary background running tasks, issues with the installed game files, overclocking with the CPU/GPU, etc can cause such troubles. Luckily, here we've mentioned all the possible workarounds that can resolve the game not launching issue.
How To Fix Roblox Not Launching | 2023 Update
So, without wasting any more time, let's jump into the troubleshooting guide below.
1. Run as an administrator
It's possible that your Roblox launcher doesn't have admin access to your system to run it properly. In that scenario, the game launcher won't gonna launch easily as the system does not allow it. To do so:
Right-click on the Roblox exe shortcut file on your PC.
Now, select Properties > Click on the Compatibility tab.
Enable the Run this program as an administrator checkbox.
Click on Apply and select OK to save changes.
Once you've enabled the admin access for the Roblox launcher (desktop app) on your Windows computer, you can open it without any errors. However, if you're receiving the same error, make sure to follow another method.
2. Delete Roblox AppData Folder
Sometimes a corrupted or missing app data folder of the game may start conflicting with the game itself. So, removing the app data folder on your computer is better to refresh it.
Open File Explorer > Go to the following directory: (If you've installed Roblox on a different directory then head over there)
C:\users\yourusername\appdata\local\
Search for the Roblox folder and double-click on it to open.
Make sure to copy/paste all files of this app data folder as a backup.
Once done, select the app data folder, and press Shift + Delete keys to permanently delete it.
Finally, reboot your computer to apply changes, and try launching the Roblox desktop application again. (deleted app data files will be created automatically once you launch Roblox)
3. Ensure Proxy Server of LAN is Disabled
If the Proxy server is enabled for some reason on your computer for the LAN Settings then the chances are high enough that you may experience issues with the Roblox launching or connecting to the server. So, disabling the proxy server of LAN is required. To do so:
Click on the Start menu > Search for Internet Options by typing it then open it.
Go to the Connections tab > Click on the LAN Settings option.
Under the Proxy server title, you'll see 'Use a proxy server for your LAN' option.
Just uncheck the checkbox to turn it off.
Once done, click on OK to save changes.
Make sure to restart your PC to change effects immediately.
Now, you're good to go running Roblox.
4. Flush DNS Server
Maybe the IP configuration or DNS server has become corrupted on your computer. In that case, your system may not be able to connect to the game servers or online streaming services. It's better to flush the DNS server completely to regain the IP configuration properly. To do this:
Click on the Start menu > Type cmd in the search bar.
Right-click on Command Prompt from the search result.
Click on Yes if prompted by UAC.
The command prompt window will open.
Type the following command and hit Enter to flush the DNS server on your PC:
ipconfig /flushdns
This method will successfully flush the DNS Resolver Cache on your computer.
Make sure to reboot the PC and try rerunning the Roblox desktop app.
5. Check Roblox Server Status
If none of the above methods worked for you, try checking the official Roblox Server Status page to see whether there is any technical issue. If there is an issue with the service, that means you'll have to wait for a couple of hours until developers have resolved the problem.
However, if there is no problem and all the services are running well that means there is some issue with your PC or networking device.
6. Power Cycle Your Router
Coming to the networking device, if you're using the wired (ethernet) connection on your PC, make sure to switch to the wireless (Wi-Fi) network to check for the issue. Otherwise, if you're only using Wi-Fi, then try performing the power cycle of your router. To do that:
Turn off the Wi-Fi router and wait for the LED indicators to stop blinking.
Now, unplug the power adapter and wait for around 30 seconds.
Plug back the power adapter in, and turn on the router.
Finally, set up the IP configuration again, and connect to the network to check for the issue.
7. Try Another Browser
If in case, you're using a web browser on the computer to access and play Roblox games then make sure to try checking the same on a different web browser. Sometimes it can also possible that the existing web browser has some issues with the cache data, glitch, extension issues, issues with browsing history, etc.
8. Update Graphics Drivers
Make sure to try updating your graphics card driver on the PC to check for the issue. If you feel that you haven't updated the GPU driver for a while, then check for the update, and install it (if available). To do this:
Press Windows + X keys to open the Quick Start Menu.
Now, click on Device Manager from the list > Double-click on Display adapters.
Right-click on the dedicated graphics card that you're using.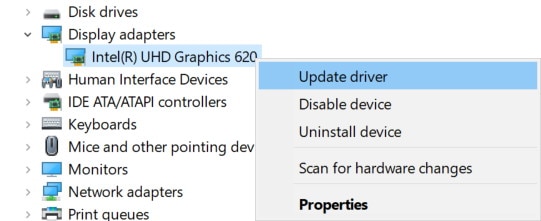 Next, select Update driver > Choose to Search automatically for drivers.
If there is an update available, it'll automatically download & install the latest version.
Once done, make sure to reboot your computer to apply changes.
9. Update Windows OS Build
We always recommend our readers to try updating Windows OS build periodically to keep up-to-date with the system. An outdated system may become unstable, buggy, or have compatibility issues with other programs. To do that:
Press Windows + I keys to open up the Windows Settings menu.
Next, click on Update & Security > Select Check for updates under the Windows Update section.
If there is a feature update available, select Download and install.
It may take a while to complete the update.
Make sure to restart your computer to completely install the update.
Finally, you can check whether the Roblox Not Launching issue is still there or not.
10. Close Background Running Tasks
There is nothing to say more when it comes to background processes running on the Windows computer. Too much background running third-party tasks can cause multiple issues with the app launching or system performance whatsoever. It's a good idea to only keep running those third-party programs which are necessary. To close all the unnecessary third-party background running tasks:
Press Ctrl + Shift + Esc keys to open up the Task Manager.
Now, click on the Processes tab > Click to select tasks that are unnecessarily running in the background and consuming enough system resources.
Click on End Task to close it one by one.
Once done, restart your system, and check for the issue.
11. Perform a Clean Boot
Performing a clean boot on your Windows computer may also help you to fix multiple system performance. It basically disables all the unnecessary startup third-party programs on the system. You can do so by following the steps below:
Press Windows + R keys to open up the Run dialog box.
Now, type msconfig and hit Enter to open System Configuration.
Once the window opens, head over to the Services tab.
Click on the Hide all Microsoft services checkbox > Click on Disable all.
Click on OK and close the window.
Finally, reboot your computer to apply changes, and check for the Roblox not launching issue again.
12. Use a VPN Service
It may also possible that your internet connection is typically targeting a specific server region, obviously your current region. But if you use a VPN server and select a different region or a different location than the current one, then it may start working properly in some cases.
VPN (Virtual Private Network) is one of the useful tools or services that can easily do the job. There are multiple free and paid VPN services available online that you can use on your computer. But do keep in mind that using a VPN may cause input lags, higher ping latency, etc in terms of online or multiplayer gaming.
13. Reinstall Roblox Desktop App
If nothing seems to work for you, uninstall and reinstall the Roblox desktop application on your Windows computer to check for the problem. To do so:
First of all, make sure that all background running programs are closed.
Now, press Windows + I keys to open Windows Settings.
Click on Apps > Under the Apps & features section, search for the Roblox desktop app from the list of installed programs.
Click on Roblox and select Uninstall.
If prompted, follow the on-screen instructions to complete the uninstallation process.
Once done, reboot your PC to apply changes > Go to the Microsoft Store app.
Search for Roblox and install it on the PC by clicking on Get.
Open Roblox, sign in to your existing account, and play your game.
Enjoy!
That's it, guys. We hope you've found this guide useful. For additional queries, let us know in the comment below.