In this article, we will give you a complete list of supported TWRP recovery for Motorola devices. TWRP or when expanded Team Win Recovery Project is a custom recovery available for Android devices. It is an open-source tool and can be used b, anyone, for free. Considered to be an important contribution to the Android developer community, TWRP is known around the globe. A lot of Android users worldwide make use of this custom recovery tool. It is better than the stock recovery in many ways including the interface and features. At first, the touch-based interface is very easy to use than the stock recovery. In addition, there are a lot of added features in TWRP which is not available for Android.
Android is well-known for its high usability and good performance features. Android has been in place for a long time now. This mobile-based operating system from Google has changed the concept of smartphones completely. From the time of launch, Google was able to improve Android in many ways by launching updates and new versions regularly. This has increased the user experience and features of the Android operating system greatly. Today majority of smartphones around the globe are powered by various versions of the Android operating system. Other than smartphones different wearable devices and other smart devices have a built-in Android operating system.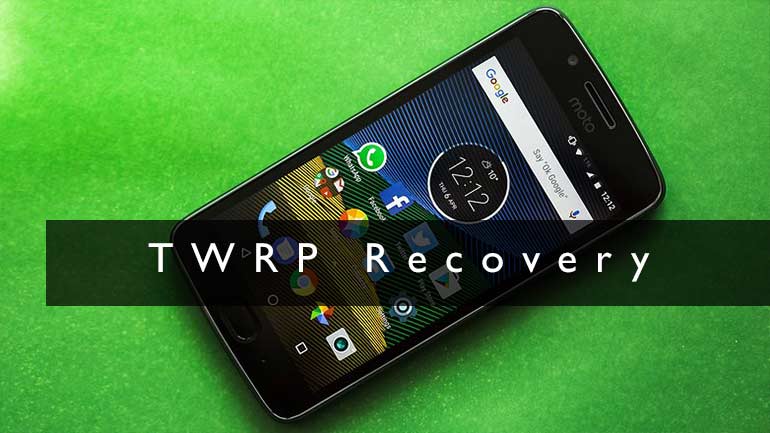 Many developers have been trying to bring up an operating system better than Android for a long time. But to date, none of those new mobile-based operating systems was able to come above Android. Apple's iOS has been a big competition for Android. But considering the difference in the price of the devices, Android is preferred by a majority of users. The interface of Android is considered to be more user-friendly with a touch-based system that can be used seamlessly. But for some reason, the stock recovery of Android doesn't provide a user with the same kind of interface. Touch is disabled in the stock recovery and comes with only a few features. This is where the use of custom recovery like TWRP comes up.
Today we will provide you with a list of supported TWRP recovery for Motorolla devices. The name Motorolla is well known for the mobile phone market from the time it originated. Motorolla was an important company who have been there since the starting of mobile phone sales. Over the years they have come up with a lot of devices powered by different operating systems. Now Motorolla is owned by Lenovo and only launched devices powered by Android.
What is TWRP Recovery:
TWRP stands for TeamWin Recovery Project is a fully touch-based and open-source custom recovery for Android devices. It is the best custom recovery after ClockworkMod (aka CWM). Unlike Stock Recovery, TWRP helps to install Custom ROM, Kernel, Mods, or even root any Android devices in just a few simple steps.
[su_quote cite=" Wikipedia" url="https://en.wikipedia.org/wiki/TWRP"]Team Win Recovery Project (TWRP) is an open-source software custom recovery image for Android-based devices. It provides a touchscreen-enabled interface that allows users to install third-party firmware and back up the current system, functions often unsupported by stock recovery images. It is, therefore, often installed when rooting Android devices, although it isn't dependent on a device being rooted to be installed.[/su_quote]
Advantages of TWRP Recovery:
You can flash Custom ROM with TWRP Recovery
You can flash modding zip files to customize your phone
Easy to use Xposed Modules
Easy to Root and Unroot using TWRP Recovery flashable zip SuperSU
Easy to Create and Restore Nandroid Backup using TWRP Recovery.
Easy access to restore the Nandroid Backup.
You can flash the image file using TWRP Recovery.
Can remove all bloatware using TWRP Recovery.
To underclock and overclock.
You can clean Wipe, Cache, and Data.
List of All Supported TWRP Recovery for Motorola Moto Devices
Here we have listed all the supported Motorola Moto devices on which you can install TWRP Recovery. With each link, we have included the guide on How to install the TWRP Recovery. So read the step-by-step carefully.
Before doing the methods, I just want to warn you that, By doing this you will loose the warranty and sometime if you don't read the steps and do something wrong can brick your device.
[su_note note_color="#faf8e8″]Make sure you have followed the steps properly. Don't Skip and Read! – GetDroidTips or Staff editor are not responsible for any damage. Take your own risk.[/su_note]
TWRP Recovery For Motorola Moto G Series:
TWRP Recovery For Motorola Moto E Series:
TWRP Recovery For Motorola Moto Z Series:
TWRP Recovery For Motorola Moto X Series:
TWRP Recovery For Motorola One Series:
TWRP Recovery For Motorola Moto Other Series: