Microsoft Teams is an amazing software for business professionals and big organizations to complete large projects on work from home basis. With their easy to use web client, users can do work, from any part of the world, as long as they have a working internet connection. However, with recent updates, r software glitches, many users have reported Microsoft Teams not working correctly. The error message – Microsoft teams not supported on their browser or somewhat similar. So how to fix the unsupportive browser issue with Microsoft Teams permanently. The issue is majorly caused by internet connectivity or broken browser files.
In case you're also facing the Microsoft Teams not supported on browser issue, then you're not alone. There are multiple troubleshooting methods to solve the problem. We will help you fix the problem if you follow these methods carefully. Usually, the problem only arises in one browser but not another, then you get a need to clear browser cache. Similar troubleshooting steps can fix the incompatibility of the browser easily.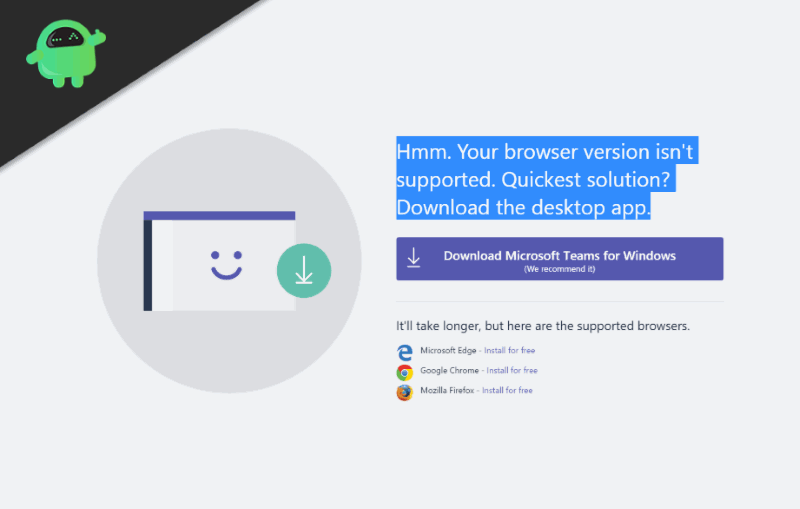 What is Microsoft Teams
Microsoft Teams is a tool that provides an online meeting environment, fully developed document storage, and chat. Microsoft Teams delivers an exceptional video chat experience for users, allowing them to collaborate through webinars. The whole outlook of Microsoft Teams is aimed to give a perfect workspace for teams to share their ideas remotely.
If you are already using Microsoft 365 then its perfect, Teams fully integrate with Microsoft 365. Applications like Outlook, SharePoint, Word, Excel, PowerPoint are completely integrated with Microsoft Teams. Teams give you this ability to give specific commands, for instance, you can make a slash command to see the most recent file shared with you,( /Files ). You can make calls, go to specific channels, view saved messages by making these types of slash commands.
How To Fix Microsoft Teams Meetings On Unsupported Browsers
Microsoft Team meetings is a Video conferencing and chatting application developed by Microsoft. It is a great and convenient application. However, Microsoft Teams doesn't work with every browser. It does not support browsers like Internet Explorer 11, Safari, and Firefox. Even more, if a user tries to run Microsoft Teams on a non-compatible browser, the user can face many limitations like loss of Audio, can't use the Camera, etc. However, there are solutions to fix this issue. Follow the Solutions mentioned below.
Solution 1: Using A Supported Browser And Updating The Client.
If you are not using a supported browser, then download a supported browser like Microsoft Edge RS2 or Google Chrome. Download a browser that supports PSTN. However, you can also download the desktop client. If you are using the Desktop client and it's not working, then either download the latest version of desktop Microsoft Team Client from here, or you can check for the latest update in the client.
Step 1) Firstly, click on your profile picture at the top of the app, a menu will appear, select the check for updates option.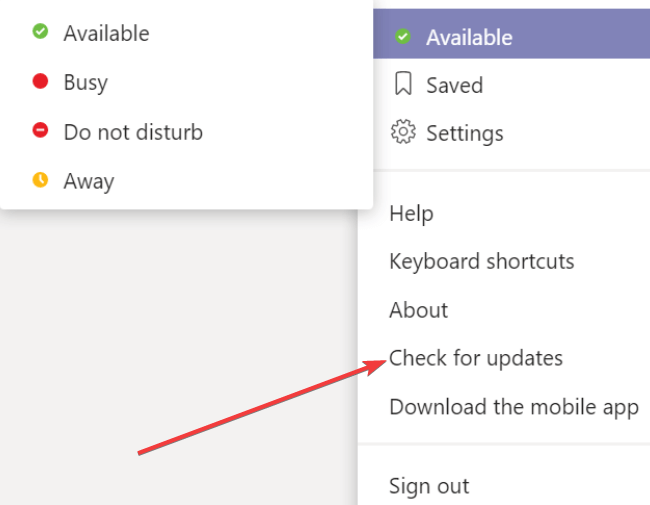 Step 2) If there is a new update, then it will automatically download and install the update for you. This will probably fix your issue.
If you're not able to update, then check out our guide on How to Update Microsoft Teams – Both Desktop and Mobile for more info.
Solution 2: Using Incognito Mode On Your Browser
Step 1) Open up your Google Chrome browser and click on the More option at the top-right corner and click on the New Incognito Window option to open up the Incognito window.

Step 2) Now, you can go to the site of Team meetings and use it, probably the issue will be solved. To close private browsing, simply close the window.
Solution 3: Using Microsoft Teams Meetings On Your Android
If your system does not support the latest browsers for some reason and you wanna use the Microsoft Team Meeting app, then the only option is to use it from your Android device.
[googleplay url="https://play.google.com/store/apps/details?id=com.microsoft.teams&hl=en_IN"]
Make sure that you are signed in to your Microsoft account. Click on install to install the app; probably you will be prompt into Google Play for download.
Conclusion
The Microsoft Teams unsupported on this browser error is a very common issue that is faced by many users nowadays. The error is very easy to fix using the Microsoft Teams troubleshooting guide. In case the error is still not solved, then we recommend you either change browsers or update them to the last version. Also, there are a few problems with the compatibility issues in the Chrome browser, so use Microsoft Edge or Chromium for the same.