Diablo IV is getting too many positive responses before its official release and players are quite excited about it. As an action role-playing video game, Blizzard Entertainment has done a good job, and actively trying to provide more features & bug fixes. However, this game isn't free from errors because plenty of early access beta users are encountering the Diablo 4 warning there was a problem logging in error code 34203 which becomes frustrating.
As we already said, Diablo IV's early access beta mostly covers the area to manage a better gaming experience apart from several bugs or errors that should be fixed asap. Developers are working on commonly known beta bugs and hopefully, provide a better version in June 2023. If we talk about the error, whenever players are trying to download the game from Blizzard and tried logging in, they're getting an error message regarding the same issue.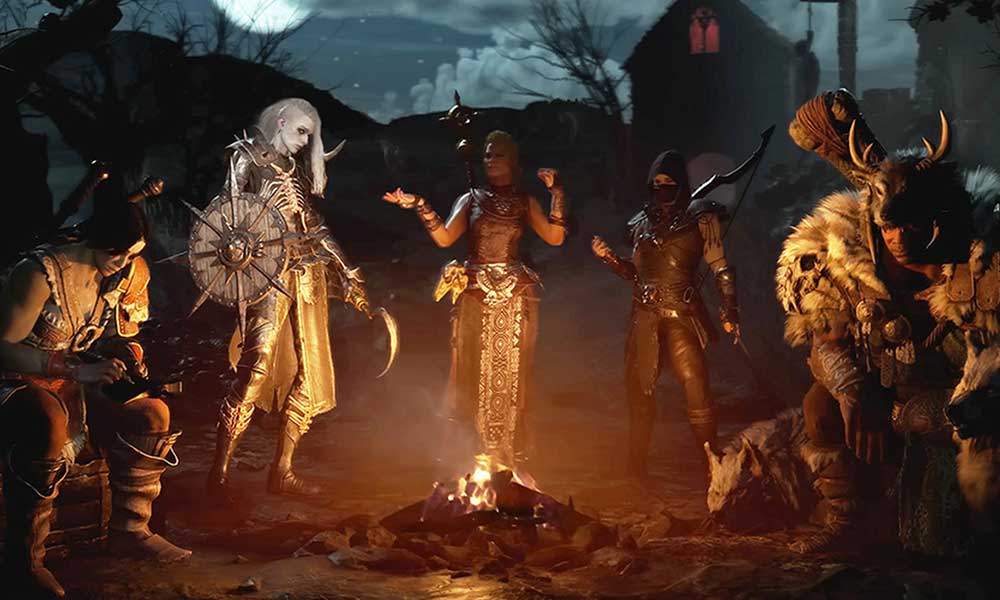 What is Diablo 4 error code 34203?
According to multiple reports, Diablo 4 players are facing the specific "There was a problem logging in. (Code 34203)" notice on the screen. Now, the chances are high that error code 34203 appears due to the overloaded game servers or server downtime. Whereas the server maintenance issue might also be a possible reason in this scenario. However, the issue can also appear due to some conflicts on the client side. For that, we'll gonna suggest some workarounds to resolve it.
Fix: Diablo 4 Warning There Was a Problem Logging In Error Code 34203
Luckily, we've shared a couple of workarounds for you that should come in handy. So, without further ado, let's jump into it.
1. Restart the Diablo 4 Game
First, you should restart the Diablo IV game to cross-check if there is an issue with the temporary glitch or not. You can try it out once before jumping into any other workarounds.
2. Check the Diablo IV Server Status
You can also check the Diablo 4 server status by visiting the @Diablo Twitter page and @BlizzardCS Twitter page to ensure that the online services are working fine or not. If the services aren't operational enough then make sure to wait for a couple of hours or more to check again.
3. Check the Internet Connection
You should also check out the internet connection at your end to ensure there is no issue with the networking glitch. If there is an issue with the network connection due to slow speed or instability, you might need to fix it. You can switch from the wired to a wireless network or vice versa to ensure no glitches. You can also try rebooting the Wi-Fi router manually to clear out temporary glitches.
4. Update the Diablo IV Game
It's recommended to check for the Diablo IV update on your respective gaming device by following the steps below to ensure there is no outdated game patch version troubling you. Sometimes an outdated game version can eventually trigger several issues with the voice chat or in-game launching whatsoever.
Open the Battle.net (Blizzard) launcher.
Click on the Blizzard logo from the top left corner.
Go to Settings > Click on Game Install/Update.
Click on Apply latest updates and download future patch data for recently played games to enable it.
Now, click on Done to save changes > Restart the Battle.net launcher to apply changes.
It should automatically update the game to the available version.
5. Repair the Diablo IV Game Files
Sometimes missing or corrupted game files might trigger several issues that can be frustrating enough with the game launching. You can follow the steps below to verify and repair the installed game files.
Open the Battle.net client on your PC.
Click on the Diablo IV game.
Now, click on OPTIONS (Gear icon) > Click on Scan and Repair.
Choose Begin Scan and wait for the process to complete.
Once done, close the Battle.net launcher, and restart your PC.
6. Update the Networking Driver
An outdated networking driver on the computer can also cause several issues with the online server connectivity. It's better to check for the networking driver update on the PC and install the same by following the steps below.
Right-click on the Start Menu to open Quick Link Menu.
Click on Device Manager from the list.
Now, double-click on the Network Adapters.
Right-click on the networking device > Select Update driver.
Choose Search automatically for drivers.
If there is an update available, it'll automatically download and install the latest version.
Once done, make sure to reboot your computer to change the effects.
7. Flush the DNS Cache
Make sure to flush the DNS cache on your computer to easily remove stored cache files related to the internet configuration. It can also help the PC and the internet settings to freshly connect with the game servers without any corrupted or older cache data. To do that:
Open the Start menu > Seach for Command Prompt.
Now, right-click on Command Prompt > Select Run as administrator.
If prompted by UAC, click on Yes to proceed > Type the following command in cmd and hit Enter:
ipconfig /flushdns
A successful message will appear > Close the command prompt window.
Once done, close cmd, and reboot the PC to apply changes.
8. Disable Windows Firewall and Antivirus
It seems that you're using the default Windows Firewall protection on your PC to maintain the security level. However, in some cases, Windows Firewall can have trouble accessing online content by connecting to the servers. It's recommended to temporarily disable the Firewall program by following the steps below.
Click on the Start Menu > Type Windows Defender Firewall and open it.
Next, click on Turn Windows Defender Firewall on or off from the left pane.
Select the Turn off Windows Defender Firewall (not recommended) option for all domains.
Once done, click on OK to save changes > Reboot your PC to apply changes.
You should also turn off the Windows Defender antivirus program temporarily on your PC to ensure there is no issue with the game file blocking. To do so:
Press the Win+I keys to open Settings.
Click on Update & Security > Click on Windows Security.
Click on Open Windows Security > Go to Virus & threat protection.
Now, click on Manage settings > Just turn off the Real-time protection toggle.
If prompted, click on Yes to proceed further.
Please Note: If you're using any other third-party antivirus program on your PC then ensure to turn it off from its settings menu.
9. Don't Use VPN
Try not to use a VPN (Virtual Private Network) service while launching and playing Diablo IV on the PC to avoid any kind of server connectivity or higher latency issues whatsoever.
10. Close All Third-Party Unnecessary Tasks
If somehow the Diablo IV game is still going through issues, make sure to close unnecessary third-party tasks by following the steps below.
Press the Ctrl+Shift+Esc keys to open Task Manager.
Click on Processes > Click on the respective task to select.
Now, click on End Task > Do the same steps for other tasks too.
Once done, close Task Manager, and reboot the PC.
11. Contact Blizzard Support
If none of the methods worked for you then make sure to contact Blizzard Support for Diablo 4 to get better assistance. Additionally, you should submit a support ticket for the same issue so that developers can take a deep dive into it.
That's it, guys. We hope this guide was helpful to you. For additional queries, you can comment below.