As the name suggests, Apple Music is a music and video streaming service that's developed by Apple Inc. It offers a trial version to the users and then the interested users can subscribe to the package to get all the types and online music streaming options categorized in multiple ways. However, sometimes users may also find it difficult to play or stream some of the music tracks on their iPhone, iPad, Android, Mac, Windows devices. Here we're talking about one of the common Apple Music's This Song Is Not Available in Your Region Error.
We hope that almost each and every Apple Music user may have experienced this particular issue on their device at least once in their life. Obviously, you're also one of them and that's why you're on this page right now. Here we've provided some of the possible workarounds below to resolve this issue completely. So, without wasting any more time, let's jump into it.
Fix: Apple Music's This Song Is Not Available in Your Region Error
As some of the affected users may find a couple of ways useful enough to fix the mentioned error such as restarting their device or relaunching the Apple Music app or disabling & enabling the internet connection, etc. However, you can try some additional methods or tricks that are mentioned below.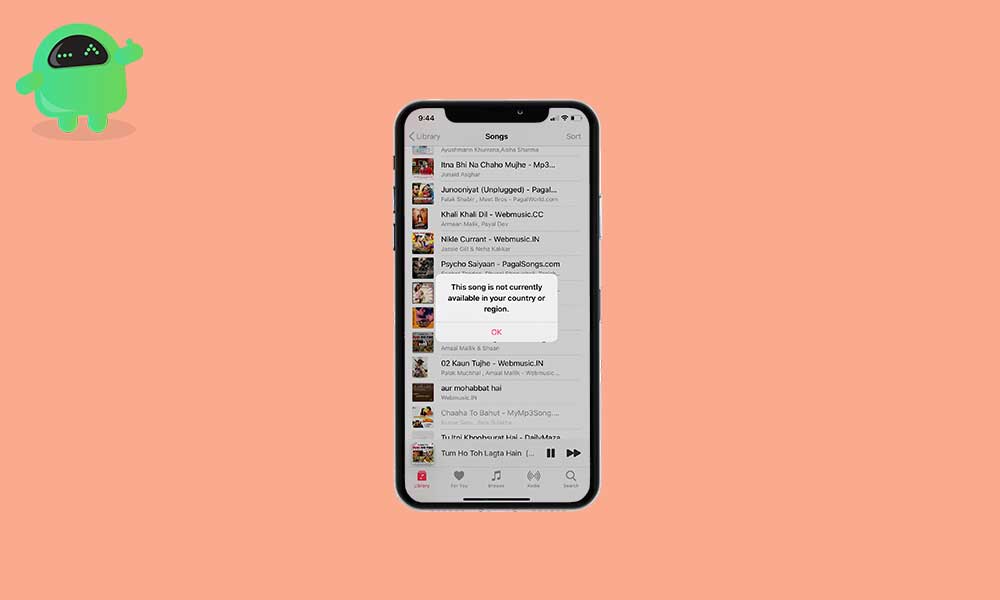 1. Turn Off VPN
By turning off the VPN (Virtual Private Network) on your device or from the networking device, you will be able to use your actual IP address that's provided by your ISP. Sometimes changing the server location or getting anonymous using a VPN service may not become useful for accessing some of the services like logging into any account or streaming Apple Music, etc.
So, temporarily disable the connected VPN service on your iPhone or iPad from Settings > VPN > Turn off the toggle. (DO NOT need to uninstall the VPN app)
Next, either you can restart your device or quickly enable & disable the Airplane mode to refresh the internet connectivity.
Freshly launch the Apple Music app and try playing or streaming the music that was causing the issue "This Song Is Not Available in Your Region".
2. Sync with iTunes
It's also very much important to keep syncing your iPhone or iPad with your PC or Mac using the iTunes program. Now, to be very specific, iTunes can sync all of your device data like music, videos, photos, tones, audiobooks, etc. It also syncs your local library files which are transferred using iTunes on your iPhone or iPad.
Just delete the particular music file(s) from the Apple Music Library that's showing "This Song Is Not Available in Your Region" while playing it.
Next, connect your iPhone or iPad to the Mac or PC using the lightning cable.
Launch iTunes program > Wait until the device syncing completes.
Then try to add the same music file on your handset from File > Add File to Library. (For multiple files or a folder, choose Add Folder to Library)
Once transferred, click on Sync again.
Finally, unplug the cable and launch the Apple Music app on your device to check for the error 'This Song Is Not Available in Your Region.
3. Enable Automatic Downloads for Music
iOS comes with an option that offers users to enable to disable automatic downloads for music, apps, app updates, and books or audiobooks. Make sure that your iPhone is connected to the Apple ID. Now, do the following steps:
Go to device Settings > iTunes & App Store.
Turn on the Music toggle for Automatic Downloads.
If the option is already enabled, then turn it off and turn on again.
Next, open the Apple Music app after some time and check for the error.
4. Sync Device Music Library
If in case, your Apple Music is showing the region unavailable issue for any song then do the following steps:
Head over to the device Settings > Tap on Music.
Turn On Sync Library (if turned off).
You should restart your iPhone and check for the unavailable music again.

If in case, the Sync Library option is already turned on then turn it off and confirm the prompt.
Next, turn on the Sync Library again > Select Keep Music, if prompted, and try playing the affected music.
5. Sign Out & Sign In Apple ID
Note:
Keep in mind that this method will remove all the offline downloaded music from your Library.
Open Settings > Tap on your Apple ID (Profile).
Scroll to the bottom of the page and tap on Sign Out.
Enter the Apple ID password > Follow the on-screen instructions to sign out.
Next, sign back into the Apple ID again and try playing the affected music track.
In most cases, re-logging into the Apple ID can fix the issue "This Song Is Not Available in Your Region".
6. Check for Pending App Updates
Head over to the App Store > Tap on the Profile icon on the top right corner.
Now, pull down the screen to refresh the page or available app updates properly.
Scroll down a bit and you can find the 'Upcoming Automatic Updates' option.
Next, you can see all the available app updates that are pending to install.
Simply tap on 'Update All' and wait for the pending updates to complete one by one.
Once done, restart your iPhone and check for the music playing issue again.
7. Check for iOS Updates
Go to the device Settings > General.
Tap on Software Update. (If there is any latest update available, it will notify you)
Simply tap on Download and Install > Wait for the system to process the update. (Make sure that Wi-Fi or Mobile Data is turned on)
Your device will boot into the new system version successfully. It may take some time to install the update and boot. So, have some patience.

Alternatively, if there is no update available, tap on Customise Automatic Updates > Turn on the "Download iOS Updates" toggle under the 'Automatically' option.
Next, you can see another option called "Install iOS Updates". You can also turn this toggle on or keep it off according to your choice.
That's it, guys. We assume that you've found this guide very helpful. For further queries, you can comment below.