In this post, we will guide you on how you can fix the error CE-37813-2 on PS4. The error has surfaced for the users for quite some time now, and if you are also experiencing the same issue, then you are at the correct place. Notably, the issue occurs on the PS4 when users are trying to connect to the servers via WiFi. Besides, users using LAN connection have also reported this CE-37813-2 error on PS4.
To give you an overview of why this issue is occurring, it is because either the server-side is currently having any issues or there is a problem with your internet connection. We will look at the potential workarounds that will help the users experiencing this issue on PS4. This could be frustrating for gamers because multiple user reports suggest that this error popped upright in the middle of the game. So, with that being said let us take a look at the article itself:
Also Read: PS4 Error Code NW-31295-0: What is it? How to Fix?
How to fix Error CE-37813-2 on PS4?
Before we take on the error CE-37813-2 and look for potential fixes that could help you fix the issue, it is always better to know what is the main cause of this issue. Well, for starters, this issue can pop up because of PS4 servers issues, unsupported model, inconsistent DNS range, corrupt temporary data, ISP settings, PS4 Mac address is blocked, database error, etc. Now, once you are aware of the possible causes that might have triggered this error on your PS4, let us take a look at all the fixes that you can make use of to resolve this issue.
Check PS4 Servers
As usual, we would advise our readers to first go through server checking on any platform before you go ahead and apply your methods to fix this issue. Because if this is a server-side issue, there is nothing much you can do. But checking for the server-side issues first would help you save time as none of the fix would help in this situation.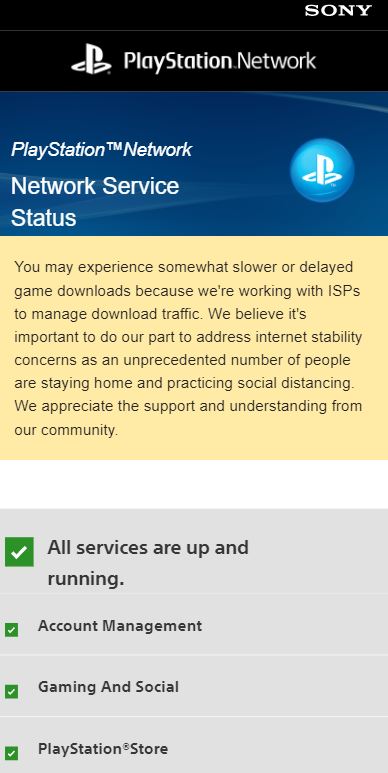 You can always go ahead and check for the PSN Status page by clicking here and see if the PS4 networks are going through and outage or something, which is a possible reason that has triggered the CE-37813-2 error on PS4.
Change WiFi GHz technology
If this error is occurring for you on PS4 Vanilla then it might be because you are trying to connect to a WiFi network on 5.0 GHz technology. One thing to note is that only PlayStation Slim and PlayStation 4 currently support 5G technology while the PlayStation Vanilla supports the only 2.4GHz. On a dual-band router, you simply need to identify the 2.4GHz and connect it to the PS4 and see if that helps. If you are having a single band router then, simply go to your router setting and switch connection to 2.4GHz.
Swap Google DNS Range
On the main screen of PS4, access the Settings menu.
Go to the Network menu and then tap on Set up Internet Connection and hit the X button.

Choose Wireless or LAN depending on the network that you are using.

Select Custom to manually change the network settings.

Set the IP Address to Automatically.
In the DHCP Host Name menu, set the entry to Do Not Specify.
Once in the DNS settings, choose Manual and set Primary DNS to 8.8.8.8 and the Secondary DNS to 8.8.4.4.
Save the changes and restart your PS4.
That's it!
Check if PS4 MAC is blocked
Head to the router settings and go to Parental Controls.
Then go to Manage devices and find the MAC address of your PS4.
See if it is blocked from accessing the internet.
Delete if you find your console's MAC address listed.
Restart your device.
Rebuild the database
If this error has occurred for you shortly after you have performed an update on your console, then you need to try to rebuild the database. This is one of the safest and working solutions for fixing the CE-37813-2 error on PS4. Several users have reported that this issue is fixed by rebuilding the database. Basically, rebuilding the database removes unnecessary data, files, and folders.
Turn OFF your PS4 console.
Connect your controller using the USB.
Press and hold the Power button until you hear a beep sound.
Release the power button and press the PS button on your controller.
From here you need to go to Safe Mode and select Rebuild Database.
The message saying that the database will be rebuilt will appear. Hit OK.
Let the console rebuild the database.
Sign in screen will appear once the process is complete.
That's it!
Wrap Up!
That's it from my side in this post. I hope you guys liked this post on how you can fix the CE-37813-2 issue on the PS4 console. Let us know in the comments below which one of the fixes worked for you or if you have any other fix that you would like to share with us that will help others fix this issue.
For more such awesome coverage, you can head over to our check out our Windows Guides, Gaming Guides, Social Media Guides, iPhone, and Android Guides to read more. Make sure to subscribe to our YouTube Channel for awesome videos related to Android, iOS, and Gaming. Until the next post…Cheers!