Updated on April 26, 2019: Today Huawei started rolling EMUI 9.1 update for Huawei Honor 7X. The update is labeled with build number 9.1.0.xxx and it has started rolling to regions in China, Asia, Europe, and the Middle East. Well, the new EMUI 9.1 was first introduced in Huawei P30 series. EMUI 9.1 brings improvement to system speed and stability. The update is still based on Android Pie.
Huawei has started rolling Android 9.0 Pie Open beta update for last year successive models; Huawei Honor 7X. The update brings the beautiful EMUI 9.0 Beta which comes with a lot of goodies along with Android Pie features. Currently, Open beta update is rolling for only the selected users under the beta channel. In case if you are not a beta tester, then you can install the Huawei Honor 7X Android 9.0 Pie update manually by following this guide given below.
As per the release statement by Huawei, This is an EMUI 9.0 open beta test (OBT) version (informal commercial version) that lets interested users experience new software features in advance, and give us feedback for improvement before the public release. Note that the OBT version is still in the development phase and problems or defects may exist. Make sure to back up your data before installing this update. Note: If your phone has been unlocked with the unlock code, information such as your HUAWEI ID and password may be at risk. After updating to EMUI 9.0, you will receive a prompt reminding you of this risk
The update is now live and available to download here. If you didn't sign up for Huawei Beta program or you are not patience to wait for the OTA, then you can download the full firmware and flash the update via flashy tool to upgrade from Android 8.0 Oreo to Android 9.0 Pie on Huawei Honor 7X. Below we given are Open Beta software, if you experience bugs, then we are not responsible.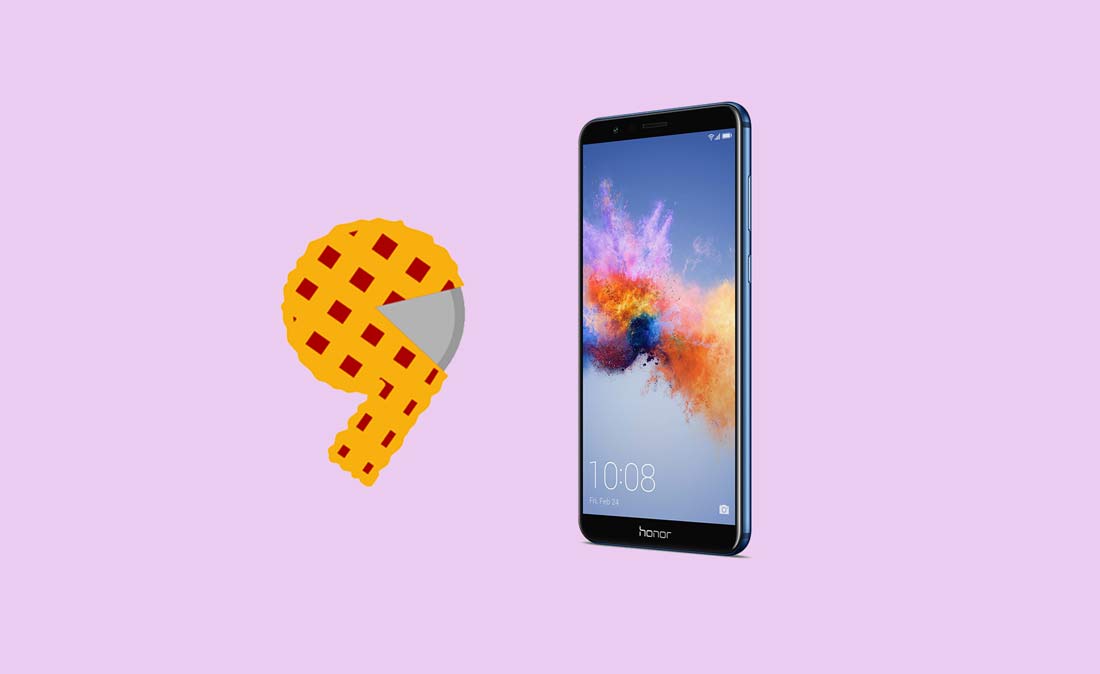 EMUI 9.0 Update
EMUI 9.0 is here. Built on Android Pie, EMUI 9.0 preserves that essential Android flavor, with an added dash of nature and simplicity. This new version contains wonderful new technology and streamlined processes, as well as a friendlier, more beautiful design. Our improved, intuitive interface brings greater convenience in work and daily use safeguards your data, helps you to understand your digital habits and more. We couldn't be more proud to put EMUI 9.0 in your palm, and we hope it brings you joy and delight. Note: The time required to install this update may vary depending on your device and network.
Intuitive design We've simplified the UI in EMUI 9.0, making it easier and more intuitive to use. Nature's sounds Alarms and ringtones are inspired by nature, bringing the wild back to your everyday. Illustrated functionality We've made it easier to learn about your phone with graphically engaging instructions and descriptions. Simple settings EMUI 9.0 unifies, combining once separate functions into a single, streamlined experience. All of your most frequently used settings are easier to access.
Digital balance Understand your habits, manage your time, and get plenty of sleep. Digital balance helps you balance your device usage, so you and your family can live in perfect harmony with technology. Faster launch times We've improved launch speeds for the most popular apps on the market. Functionality Once-heavy processes now move lightning fast. It's now much faster to pay, open large images, and share photos with WeChat.
Android 9.0 Pie Update
The Google has started rolling out the next major version of Android for the supported Google Pixel devices. After the Android 8.0 Oreo, this is the 9th iteration of Android from Google. With Android Pie, Google has revamped many UI changes which include the notification panel, Settings, Quick Toggles and more. The main highlighted features of Android Pie are notification panel, indoor WiFi positioning, support for iPhone X-style notches, Material Design 2, Dark Mode, Enhanced Auto-fill, Dual Camera API, Neural network API implementation and many more.
Well, let us now take a quick look at some of the most important features of Android 9 Pie. Should we?
Features of Android 9.0 Pie Update
Here are some of the main features of the Android 9 Pie:
Gestures: With this release of Android, the Google removed the original home button with a pill that supports gestures. For instance, the users can slide up to show recent apps or slide right to quickly switch between apps.
New Recent Apps menu: With the earlier versions of Android, there used to be a stacked card list of Recent Apps. This is now replaced with a horizontal card list.
New User Interface: The Android 9 Pie has an all-new user interface which is even more minimal. Google has used the Color Sche,e which they call it as Material Design 2 with this version of Android.
Dashboard: Also known as Digital Wellbeing is One of our personal favorite features of the Android 9 Pie is the addition of a Dashboard. Now, the dashboard is that feature which would help you track your overall usage. Users can track the app(s) usage, sleep and more. The objective here is to prevent distractions and focus on productive things.
Slices: With earlier versions of Android, when we search for an app on Android, the app icon itself comes up. But with this version of Android, Google is going to show you information that's embedded within apps.
Steps to Install Huawei Honor 7X Android 9.0 Pie Update
Make sure to download the required tools, drivers and ROM before trying this method.
GetDroidTips will not be responsible for any internal/external damages to the device that may happen while/after following this guide.
Pre-requisite:
Supported Device: Huawei Honor 7X
What you need: You need to Activate the Developer Option and Enable USB Debugging.
Beta Flashy Tool: Download Beta Flashy v0.2 [to flash using the first method]
Required Drivers: Download the Huawei USB Drivers.
Backup before upgrading: Take a complete backup before flashing the firmware on your phone. Here is some backup method which you can follow.
Charge before upgrading: Make sure you have enough battery to run the upgrade process. It is recommended that the power of the battery is more than 30%.
Unlock Bootloader: To install Huawei Honor 7X Android 9.0 Pie update, you need the bootloader to unlock on your device.
1st Method: Instructions:
First, you need to download EMUI 9.0 Beta Flashy v0.2 and extract on your PC'
Download the firmware and extract it inside the same flashing tool extracted area.
You need to enable OEM unlocking and USB Debugging on your device
Once you have enabled OEM unlocking, now open the flashy tool and run the Flash.bat file inside it.
This will now flash the Android 9 Pie on Huawei Honor 7X
Once it is done! Reboot your device and enjoy the Android Pie EMUI 9.0 beta.
That's it! You have successfully flashed the Android Pie.
2nd Method: Instructions:
I hope this guide was helpful enough to flash the Huawei Honor 7X Android 9.0 Pie Update.