Whenever we talk about collaboration software, Microsoft Teams comes to our mind first. So it is quite common for the users to experience trouble due to the large user base and load on the servers. But rarely do we see issues, but sometimes the issue creates great pain during work hours. Today we will discuss one such issue, which is causing users to scratch their heads. After these errors, Microsoft released some updates, but unlike what we thought, the update seemed helpless to solve these issues. So if you're here probably, you've experienced the same error code caa7000a issue.
Most of the time, Teams display many error codes, which makes it confusing to understand what the problem is. But today, we are going to discuss the error code caa7000a, which is more of a bug than an error code. So understanding and doing this yourself will be more comfortable. Let's get started.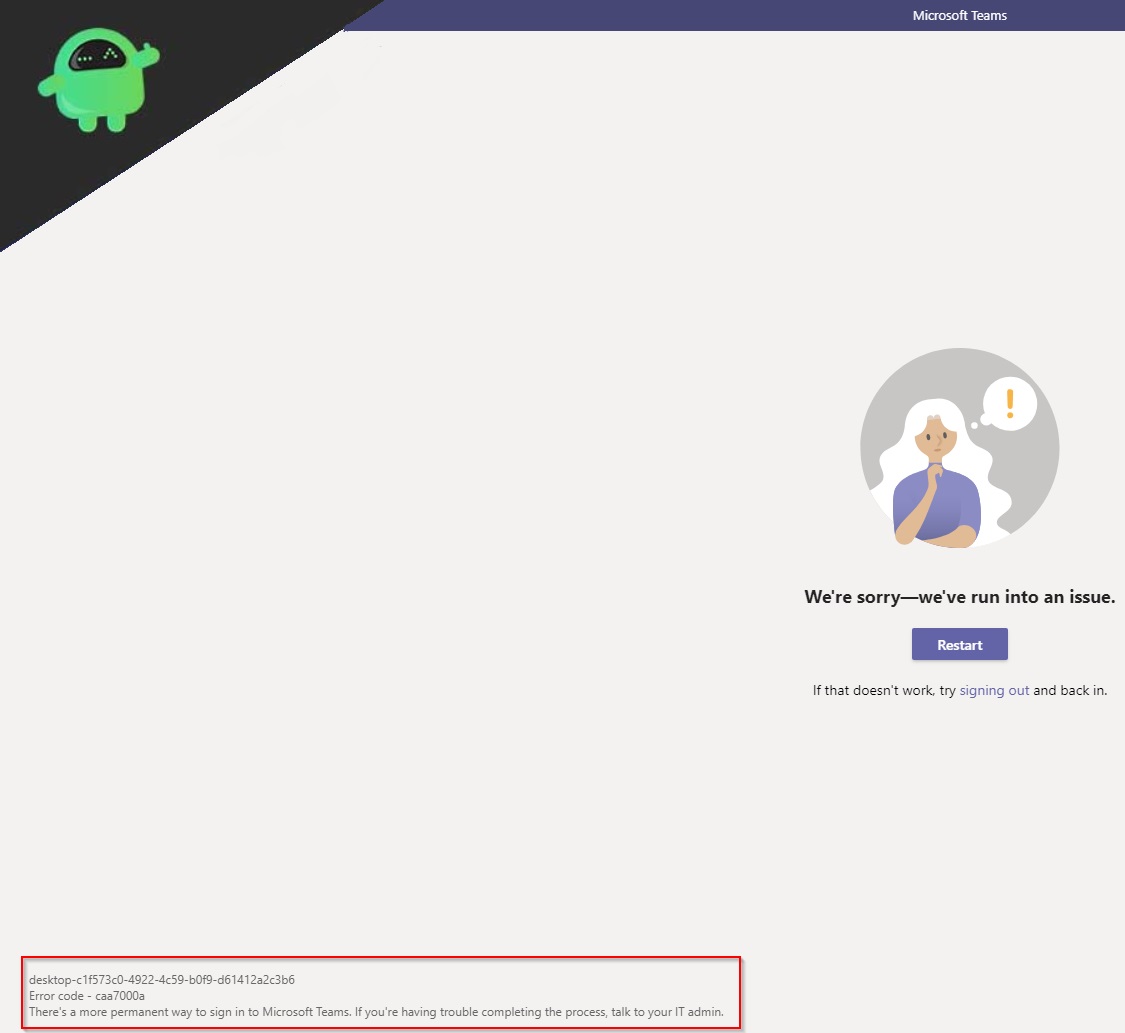 What is the Issue?
The issue is simple yet disturbing. Whenever you have to join an important meeting or a voice conference, then Teams will not let you enter and display an error code caa7000a. This error code not only shows when you try to join a meeting, it even pops up during chats. And most frightening one is during a presentation. The error code caa7000a is actually a network connectivity error code that means Microsoft Teams is unable to connect to the network.
Seeing this error code, the user feels helpless because everyone knows what a presentation means, and a wrong one can just ruin everything. So if you're experiencing the same issue, this guide is for you. We have put together the best fixes that will help ensure you don't get these error codes in the near future. Let's move to our fixes.
How to Fix Microsoft Teams Error code caa7000a?
Fixing the Microsoft Teams Error code is a cakewalk if you understand the whole procedure clearly. We will discuss the fixes that are easy, and you can do them yourself without anybody's help. Remember to apply them in the order we discuss here. So let's get to our fixes.
Fix 1: Reinstall Microsoft Teams
One of the best solutions to fix the issue of error code caa7000a is to uninstall Microsoft Teams and proceed with the reinstallation. Follow the steps if you need help in uninstalling.
Open the file Explorer from the taskbar
Then at the top right side, click on the Computer tab
In the computer, tab click on Uninstall or Change a program
Locate Microsoft Teams and uninstall it.
Now download Microsoft Teams from the official product page
And double click on the installer and follow the in-page directions
Doing a fresh installation will helo solve this error code caa7000a. And hope, it won't appear again. Move on to the next fix to continue with the guide
Fix 2: Check for Network Connectivity Issues
As we know that error code caa7000a is a connectivity error code, so it is wise to check for network connectivity issues on the system. To do this, follow the steps below.
First of all, check that your internet connection is stable or not. You can find network troubleshooting here
You can try for other connections like mobile hotspot
Then you can also troubleshoot network settings in the inbuilt troubleshooter
After trying all this, your problem will be solved. If this does not help, move to the next fix.
Fix 3: Client Issues
There are several causes that lead to error code caa7000a, and most of them are their own client issue. Follow the below steps to solve them accordingly.
If your application is causing this trouble, you can check the online Microsoft Teams web interface in the browser
If your web client isn't working, try mobile apps.
You can repair Microsoft Teams from the Microsoft Office Suite
Try to make sure you don't use any VPN as VPNs always cause trouble with applications
You can also check out that your antivirus or firewall doesn't interrupt, to do this add Teams in the exception list.
You can try all this method to fix the error code caa7000a. By doing all this, one out of all will surely solve your problem. And within the next few days, Microsoft will release patch updates that will finally fix your issues with the client.
Conclusion
This guide was to help the users who are facing the error code caa7000a in their Microsoft Teams application. We hope this guide was helpful to you. If you have any queries or feedback, feel free to comment down below with your Name and E-mail ID. Likewise, check out our iPhone Tips and Tricks, PC tips and tricks, and Android Tips and Tricks for more such tips and tricks. Thank You.