Apex Legends is currently one of the hottest buzzes in the world of Battle Royale Games. It is developed by Respawn Entertainment and published by Electronic Arts that is one of the best gaming industries. But now this addictive game is becoming a headache for its crashing and bugs.
Continuously most of the gamers are complain about regular engine crash errors that cause their game to freeze and then finally stop responding. This complaint coming for a long time though, we decided to wait so that Respawn Games can push out some updates that can fix these issues. But unlike our expectation, they released none. And so we decided to come up with our own set of fixes that will help users solve their game crashing issues.
So if you are one of those gamers who is a big fan of Apex Legends but now started to hate the game, then you're in the correct place. This is because today, we will discuss all the fixes that will again make you fall in love with Apex Legends. So let's get started.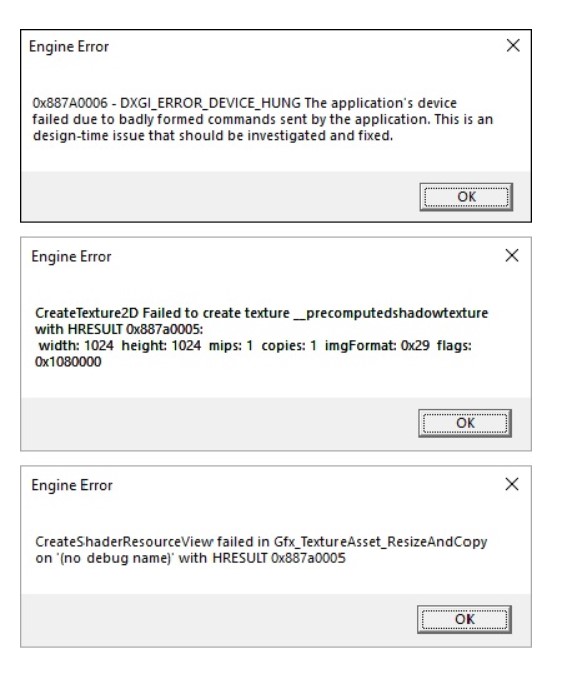 What is the Issue?
Whenever a user tries to start Apex Legends, he encounters an Engine Error. In the form of a code in a window. 0x887A0006 DXGI_ERROR_DEVICE_HUNG, CreateTexture2D failed, or CreateShaderResourceView failed. This message gets displayed on the Window, and the game crashes itself even after clicking on OK. Though there are basically three types of errors that users see during their game crashing. Now we will see the error codes that the users are experiencing while starting their game
Engine Error 0x887A0006 — DXGI_ERROR_DEVICE_HUNG: In this error code, you can read that the engine failed due to bad commands that were sent by the application. However, this is a time issue that can be easily solved by following our fixes.
Engine Error CreateTexture2D: In this error code, you can clearly see that the application is unable to render graphics properly. So this can be a graphics card overclocking or device driver issue.
Engine Error CreateShaderResourceView: In this error code, it is hard to understand what the cause is, but owing to the word, shader it can be speculated that it is again a graphics card issue.
So after looking at all the engine error codes and knowing their reasons. You are ready to try out the fixes that we will discuss in the next part.
How to fix All Engine Error Codes in Apex Legends?
Apex Legends crashes and shows engine error code, don't worry, we have all the fixes that will help you tackle those issues. Read each step carefully, and don't do anything extra than discuss. So let's start the fixes.
Fix 1: Run as an Administrator
Running the game with Administrator privileges will solve the issue. This is because sometimes, a game is unable to utilize the resources that are required for the successful running of the game. Follow the steps below to run Apex Legends with Administrator privileges.
Right on the Origin Launcher, and select Open file location from the drop-down menu
When the file location opens, right-click on Apex Legends, and click on "Run as Administrator."
It will as for confirmation, click on Yes
Your game will now start with Admin privileges
This will probably solve your issue of engine crash errors. Since now, the game has all the right to use the available resources that are required for a successful startup. If you still experience hiccups, move to the next fix.
Fix 2: Repair the Game
Repairing the game through Origin's interface can help to fix the corrupt game files and data. These corrupt game files and data are responsible for the crashes. To repair the game, follow the steps below.
First of all, double click on the Origin Launcher on your desktop to open it
Then in the Origin app, right-click on Apex Legends and click on "repair."
This will take some time as it checks for the integrity of the files
Once complete, restart your PC
Now launch the game to check if you still experience any engine error. If it is still there, consider moving to the next fix.
Fix 3: Rollback Graphics Card Drivers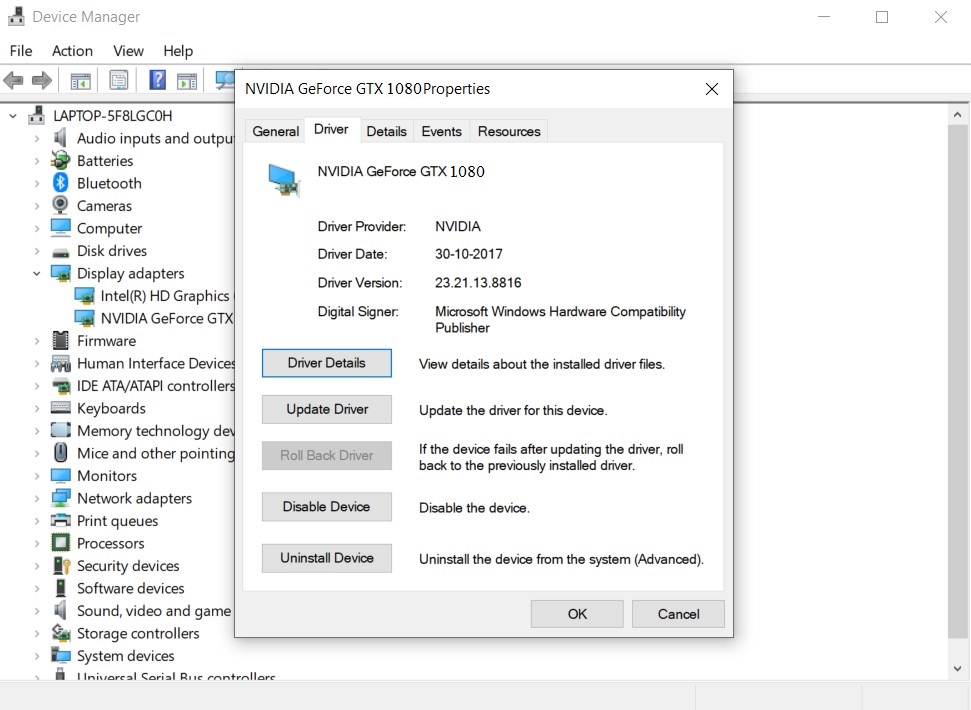 Most of the users reported that rolling back the graphics card driver, helped them solve the engine error codes, So we decided to try it ourselves, it really did solve. Rolling back the drivers are really helpful if you are experiencing issues after a recent update of the driver. To roll back the graphics card driver, follow the steps below.
Right-click on the taskbar, and select Device Manager
In the Device Manager window, expand "Display Drivers."
Then right-click on your Dedicated GPU and choose Properties
Later in the properties window, click on roll back driver
It will ask for confirmation. Click on yes
Restart your PC
Now try launching the game and check if you still experience the issue. It will not occur, although if you encounter any issue, our last fix will guaranteed fix that for you.
Fix 4: Registry Editor Method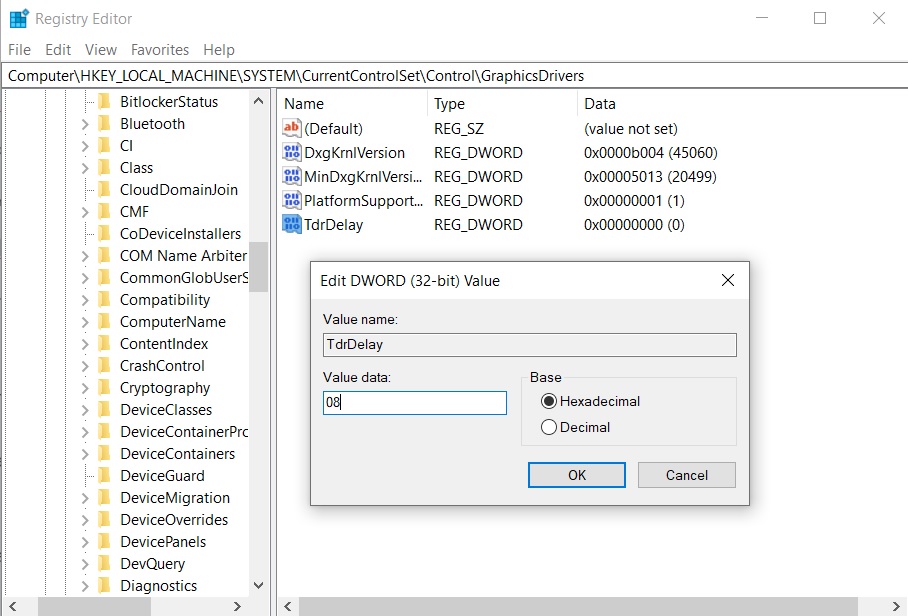 Registry Editor is the Boss of error fixing in the Windows operating system. Doing some tricks in the Registry Editor will free you up from all the engine error codes. Follow the steps below to solve your problem using the Registry Editor
Click on windows+R button together, and this open the run dialogue box
In the run dialogue box, type "Regedit" and press Enter
In in the registry editor, enter this address [COMPUTER\HKEY_LOCAL_MACHINE\SYSTEM\CurrentControlSet\Control\GraphicsDrivers]
Now, create a new 32-bit DWORD and name it "TdrDelay" and press enter
Now double click on "TdrDelay" and assign value and write there [0,8]
Then save it and exit. After that, restart your PC for the changes to take effect. Now you won't notice any engine error in Apex Legends.
Conclusion
This guide was to help the gamers who were experiencing Engine Error Codes whenever they were trying to play Apex Legends. After following our guide, you will be able to fix those issues quickly. We hope this guide was helpful to you. If you have any queries or feedback, feel free to comment down below with your Name and E-mail ID. Likewise, check out our iPhone Tips and Tricks, PC tips and tricks, and Android Tips and Tricks for more such tips and tricks. Thank You.