Playing war games without weapons is like playing sports without any equipment. Call of Duty warzone 2 has been the talk of the town since its launch. The different weapons in the game are what make it exciting. COD warzone 2 has a massive collection of guns and weapons, and it is very difficult to select the best weapon tier list for yourself. This article will list the different weapons used in Call of Duty warzone 2.
We will list these weapons according to their tiers. The weapon tier is wholly based on the weapon's power, including speed and durability. If you want to find the best Call of Duty Warzone 2 weapon, this article is specially made for you. Please go through each weapon tier to find the best Weapon suitable for you.
Best Weapon Tier List in COD Warzone 2
The Call of Duty WarZone has many weapons and these weapons are categorized in a tier list, where S is the most powerful weapon to C is the least powerful weapon. Check out our full Warzone 2 gun tier list to see how each of the 40-odd primary weapons stacks up in terms of overall effectiveness and power.
COD Warzone 2 S Tier List Weapons
The weapons placed in the S tier are the game's best weapons. All these weapons are listed in the S tier.
FSS Hurricane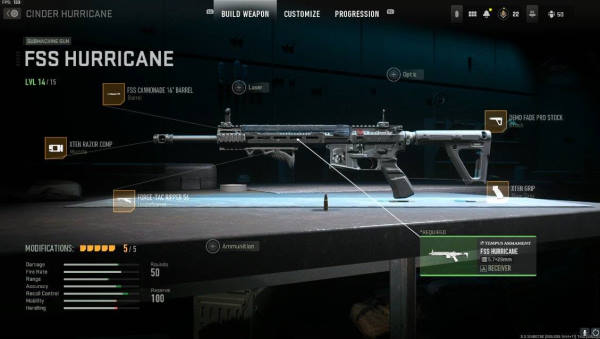 The FSS Hurricane can be found as a hidden weapon during the mission "Ghost Team." When the player returns to Kyle "Gaz" Garrick and is charged with getting through the vehicle depot to Runway 3, the weapon can be found on a desk inside the trailer to the northwest from which the two Shadow Company men are launching rockets.
Kostov 762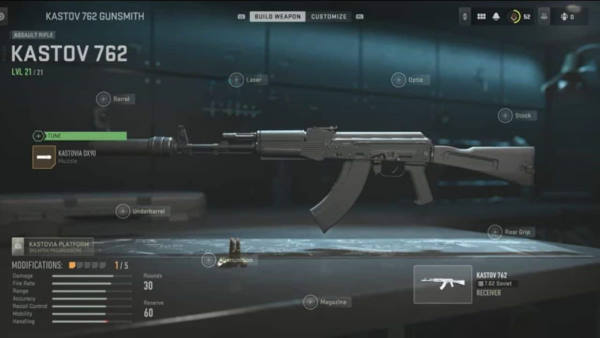 We know that Modern Warfare 2's gameplay is a little slower than what we've seen in past Call of Duty games, but the ideal build for the Kastov 762 will manage that and capitalize on this weapon's natural strengths.
Kastov-74U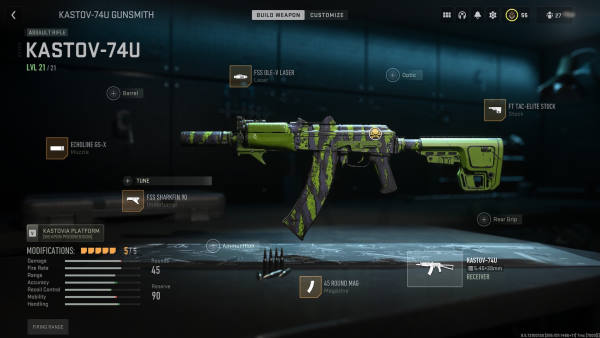 The KASTOV-74u in Modern Warfare 2 was one of the most powerful weapons in the beta. With the complete multiplayer game now available, this rifle is unbeatable.
Lachmann Sub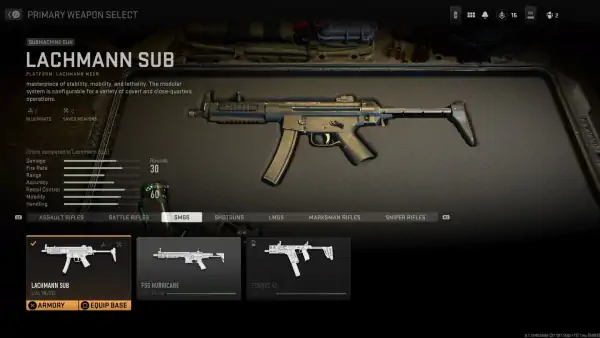 Lachmann Sub will unlock once you reach level 18. With superior fire rate, gun handling, and Recoil control, this gun can be your go-to gun in the Call of Duty warzone.
M4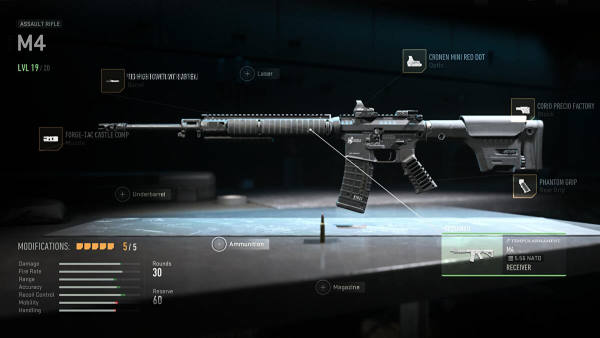 M4 being the most popular gun in this tier, this gun is known to everyone. It is known to be a real-life Colt M4A1 weapon. It has a very manageable recoil and can fire at 811 rounds per minute.
Raal MG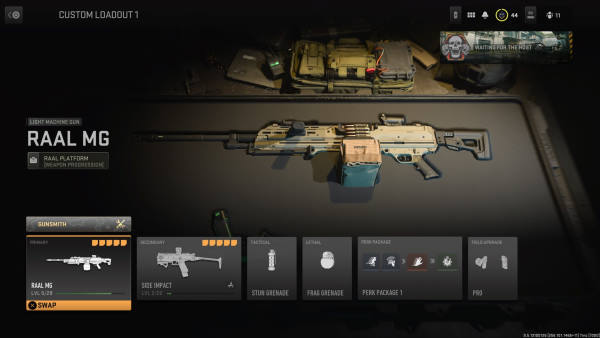 A light machine gun is made for dealing with a lot of damage. If you have the right attachments, you can get the best out of this gun. The Real MG is a perfect fit for your machine gun place.
Signal 50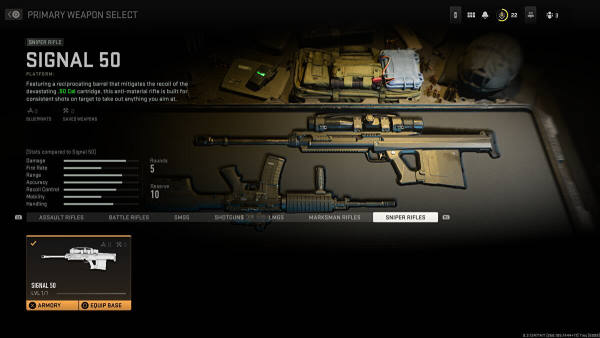 Signal 50 can be unlocked once you reach level 20. Once you complete all your objectives and net kills, and earn XP to reach level 20 and Signal 50 will be unlocked.
Also read: Modern Warfare 2 and Warzone 2 Gets Disconnected from Steam, How to Fix?
SP-R 208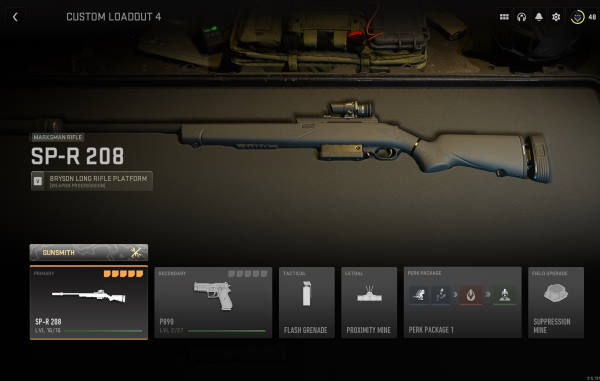 On the floor, you can find the SP-R 208 as a Rare or Epic blueprint. The Legendary blueprint may be found on the ground or in Airdrops in high-tier regions. The weapon is quite slow, yet it does a lot of damage.
STB 556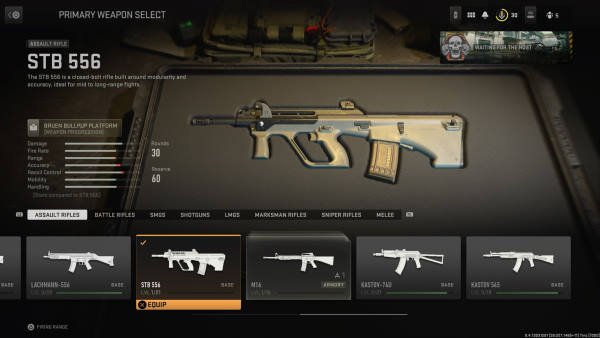 The STB 556's claim to fame is its exceptional accuracy and damage falloff statistics, allowing it to outrange any other Assault Rifle in Warzone 2's arsenal.
Victus XMR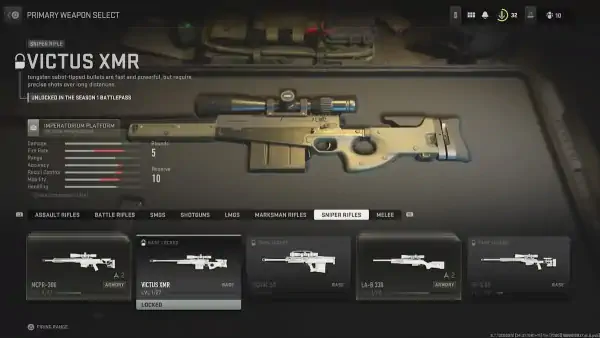 A sniper is what you need when you have to deal with a long-ranged enemy. With great damage at long range, Victus XMR is just a perfect thing to give a perfect headshot.
COD Warzone 2 A Tier List Weapons
A tier gun is a gun that is placed just below the S tier. Guns in the A tier are not as powerful as the S tier but they are still powerful.
BAS-P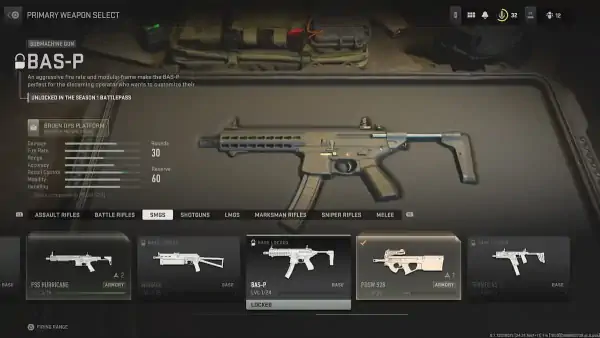 SMG is doing well with all the enemies in the Warzone, the BAS- P SMG is the best in the A tier. However, in Warzone 2, the BAS-P SMG can not be unlocked by clearing the BP tiers.
Bryson 800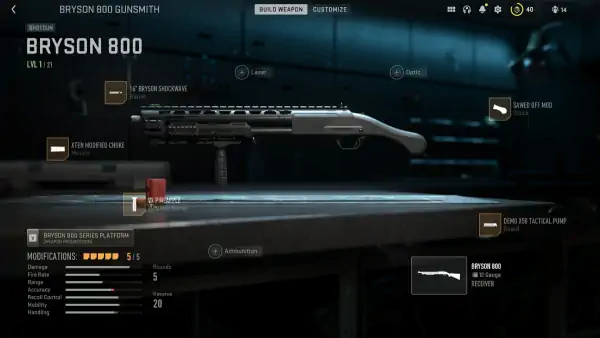 The Bryson 800 is a pump action shotgun featured in Call of Duty Modern Warfare 2. This is the best fit for close and mid-range enemies.
Expedite 12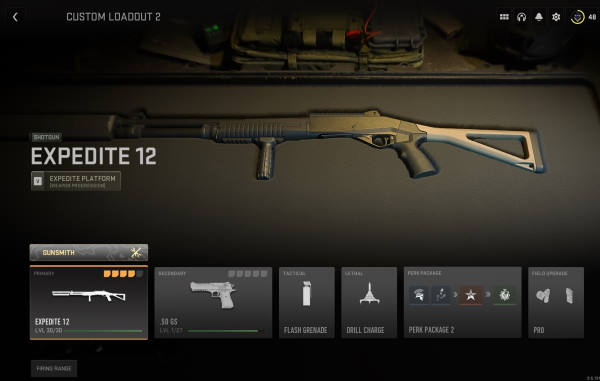 The aim of this Expedite 12 build is Damage, Fire Rate, Range, Mobility, and Handling. Accuracy is down a little, while Recoil Control is down significantly. This won't be an issue because you'll be getting a lot of one-shot kills and the Fire Rate will compensate for the Accuracy reduction.
Fennec 45
Fennec 45 is one of the best SMGs in Warzone 2. It is. A new SMG is introduced in the MW 2 only. The design of the game is based on the real-life Vector 45.
FTAC Recon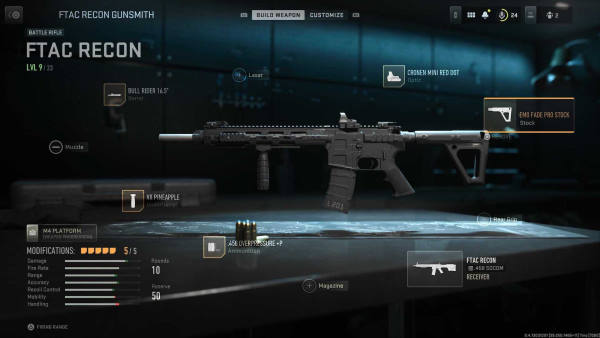 The FTAC Recon is the most powerful battle rifle available in Warzone 2.0 right now. While the FTAC Recon's – admittedly restricted – basic mag size of 10 may appear to be a deterrent, don't let that detract from what is otherwise a very powerful battle rifle alternative.
Lachmann 762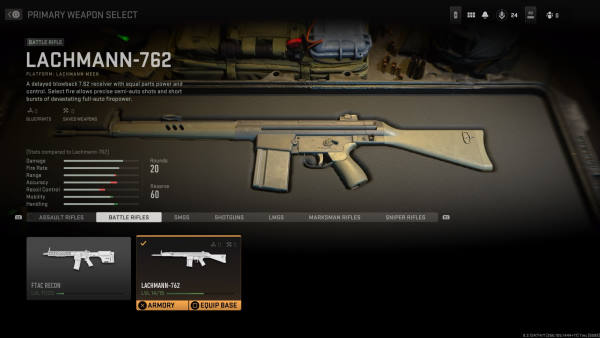 In Call of Duty: Modern Warfare 2, the Lachmann 762 is the first weapon you'll be able to use. This combat rifle has the ability to one-tap players in the head, but its high damage output is at the cost of precision. Holding the trigger in full auto will have you looking dead already.
Lockwood Mk2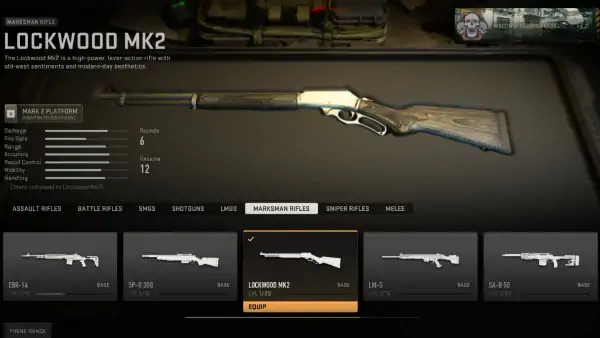 The sniper of A-tier weapons. It is equally powerful as the S-tier sniper. In Call of Duty: Modern Warfare 2, the Lockwood Mk2 is a powerful and punishing Marksman Rifle that takes Sniper Rifles' ability to one-shot-kill at most ranges and puts it in a considerably more lightweight body.
MCPR-300
The MCPR 300 is the bolt action sniper rifle in the Warzone game. With 300 magnums round, it is very powerful and is ready to adapt to whatever comes in the game.
PDSW 528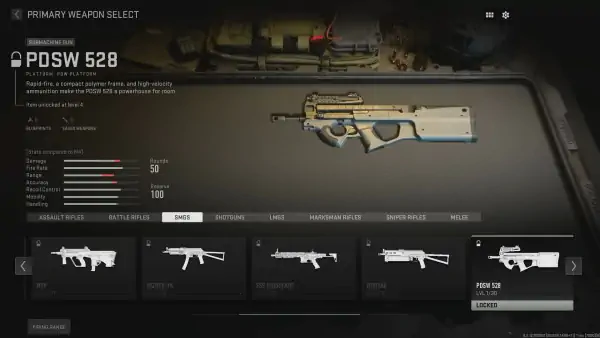 It's one of the finest Modern Warfare 2 firearms for nostalgia alone, but it's also a wonderful option to carry into battle in MW2's multiplayer game types. With a large magazine for an SMG, the PDSW is ideal for taking out several enemies without having to reload.
SP-X 80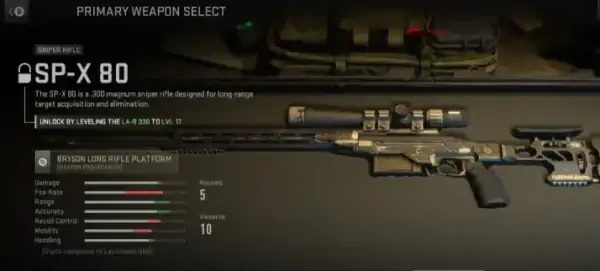 SPX80 is one of the sniper rifles you will find in the game. This sniper rifle is equally powerful as the other snipers. With perfect attachments, this sniper cam deals heavy damage.
COD Warzone 2 B Tier List Weapons
Weapons in the B tier are mid-range weapons, these weapons are not as powerful as the S and A tier weapons but are very compact and handy.
556 Icarus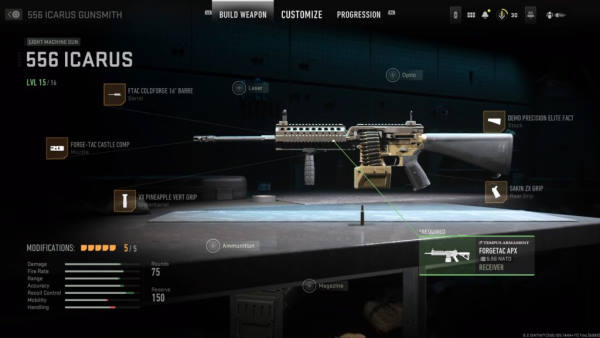 It's one of the finest Modern Warfare 2 firearms for nostalgia alone, but it's also a wonderful option to carry into battle in MW2's multiplayer game types. With a large magazine for an SMG, the PDSW is ideal for taking out several enemies without having to reload.
Bryson 890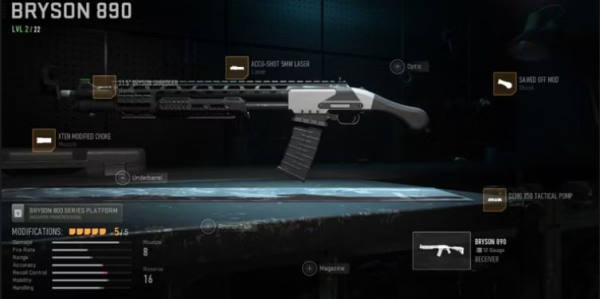 Having a shotgun in your hand is an advantage in itself, the Bryson 890 short range is deadly and can make your enemy fly.
Chimera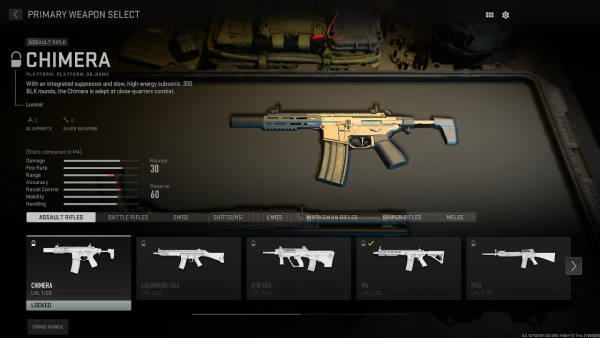 The Chimera is an Assault Rifle in Call of Duty: Modern Warfare 2. The Chimera will be available as free material in Season 1.
Kostov 545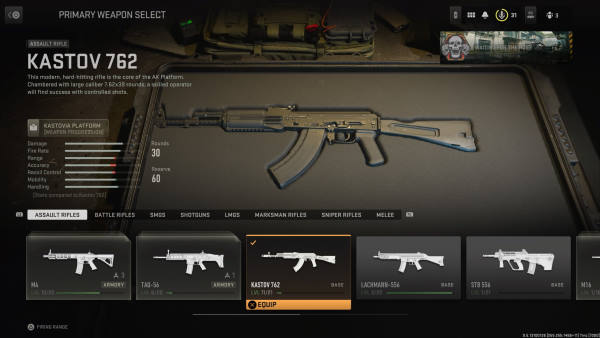 When it comes to the Kastov 545, if you have the correct attachments, perks, tactics, lethal, and field upgrade you have the best weapons in MW 2,
LM-S
To gain access to the LM-S Marksman Rifle in Modern Warfare 2, players must equip and utilize the Lachmann-762 until it reaches Level 17 on the weapon tree. The X13 Auto or Side Impact is the finest sidearm to pair with the LMS.
Sakin MG38
The Skin MG38 is a powerful LMG that may be used to annihilate opponents in MW2. With a moderate rate of fire and a big magazine, you can easily take on large groups of opponents.
TAQ-M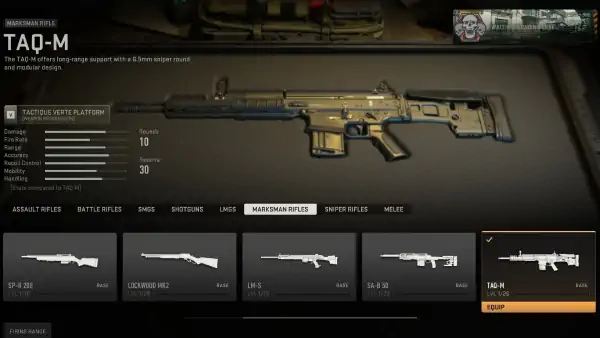 This gun has all the trickery to take down any enemy in any situation the TAQ M Is the perfect gun in this tier.
TAQ-V
In the hands of a skilled user, the TAQ V can deal damage like no other gun. This assault rifle is a perfect fit for aggressive players.
Vaznev 9K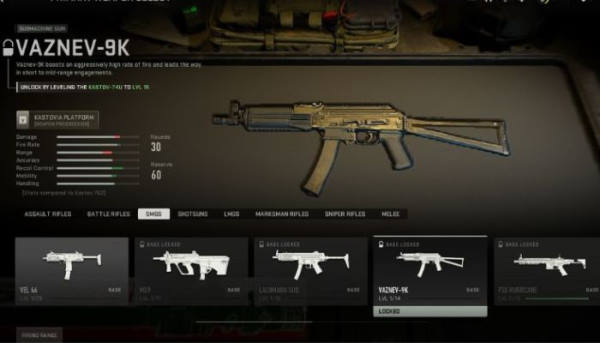 A great gun for close fights. This gun can be your best secondary gun. The steady aim of this gun is what makes it a great tool for your arsenal.
Vel 46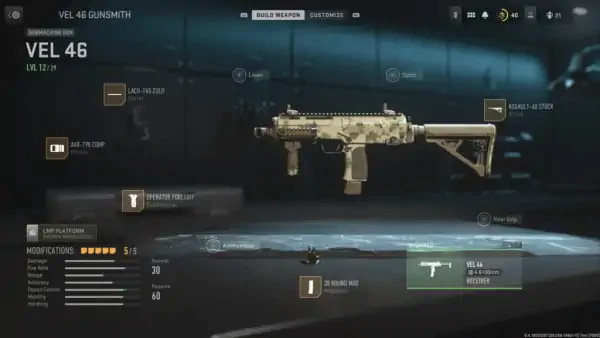 Vel 46 is a weapon you get early in Warzone 2.0, but don't discount it because of its simplicity; with the correct attachments and bonuses, it can be extremely powerful. The Vel 46, like other SMGs in Warzone 2.0, is ideal for fast-paced playstyles.
COD Warzone 2 C Tier List Weapons
The weapons in the C tier are the weapons that are mostly kept as secondary weapons. These weapons are useful when having a close flfightith enemies.
EBR-14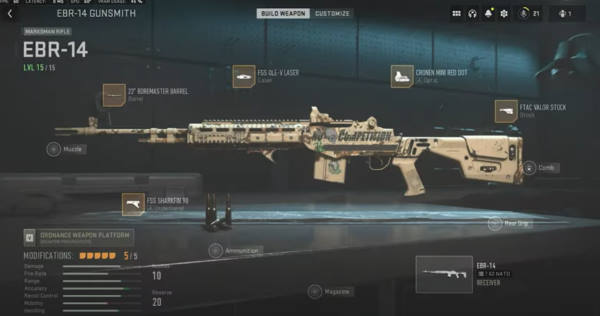 The EBR-14 has long been a fan favorite, and with Modern Warfare 2's weapon tuning, you can make it deadlier than ever. That strikes like a truck, with amazing precision and firepower.
HCR 56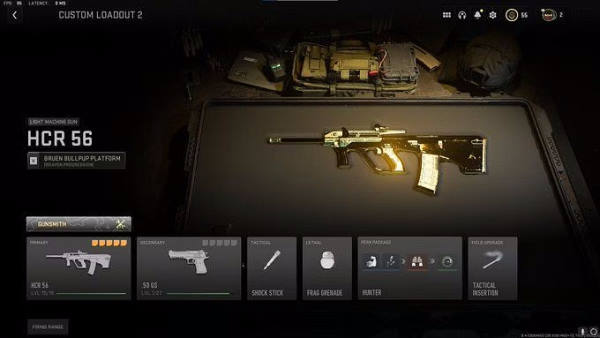 The HCR 56 is a Bruen bullpup platform with 19 stages of advancement. The STB 556 AR, which unlocks at account level 41, is required to access the HCR 56. Reach level 20 with the STB 556 AR to unlock the HCR 56 light machine gun.
LA-B 330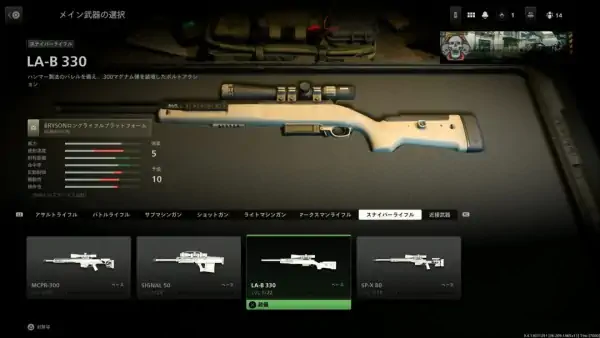 Quick responses are key when utilizing the LA-B 330 Sniper Rifle in Call of Duty: Modern Warfare 2. Combatants using this Sniper Rifle should prioritize getting into and out of ADS as rapidly as possible.
Lockwood 300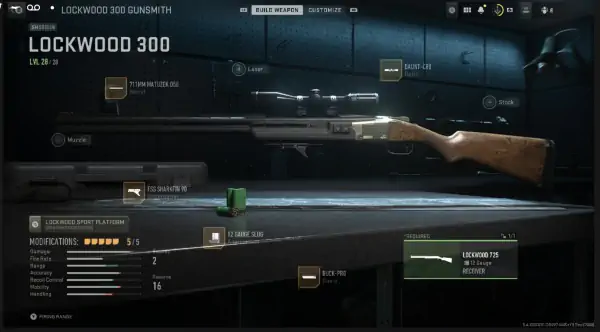 A double barrel shotgun with some amazing powers and skills. This shotgun is unique, traditional, and very deadly for enemies.
M13B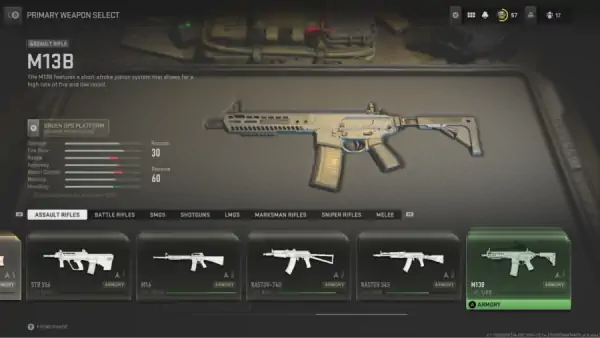 In Modern Warfare 2, the M13B has limited horizontal recoil at the expense of stealthy attachments. With no attachments, the rifle feels quite accurate, but the appropriate build transforms the M13B into a mid-range monster.
M16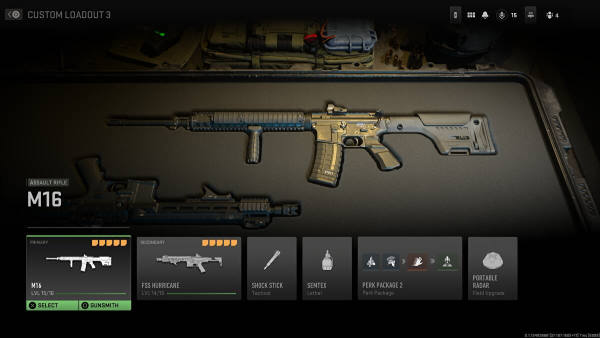 The M16 is the most popular gun in the gaming world. The classic M16 is available in the MW 2. This assault rifle can deal Heavy damage when you have equipped it with perfect attachments.
MX9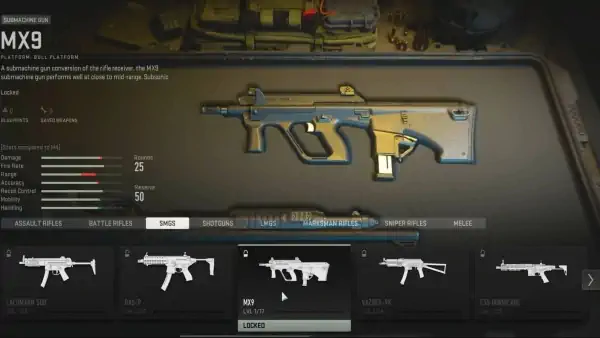 A submachine gun can deal damage while being the secondary gun. This is deadly in close fights. It has a balanced fire rate with moderate recoil.
Rapp H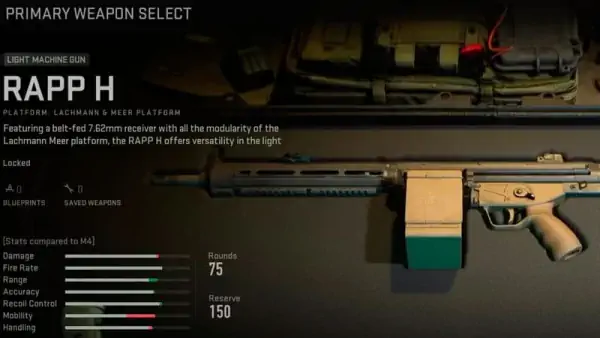 The RAPP-H, based on the Heckler & Koch HK21, is ideal for the support player who wants to keep adversaries locked down and away from objectives.
RPK
The RPK is a powerful LMG variant of the Kastovia or AK platform. The damage is superb, as is the range. The RPK, on the other hand, performs like a heavy assault rifle.
Conclusion
This article was for the player who wants to have every weapon in their arsenal but they are not sure about which one to choose. When it comes to the best weapons, you must pick any weapon from S tier, as they are deemed to be the best. If not, you may also choose from A tier, which is equally good in both close-range and medium-range battles.