It seems that although the iOS 16 update has been released officially, plenty of users are encountering multiple issues whatsoever. Recently, some of the affected users have started reporting that they can't connect to VPN on iPhone running iOS 16 apart from some other widespread issues too. If in case, you're also one of the victims then make sure to follow this troubleshooting guide.
A VPN (Virtual Private Network) is one of the important parts for online users these days to protect their IP configuration and browsing data from being anonymous. However, we're not sure enough even after using VPN services, how much users will gonna keep their activities and online data safe. Well, that's a different topic. You'll find out hundreds of VPN apps on the Apple App Store to install your iPhone and start using.
But it looks like that recently iPhone users have shifted to the latest iOS 16 version and somehow they either can't connect to VPN or the VPN service doesn't work properly while browsing webpages. Sometimes it may also show you 'something went wrong!' while trying to load any webpage using a VPN app. If you're also one of them, don't worry. Here we've provided a couple of possible workarounds for you.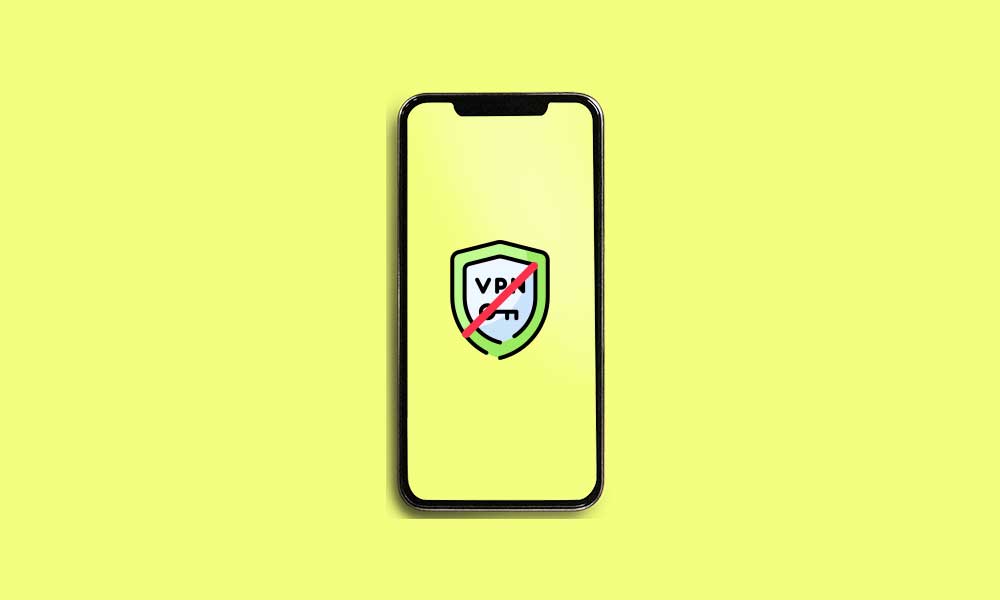 Fix: Can't connect to my VPN on iPhone running iOS 16
So, without further ado, let's jump into the guide below.
1. Restart the VPN App
It seems that the normal restart of the iPhone will easily fix the issue in most cases. We'll recommend you restart your iPhone once to check whether the VPN connectivity issue or the VPN app not working issue has been fixed or not.
2. Reboot your iPhone
You should also try restarting your iPhone to check for the issue. Just press and release the Volume Up key + Press and release the Volume Down key + Press and hold the Power key to get the Power Off menu. Swipe to turn off the slider to switch off your iPhone. Once the device is switched off, wait for a couple of seconds, and then press & hold the Power key again until the Apple logo appears. Your iPhone will boot into the system.
This process is also known as a hard reboot and it should fix the issue most probably. If not, follow the next method.
3. Check your Internet Connection
You should also check your internet connection whether the problem is occurring due to the network connectivity or not. Just try running any other app or streaming service using the same network to check for the issue. If there is no issue with the internet connection then head over to the next method. If there is an issue, make sure to contact your ISP (Internet Service Provider) for further help.
4. Power Cycle your Wi-Fi Router
Try performing a power cycle to your Wi-Fi router so that it can clear out networking glitches or cache data issues whatsoever. Just power off the router and unplug the power cable from the router. Then wait for around a minute or so and plug back the power cable in. Then turn on the router and check for the VPN connectivity issue.
5. Try using a Mobile Hotspot
If in case, you're using Wi-Fi or mobile data then make sure to try using a mobile hotspot to check everything is working well on your iPhone after upgrading to iOS 16.
6. Choose another Region
Sometimes changing the region can also help you to fix multiple issues with the VPN service because most of the regions may get locked for the paid version or don't have enough speed to properly continue with those region servers. That's why to try connecting to an available region server that shows good speed. You can do so directly from the VPN app itself. If not, just log in to the VPN website and try changing from there.
7. Update the VPN App
It's always recommended to check for app updates on your iPhone from the Apple App Store. Make sure to go to the Apple App Store > Tap on the search icon or profile icon > Check for the specific VPN app whether there is an update available or not. If yes, just tap on Update to get it done. If not available, then you can try the following method.
8. Reinstall the VPN App
Well, there is another thing you can do is simply uninstalling and reinstalling the VPN application on your iPhone to check for the issue. It'll basically refresh the system and app glitch if there is an issue with the data corruption or patch update.
Just press and hold your VPN app icon on the Home screen or from the App Library.
Now, a popup menu will appear. Tap on Remove App > Tap on Delete App.
Then tap on Delete to uninstall your VPN app completely.
Once done, restart your iPhone to refresh the system.
Finally, open Apple App Store > Search for the VPN app and install it.
This method should resolve the Can't connect to my VPN issue on your iPhone running iOS 16. However, if this didn't help you out, try following the next method.
9. Reset Network Settings
We'll also recommend you to perform Reset Network Settings on your iPhone to erase network connectivity settings. Make sure that it'll delete the saved Wi-Fi connections. So, note down the password for the Wi-Fi network before doing anything. After resetting the network settings, you can reconnect to the Wi-Fi network and check for the VPN issue.
Open the Settings app on your iPhone.
Now, tap on General > Tap on Transfer or Reset iPhone.
Tap on Reset > Choose to Reset Network Settings.
Wait for the process to be completed.
Once done, make sure to restart your iPhone to apply changes immediately.
10. Try using a Paid VPN Service
If in case, you're using a free VPN service then the chances are high that you'll gonna encounter connectivity issues, frequent connection drops, and more. Free VPNs can offer limited region servers, very limited data speed, limited data limits, slows down the internet speed, and most importantly we can't fully rely on free VPN services.
So, it's better to have a paid plan for VPN if you're really in need of it. There are plenty of popular and reliable paid VPN services available for both mobile and desktop devices across multiple platforms. You can use any of them depending on the plan or your usage.
11. Use another VPN Service
Try using another VPN service instead of the existing one to cross-check whether the problem is appearing for every VPN app on your iOS 16 or the specific app has its own sort of issues. If the other VPN app runs well then you should continue using that app. If not, that means there is an issue with the iOS 16 version on your iPhone and you should submit feedback to the app developer or Apple support.
12. Contact your VPN Provider
If none of the methods worked for you and the problem is still bothering you with the paid plan then make sure to contact your VPN service provider for further assistance. In most cases, the support agent can fix most of the issues or even suggest better options whatsoever. You'll find the support or help option directly from the app or from the official website.
This is how you can easily resolve your VPN connectivity issues on your iPhone based on iOS 16.
That's it, guys. We assume this guide was helpful to you. For further queries, you can comment below.