If you love playing online games that are not heavy-duty then you surely might have heard about Roblox. For those who do not know, Roblox is an online gaming platform that allows the users to play games created by other developers and also create their very own game to play with friends. It is developed and published by Roblox Corporation and is available across all the platforms including Microsoft Windows, Xbox One, Android, iOS, macOS, Fire OS, and Classic Mac OS. However, one issue that the users are currently facing is the Roblox error code 267.
This error usually kicks out the user from the game and never lets the user connect to the game. The error message for this error code 267 on Roblox literally reads "You were kicked out of the game". On some occasions, it may well read "You have been banned for cheating suspicion." Sounds pretty tricky right. But if you are looking for ways that you can make use of to fix this error code 367 on Roblox then, you are at the right place.
Because in this post, we will give you all the methods that you can apply to resolve this issue. So, without any further ado, let us get straight into the article itself:
How to Fix Roblox Error Code 267
Roblox error code 267 is a very common error that users of the online gaming platform experience. This could be very irritating because the players are kicked out of the ongoing game. It includes admin commands. However, Roblox developers are not at blame here. It is because there is an illegal insertion of script by game developer. When a game detects suspicious activities then, Roblox will slap this error code to its players.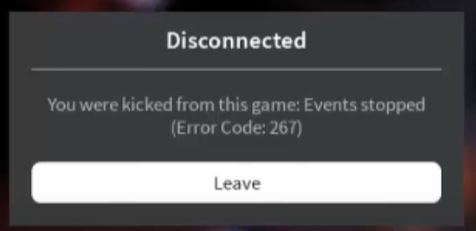 Let us now take a look at the methods that you can make use of to fix this issue:
Use Chrome as default browser
Notably, the outdated web browser used to open the Roblox gaming platform is the key reason why users are experiencing this issue. It is always advised that you keep all the apps and software and drivers up to date. Moreover, you should use Google Chrome as your default web browser at least, for using the Roblox online gaming platform to avoid this error 267.
Reset internet settings
If you are still having difficulties accessing the Roblox gaming platform and are experiencing the error code 267 then, it is advised you reset all the internet settings and bring it back to like it was when you first installed. This wil delete all the corrupt temporary files and make sure that all the settings are re-written. The steps are simple:
Open the web browser which you use to access the game.
Head over to the Settings section.
Tap on Internet Options.
Click on Advanced Options.

From here click on reset tab and restart the browser.
Check internet connection
If you are getting an error message with 267 that you are kicked out of the game and disconnected, then it very well be the case with you internet connection. So, for that check the status of your internet connection and see if your internet is experiencing any difficulties connecting to the network or not. It is better to reset the router by switching it off and after 5 minutes, turning it back on.
Disable Ad-Blockers
Note that this may or may not work, but it is advised that whenever you play any online game, you should disable the adblocker because some of the websites open the game in a pop-up rather than a new tab or the same tab.
Reinstall Roblox
If none of the above solutions worked for you then, it is time to uninstall the Roblox game from your system. And then reinstall it back again. Notably, some corrupt files would have been the culprit behind the Roblox error code 267. Reinstalling the game will fix this and any other issues related to game files.
Wrap Up!
So, there you have it from my side in this post. I hope you guys liked this post and were able to get through the error 267 on Roblox gaming platform. Let us know in the comments below if any other method helped you fix this issue. And to get more such awesome coverage, you can head over to our check out our Windows Guides, Gaming Guides, Social Media Guides, iPhone, and Android Guides to read more. Make sure to subscribe to our YouTube Channel for awesome videos related to Android, iOS, and Gaming. Until the next post…Cheers!