After a lengthy beta period, Apple has launched iOS 16, a feature-packed update for all compatible iPhones (iPhone 8 and up). A suite of small, impactful changes makes it a refreshing evolution of the mobile operating system that iPhone users know and love. This is because it enhances iOS 15 with highly customizable Lock Screen elements, convenient Messages improvements, awesome camera enhancements, and many other features that make it an improved version of iOS 15.
The Editors' Choice award for mobile operating systems goes to iOS 16 for its many fun and useful features. Android 13 is also a winner. But unfortunately, for some users with the update, there is some error also appears. Recently, many users started reporting that they cannot unlock their phones as the iOS 16 Face ID is not working on iPhones.
Although it is a severe error, you don't have to worry now as we have some fixes to this problem. So, you just have to read this guide until the end to know how to fix the iOS 16 Face ID not working issue on your iPhone. Therefore, let's get started with the guide.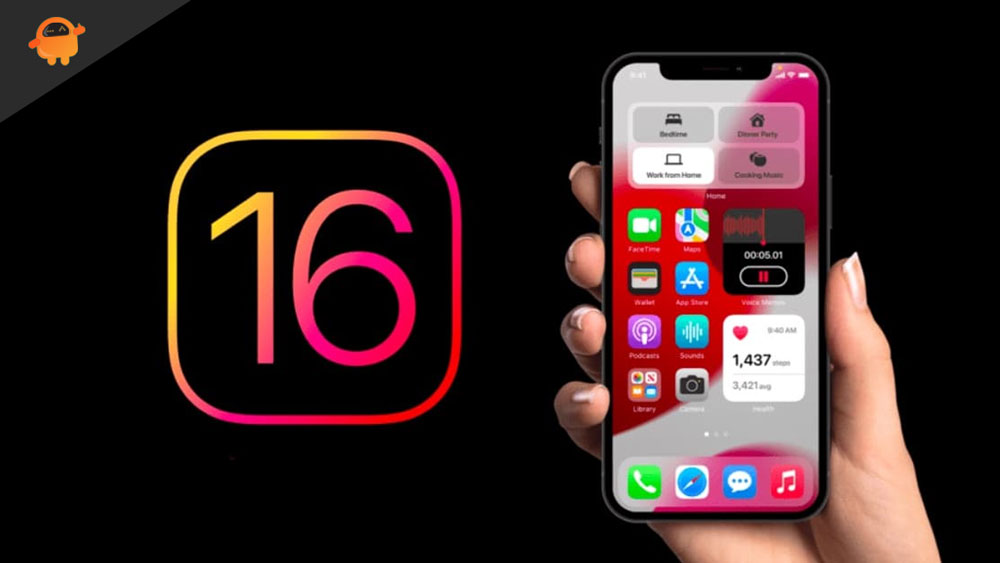 Fix: iOS 16 Face ID Not Working Issue on iPhone
So, here are some troubleshooting methods that will help you fix the iOS 16 Face ID not working issue on iPhone. Therefore, make sure to perform the steps one after the other on the same sequence we have mentioned below:
Fix 1: Check for System Updates
It is important to follow this rule of thumb when using a smartphone, whether it is an Android or an iOS device. Checking if an application requires an update whenever it is glitching is recommended. A large percentage of users do not update their applications and systems regularly. As a result, the OS will continue operating even if there is a bug. A buggy application is the result of this. Face ID is susceptible to the same problems. Therefore, make sure there are any available updates for your system.
Click on Settings > General > Software Updates.

Download and Install is the option you should see if a new update is available. Simply tap it.

Try restarting your device.
You can now use Face ID to unlock your phone and the iOS 16 Face ID not working issue on iPhone's problem vanishes. An older software version may have been responsible for the bug, but it should now be fixed.
Fix 2: Distance Between iPhone And Your Face
Apple specifies a distance between the user and the True Depth camera system on the iPhone of 10 to 15 inches. In some cases, your face may not be captured accurately if you hold your device too close to your face or too far away from it. Those users who have never used an iPhone before may experience this issue. You should be able to discover what works for you by experimenting a bit.
Fix 3: Enable iPhone Face ID Feature.
If you have a smartphone, check if this feature is enabled. Furthermore, you should make sure that the feature has full access. As a result, Face ID can be used for authentication across various apps. You must be authorized to use these apps with facial authentication. A failure to do so will result in the system not working. The feature can be enabled by going into the device settings.
Open the Settings app and select Face ID & Passcode.

You can use Face ID for various purposes under the Use Face ID section. There should be a list of applications that can take advantage of the feature.

Check that Face ID is enabled for Password Autofill, iPhone Unlock, and iTunes & App Store Purchases.
Fix 4: Correct Alignment
A very common error made by new iPhone users is this one. Your face and the dot projector must be aligned parallel to one another. I'll make it simple for you. Look straight ahead so the device can structure your face, not sideways. The result will be that there will be no match, and there will be no unlock.
You should hold the phone similarly to how you would take a straight portrait selfie when taking a selfie. You should be able to get a sense of what this means. You will not be able to unlock your device using your face ID if you hold it in full-screen mode like you are watching a movie.
Fix 5: Resetting the Face ID
Lastly, if everything else above doesn't fix your problem, you should try this method.
Select Settings from the menu
You can then find Face ID & Passcode there.

Your passcode needs to be entered as usual.

Click Reset Face ID.

Performing this action will erase your previous facial structure records from your iPhone.

Next, tap Setup Face ID to create a fresh facial structure.

Once the face ID is set up, follow the instructions.
Once you've unlocked your device with Face ID, you should be able to use it normally.
Fix 6: Ensure your iOS device's camera and sensors are clean.
Have you noticed that your camera and sensors are covered in fingerprints? Next, wipe the fingerprints and dust away with a microfiber cloth! Are you able to hear a devilish laugh from the cameras? Put the spell to work!
Fix 7: Inspect the Lighting Conditions
Who wouldn't enjoy the best lighting conditions in a perfect world? The cause of your iOS 16 Face ID not working issue on your iPhone problem may be low voltage at times. It could also be a dim lighting problem. You're good to go once you fix your lighting conditions!
Fix 8: Watch Out for an iPhone Software Update.
There is a possibility that, if an update is available, your device will seek it. The box should be checked off as follows:
Software Update can be found under

Settings > General > Software Update

.

You can download and install an update if you haven't already.

If it says, "

Your software is up to date

," you're dead in the water.
Fix 9: Reset All iOS Settings.
You will have to reset your iPhone's settings if your attempts fail. Fixing the troublemaker glitch might be difficult if the source of the iOS 16 Face ID not working issue on iPhone cannot be determined.
Reset all settings by tapping

General > Reset > Reset All Settings

.

Your passcode must be entered.

On the confirmation pop-up, click

Reset All Settings

.

The device will have to be restarted after resetting the settings.
Fix 10: DFU Restore Your Device to Fix Face ID Not Working.
You will perform an in-depth restore when you perform a firmware update on your iOS device.
Your iPhone with iOS 16 needs to be connected to your desktop computer.

Launch iTunes.

Long-press the Sleep/Wake key and Home button for 8 seconds.

Hold the home button until iTunes comments, "iTunes has detected an iPhone in recovery mode," after 8 seconds.

DFU mode is entered when your iPhone's display is black. If not, try again.

With iTunes, you can now restore your iPhone.
So, that's how to fix the iOS 16 Face ID not working issue on iPhone. We hope that this guide has helped you. Meanwhile, in case you have any doubts or queries, comment below and let us know.