Want to install Windows 11 and Linux distro on your laptop or computer? In today's guide, we will discuss the process to dual-boot Windows 11 and Linux on your PC. With the ability to dual boot, you can easily switch between different operating systems to carry on with your productive tasks. Dual boot PC is a special advantage for people who have access to a single laptop or computer hardware but wish to use a different OS for their desired needs.
Microsoft recently released the developer preview of Windows 11 for all the users. Also, as per the official statement, it will be an official release at the end of this year. There is a major improvement of Windows 11 from Windows 10, such as new attractive design, security, Android apps, etc. But this is not the best OS for everyone because there are many OS available as per your preferences. In that case, if you prefer Linux over Windows, or if you wish to keep both operating systems on your PC, then you can use dual boot Windows 11 and Linux on your Computer.
Here I will walk you through the necessary steps to create the partition and install Linux to dual boot machine. The requirement to install Linux and Windows 11 in dual-boot scenarios – minimum of 8GB storage of USB flash drive for installation of OS. Before proceeding, keep the backup of your system in external storage because if anything goes wrong, you may retrieve the data in your system.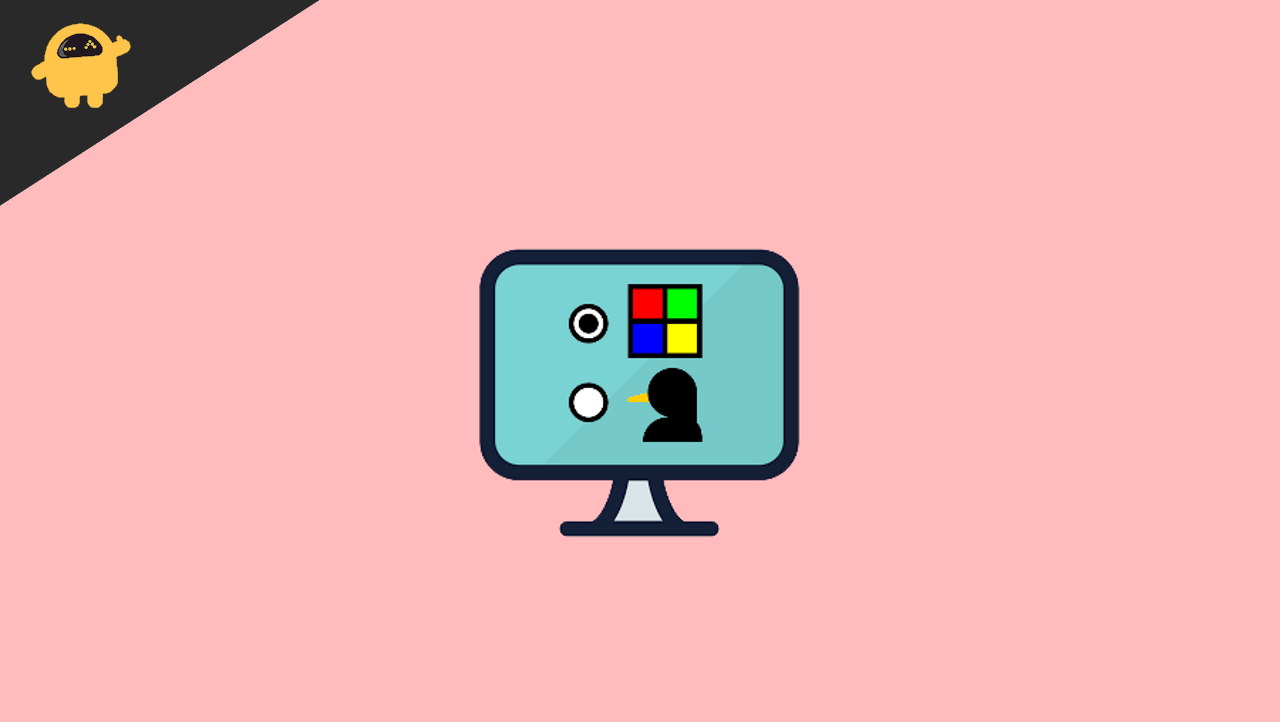 How to Dual-Boot Windows 11 and Linux on your PC
Kindly check that you are installing the stable version of Windows 11 because sometimes it may create an issue when installing Linux on your PC. However, Linux is an immersive operating system that is compatible with the majority of hardware devices. Most people are using Windows as the primary OS on their PC, so you may have difficulty operating Linux, but once you use it, you will know how user-friendly and easy Linux is. For this, all credit goes to the dual-boot loader feature in which we can use both the operating system in a single PC or Laptop.
Pre-requisites
In order to dual boot Windows 11 and Linux on your computer or laptop, you need to make sure the following things are covered.
Charge your laptop or computer to at least 70%.
Keep an 8GB or 16GB Pendrive handy for OS installation.
Linux distro ISO file and Windows 11 ISO installation file.
Keep a backup of your important data in a separate hard drive/disk drive.
Step 1: Creating Linux Installation Files in USB Flash drive
Before installing the dual boot loader, we need a USB drive. Also, we have to make the USB flash drive to bootable drive through which we install the Linux in our system. Many of us use this process before installing windows through the drive. Here are the steps to create the USB flash drive for media installation:
Search the latest version of Ubuntu and download it to your PC. There are many versions available, but here we have to download

Ubuntu 21.04

. However, most of the steps are the same for the other version, but this version is compatible with Windows 11. Download the file and make sure that the download versions should be in the ISO file extension.

After that, we need a tool that creates a bootable USB drive from downloaded ISO files. Again, you may download Rufus as a tool.



Now plug in the USB drive and then run Rufus to make the bootable drive. Then click on Select and choose the Ubuntu 21.04 iso file (other fields filled automatically).

Then click on Start, and after that, click on OK on the pop-up window. Wait till the operation is complete.

After completion of the process, click on OK again. Now the USB is ready for installation.
Step 2: Creating Partition for Dual Boot Loader
After the above step, we need to create the partition on the drive si that we install a dual bootable loader in a separate drive. Partition stands for dividing the hard drive virtually and separate by different disks.
Right-click on the Start Menu and then select Disk Management from the list.

Now on the Disk Management window, you will see the list of available partitions on your system. Ignore the small size disk partition because they cannot use in the dual boot loader.

Then to create a new partition, right-click on the primary partition and then click on shrink.

After that, you need at least 24 GB of space in your new drive. Again, select the size as per requirement, and that may not affect the future installation of software.

When you choose the required space, it will automatically deduct from the primary drive and create a new partition.
Step 3: Installing Linux with Windows 11 As Dual Boot loader
After completion of two tasks, now it's time to install Linux on your system. The Linux will install in the new partition that you created. Next, plug out the bootable USB drive, plugin again, and make sure that no other storage device is plugin into your device. It may harm your data in that drive.
Click on the Start Menu and then go to the Power option and then select Restart. Also, you can use alternate of this step, go to the setting in your PC then click on system, after that select Recovery then clicks on Restart Now.

After booting, the system will provide you options for Use a Device. Select the USB Drive as an option that you inserted by pressing Enter.



Next, the Ubuntu window will open and install it in your system select

Install Ubuntu

from the window.



Now follow the on-screen instructions (the basic details like keyboard layout, Wifi connectivity, etc.) till you get the installation type window.

On the Next window select, the first option Install Ubuntu alongside Windows Boot Manager. It will automatically install the Linux in the new drive you created in the above step without erasing or affecting any other drive.



After that, follow a few more on-screen instructions in the installation set-up, such as Region. Wait till the installation is complete.
How to Shift between Linux and Windows 11
Now Linux is installed on your PC, but you might not be able to use it if the Windows partition is select in your BIOS settings. Because it will only open Windows 11 by default, if you are also facing this issue, then follow the below method to fix it.
Go to the setting on your PC, then click on the system. After that, select Recovery then clicks on Restart Now.

Now click on Troubleshoot and then Advanced options. After that, select UEFI Firmware Settings.

It will redirect you to the UEFI/BIOS settings of your system. Now press the F1 key to enter the BIOS settings.

Maybe settings are different as it depends on the PC's brand, but we have to search for Boot options under the system configuration tab.

Next, please navigate to the Boot order option (it may name as UEFI Boot Order) and then check whether the Linux drive is above the windows drive. Use F5/F6 buttons to move the drive.


Once you make the change in BIOS, then save the change and exit from the BIOS Settings.



The system will restart automatically, and then you will see Linux Boot Menu that allows you to choose between Linux and Windows. It will ask every time you restart the system to select the desired OS from these two on your PC.
Conclusion
Here is all the necessary information about how to Dual-Boot Windows 11 and Linux on your PC. Furthermore, you can't transfer files between Linux and Windows as they can't access each other drives. You have to install the file separately on each OS. And if you don't like Linux, you may delete the Partition from disk management, and for Windows, you can use GParted to delete. If you like the information, then share your feedback and experience by commenting down below.