Ubisoft is a well-known brand for developing and publishing stunning video games for years. Although developers are quite active in terms of resolving specific errors for their games, it seems that there are a couple of errors that need to be focused on precisely and the Rainbow Six Siege Error Code 2-0x0000D00a is one of them.
Also Read: Is Rainbow Six Siege Cross-Play Between PC, PlayStation, and Xbox?
If you're also one of the victims, make sure to follow this troubleshooting guide to resolve this issue. According to Ubisoft developers, the particular 2-0x0000D00a error code basically appears whenever players trying to matchmaking or connect with another player but either the online service timed out or can't establish the connection to servers.
Fix: Rainbow Six Siege Error Code 2-0x0000D00a
Although the solution is simple enough, there are some possible workarounds mentioned below that should work for you. Now, without wasting any more time, let's jump into it.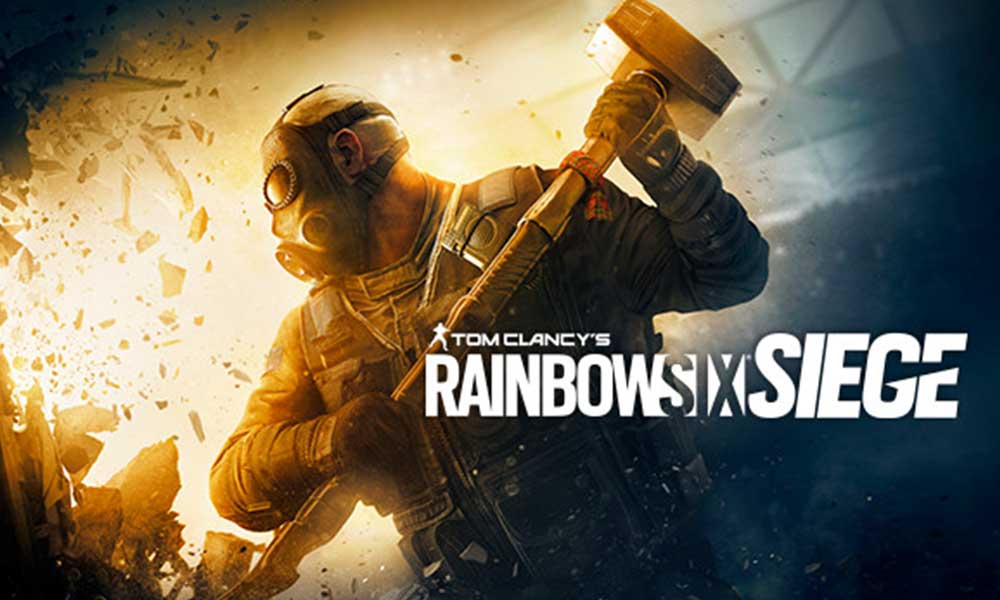 1. Check Server Status
It looks like Tom Clancy's Rainbow Six Siege servers are either down or going through a scheduled maintenance process in the background. According to multiple reports by the affected players, the chances are high that there is a server outage and that's why players are unable to get online.
Ubisoft Support Twitter handle has already acknowledged this issue officially a couple of months ago and the problem is still bothering several players quite often whenever there is a server downtime or the servers are under maintenance.
UPDATE: Thank you for your patience. We've resolved the issues with matchmaking in Rainbow Six Siege. Happy gaming!

— Ubisoft Support (@UbisoftSupport) February 12, 2021
Alternatively, you can also visit the third-party Down Detector Rainbow Six Status webpage for further info like last 24 hours details, live outage map, most reported problems, etc.
At the time of writing this article, we can see that there is a huge server outage problem reported by plenty of affected players in the last 24 hours and most are related to the online connectivity issue.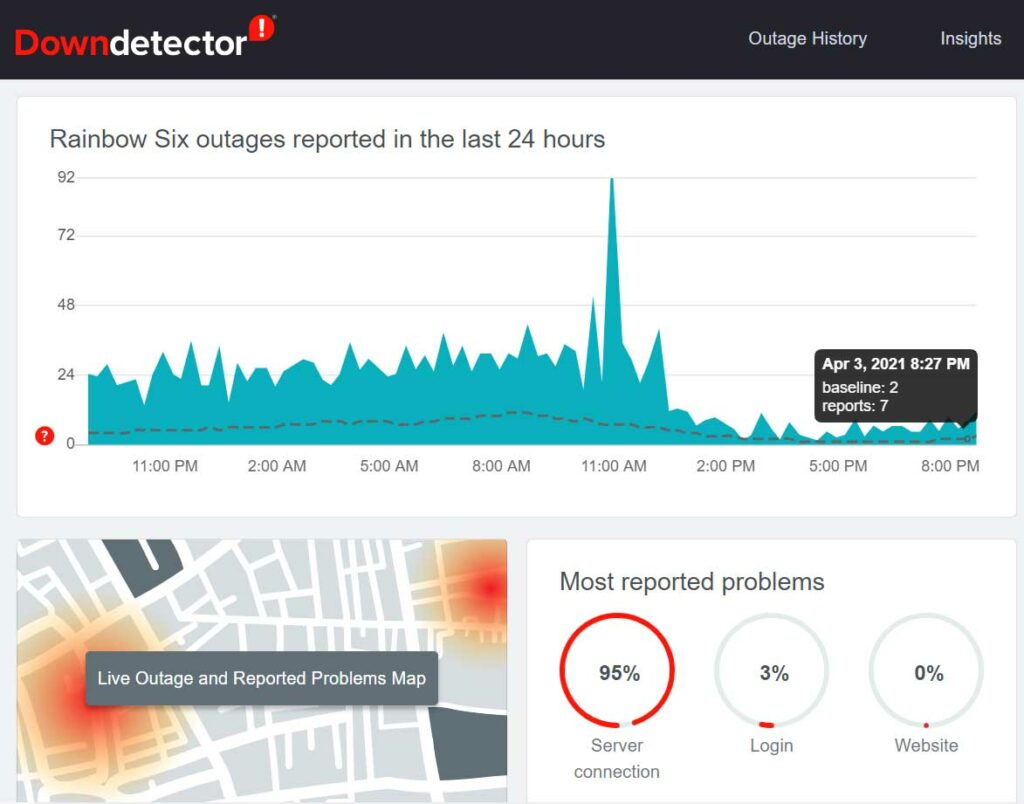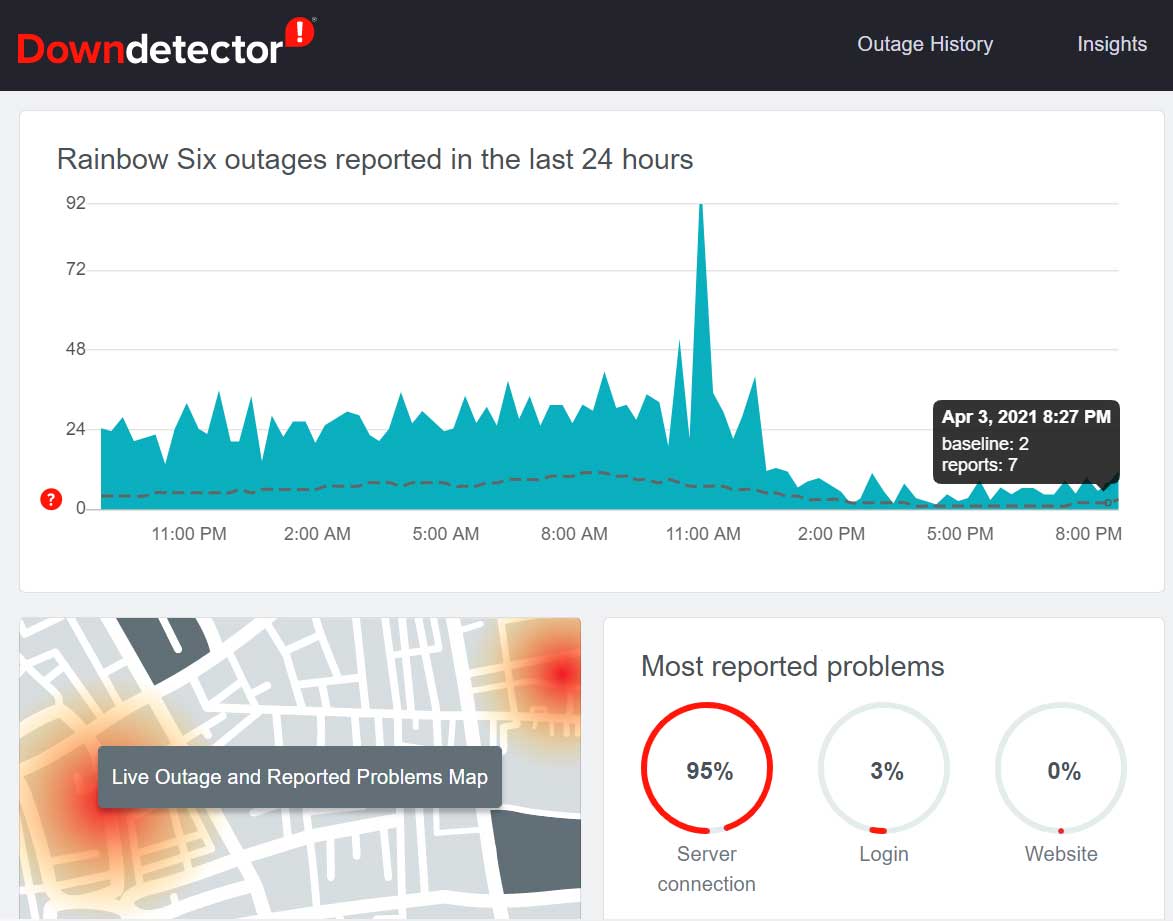 In that scenario, you don't need to do anything else except for waiting until the developers fix the technical issues completely. This process may take a couple of hours or so depending on the server outage and region.
However, if there is no server downtime or maintenance that means somehow your internet connection or DNS address is triggering such an issue. Therefore, you can follow the next method.
2. Restart Your Gaming Device
It can also possible that maybe your computer or gaming console is having some issues with the networking glitch or temporary cache data. So, a simple reboot of the computer or console can easily fix the server connectivity issue whatsoever. Although some of the players may not find it useful, you should try it once.
3. Check Internet Connection
Make sure to completely cross-check your network connection because in most cases, the chances are high enough that maybe your internet connection is either slow or unstable. In that sense, an interrupted internet connection or slow bandwidth can easily ruin your online gaming experience during peak times.
If in case, you're using Wi-Fi, make sure to power cycle your router to clear any kind of temporary glitch. To do so, you have to power off the router > Unplug the power cable from the router > Wait for around 30 seconds and reconnect the power cable > Turn on the router and check for the issue again.
Meanwhile, you should also try switching the Wi-Fi network to a wired (ethernet) connection or vice-versa depending on which connection you're using. Alternatively, you can try streaming online content or playing another online multiplayer game with the same network to ensure whether the problem is within the network or not.
4. Update Rainbow Six Siege
If in case, you haven't updated your game for a while then you should enable the automatic game update for Uplay running games to get up-to-date always. To do so:
Open Uplay on your computer > Log in to your account.
Click on the Menu icon > Go to Settings.
Click on Downloads from the left pane > Check the 'Enable automatic game updates' checkbox to enable it.
Make sure to restart the Uplay client to check whether the installed games are automatically installing the updates or not.

Otherwise, you can go to the Rainbow Six Siege game page on the Uplay client and check for updates.
5. Reset Your Router
If you're still receiving the Rainbow Six Siege Error Code 2-0x0000D00a on your computer or console then make sure to reset your Wi-Fi router manually. It basically removes the temporary networking data or glitch from the router's system. To do that:
First of all, make sure to turn on your Wi-Fi router.
Now, you can use a paperclip or a pin to long-press the physical Reset button/pinhole at the backside of the router.
Just long-press the Reset button for around 10-15 seconds until the LED indicators start blinking again.
Release the Reset button and restart your router to apply changes.
Then set up the networking configuration on your router's admin panel and connect to the network again.
Finally, check whether the problem has been fixed or not.
6. Change DNS Address
Sometimes it can also possible that the Rainbow Six Siege game servers are blocking your ISP for some unexpected reasons. So, changing your DNS servers to a public address may fix the issue quickly. Here we'll use Google DNS for better speed and reliability. To do so:
Click on the Start Menu > Search for Control Panel and click to open it.
Now, click on Network and Internet > Network and Sharing Center > Change adapter settings.
Click on the primary/connected network where you want to change DNS.
Right-click on the Wi-Fi/Ethernet connection details > Select Properties.
If prompted by UAC, click on Yes to allow the permission.
Click on the Networking tab > Select Internet Protocol Version 4 (TCP/IPv4).
Right-click on it and select Properties.
Click on Advanced > Select the DNS tab. (If any DNS addresses listed there, write them down for future reference, and remove them)
Now, click on OK > Select Use the following DNS server addresses. (If any DNS addresses listed there, write them down for future reference, and remove them)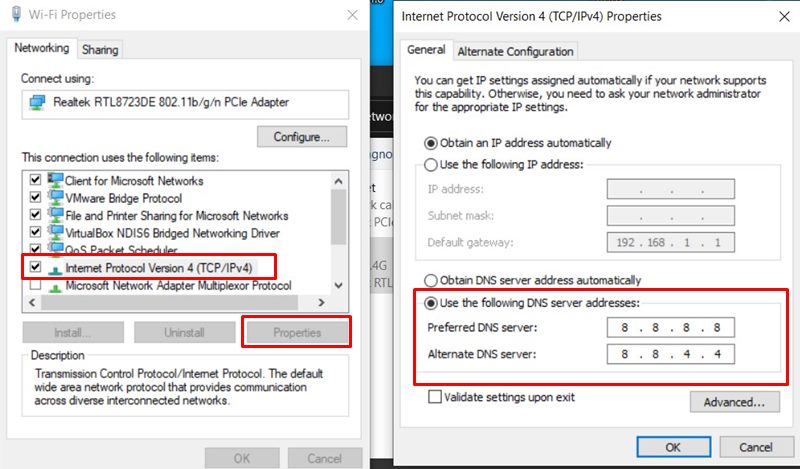 Input 8.8.8.8 for Primary DNS and 8.8.4.4 for Secondary DNS.
Next, run the command prompt and execute the following command to refresh the DNS cache:
ipconfig /flushdns
Once done, restart your computer and check whether the Rainbow Six Siege Error Code 2-0x0000D00a has been fixed or not.
7. Contact your ISP
It'll hard enough for anyone to be unable to fix such an issue manually. In that scenario, you should always ask for help from your ISP (Internet Service Provider) in order to resolve the networking connectivity or server-related issues. A technical support team can definitely help you out of this issue. Additionally, you can ask for another IP address instead of the current one and an ISP-side reset.
8. Contact Ubisoft Support
However, if none of the methods worked for you, try contacting Ubisoft support for further assistance. Additionally, you can find several related workarounds from the Connectivity Issues for Rainbow 6 Siege webpage.
That's it, guys. We assume this guide was helpful to you. For further queries, let us know in the comment below.