Developed by Rare Ltd, Sea of Thieves is a first-person multiplayer, pirate game. On March 20, 2018, the game was launched for Xbox One in Microsoft Store. However, recently they have launched their game on Steam, which is quite popular among gamers. The gameplay is very simple and enjoyable, and you have to complete missions either solo or in groups. Since the game is set in a shared world, players can interact with each other throughout their adventure.
Though the Sea of Thieves is not an MMORPG, the MMO element makes the game more fun to play. You can also encounter a hostile player who intends to kill you. Therefore a new update like Arena has been introduced. There are ships, crew, typically anything you can imagine related to pirates. In-game, you have to play and pass all the missions solo, or in a group, there are many places to explore and many modes to play.
Players who play, Sea of Thieves, often has reported that they are encountering the Sea of Thieves Marblebeard error Code while trying to connect with the server. The issue must be due to the server and regional problems. However, there are chances that it can be your Xbox Live issue, port issue, or due to corrupted files.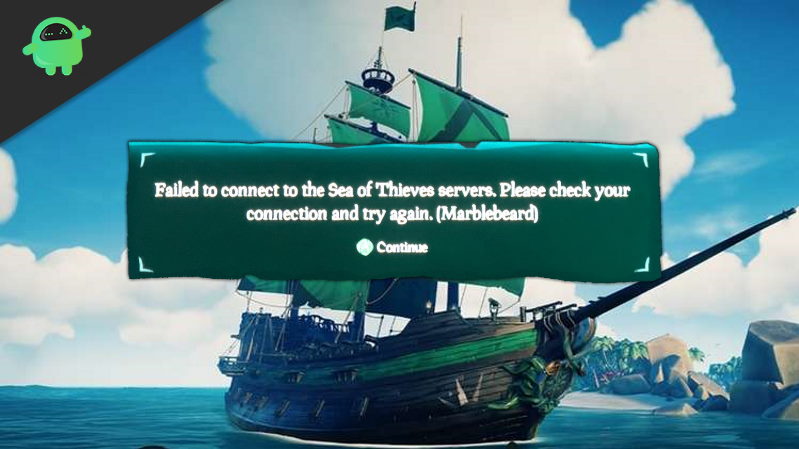 How to Fix Sea of Thieves Marblebeard Error Code?
Marblebeard is a parameter of the error code, and it doesn't define the specific reason. If you are facing the Marblebeard error, then there are a few methods in which you can try to troubleshoot the issue.
Method 1: Checking the Sea of Thieves Server Status
The Sea of Thieves Marblebeard error code usually occurs when there are too many players connected to one specific server, and it makes the server slow and unavailable for other users. If the server is going through maintenance, you may confront the error. If you have a slow internet connection, the issue may also occur.
Therefore, the first thing you want to do after the error occurs is to check the server status. You can click the link here and check if the server is down or inactive. For confirmation, you can visit other services, too, like DownDetector.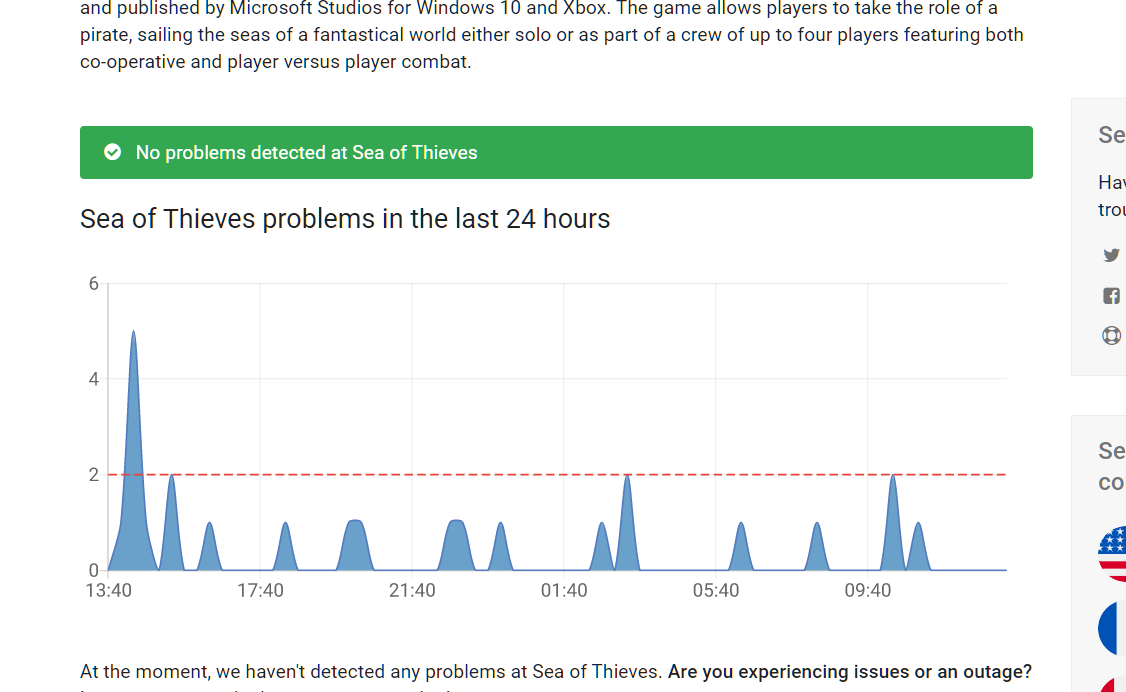 If you see the servers are working fine, but you are still facing the error, then proceed with other methods. However, if you see any problem with the server, wait until the server status is alright. Then you will be able to connect to the server and play the game.
You can also check the server status on Xbox Live Status Page, Though the game is built on Xbox live infrastructure, the game will stop working immediately if there is any server issue. If there is a server issue, none of the methods here can fix that, so first confirm that the server is working fine then proceed with the methods.
Method 2: Checking if the NAT is open
NAT stands for Network Address Translation. If NAT is turned off either in Xbox or in PC, the Marble error is expected.
Step 1) To check NAT on Xbox One, press the Xbox button on your controller and click on the Guide menu, go to Settings>All Settings. Now, select Network and go to Network Settings. Check if the NAT Type status is open or not. If not, go to advance settings and enable NAT.

Step 2) To check NAT status on your PC, go to Settings>Gaming>Xbox Networking. If the service is off, try to fix it or proceed to the next step to enable NAT on your router.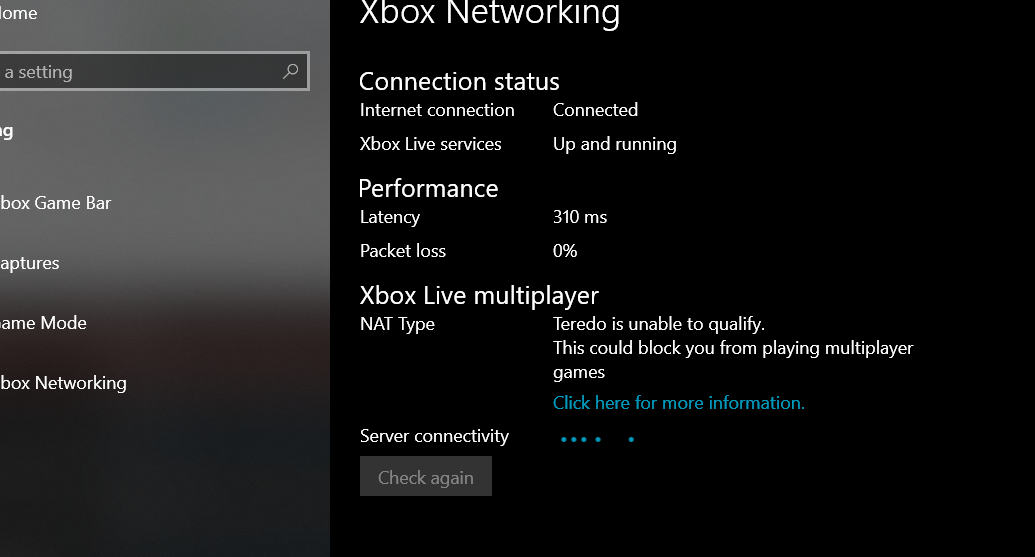 Step 3) You would also like to check your router settings, by default router allows NAT. However, sometimes you must just check in case. Launch your browser and type your router address, for example, '192.168.0.1′ or '192.168.1.1′, hit enter to open. Login with your account and go to the advance menu, click on the NAT Forwarding tab and make sure that you have enabled the UPnP option.
Step 4) If turning on the NAT feature, doesn't fix the error, then you must Restart your Router, Xbox, and your Pc.
Method 3: Manual Port Forwarding and Clearing MAC Address
If your device is too old and doesn't support plug and play feature then you must manually forward the port of your router. Moreover, you can also clear the MAC address if port forwarding doesn't work.
Step 1) Launch your web browser and enter the generic router address, for example, '192.168.0.1′ or '192.168.1.1′, hit enter and log in to your account.
Step 2) Go to the Advanced Menu and look for the option NAT Forwarding or Forwarding.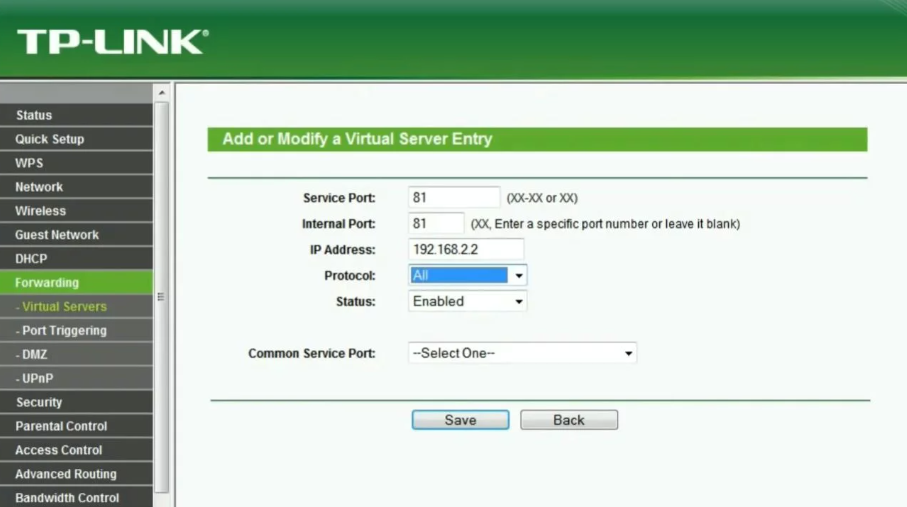 Now, you will have to open the Standard Xbox Live port, required by Sea of Thieves: 3074, after successfully opening the required port restart your console and your router. This should fix the issue. However, if this doesn't, then you must clear your MAC address.
Step 3) Press the Xbox button on your console, Go to Settings>All Settings on the guide menu then select Network. Click on Network Settings and go to Advanced Settings.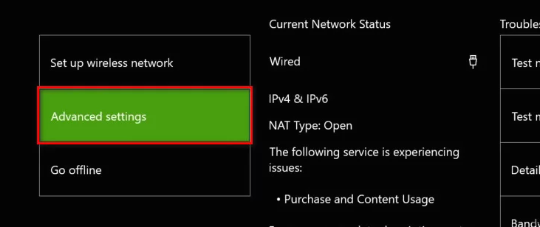 Step 4)On the advanced settings menu, select Alternate MAC address.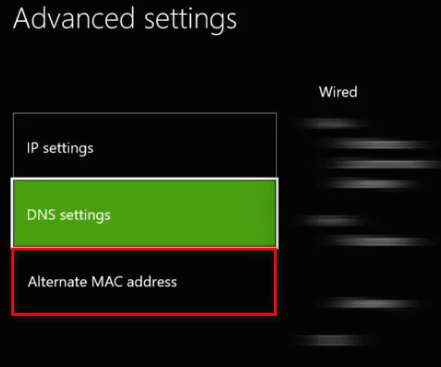 Click on the Clear option. Now, you must reboot your console and see if the error still exists.
Method 4: Resetting your Xbox One
This is the last resort method. If none of the above methods work, then try resetting your console. Press the Xbox button to open the Guide menu.
Go to Settings>Console Info and select the Reset Console menu on the left of the screen. Select reset and remove everything option and continue to factory reset your console.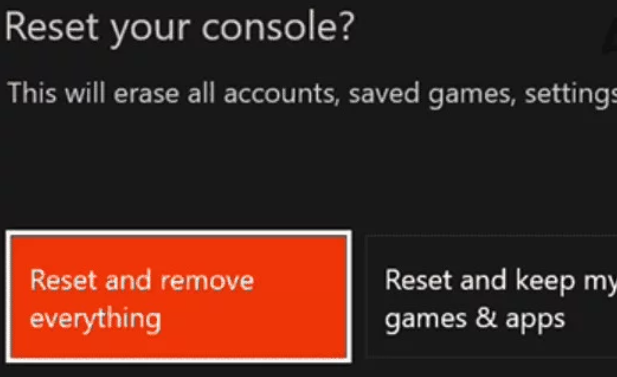 You can also choose the Rest and keep my games & apps option to keep your game data. Reboot your console and try to install and run the game again and see if the error Marblebeard still persists.