Twitter is one which keeps us up to date with ongoing things happening around the world. In short, people call posts tweets on Twitter. It is a well-known social media platform, and all the major celebrities are on it. And if you're fond of Twitter and Snapchat, then you will love to share tweets with your Snapchat friends over iPhone or Android devices.
Sharing stuff online is one of the biggest features which makes the internet world today. Earlier in the old days, you only have the option to share stuff by email. But now, you can easily share tweets to Snapchat or Instagram, or any other social media app you can name from the comfort of your iPhone or Android smartphone. With sharing made this easy, now it's easier than ever to communicate or promote your idea to the world.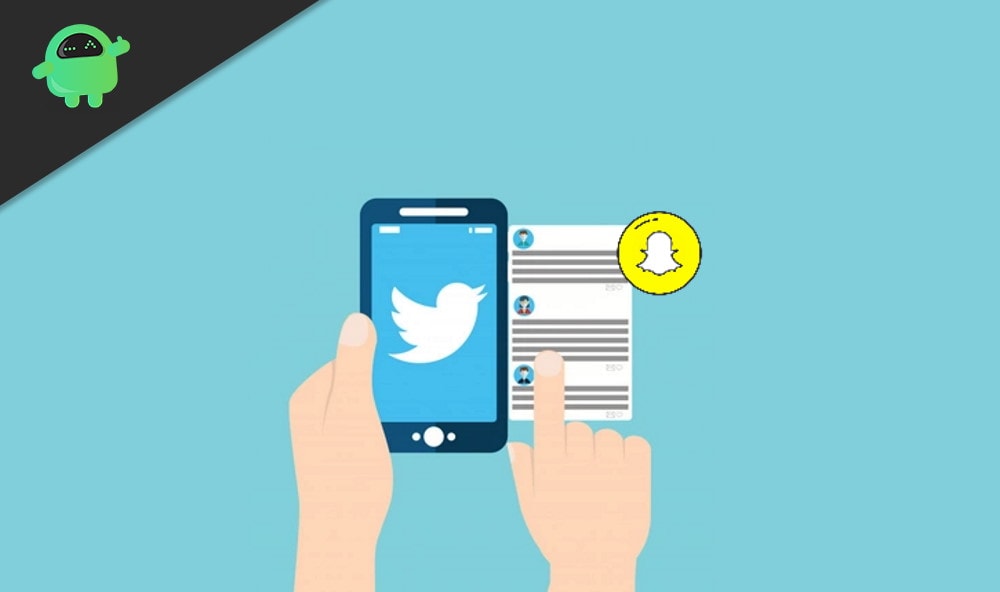 If you too often use Twitter and want to share interesting tweets on your other social media platforms, such as Snapchat, then read the article along. Here we will discuss the steps that you should take on your Android and iOS device to share tweets on Snapchat.
Sharing tweets on iOS devices is much simpler than sharing the tweet to Snapchat on an Android device. There used to preview, but now Snapchat only allows sharing tweet links to other recipients.
Steps to Share Tweets to Snapchat on iPhone:
Open up the Twitter app and go to the tweet that you want to share, and click on the Share icon below the tweet.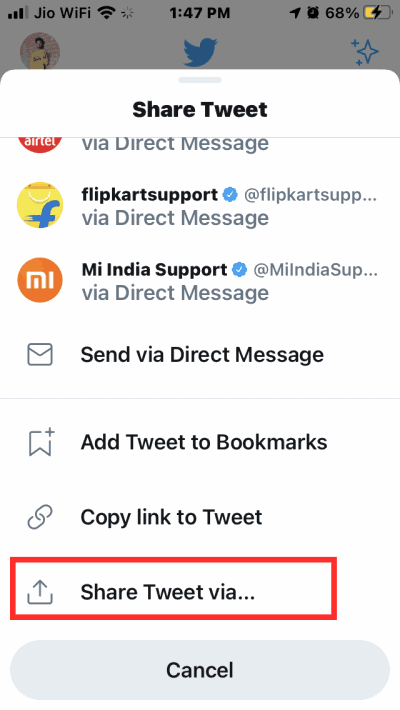 Now select the Snapchat icon from the menu that pops up below.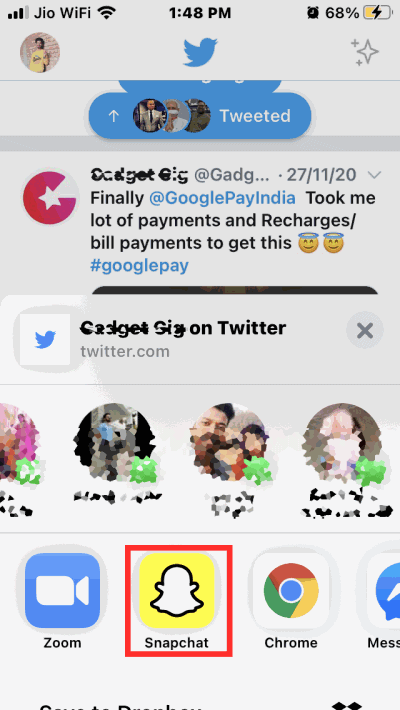 Shortly after, the tweet will open up in the Snapchat camera. There you can choose your recipients where you wish to send your tweet.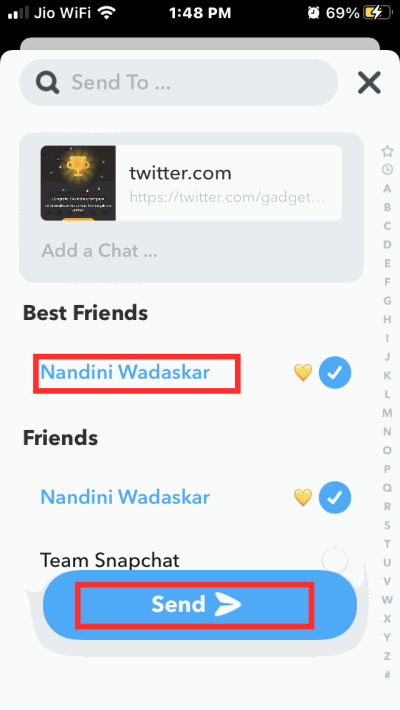 Choose an option as your preference. You can select "My story" for your story or "Our Story" for your close friends. Even more, you can individually send the tweets to a Snapchat user.
Also read: What Does Sent, Received, and Delivered Mean in Snapchat?
Note: For a few people, the story option may not be available because of sharing settings. Make sure you have enabled sharing via a story in Snapchat settings.
Twitter doesn't have the sharing option to Snapchat on Android devices. Therefore the steps mentioned will be a bit different than the earlier. However, it isn't the most likable method. You can either simply crop the screenshot and share it as a snap.
Steps to Share Tweets to Snapchat on Android:
Open up the Twitter app and go to the tweet and screenshot it. After that, open up your Snapchat app, open up your gallery, and select the tweet screenshot. Now, click on the Three-Dots at the top and select Edit Snap from the menu below.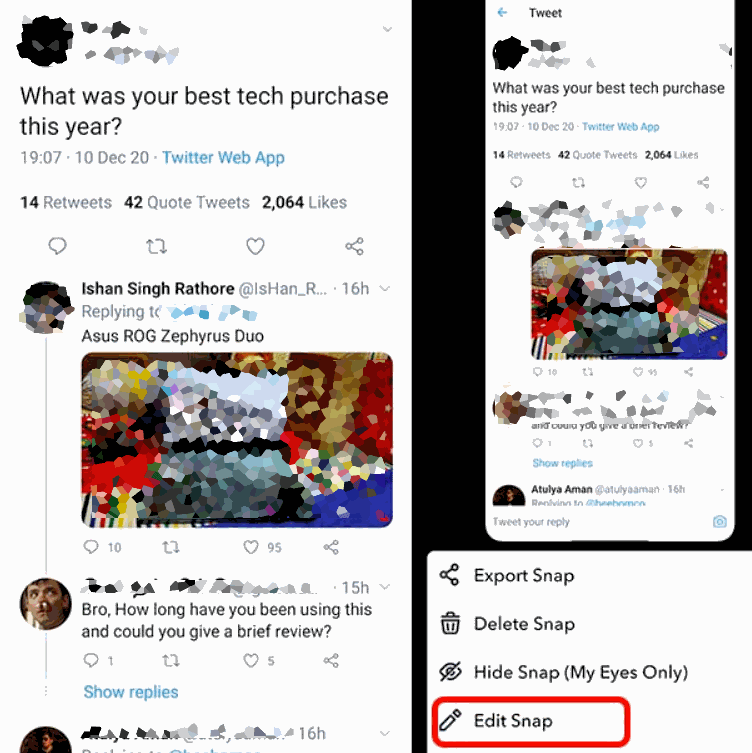 Select the Scissors icon from the editing tools at the top-right of your screen and make a sticker by swiping around the area of the tweet.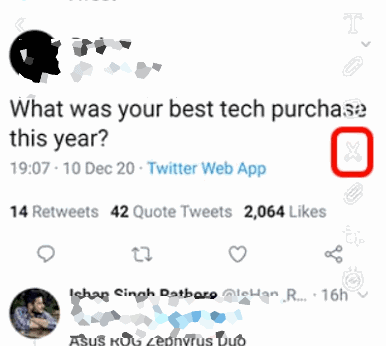 Now, swipe backward and select Discard Changes from the prompt to close the current Snap. Then take another snap of your liking and then select the Sticker icon from the editing tools at the top-right.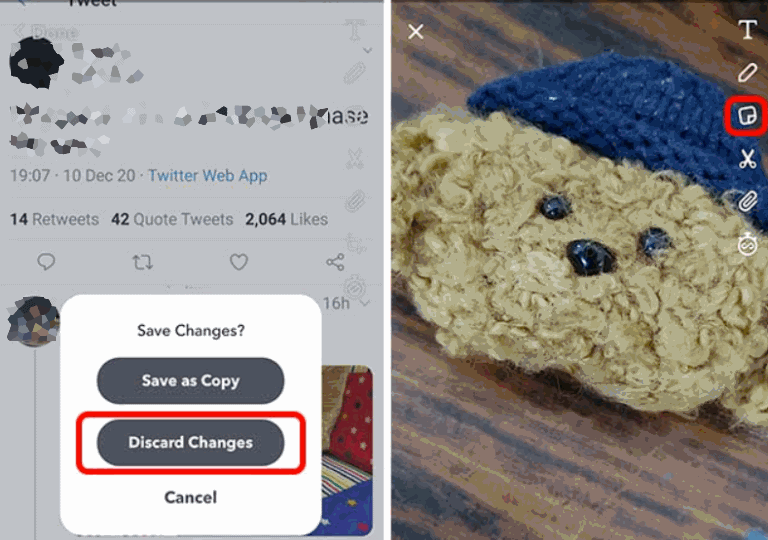 Lastly, select the Scissor icon at the top and select the sticker you have made of the tweet screenshot.
Sharing with the traditional method may not be suitable for you as it involves sharing twitter links, which may take the joy out of it. In case the tweet is an infographic or a funny meme, then you can share it as an image as well. But for this, you need to first take a screenshot of the tweet, crop it, and then share it with your buddies. The process of sharing Tweets to snapchat as screenshots is the same for iPhone and Android, and here I'm demonstrating it below.
Steps to share Tweets to Snapchat as Screenshots on iPhone and Android:
Open Twitter and take a screenshot of the tweet which you want to share.
Open the editor and crop it as you desire.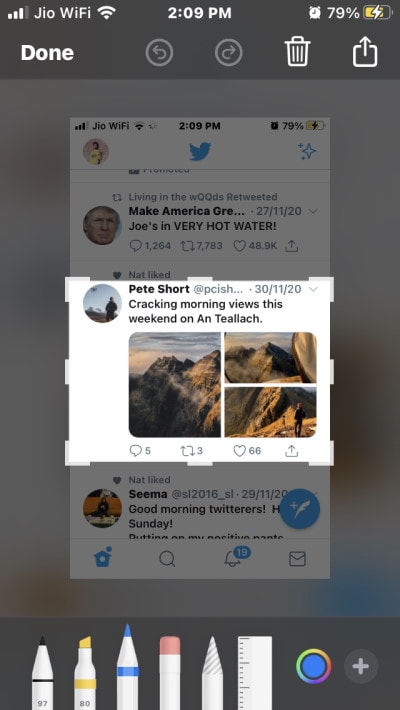 Click on the share button and choose Snapchat from the sharing menu.
Choose your recipients and even add a nice note if you desire.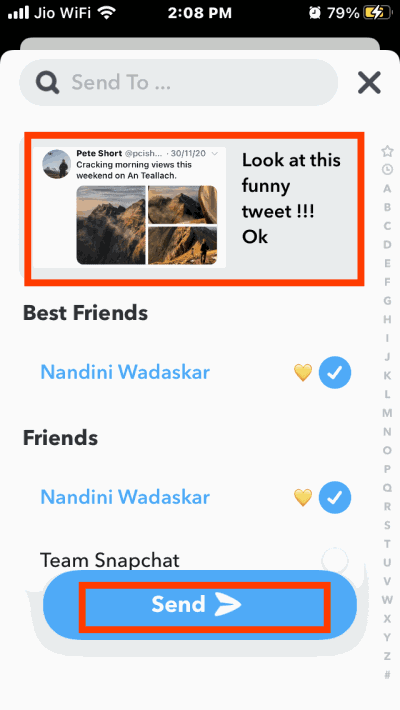 This way, you can share tweets as pictures, which will be very nice if you are trying to send memes or any other media on Twitter.
Conclusion
Sharing tweets may be an important part of your digital life, where various methods including email, whatsapp, and Facebook are available to share tweets. It's a pity that sharing tweets on Snapchat is still a big hassle for many users. But don't worry, whether you're an Android user or iPhone user, the above methods will definitely help you out.