Windows 11 is still in the startup stages, and it is still not production-ready. Most of the features in the new update of Windows 11 works great and most users are having a great time enjoying the pleasant visuals and colours. Although it cannot be said for most of the users because some of them are facing very bad bugs. One such bug is that the Widgets is not working properly on their windows PC. Issues, where widgets are not working on Windows 11, is very common and it is due to common configuration issues. So today, in this article, we are going to explain how you can fix the issue with the widgets and get it working back again. All of the steps that we are going to discuss here are very user-friendly, so you do not have to worry if you are not that tech-savvy.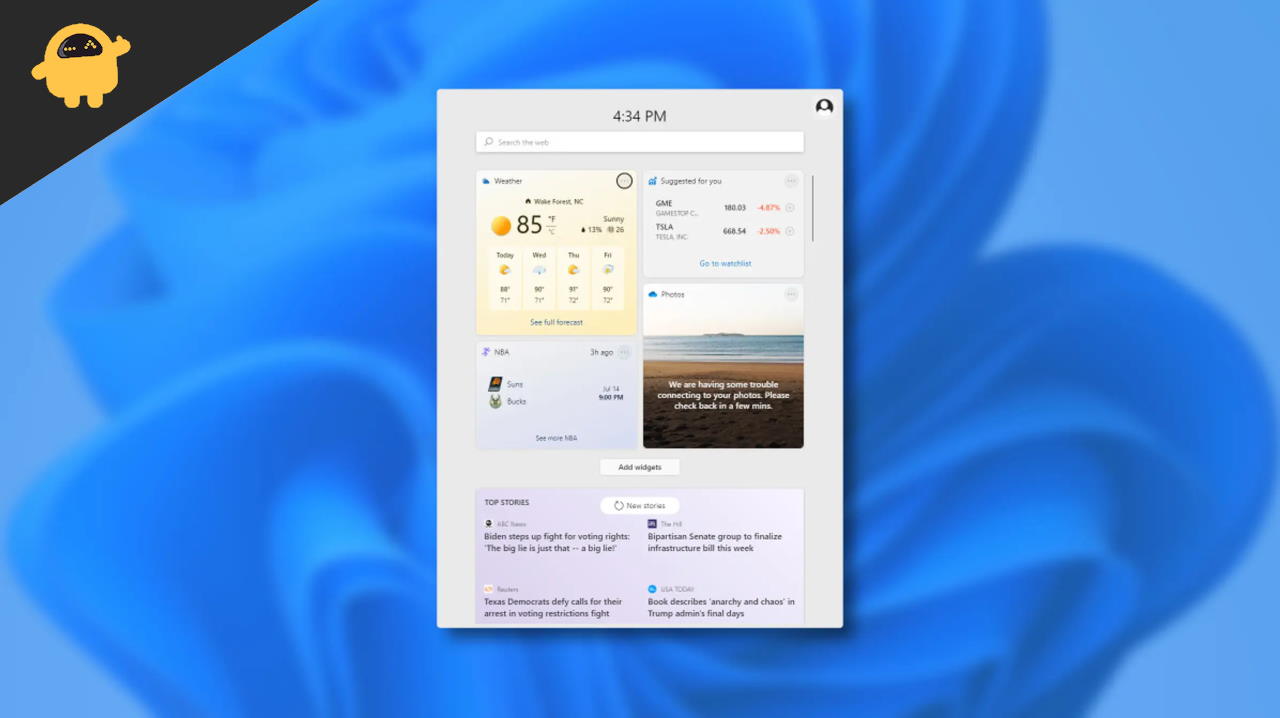 Fix: Wid­gets Not Work­ing on Win­dows 11
In most cases, such widget issues are due to poor configuration issues. Essentially you can refresh your desktop to fix widget related issues or try to restart your PC. Moreover, you can follow the below methods to know more.
Fix 1: Use a Microsoft Account instead of a Local Account
To show widgets, you have to sign in to Windows using a Microsoft account. While some may prefer using a local account to keep things simple. But since widgets rely on Microsoft services, it makes using a Microsoft account mandatory.
Open the Settings app (using Windows + I shortcut)
Click on your account displayed on the top left corner.
Now click and open Email & Accounts.
Under Accounts used by email, calendar, and contacts, click on Add account.

Then proceed to sign in using your Microsoft account.
If you do not have a Microsoft account, you can create one using the link in the pop-up. This will automatically log you in using that account.
Note: Some people who were already logged into a Microsoft account reported that signing out and signing back in solved the issue with Widgets in Windows 11. So you can try this if you are already using a Microsoft account.
Fix 2: Manually Enable Widgets
If you still are not able to use widgets in windows 11, then you should check if Widgets are enabled on your system.
Right-click on the taskbar and click on Taskbar settings.
Now Under the taskbar item, check if Widgets are enabled.

If not, enable it. If it is already enabled, you can try to disable it and then enable it again.
Now the Widgets should start working.
Fix 3: Restart Windows Explorer
Sometimes after doing all these, you might need to restart the windows explorer in order to get widgets working.
Open Task manager using Ctrl+Shift+Esc keys.
Now click on More details.

Find "Windows Explorer" and click on it.

Then click on Restart to restart windows explorer.
Now check if you can use widgets without any issues.
Fix 4: Kill Widgets process
This issue can often occur when the widget process has hung. To overcome this, you can simply kill the Widget process and open it again.
Open the task manager as shown in the above method.
Search for Windows Widgets and click on End Task.
Finally, check if the widgets work for you now.
Fix 5: Disable integrated GPU
This fix will be applicable for people who have both a dedicated as well as an integrated graphics card in their PC.
Open Run box using Windows and R key,
Type in "devmgmt.msc" and hit enter.
Now when the Device manager panel opens, Check under Display adapter and disable the integrated one.
Note: For most systems, Intel HD or UHD graphics are the ones to disable. In some cases, you may have a Radeon HDXXXX, or Vega listed under it, Do some research on your laptop or desktop model to find out the integrated one.
Fix 6: Set MS Edge as the default browser
Some people also reported that setting MS edge as the default browser also did the trick. We are not sure how this worked for them. But it will not hurt anyone to try.
Open settings and search for default programs.
Now under web browser, set Microsoft Edge as the default browser.

Finally, close the settings app and check if that resolves the issue for you.
You might not prefer setting up Edge as your default browser. Even many people will hate this. But Microsoft is trying to push you to use Edge more and more. So if you opt for Windows, then this is something you have to live by.
Conclusion
So as you see, these were some of the fixes that you can try to solve the widgets not working issue on Windows 11. Although if you are still not able to get widgets working again, then it is best to first check for updates, and if there are any updates available for your device, make sure to install them. If that too did not help, then resetting or reinstalling Windows 11 is the only solution.