Xiaomi is one of the most popular smartphone brands in the world. The company is known for its affordable and high-quality smartphones. Xiaomi is also one of the few companies that provide regular software updates to its devices. The company recently released the Android 12 update for its devices and is planning to roll out Android 13.
Xiaomi is now working on the Android 13 update for its devices. The update is in the beta stage for most devices and is expected to be released by the end of 2022. Apparently, the Android 13 will be based on MIUI 14, as Xiaomi's product manager teased on Weibo. The update shall bring several new features and improvements to Xiaomi devices.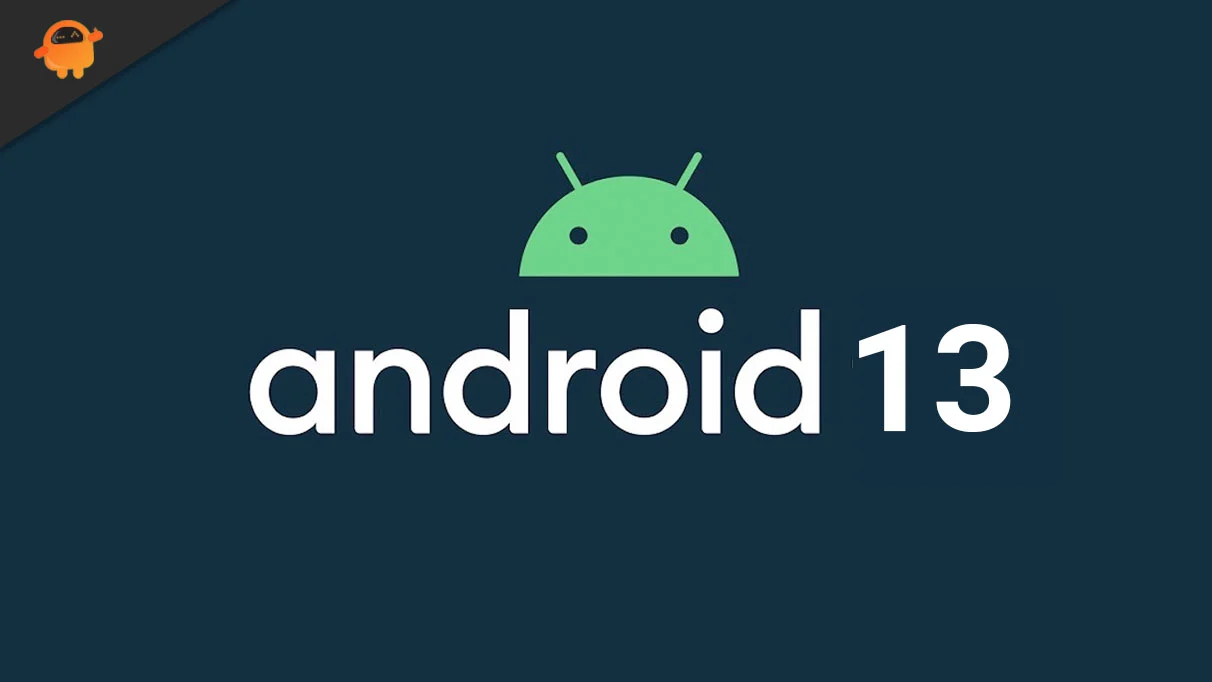 Xiaomi Android 13 Release Date
While almost all major Android OEMs have already released their version of Android 13 software, there's nothing from Xiaomi yet. Xiaomi is a bit late this time with its Android 13 update. However, the wait for Xiaomi Android 13 seems to be over very soon.
The Chinese giant's product manager shared the logo of MIUI 14 on Weibo. The product manager also said that a new product announcement would be made next week, which is likely the Xiaomi 13 series that will ship with MIUI 14 out of the box.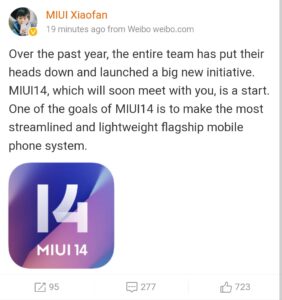 This means that MIUI 14, based on Android 13, will be announced alongside the Xiaomi 13 series. It makes sense since MIUI 13 was also announced alongside the Xiaomi 12 series in China.
In addition, the Poco X5 5G was also spotted on FCC and Indian BIS certification websites with the software version MIUI 14. So, it is confirmed that MIUI 14 will be launched soon and will be based on Android 13.
So, what changes are we going to see with Xiaomi's Android 13 update— MIUI 14? The GM of the company says that the Xiaomi team has been working to make MIUI 14 the lightest and most streamlined flagship mobile phone system. This could very well mean an end to the ads and bloatware on MIUI. Nevertheless, we will have to wait for the official announcement to get more accurate information.
Xiaomi Android 13 Update Tracker
In this section of the article, we will keep track of all the updates to Xioami's Android 13.
After months of beta testing, the Android 13 stable update has officially made it to the Xiaomi 12 Pro. The Xiaomi 12 Pro is the first device to get the Xiaomi Android 13 stable update. The build number for this update is V13.2.4.0.TLBCNXM is available only in China as of now. The update brings MIUI 13.2 and the October 2022 security patch. However, there is still no MIUI 14 update for the smartphone yet.
While other Xiaomi, Redmi, and Poco devices are still being tested internally, we will soon get an official release date for these as well. Many Xiaomi, Redmi, and Poco devices are eligible for the Android 13 as they were all spotted in the early internal beta testing program.
If you own a Xiaomi device eligible for the update, you can check for the update by going to Settings > System > System Update.
List of Xiaomi/Redmi/Poco devices eligible for Android 13 update
All this makes you wonder whether your device is eligible for the Xiaomi Android 13 update. As discussed earlier, if your phone was spotted in the internal beta testing, it is eligible for the Android 13 update. However, if you are unsure, you can refer to the list below.
Eligible Xiaomi devices for Android 13 update
Eligible Redmi phones for Android 13 updates
Eligible Redmi Tablets for the Android 13 update
Eligible Poco phones for Android 13 update
Devices that may get Android 13 update
Redmi K30 Pro / Zoom Edition
Redmi K30S Ultra
Poco F2 Pro
Mi 10 / Pro / Ultra
Mi 10T / Pro
Redmi Note 8 2021
Devices that may not get Android 13 update
Redmi 9 / Prime / 9T / Power
Redmi Note 9 / 9S / Pro / Pro Max
Redmi Note 9 Pro 5G
Redmi K30 4G / 5G / Ultra / K30i 5G / Racing
Poco X3 / NFC
Poco X2 / M2 / M2 Pro
Mi 10 Lite / Youth Edition
Mi 10i / 10T Lite
Mi Note 10 Lite
Android 13: What do we know so far?
Last year, Android 12 brought a major design overhaul. We saw a completely redesigned Quick Settings panel, Material You theming, Game Dashboard, Privacy Dashboard, Extra dim, Scrolling screenshot, Conversation widget, and more. This year's Android OS will focus more on behind-the-scene changes. But still, there will be a lot of changes on the UI level.
Android 13 codename
Starting with the delicious codenames, Google gives to Android versions. Android 4.4 was called "KitKat", Android 8 was "Oreo", and the latest Android 13 is confirmed to be called "Tiramisu". Android 13 might come with a selection of new palettes to fetch colors from the wallpaper.
QR code scanner
Most OEMs offer QR code scanning just by pointing your phone's camera at a QR code. But, Google wants to make it an inbuilt feature by adding this feature to Android 13. The Developer preview version 1 of Android 13 has this feature in the Quick Settings toggle, though it was inaccessible.
Language settings for apps
Android 13 could remove the language barrier by bringing an option to set your preferred language for any app. So, if you are someone who would love to use some apps in a non-English language, then it might be a great feature for you. We got to see this in Android 13 Developer Preview 2. Though, it was not working well on every phone.
'Do not Disturb' renamed to 'Priority Mode'
In Android 13, you won't find Do not Disturb as Google is renaming it to Priority Mode. The functionality is likely to remain unchanged.
Updated Media Player
Android 13 brings an updated media player that appears below the quick settings panel and on your lock screen. It looks better with the album art taking the entire background. Also, the controls have been moved around slightly.
Bluetooth LE Audio support
The next version of Android will bring inbuilt support for Bluetooth LE Audio and the Low Complexity Communications Codec (LC3). It will improve power usage and audio quality across Low Complexity Communications Codec (LC3). This will improve power usage and audio quality across supported devices.
Tap to transfer media controls
According to a report from Android Police, Android 13 could bring a tap-to-transfer (TTT) feature that will allow users to pass on media controls to other linked devices. However, no such thing has been found in code or developer preview builds.
Click here to read more about Android 13.