Microsoft has finally revealed and started pushing the Windows 11 Dev Channel Build via Insider Program to the existing (eligible) Windows 10 users. Windows 11 introduces a major change in overall visual elements, icons, rounded corners, floating windows, improved animations & transitions, etc. But if you're interested in Downgrade to Windows 10 from Windows 11 (Rollback), follow this in-depth guide.
Well, it's quite obvious for the existing Windows 10 users to get hyped and more interested in upgrading to the all-new Windows 11 OS. However, due to the initial developer beta build via the Windows Insider Preview method, the chances are high enough that you'll experience occasional hiccups, lags, stutters, frame drops, plenty of bugs, errors, visual glitches, etc. We know, it's quite obvious when it comes to a massive change.
Microsoft has officially announced that stable builds will be released publicly by the end of 2021, which will gonna continue throughout 2022 according to the region. Therefore, it seems that the Windows 10 OS is the most stable version for most users, and it may take some time for Windows 11 to get polished precisely. If you're not satisfied with the initial release of the Windows 11 build, you can easily go back to Win10.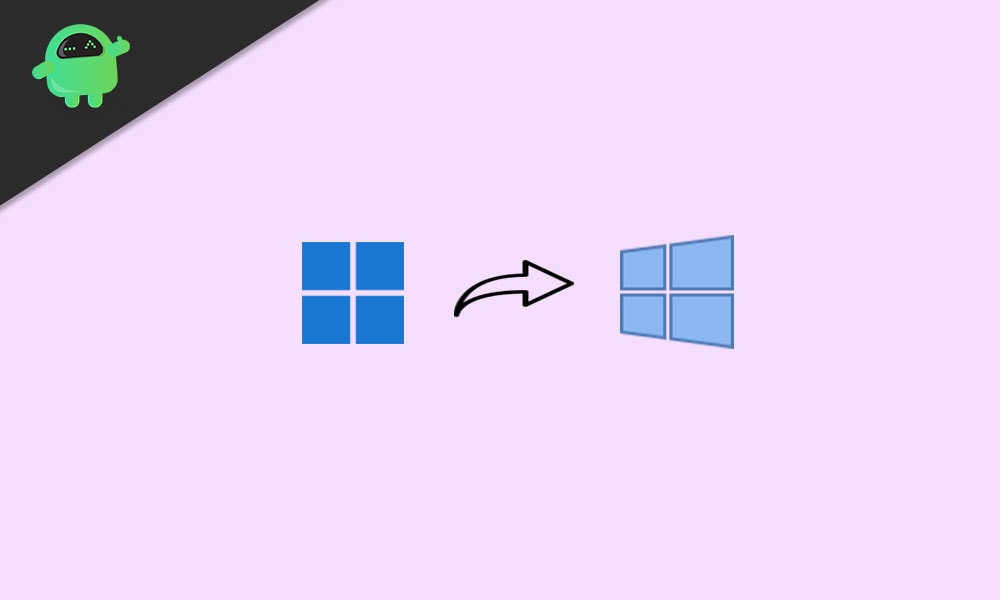 Can I Downgrade to Windows 10 from Windows 11? | How to Rollback?
Here we've shared three possible and easy ways to roll back to Windows 10 from Windows 11 on your PC right away. If you've recently upgraded to the preview build and it's under 10 days then you don't have to do any additional processes.
However, if you've upgraded to Win11 for a while and the 10 days or trial has been expired then you'll have to install Windows 10 manually on your PC. So, without wasting any more time, let's jump into it.
1. Downgrade to Win10 from Win11 (Within 10 Days of Trial)
So, if you've just upgraded to Windows 11 preview build and somehow you didn't like the experience or the visual changes that much, don't worry. You can easily downgrade to Windows 11 without any additional steps or knowledge but you'll have to perform this action within 10 days.
Please Note: When you've installed the Windows 11 preview build using the Insider Preview method over your Windows 10 OS, the system has automatically stored the previous build of Windows 10 which was already installed on the PC at that time. So, make sure that you've deleted the particular "Windows.old" folder from the C: drive.
Now, you're ready to follow the steps below:
First, click on the Settings (cogwheel icon) from the taskbar (Press Windows + I keys).
Once the Windows Settings page opens, click on System.
Scroll down the right pane window a bit and click on Recovery.
Here you'll be able to see an option called 'Previous version of Windows'.
Just click on the Go back button next to it.
You'll see a prompt window on the screen that'll ask you the reason (Why are you going back?).
Well, you should definitely input feedback by selecting your preferred option and writing down additional reasons in the text field. (It's really necessary for both Microsoft and Win11 users to get a more stable and fluid user experience in the near future)
Once done, click on Next > From the 'Check for updates?' screen, just click on "No, thanks".
Read the on-screen instructions and then click on Next to proceed further.
Finally, click on the 'Go back to earlier build' option and wait for it.
Your PC will restart automatically and it may take around 1-2 hours to boot into Windows 10 again depending on the specifications of your PC.
So, have some patience, and don't switch off your computer or unplug the power cable.
Once everything is done, your PC will boot into Windows 10 completely.
2. Rollback to Win10 from Win11 (After 10 Days of Trial)
If the 10 days trial period has been expired then you'll need to follow this particular method to easily downgrade to Windows 10. However, it's highly recommended to perform this method before expiring 10 days or trial because some of the users are reporting that the 'Windows.old' folder is getting permanently deleted after 10 days of trial.
Then you may not be able to seamlessly downgrade to Win10. So, if you're still within the 10 days or trial period then make sure to follow the steps below:
Press Windows + X keys to open the Quick Access Menu.
Click on Windows Terminal (Admin) from the list.
If prompted by UAC, click on Yes to grant the admin privilege.
Now, run the following command line to check the current uninstallation period:
DISM /Online /Get-OSUninstallWindow
It should look like Uninstall Window: 10 [If you're seeing 'No element found' message that means sadly your PC is no longer eligible to roll back to Win10 except for manual installation]
So, if it says Uninstall Window: 10 then you should run the following command line to extend the uninstallation window from 10 days to 60 days (two months):
DISM /Online /Set-OSUninstallWindow /Value:60
Note: You can change the value from anywhere between 10 to 60 days according to your preference. The maximum rollback period to Win10 from Win11 is 60 days. That means you can go back to Win10 within two months from that day.
Now, if you want to downgrade right now after following the above steps then simply follow the first method to easily do so.
3. Go back to Win10 from Win11 (Manual Installation)
Whenever you want to freshly install Windows 10 on your computer or the 10 days to 60 days trial period is over, you'll have to perform this method as a last option. Alternatively, if you've deleted the 'Windows.old' folder from your computer to free up the storage space, then the same method will also be applicable.
Note: Make sure to take a backup of the important data before performing any of the steps below.
For a clean Windows OS installation, we'll highly recommend you use the Windows 10 Media Creation Tool from the official Microsoft website. So, first of all, you'll need to 'Create Windows 10 Bootable USB Drive' using Rufus.
Now, either power on your computer or restart it, and during the boot process, quickly start pressing the BIOS / SETUP / BOOT key continuously until you see the boot from DVD/USB screen. [The keys will vary to the brand or model respectively but F2, F11, F12, Delete keys are most common]
Once you're on the boot from DVD/USB screen, you'll have to select the Boot sequence on your computer to that inserted Windows 10 USB bootable drive as a first priority.
After selecting the inserted Windows 10 drive as a primary boot device, just restart your computer once again. [Do not remove Windows 10 drive or do not unplug the power cable]
When the computer prompts you to 'Press any key to boot from CD or DVD….', just press any key from the keyboard to continue.
Now, follow the on-screen instructions to proceed further.
Make sure to select the Language, Time & currency format, and Keyboard or input method from the next screen.
Now, click on the Next button > Click on Install now.
From the Windows Activation page, just click on 'I don't have a product key'.
Next, click to select the Windows OS Edition or Architecture that you want to install on your computer from the list. [We'll recommend you to choose Win10 Home or Win10 Pro edition]
Once selected the edition, click on Next.
Then go through the notices and license terms (if you want) > Click on the little checkbox that mentions "I accept the Microsoft Software License Terms." to enable/select it.
Now, click on Next > Click to select the 'Custom: Install Windows only (advanced)' option from the "Type of installation" page.
All of your connected and available disk drives (both HDD and SSD) will be shown here with their respective disk size. [So that you can easily understand on which drive partition you want to install the Windows OS]
Click on the particular disk drive partition where you want to install Windows.
Then click on Format > If prompted, click on OK to confirm the process.
Once the selected hard drive partition is formatted, you're now ready to install Windows 10.
So, click on Next again, and the Windows OS installation process will start.
It may take a couple of minutes depending on the hardware performance. So, have some patience, and wait for it to complete.
You'll see the installation process and progress bar on the screen properly.
Finally, you'll see the installation complete message on the screen, and the Windows computer will restart automatically. [You can also manually click on Restart now to do so rather than waiting for it]
While restarting the computer just remove the Windows 10 USB drive from the computer to normally boot the system from the primary hard drive. [It's important]
But do not power off the computer or remove the cut the power source to it during the initial setup process of Windows OS.
Your computer may restart automatically several times during finalizing the installation process or initial setup screen. So, don't panic.
Voila! You'll be greeted with the Windows 10 system screen on your PC.
Enjoy!
Conclusion
This is how you can easily downgrade to Win10 from Win11 on your computer. However, the chances are high that you may come back to Windows 11 very soon as the stable public version will be good enough for daily usage.
Whereas more and more improved features such as improved productivity, visual changes, new look, smooth animations, improved security/privacy features, improved gaming experience, support for Android apps/games, etc will make Windows 11 a really next-gen computer operating system.
Yes! That will take a couple of months more for sure. And also keep in mind that the reports are coming out Microsoft will end support for Windows 10 in 2025 officially to push Windows 11 updates for free to the existing users more.
Additionally, new users will be forced to start using their Windows journey with Win11 out of the box as plenty of brands are already releasing Windows 11 ready laptops or PCs.
That's it, guys. We hope this guide was helpful to you. For further queries, you can comment below.