Hulu is one of the best video streaming services, with multiple TV options and on-demand services. It is not yet available worldwide, but it is pretty popular in selected regions. You can access Hulu using a web browser or the Hulu application on any smart device you own.
Samsung Smart TVs, much like other smart TVs, allow users to stream Hulu content using the application. But the experience is not suitable for every user out there, as many Samsung Smart TV owners have complained that they are witnessing audio sync issues. If you are one of those users, this article will help you out. Here, we will look into some of the possible solutions that you can try to fix this problem. So without any further ado, let's get into it.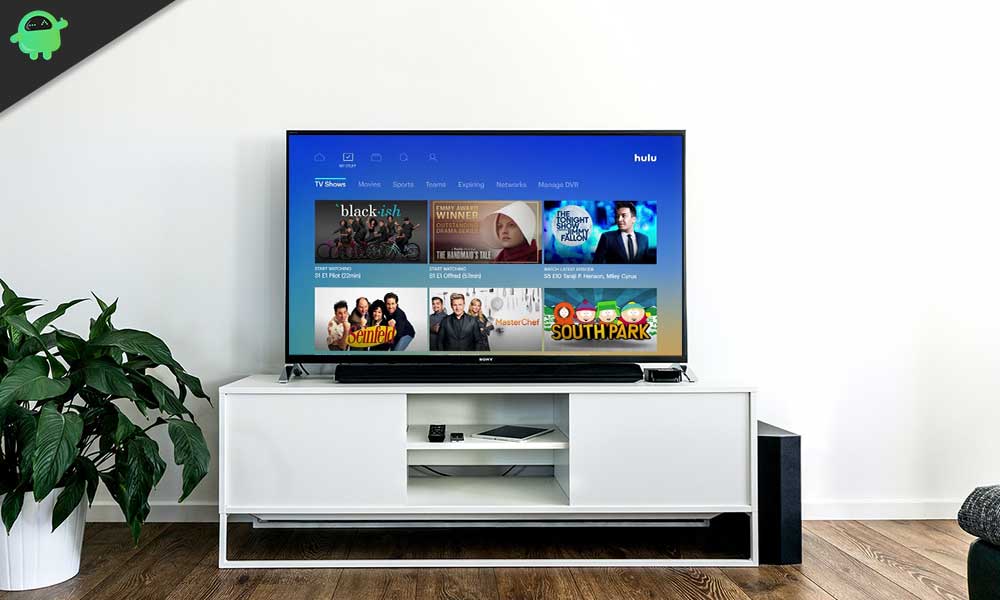 How to fix Samsung Smart TV Hulu Audio Sync Issue?
Try all the solutions mentioned here, one after the other, until you find the one that works for you.
Check your connection:
If you suffer from a slow internet connection, that could be the reason behind the audio sync issue. Due to the slow internet speed, the audio on the streaming content might come before the actual video output. To fix this, you need to try a couple of things to boost internet speed.
The first thing to try would be to use a wired connection. If you have your TV connected to a WiFi network, change it to an ethernet connection. An ethernet connection will get you a faster and more stable internet connection.
Secondly, if you cannot use an ethernet cable, you can try bringing the WiFi router closer to your smart TV. It would be best to get the router as close as possible to ensure a faster internet speed.
Try the next solution if improving the internet speed does not help with the audio sync issue.
Relog into your account:
When we use Hulu, we sign in to our account using our login credentials. And logging out and then logging back into the account sometimes fixes an issue for a user. So it would be best if you gave that a try as well.
Go to the Account menu on your Hulu application and select Log out. After that, the login screen will show up on your Samsung Smart TV screen when you open up the Hulu application asking for a username and a password. Enter your username and password here and log into your account again.
Try the next solution if this does not help with the audio sync issue.
Clear cache:
The Android OS on your Samsung Smart TV will save up cache memory over time for all your applications. This will allow the TV to load up applications on your TV faster than the usual speed. However, this cache memory can also cause issues with the application if there is any inconsistency in the stored data. Even with the Hulu application, that could be the case. So you need to clear the cache memory of the Hulu application on your TV.
Turn on your Samsung TV.
Press the Home button on your remote control.
Open Settings.
Select Apps.
Then open System apps.
Select the Hulu app from the list of installed applications.
Select "Clear cache."
Confirm your action by pressing OK.
Now try watching content on the Hulu application again. Try the next solution if clearing out the cache memory does not help with the audio sync issue.
Update the application:
An application may develop some bugs over time. And it is the job of the app developers to push out updates regularly to make sure that everything is working fine on all the compatible devices. So if you are on an older version of Hulu, you need to update the application right away. There is no option to update a specific application on a Samsung TV. But you can turn on auto-update for all the applications, which will keep the Hulu app up to date for you.
Press the Smart Hub or Home button on your TV remote.
Select Apps.
Then select My Apps.
Go to Options and then turn on Auto Update.
Try the next solution if updating the application to the latest version does not fix the audio sync issue.
Test other channels/videos:
Try watching a different channel or content on Hulu and check whether the audio sync is present there as well or not. If there is no audio sync issue on any other content, you need to wait a few hours. The TV channel or the content you are trying to watch has some technical issues, and the Hulu team will clear it up in a few hours.
But if the audio sync issue is present across every content on Hulu, try the next solution.
Change Audio settings:
There is an option to turn on the stereo on your Samsung TV. Just go to Settings, and there inside Audio settings, you will find the Stereo feature. Keep it turned on while using the Hulu application. Having it turned off might result in an audio delay.
Try the next solution if turning on the Stereo feature does not fix the audio sync issue.
Check the HDMI cable:
If your TV has an HDMI cable connection, you need to check that cable. Try using a different cable or a different HDMI port on your TV. HDMI cables often malfunction if the quality is not good or if it is not compatible with the devices.
Try the next solution if this does not help with the audio sync issue.
Disconnect external speakers:
If you have external wireless speakers connected to your TV, you need to disconnect them. Wireless Bluetooth speakers often suffer from audio delay issues, and with the Hulu app streaming everything online, the delay can be more evident. So try using the default speakers of your TV, or you can use a speaker that can be connected via a wire.
Try the next solution if this does not help with the audio sync issue.
Reset TV:
One particular fix that can fix most issues with any device is the power cycle fix. This will completely reset the TV, which could fix your problem with the Hulu application.
Disconnect the power plug of the TV from the power socket and keep it like that for at least five minutes. After those five minutes, connect the power plug again and turn on your TV again. Then use the Hulu application and check whether the issue is resolved or not.
If none of these solutions worked for you, try contacting Hulu and Samsung's customer support. They should be able to help you out with a possible solution.
So these are all the things you can try to fix the Samsung smart TV Hulu audio sync issue. If you have any questions or queries about this article, comment below, and we will get back to you. Also, check out our other articles on iPhone tips and tricks, Android tips and tricks, PC tips and tricks, and much more for more helpful information.