Cupertino giant Apple has finally announced the official iOS 16 stable release from September 12, 2022, worldwide to its eligible iPhone models after offering the Beta Program for a few months. There are some users still having the iOS 16 Beta build, which may cause some issues with the app working or user experience. Meanwhile, some unfortunate users also reported the iOS 16 Video Call Not Working issue after installing the stable update recently.
As per multiple reports on the Apple Developer Forums, many iOS 16 users encounter the same video call-related issue on FaceTime & some other third-party applications. This specific issue appears in the iOS 16 stable edition after installing the latest update. However, it can happen on any build respectively. Regarding the reports, the camera viewfinder interface gets full black, and nothing seems visible in the camera, which is quite weird. Isn't it?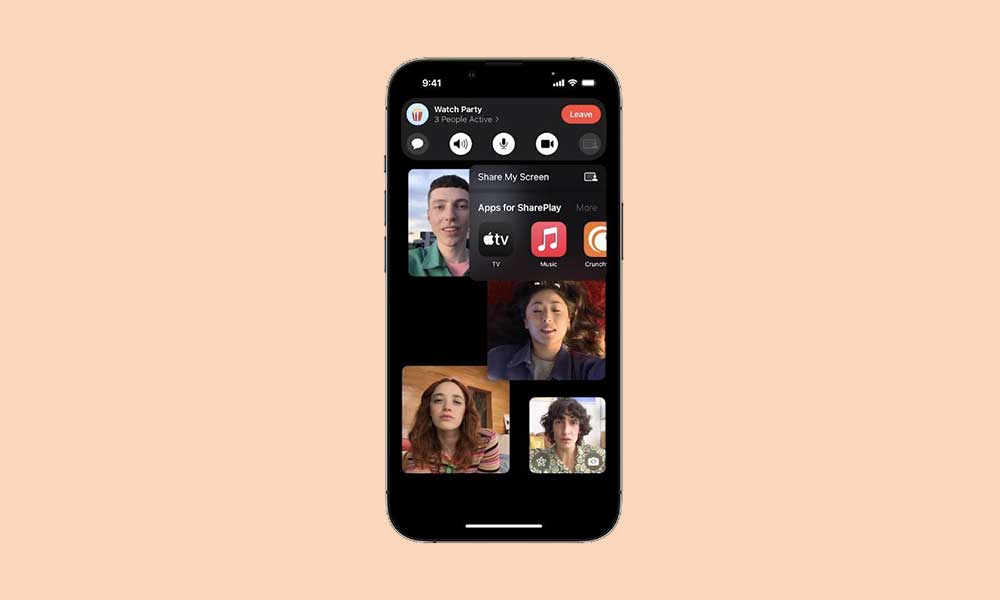 Fix: iOS 16 Video Call Not Working
After rebooting the iPhone multiple times, restoring the iOS system to the factory default, etc. didn't come in handy anyway. The camera interface or the video calling feature doesn't work on any of the mentioned applications, such as in the Camera app, iMessage, FaceTime, Halide, Instagram, WhatsApp, Zoom, etc. But the camera controls and options are visible, which isn't handy because it doesn't take photos or videos or see anything.
Well, it's worth mentioning that Apple has fixed the iOS 16 video call bug in the Developer Beta 3 version. That means the latest developer and public beta build users should no longer get the video call-related issue with iOS 16 if they've installed the latest update. Unfortunately, some unfortunate iOS 16 stable build users are also encountering the same issue that's not expected at all. However, Apple hasn't acknowledged it yet.
It's also quite possible that somehow your iOS 16 stable build is also troubling with the camera app working or video call regarding issues with several applications. Sometimes, a normal reboot of the iPhone should fix the issue. Otherwise, we've mentioned a couple of workarounds for you that can help you to resolve the video call not working issue. So, without further ado, let's jump into it.
1. Force Reboot your iPhone (Hard Reset)
Apple allows iPhone users to perform a force restart of the device quite easily you can check below. The force reboot method mostly fixes temporary glitches with the system or any apps. To do so:
Ensure that the iPhone is turned on and unlock the lock screen.
Now, quickly press the Volume Up (+) key and release, then quickly press the Volume Down (-) key and release, then quickly press & hold the Power (side key) button for a few seconds until the Apple boot logo appears on the screen.
Once the Apple logo appears, you can release the Power (side key) button and wait for the device to boot to the system.
This specific method did come in handy for many affected iOS 16 users. If it doesn't help you then make sure to follow the next method.
2. Check for iOS 16 Build Updates
It's highly recommended to check for the available iOS 16 build updates because Apple releases a new update every few weeks. So, installing the latest update will help you to use additional features and you'll get bug fixes or improvements. To do that:
Go to the Settings app > Tap on General.
Tap on Software Update > select Automatic Updates to On for your convenience.
At the same time, the system will automatically start checking for the available software update.
If available, it'll notify and then you can tap on Download and Install. [It'll also ask you to enter the device passcode]

If unavailable, you'll see the 'iOS is up to date' notification on the screen.
3. Check if FaceTime is Available in your Region
Well, it's worth mentioning that Apple doesn't provide FaceTime video calling features on its devices, which are manufactured or imported for UAE & China regions. So, if you're also using the UAE or China variant iPhone model then you may not get the video calling feature with FaceTime officially. This is what you'll have to keep in mind and check the same info from Apple support.
4. Log Out of FaceTime and Log Back In
You can also try logging out of your FaceTime profile and logging back into it to refresh any potential glitch with the FaceTime app or camera connectivity. Sometimes this simple trick can also come in handy. To do so:
Open the Settings app on your iPhone.
Scroll down and tap on FaceTime.
Tap on your Apple ID which is signed in.
Now, tap on Sign Out > Once you're signed out of your Apple ID, try opening FaceTime again.
This time make sure to use your existing or new Apple ID again to log into the FaceTime profile.
5. Turn On the Camera on FaceTime
Sometimes iPhone users may forget to unmute the camera or audio option directly on FaceTime or any other video calling app which can lead to issues like video calling not working or can't see anything, etc. While making or receiving a FaceTime call or even a WhatsApp or Zoom call, make sure to tap on the Camera icon on the screen to activate it. [It only works if the camera icon is already muted with the red signal]
6. Check your Internet Connection
Make sure to check out your internet connection properly because poor or unstable network connectivity can trouble you a lot. Video calling obviously consumes more bandwidth and speed than a standard voice call. So, it's worth recommending to use another internet network no matter whether you're using a Wi-Fi network or mobile data.
7. Ensure to Turn On Wi-Fi or Mobile Data
Another thing you should always cross-check is if you've turned on the Wi-Fi or mobile data whatever you use or not. Because some new iPhone users or parents may not enable the internet connection during video calling which will obviously lead to issues whatsoever with FaceTime or other third-party apps. Just swipe down the screen from the top-right side of your iPhone to open Control Panel and then turn on mobile data or Wi-Fi accordingly.
8. Set Correct Date and Time on iPhone
You should also make sure to set the correct date and time because an incorrect timing and date as per the region or timezone may conflict with the video calling connectivity issue. To do so:
Open the Settings app > Tap on General.
Tap on Date and Time > Set the correct TimeZone.
Turn on Set Automatically > Restart the iPhone to apply changes.
9. Allow Camera Permission to Apps
It's also worth mentioning to always allow the camera permission to the respective application whatever you use for video calling. For example, if you're using WhatsApp for making or receiving video calls on your iOS 16 and you're unable to do that, make sure to follow the steps below to allow camera access for WhatsApp to fix such an issue.
Open the Settings app > Scroll down to the specific app.
Now, tap on the particular app > Enable the Camera access toggle just under Microphone.
Once done, reboot the iPhone, and check for the issue again.
10. Update the Problematic Third-Party Application
You can also try updating the problematic third-party app on your iPhone if you haven't updated it for a while. Follow the steps below to do so because an outdated app version can cause such issues in some cases.
Just tap and hold the App Store icon on the home screen.
Select Updates > Now, pull down the screen to refresh the list of available app updates.
Tap on Update All and wait for the updating process to get completed. [You can also tap on Update next to the single problematic app if you want]
Once the specific app is updated to the latest version, you can go back to the application again, and check for the issue.
11. Don't Use a VPN Profile
Sometimes the VPN connectivity can also create conflicts with the video calling feature no matter whether you're using FaceTime or any other third-party app. Make sure not to use a VPN profile/app while making or receiving video calls. You can simply turn off VPN and check for the video calling issue.
12. Disable Screen Time Restriction for the app
If in case, you're using the Screen Time restriction on your iPhone to limit the usage of apps on a daily basis then make sure to turn off the screen time restriction for FaceTime or any other video calling app that's giving you the problem. To do this:
Open the Settings app > Go to Screen Time.
Tap on Content & Privacy Restrictions > Go to Allowed Apps.
Now, check if FaceTime and Camera options are both turned on.
If prompted, enter your Screen Time passcode, and confirm the changes.
Note: If in case, you're liking the screen time feature or enabled it by mistake then simply turn off the screen time feature for all apps.
13. Reset Network Settings
In some cases, issues with the network settings on your iPhone may also cause conflicts that should be fixed properly. This method will delete the configured Wi-Fi, Bluetooth, and mobile data settings by default. So, make sure to remember the Wi-Fi password to connect again after the reset process. Now, follow the steps below to perform the network settings reset:
Go to the Settings app on your iPhone.
Go to General > Scroll down and tap on Transfer or Reset iPhone.
Now, tap on Reset > Select Reset Network Settings.
You may need to enter the lock screen passcode to confirm it.
Wait for it to complete and then reboot the iPhone to apply changes.
Finally, connect to the network again, and check for the issue. [For Wi-Fi, you'll need to enter the Wi-Fi password to connect]
14. Restore iPhone from iCloud or iTunes Backup
Sometimes you may need to restore your iPhone to recover the system from the iCloud Backup or iTunes Backup. However, do keep in mind that this method will completely reset the iPhone system, and you might lose some data if not properly backed up. So, make sure to take a full backup before performing this method.
Note: This method will only apply if you've previously backed up your data on iTunes or iCloud. If there is no previous backup made then you can skip this method.
Restore iPhone with iTunes:
Open iTunes on your computer > Now, connect your iPhone to the Windows or Mac via the USB cable.
Connect iTunes to the iPhone and the device will get detected.
Next, click the iPhone icon from the left pane > Click on Restore Backup.
Follow the on-screen instructions to complete the restore process.
Once done, your iPhone will boot into the system automatically. It'll take some time so please be patient.
Finally, your device will boot into iOS, disconnect the iPhone then complete the initial setup process.
You're good to go.
Restore iPhone with iCloud:
Go to the Settings app on your iPhone > Tap on General.
Scroll down to the bottom of the page > Select Transfer or Reset iPhone.
Tap on Reset > Select Erase All Content and Settings.
Confirm the task (if prompted) > Your iPhone will restart automatically.
The reset process may take some time to complete. So, have some patience.
Once the iPhone boots into the system, go through the initial setup process.
Next, sign in to your Apple ID > Here, you'll have to select Restore from iCloud Backup.
Once the backup data is selected to restore, confirm the task to proceed.
Wait for the process to complete> Finally, your iPhone will reboot again to load the backup.
Enjoy! You're good to go.
15. Downgrade to iOS 15 Stable
If none of the methods worked for you then make sure to manually downgrade or roll back the iOS 16 version to the iOS 15 stable version by following this full-depth guide. If you're using the iOS 16 version and didn't like it that much or facing issues with it then make sure to follow the downgrade guide to go back to the iOS 15 version until the iOS 16 edition becomes more stable in the next few months. Plenty of iOS 16 users has done this method.
That's it, guys. We assume this guide was helpful to you. For further queries, you can comment below.