Online entertainment has reached a new high all over the globe thanks to the presence of streaming portals like Netflix. All it needs is a few clicks and taps to watch your favourite movie or TV series. Adding to that, Netflix is available over all the major platforms like Windows, Android, iOS, etc. With user-friendly features, Netflix always guarantees non-stop entertainment for the viewers. However, sometimes viewers face this Netflix freezing issue on their devices. Out of nowhere, Netflix just stays still until you restart the app or close it. Sometimes they have to reboot their devices as well.
In this guide, I will explain how to fix the problem when Netflix is freezing on your Windows PC. Yes, this guide is specifically for Windows OS users. It is definitely frustrating when you are all set to binge-watch your favourite TV series but a technical snag keeps bothering you. If you happen to face this issue, then make sure not to miss this guide.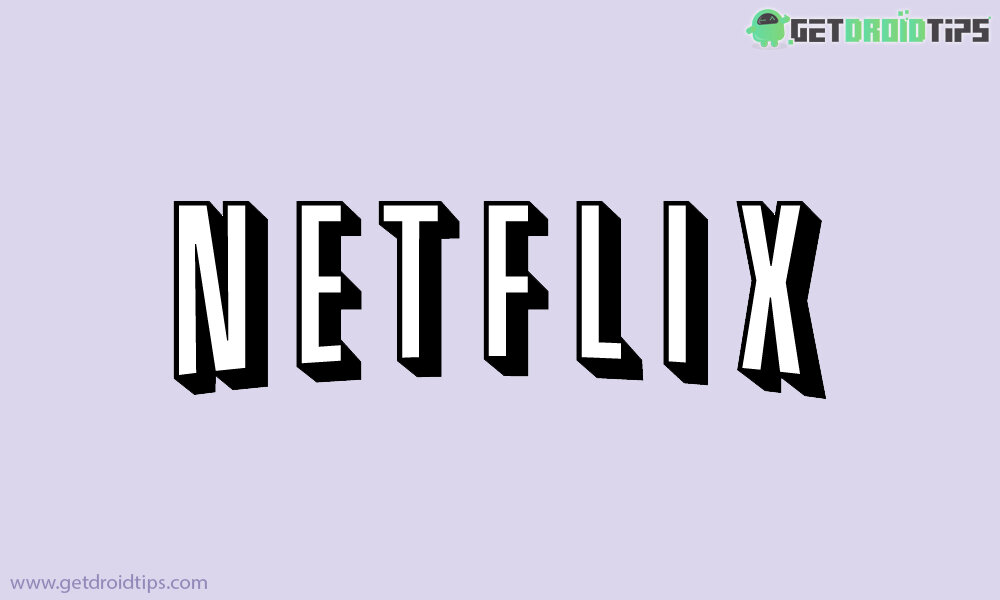 Why Netflix Freezing Issue Happens
Some of the primary reasons why the problem happens.
Netflix server is down due to maintenance or some other tech issue
Poor internet connectivity at the viewer's end
Using VPN
Corrupt Silverlight Plugin
Incorrect Time and Date on the PC
Using an old version of the graphics card
How to Fix the Problem
So, here are some quick and simple solutions that you can try on your Windows PC if you are facing the Netflix freezing issue.
Check your internet connectivity
You need to ensure that your internet connectivity is doing good or not. Check when you use the internet for other things such as browsing or YouTube, is everything running smooth and fine. If not, then there is a problem with the internet.
First, try to reset your internet connection on the modem/router including Wi-Fi(if your PC is running on Wi-Fi). Then reboot your device and re-connect to the internet or Wi-Fi. Now, launch Netflix and check whether it is working or not.
Still, if the network issue persists and you see Netflix is freezing then it's better to contact your ISP. Ask them whether there is any maintenance going on or else if you are the only one who is facing the problem in connectivity. Then tell them to repair your connectivity issue.
Is the time and date on your PC correct.?
If your PC is not showing the correct date and time then there are chances that you will face the issue of Netflix freezing. So, to check that these are the steps that you have to follow.
On your desktop in the search box type Date, then automatically Date & Time Settings should pop up.

If your time is set to be shown automatically, you have to disable it. Simply click on the toggle to do it.
Then click on Set Date and Time Manually

Disable VPN
When you enable VPN, your PC is routed through a server-based in some other country. It may happen that the aforementioned server is down. So, it will affect your computer's internet and in turn video streaming will be affected as well. Thus, you may face the Netflix freezing issue on your PC.
If the VPN is not required for anything, then I suggest you disable it for the time being. Then try to stream your content on Netflix. It should run absolutely fine.
Reinstall SilverLight Plugin
Microsoft has this plugin called Silverlight used for streaming videos. If you use that but forgot to install any new update to it or the app has some bugs, then that can affect streaming on Netflix. So, the best solution is to uninstall SilverLight and reinstall it once again.
To uninstall,
Go to Settings > click on Apps


You will be re-directed to the next page where you can see the list of apps installed on your computer.
Now, click on Microsoft SilverLight. Below it the Uninstall button would show up. Click on it.
To re-install the official site of Microsoft SilverLight. Then download it on your PC.
Check for Server issues on Netflix
If Netflix is down for maintenance or there is any technical issue that is being fixed then Netflix may not work properly. To check for the same, you need to visit Is Netflix Down. This is the official page where Netflix will notify its viewers if there is any technical problem or maintenance going on for which the service is unavailable.
Alternatively, you can visit the Down Detector website to see the current status of the application. You can see whether there is an active outage of the server or everything is fine. The data regarding server issues are represented in a graphical manner based on a 24-hour window.
Also, there will be a series of real-time Tweets from the users who have been facing server down issues in their respective regions. The reports get segregated on the basis of issues such as server down, login issues, etc. As of this writing, currently, there is no issue with Netflix and it should be running fine everywhere.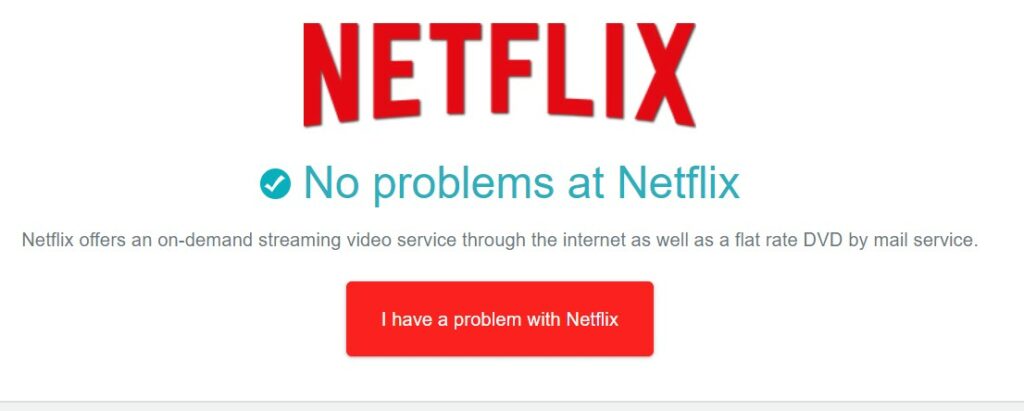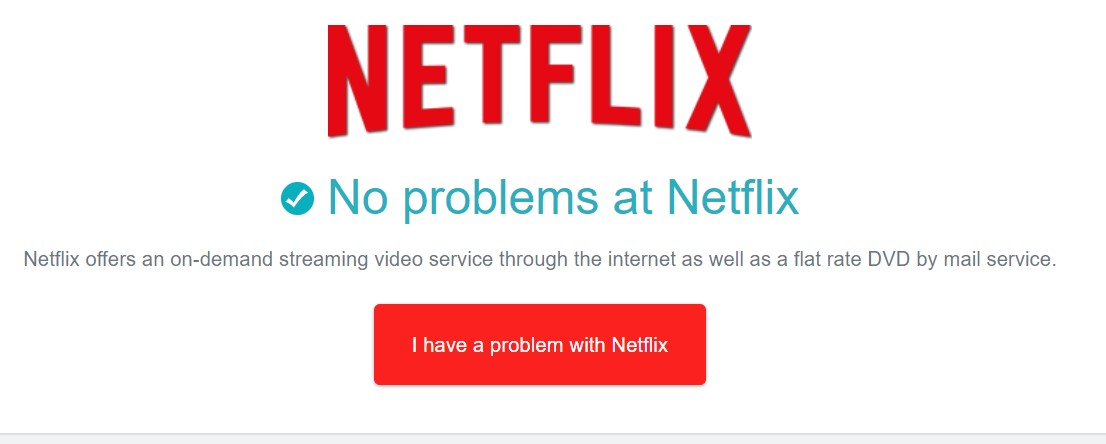 Install Updates on your Graphics Card
If the graphics card has some issues then it may cause visual issues on your PC. That can affect the streaming services as well. So, you need to check for available updates for your graphics driver.
To check for it,
On your desktop type Device Manager on the search box


Then the Device Manager will open
Click on Display Adapters. It will display the graphics card you use.
Right-click on your Graphics Card [for example, I have got Intel UHD Graphics card]
Click on Update Driver from the mini drop-down menu.

Then automatically system will download and install the new driver.
Now, with updated graphics cards any kind of video streaming-related problems should be fixed if that's what was causing it in the first place.
Uninstall and reinstall Netflix
Now, if all of the above-mentioned tweaks did not make any difference to solve the Netflix freezing issue on your Windows 11/10 PC, then follow this as the last resort. You have to uninstall and re-install the Netflix application from your PC.
For uninstalling,
Go to Settings >Apps
A list of installed apps will be shown
Scroll down and select Netflix (click on it)

An Uninstall option will be highlighted. Click on it.
To install Netflix,
Open Microsoft Store
Type in the search box Netflix
When it shows up, click on Get

Now, with the latest version of the Netflix app installed, you should have no issue with streaming. I believe you won't require a full reinstall in most cases. The troubleshooting methods that I described initially should solve the Netflix freezing issue.
So, that was it. I hope that you found the guide informative and helpful. Do check out our other important guides on Netflix as well. If you have any queries, feel free to reach out to us in the comments section.