Discord Mic Not Working is a common problem in the majority of Discord installations over PC. Most gamers or users tend to make small mistakes while Disord installation which leads to Microphone working issues. Here are some troubleshooting steps to fix the Mic not working problem in Discord.
Discord is the preferred app for communication in-game. Since the app offers fantastic overlays and communication methods like voice and video, this has some considerable popularity among gamers. Apart from gaming, this Discord can be used for other communications like personal use or even professional use.
The app is available on almost all platforms like Windows and Linux and even on Mobile devices like android or iOS. But when using on windows, people may encounter specific problems, especially regarding the microphone. So in this article, let's see how to fix the mic not working error on the Windows Discord app.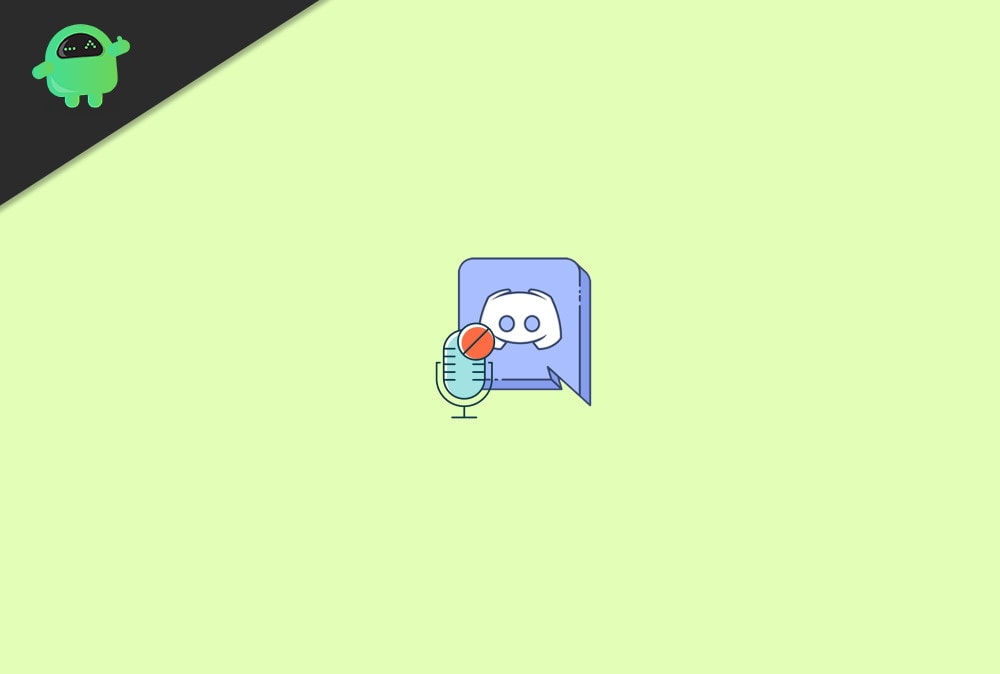 How to fix Mic not working on Discord for Windows
This mic issue can occur at any stage within audio signal processing. The audio through your mic will travel through this path with three-stages. (Refer picture below) So we will be checking and fixing issues in the parts one by one. Let's start the process.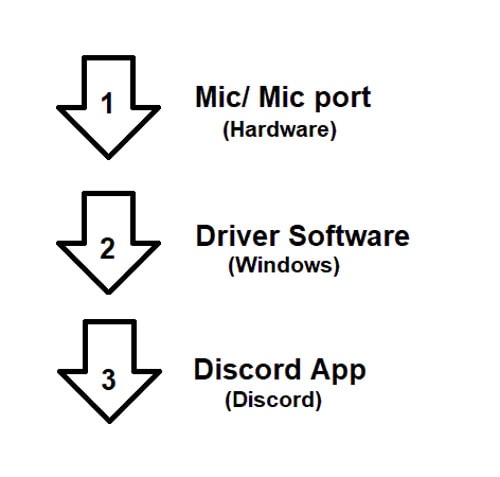 Step 1: Mic Hardware or Mic port
This is the first thing you've to check. If your mic itself is damaged, you cannot expect any solutions but to fix the mic or replace it. First, try this microphone on other devices like your mobile phone or laptop and check if the mic works.
If it works, we can proceed to follow steps in order to fix our issue. Although, you should also check the mic port on your device for dust or any physical damage.
If you find any issue, kindly fix it or replace the appropriate parts. Once you have verified that the mic is working, we should move on to our next step of troubleshooting.
Step 2: Update Driver Software
Drivers communicate with hardware on your computer like your microphone. So for your hardware to work, the correct version of the driver should be installed and should be enabled. However, this should be enabled by default. But here's how you can troubleshoot it.
Open device manager by right-clicking on the windows key and selecting Device Manager from the cascade menu. (Keyboard shortcut: Windows +X then simply press M)
Under Sound, Video, and game controller, check if any device has a yellow-colored exclamation mark. (See the ASUS device in the picture that denotes driver issue.)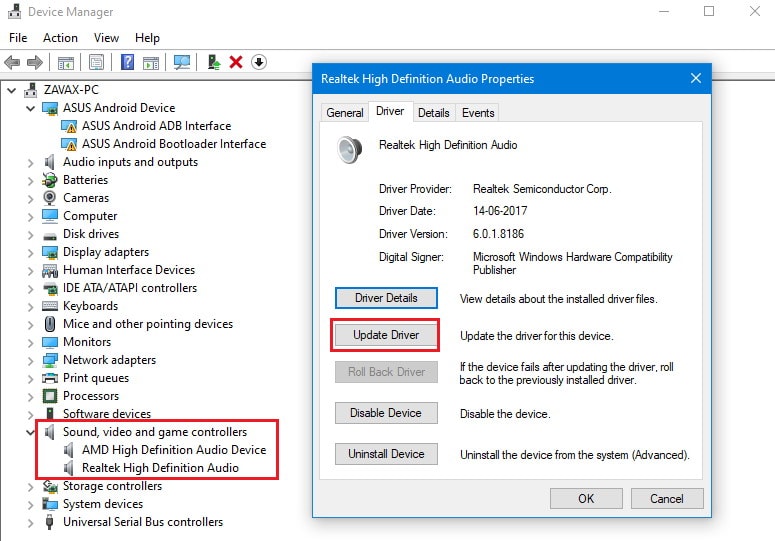 If there are any devices, right-click on it and select update drivers. Now, if you have an internet connection, select "Search windows automatically."
This will install and enable the device drivers for your device, and you can quickly start working after a restart.
So if you're done with installing the device driver, after reboot, you should check if the device is configured correctly. To do so,
Step 4: Check configuration
Now follow these instructions to check and fix errors on your mic configuration.
Right-click on the speaker icon on your taskbar and select Open sound settings.
Under sound settings, scroll down to Input, and in Choose input device, select your available device and check if the level indicator is reacting as you make a sound near your mic.
This means you've selected your mic and its working.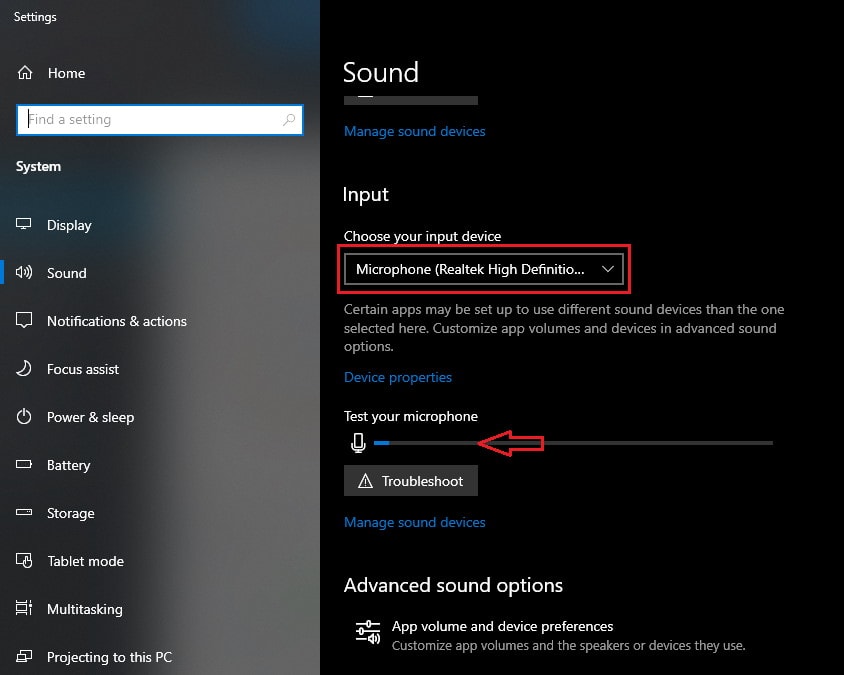 Although you can change a couple of other options by selecting the Sound Control panel to the right side.
Like setting higher levels and boost for your mic's volume, maybe the volume might be low, causing the mic working.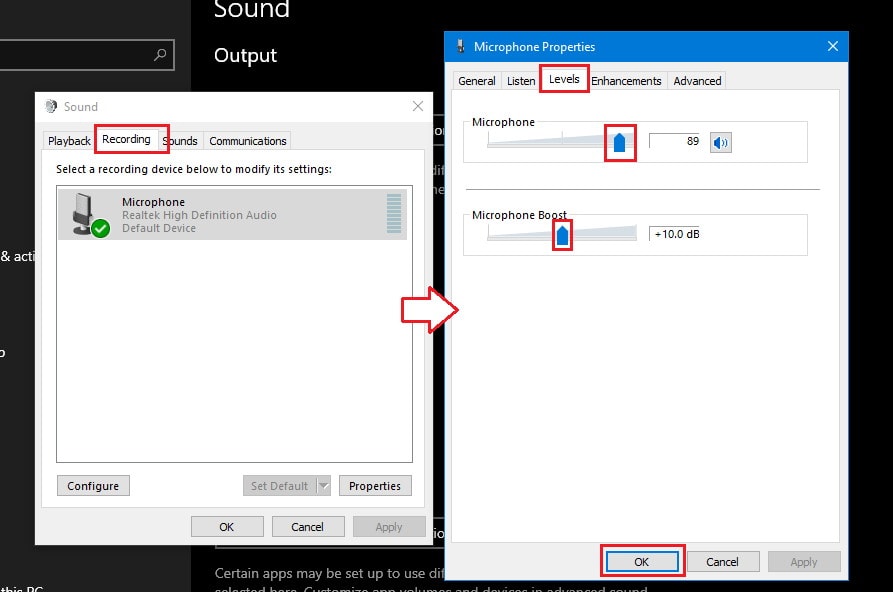 Now that you've configured your driver and mic, you can proceed to configure the discord app.
Step 3: Discord App Privacy Settings
You have to allow mic access for the Discord app in order to work with the microphone. Now there is an option within Settings to enable or disallow mic access for apps. Let's check and will allow it if it was not allowed.
Open the Settings app and click on Privacy.
Now, scroll down on the options on the left side of the window and click on "Microphone".
On the right side of the window, see if "Microphone access for this device in on".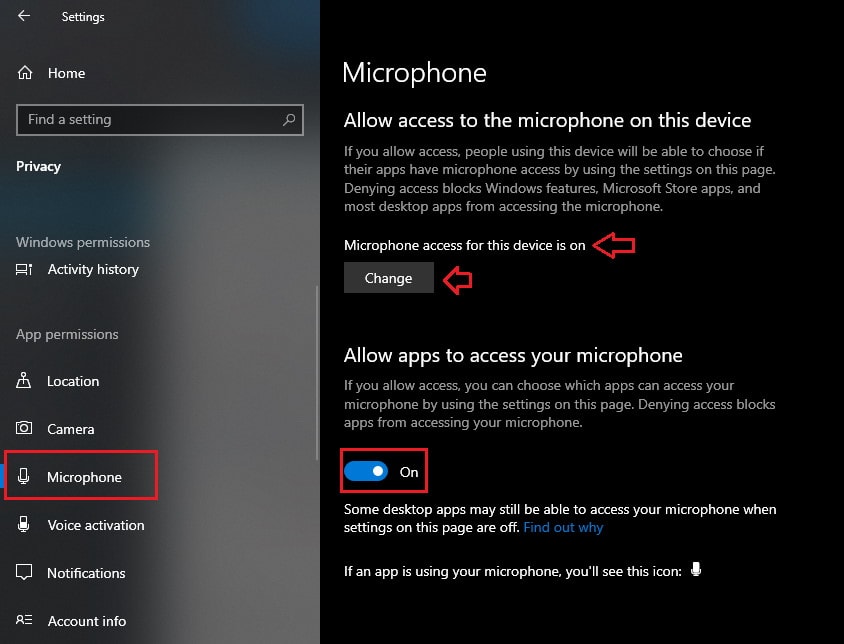 Also, check of allowing mic access is available for both apps and Desktop apps(scroll down a bit)
If these are correctly configured, the mic should work without any issue. If it's still not working, let's try fixing from the Discord settings menu.
Step 5: Update the Discord app
First, update your Discord app to the latest version before trying these settings, because this might fix the issue. Discord will automatically update on opening the app.
First, open discord and open user settings.
Scroll down to Voice and Video.
Now under input devices, select Default or change it to the device you've plugged in.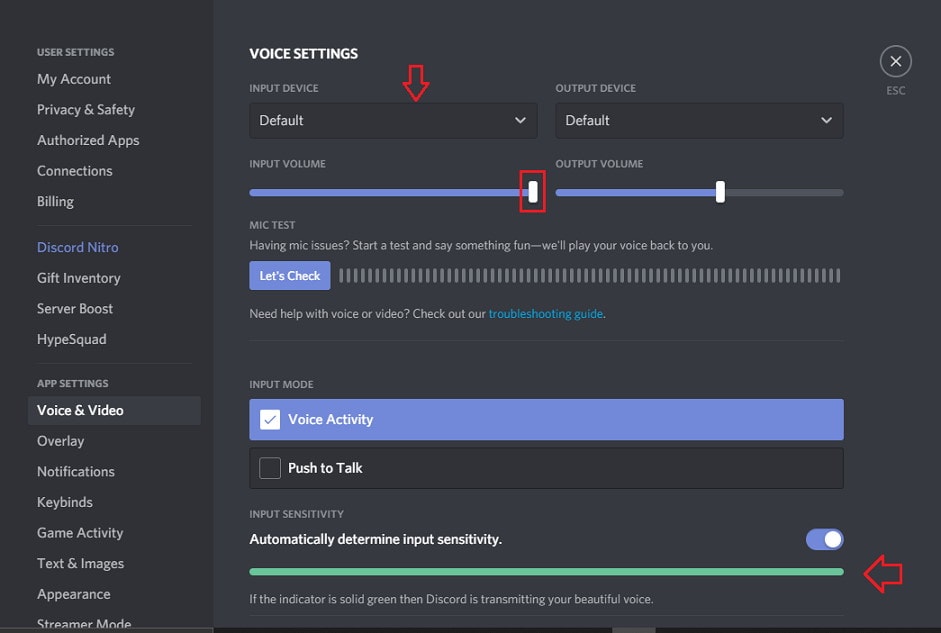 Finally, adjust the input volume if the audio is not audible.
If everything is fine, you should see a green line is moving as you speak near the mic. This indicates that the mic is working correctly.
Conclusion
So these were the solutions for mic not working in Discord for windows. As you can see, these solutions are simple, and you can easily configure them without hassle.
If none of the solutions work for you, simply uninstall and reinstall the latest discord app, then the issue will indeed be fixed since it will remove all misconfiguration that caused the problem previously.