Discord is a popular VoIP platform that offers instant messaging, digital distribution services all in one place for communities. Discord users can easily follow or create a page community, communicate with voice calls or video calls or text messaging or media or files in private chats. The individual communities are also known as 'Servers'. Sometimes Discord users unable to connect to the server or can't establish a connection. Now, several Discord users are experiencing the RTC Connecting Error that doesn't allow them to make voice/video calls. If you're also one of the victims, make sure to follow this troubleshooting guide to fix it.
Here 'RTC Connecting' indicates that the Discord platform is trying to make a voice/video call but it doesn't get a successful connection. Discord uses the Real-Time Chat Protocol (WebRTC) to go through voice/video call communication. Therefore, it's quite expected that the particular error is happening due to the network-related issues in most scenarios. Well, talking about the RTC Connecting error, it can happen due to unstable internet connection, using a dynamic IP, VPN without UDP, blocking issues with the antivirus program, or the Discord server issue itself.
How to Fix a Discord RTC Connecting Error
Fixing this Discord error is quite easy for most of the affected users. So, you'll just have to follow the methods below in order to resolve the problem in a jiffy. Now, without further ado, let's jump into it.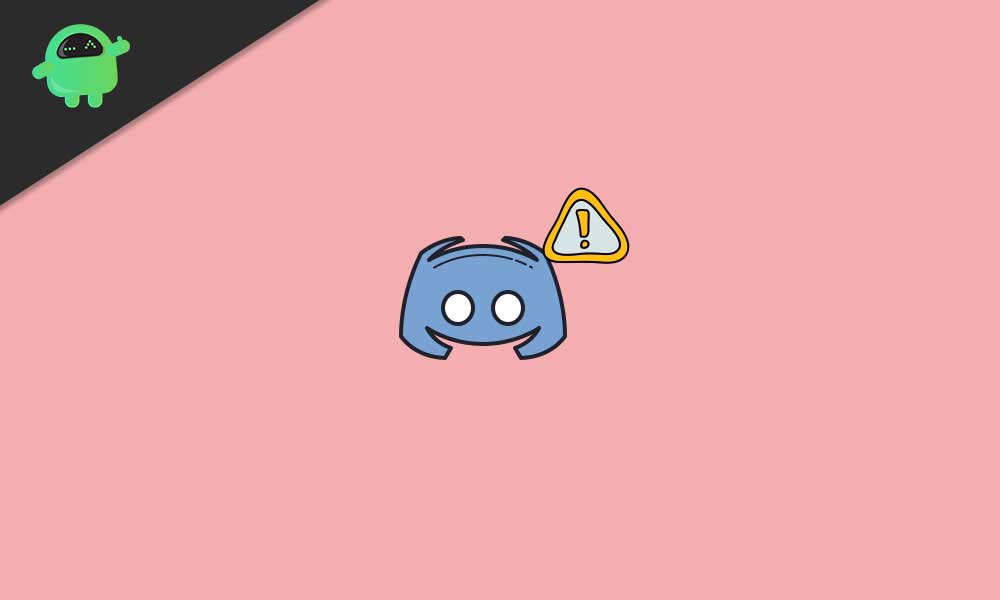 1. Check Your Internet Connection
First of all, make sure to check your internet connection properly such as the speed and stability. Sometimes a slower internet speed or unstable network connectivity can cause server connection issues like the Discord RTC Connecting Error. Those who're using the ethernet connection (wired), should try unplugging and re-plugging the ethernet cable to refresh the connectivity glitch.
Also Read: How to Combine Multiple Internet Connections?
Additionally, you should also try connecting to the Wi-Fi network to check whether the problem is still bothering you or not. Meanwhile, using a mobile data hotspot can also get effective and you can easily understand whether the particular error is occurring due to the network connection or not.
2. Reboot your Device
No matter which device you're using to run the Discord app, you'll just need to restart your device (PC/mobile) to check if the problem has been fixed or not. However, if the normal reboot method doesn't work for you, make sure to perform a power cycle on your computer. To do that, just power off your computer > Unplug the power cable from the machine and power outlet too > Wait for around 30 seconds and then plug back the power cable again > Turn On your computer and check for the issue.
Also Read: How to Fix Discord Cant Unmute Browser
3. Power Cycle your Router
Performing the power cycle to your Wi-Fi router is very useful if you want to cross-check whether your networking device is having any kind of issue or not. It'll basically remove the temporary cache data from the router's system to refresh the connectivity again. To do this:
Turn Off the Wi-Fi router.
Once the LED indicators are turned off, make sure to simply unplug the power cable or remove the ethernet cable from the router.
Wait for at least 10 seconds and then plug back in the cable.
Turn On the router again and check if this resolves the Discord RTC Connecting Error or not.
If this method didn't work for you, try following the next one.
4. Update Networking Driver
If in case, your networking driver hasn't been updated for a while, make sure to update it right now from the Device Manager option. Just like the software update or app update, device driver updates are also useful enough to fix multiple bugs or errors which you may encounter in several ways. Downloading and installing the latest networking driver will help your Windows system to run properly and the installed apps will also perform better with online servers. To do this:
Right-click on the Start Menu to open up the Quick Access Menu.
Now, click on Device Manager > A new interface will open.
Scroll down a bit and double-click on Network adapters to expand the list.
Right-click on your active networking device.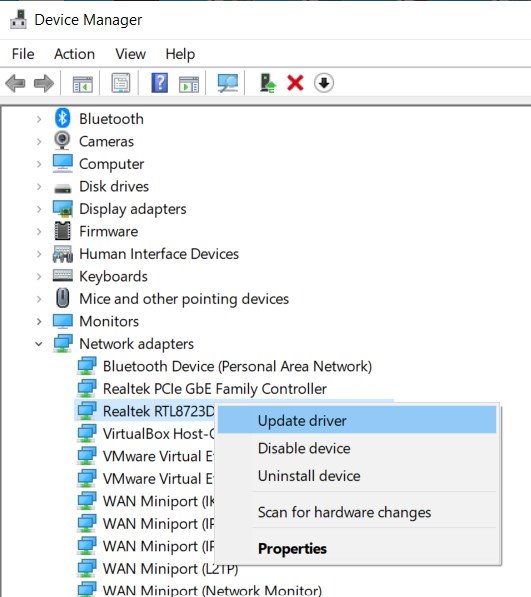 Select Update driver > Click on Search automatically for drivers.
Wait for the process to complete. If an update is available, it'll automatically download and install the update.
Once done, restart your PC/Laptop to apply changes and you're done.
This should fix the RTC Connecting issue. If not, follow the next method.
Read More: Slack vs Discord: Which One Is Better?
5. Check Your VPN Service
Well, the Discord RTC Connecting Error can occur due to VPN service as well. As Discord servers run through UDP (User Datagram Protocol), most of the VPN servers don't offer this option. So, if you're already using the VPN service on your computer or mobile device, make sure to either turn it off or using the UDP for better performance.
6. Change Discord Server Region
The chances are also high that maybe your particular Discord server region is causing some connectivity issues. In that sense, changing it to a different region should fix the problem easily.
Open Discord and click on your server name from the top-left corner.
Next, click to expand the drop-down list > Click on Server Settings.
Click on Change under the Server Region option.
Now, you'll have to select a server region from the list.
Finally, save the changes and try making voice/video calls again.
However, if this method didn't work for you, try another method.
7. Disable QoS on Discord
Disabling or turning off the Quality of Service (QoS) on Discord settings can also fix the RTC Connecting Error. To do that:
Open the Discord application > Click on Settings from the bottom-left corner next to your Discord name.
Now, you'll need to click on Voice and Video under the App Settings from the left pane.
Scroll down to the Enable Quality of Service High Packet Priority option.
Simply turn off the toggle.
Once done, restart Discord, and check for the issue again.
8. Change Audio Subsystem on Discord
If in case, you're using the Discord Audio Subsystem then make sure to change it to the Legacy mode. Some of the affected users have already fixed the RTC Connecting issue by doing this method.
Launch Discord > Click on Settings (gear icon) from the bottom-left corner.
Click on Voice and Audio from the left pane under the App Settings category.
Set the Audio Subsystem to Legacy mode.
Now, Restart the Discord application and try making a voice/video call.
9. Disable Windows Firewall or Antivirus Program
It can also possible that your third-party antivirus program or the default Windows Firewall is somehow blocking the ongoing connections for the Discord server. Therefore, it's highly recommended to temporarily disable the antivirus software or Windows Firewall program on your computer.
Click on the Start Menu > Type firewall.
Select Windows Defender Firewall from the search result.
Now, click on Turn Windows Defender Firewall on or off from the left pane.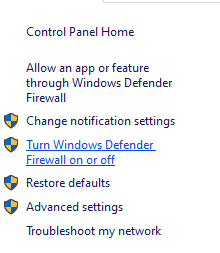 A new page will open > Here you'll need to select the Turn off Windows Defender Firewall (not recommended) option for both the Private & Public Network Settings.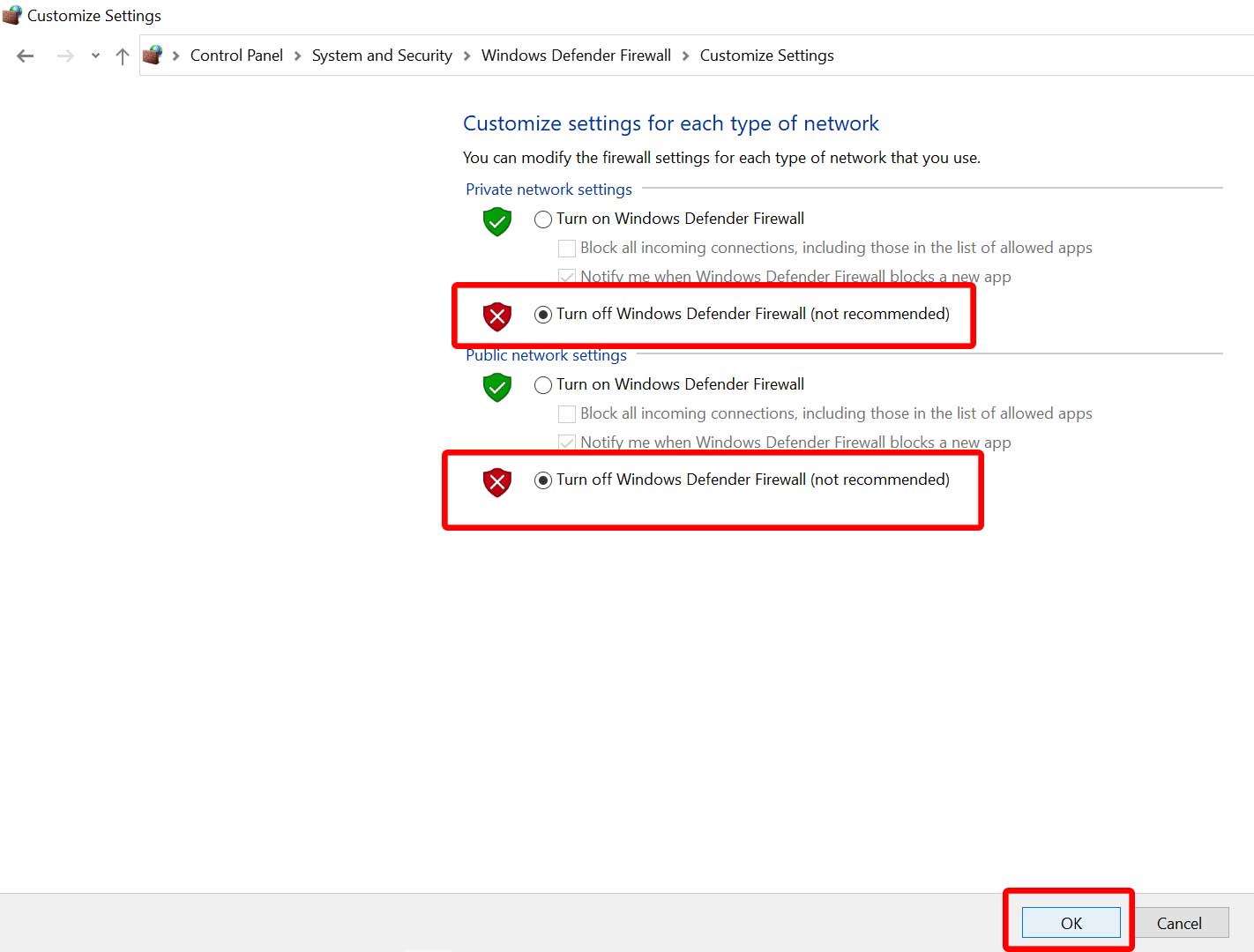 Once selected, click on OK to save changes.
Finally, restart your computer and check whether the Discord RTC Connecting Error has been fixed or not.
10. Clear DNS Cache
A corrupted or misconfigured DNS address can also trigger multiple networking or server connectivity issues with several online platforms such as Discord. Clearing the saved DNS cache from your computer should fix the RTC Connecting issue completely. To do that:
Click on the Start Menu > Type cmd.
Right-click on the Command Prompt from the search result.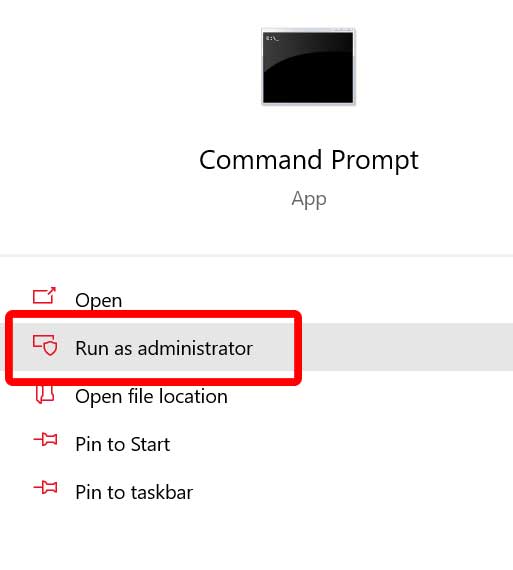 Select Run as administrator > If prompted by UAC, click on Yes to give admin access.
Now, copy & paste the following command and hit Enter to execute:
ipconfig /release
Then input the following command and press Enter to flush the DNS:
ipconfig /flushdns
Finally, type the next command and hit Enter to renew the DNS again:
ipconfig /renew
Close the Command Prompt window and restart your computer to check for the error.
11. Use Google DNS Address
Using the Google DNS Address is an easy way to bypass server blocking or DNS blocking issues by the network admin or your ISP if that's the case. Google DNS is free to use and runs worldwide without any issues. To use it:
Click on the Internet Signal icon from the taskbar.
Go to Network & Internet settings > Click on Change adapter options.
Right-click on the active internet connection > Select Properties.
Double-click on the Internet Protocol Version 4 (TCP/IPv4).
Select the Use the following DNS server addresses option.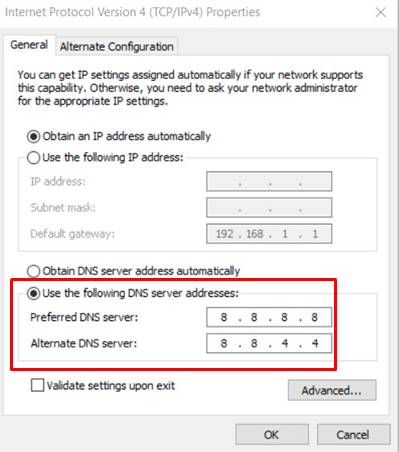 Now, type in 8.8.8.8 for the Preferred DNS server.
Then type in 8.8.4.4 for the Alternate DNS server.
Click on OK to save changes.
Once done, make sure to restart your computer to apply changes.
This should fix the Discord RTC Connecting Error easily. Alternatively, you can try running an RTC Connecting test on your computer.
12. Run an RTC Connecting Test
Go to the WebRTC Test page > Allow the camera and microphone access for testing.
Next, click on the Start button (green color) to initiate the test.
Wait for the process to complete and it'll take around a couple of minutes.
Once done, you'll see whether your computer and network are able to perform RTC Connection or not.
If not, you'll see all the possible detected errors. Try resolving those errors.
However, if none of the methods worked for you, try contacting Discord Support for further assistance.
That's it, guys. We assume this guide was helpful to you. Feel free to ask in the comment below for additional queries.