After waiting a few months or so, Apple has finally released the official iOS 16 Stable build for the public to its eligible iPhone models. Previously, interested users enrolled in the Apple Beta Software Program to receive the early features. Now, users are free to choose from the iOS 16 Beta profile and stable build as per their preference. However, the stable build has some bugs or issues because some users are facing the iOS 16 Bluetooth Not Working or Pairing Issue.
The Bluetooth not connecting or not pairing with other Bluetooth devices on iOS is not a new issue. It's one of the common problems for most Android and iOS users no matter which device they're using. We can't deny that some iOS 15 users were also encountering Bluetooth connectivity issues and now some of the iOS 16 users are also going through the same. Luckily, here we've shared a couple of possible workarounds for you that should come in handy.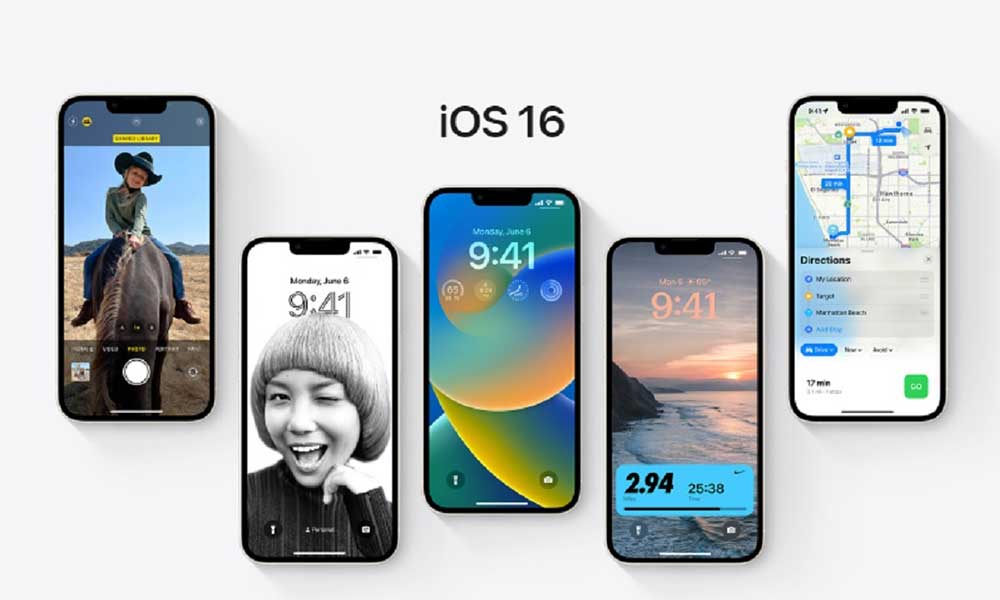 iOS 16 Bluetooth Not Working or Pairing Issue, How to Fix?
The iOS 16 Stable update started rolling out on Sep 12, 2022, announced by Apple at the WWDC 2022 event. Whereas previously, the Developer Beta and Public Beta build have been rolled out to the registered users. Those who are in the development process of the iOS applications or want to receive frequent monthly updates with new changes or features can stay on the beta program. Otherwise, standard users can now shift to the stable build quite easily.
The chances are high that the device networking or connectivity system is glitched, the system software becomes corrupted or outdated, the Bluetooth device paired list becomes full, and more. Luckily, here we've shared a couple of possible workarounds for you that should come in handy. Now, without wasting any more time, let's jump into it.
1. Turn Off and On Bluetooth
It's highly recommended to turn off Bluetooth on the iOS 16 device, then wait a few seconds and turn Bluetooth on again. This simple and common trick can easily fix the iPhone's temporary Bluetooth connectivity glitches or cache data issues. To do so:
Go to the Settings app > Tap on Bluetooth.
Tap on the Bluetooth toggle to turn it OFF.
Now, make sure to turn it ON again to check if that fixes the issue or not.
2. Force Reboot your iPhone (Hard Reset)
Apple offers a simple hard reset method for iOS devices that forcefully reboot the device to the system to refresh the system glitch quite effectively. Though hard reset indicates a full system data wipe process on Android OS, that's not the case. You can consider it as a force restart for your iPhone. To do so:
Ensure that the iPhone is turned on and unlock the lock screen.
Now, quickly press the Volume Up (+) key and release, then quickly press the Volume Down (-) key and release, then quickly press & hold the Power (side key) button for a few seconds until the Apple boot logo appears on the screen.
Once the Apple logo appears, you can release the Power (side key) button and wait for the device to boot to the system.
This specific method will help to refresh the device system from temporary glitches. So, you don't need to perform a factory reset every time if something conflicts with your iPhone.
3. Forget Paired Devices and Reconnect
Make sure to forget the paired Bluetooth device on your iPhone and then try pairing again freshly because it can sometimes cause other devices to get paired. If in case, your paired Bluetooth device list is quite big, then make sure to delete or forget some not-so-necessary Bluetooth devices from the list.
Go to the Settings app > Tap on Bluetooth.
Tap on the Bluetooth toggle to turn it ON > If other Bluetooth devices are already turned on, your iPhone will get connected automatically.
In that case, you'll need to tap on the (i) icon next to the connected device from the list.
Here tap on Forget This Device and select Forget Device when prompted to delete it.
If multiple Bluetooth devices are already connected, just forget them or turn them off.
Now, you should try turning on the specific Bluetooth device that is troubling you.
Search for the device on your iPhone and connect it.
4. Check for iOS 16 Build Updates
It is needless to say that you should always check for the available software update on your iPhone and install it straight away. An outdated system version or build can eventually become buggy and incompatible with the applications or connections to work properly. Whereas the new update consists of bug fixes, improvements, additional features, security patches, and more, which will obviously help.
Go to the Settings app > Tap on General.
Tap on Software Update > Make sure to select Automatic Updates to On for your convenience.
At the same time, the system will automatically start checking for the available software update.
If available, it'll notify and then you can tap on Download and Install. [It'll also ask you to enter the device passcode]

If unavailable, you'll see the 'iOS is up to date' notification on the screen.
5. Ensure Bluetooth Device is Close Enough
Another thing you should consider is that you have kept your Bluetooth device near to your iPhone because it'll help both Bluetooth devices to discover and connect quickly. Generally, the Bluetooth signal range is around 10 meters but you can try keeping the device close enough for better connectivity and low signal interruption. Additionally, ensure that there is no wall or obstacle between the devices to reduce interference.
6. Try Restarting the Bluetooth Device
Turn off the problematic Bluetooth device you're trying to connect to your iOS 16 device. Once turned off, wait a few seconds to refresh the connectivity glitch and then turn it on. Now, you can turn on Bluetooth on your iPhone. You should also cross-check whether or not the problematic Bluetooth device is in pairing mode. No matter which color is shown on the LED indicator, it should blink continuously in pairing mode.
Once the device is paired and connected, the LED indicator stops blinking and stays solid. Generally, most Bluetooth devices have red or red/blue color blinking in pairing. So keep in mind that unless the device goes into pairing mode, it won't become discoverable or won't be connected with another Bluetooth device.
7. Turn On Airplane Mode and Off Again
It's also suggested to turn on Airplane Mode on your iPhone for a few seconds and then turn it off to refresh the temporary networking/connectivity glitch on the handset. Not only for Bluetooth pairing, but Airplane Mode also fixes internet connectivity, cellular network glitches, etc. To do so:
Go to the Settings app > Tap on the Airplane Mode toggle to turn it on.
Once turned on, wait for 5 seconds, and turn it off again.
You can also open the Control Centre menu by pulling down the screen from the top right and tapping on the Airplane Mode icon to do the same.
8. Reset the Network Settings
Sometimes, the chances are high that the above methods didn't work for you, but that doesn't mean you'll have to handle it for long. You can try resetting the network settings by following the steps below to restore the default factory mode for the network settings on your iPhone.
Open the Settings app > Tap on General.
Scroll down to the bottom of the page > Select Transfer or Reset iPhone.
Tap on Reset > Select Reset Network Settings.
Now, it'll ask you to enter your device passcode.
Once entered, make sure to tap on Reset again to confirm it.
Wait for the reset process, and then restart the iPhone to apply changes.
Finally, reconnect to the Wi-Fi network to check for the issue.
9. Restore iPhone from iCloud or iTunes Backup
Sometimes you may need to restore your iPhone to recover the system from the iCloud Backup or iTunes Backup. However, remember that this method will completely reset the iPhone system, and you might lose some data if not properly backed up. So, make sure to take a full backup before performing this method.
Note: This method will only apply if you've previously backed up your data on iTunes or iCloud. If no previous backup is made, you can skip this method.
Restore iPhone with iTunes:
Open iTunes on your computer > Now, connect your iPhone to the Windows or Mac via the USB cable.
Connect iTunes to the iPhone and the device will get detected.
Next, click the iPhone icon from the left pane > Click on Restore Backup.
Follow the on-screen instructions to complete the restore process.
Once done, your iPhone will boot into the system automatically. It'll take some time so please be patient.
Finally, your device will boot into iOS, disconnect the iPhone then complete the initial setup process.
You're good to go.
Restore iPhone with iCloud:
Go to the Settings app on your iPhone > Tap on General.
Scroll down to the bottom of the page > Select Transfer or Reset iPhone.
Tap on Reset > Select Erase All Content and Settings.
Confirm the task (if prompted) > Your iPhone will restart automatically.
The reset process may take some time to complete. So, have some patience.
Once the iPhone boots into the system, go through the initial setup process.
Next, sign in to your Apple ID > Here, you'll have to select Restore from iCloud Backup.
Once the backup data is selected to restore, confirm the task to proceed.
Wait for the process to complete> Finally, your iPhone will reboot again to load the backup.
Enjoy!
10. Downgrade to iOS 15 Stable
Last but not least, if none of the methods worked for you, then manually downgrade or roll back the iOS 16 version to the iOS 15 stable version by following this full-depth guide. Whether you're using the iOS 16 stable or beta edition, the guide will help you downgrade. Downgrading to the last stable iOS version should fix plenty of software-related bugs or issues completely.
That's it, guys. We assume this guide was helpful to you. For further queries, you can comment below.