Discord is a popular VoIP, instant messaging, and digital distribution platform which allows users to communicate in the style of instant messaging. Discord also integrates features that allow handling of online communities, referred to as "servers". No doubt, this platform is a popular choice for most online personalities to connect with their fans.
However, the app also has its own set of issues. One of the most common is frequent crashes. Some of the users face Discord crashing issues while opening the app or even get a failed update loop. We don't know exactly what causes this, and why Discord still hasn't found a way to at least fix the issue. Fortunately, there are so many ways to resolve these issues.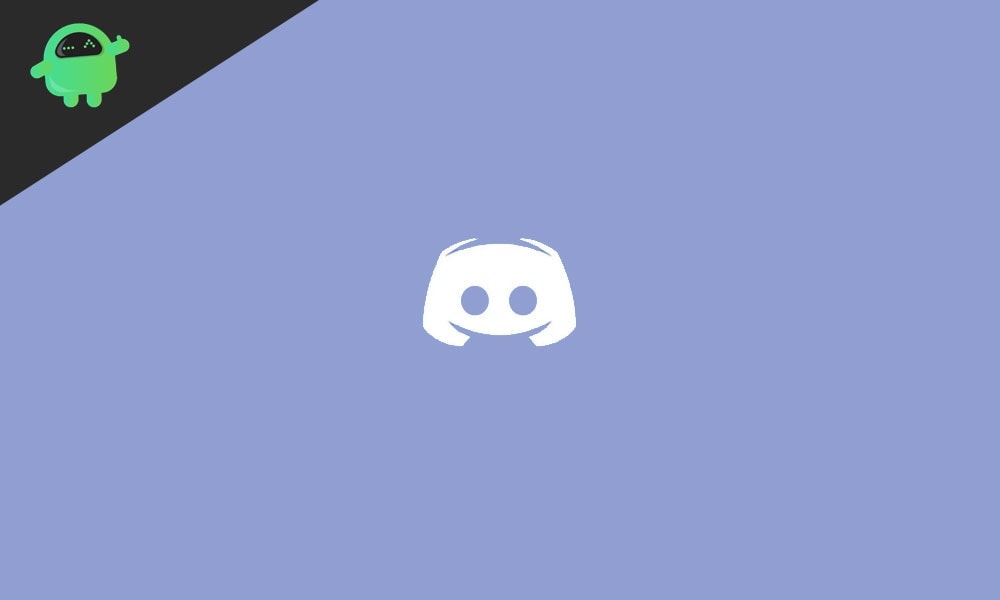 If you are experiencing a failed update loop, you can follow this guide to resolve it. However, if you are having frequent crashes, we highly recommend that you stay tuned and follow the steps below. Don't worry, we tried our best to simplify each step so it is easy to follow.
Also Read: How to Use Stage Channels on Discord
How to Fix Discord Crashing Issue
We don't know for sure why does Discord keeps crashing, but fortunately, there are many fixes to resolve this issue online. In this article, we compiled each of them. This may also solve the Discord screen share crashes which some users are still experiencing.
1. Turn on Legacy Mode
Some users were able to discover that when you turn on the Legacy Mode on Discord, you will be able to fix the frequent crash. Users also suggest that the crashes may have been caused by using a mic or other voice/video interactions. We don't know why that's the case.
Anyway, here's how you can turn the Legacy Mode on:
⦁ Launch Discord, then go to the Settings.
⦁ On the left pane, click Voice & Video.
⦁ In the right pane, you should be able to see the AUDIO SUBSYSTEM option. Open its drop-down menu and choose Legacy.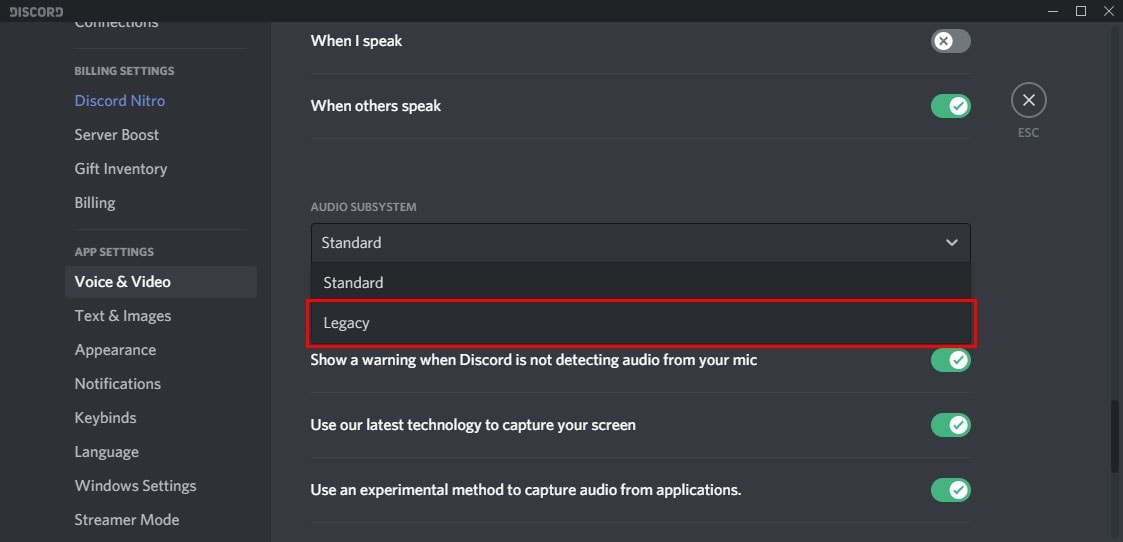 ⦁ Confirm the changes, and restart Discord. It should have been fixed now.
2. Disable Hardware Acceleration
Almost every app today supports hardware acceleration. This is because most computers and smartphones today have good enough graphics processing units (GPUs) that can easily handle some tasks usually given to the central processing unit (CPU). Hardware acceleration allows the GPU to handle all graphics and text rendering so it doesn't overwhelm the CPU with all the tasks all at once. However, it is also known that enabling hardware acceleration on a computer with poor graphics performance may affect the app performance. This is usually the case, as it is a common issue for Discord users.
Here's how to disable the hardware acceleration on Discord:
⦁ Launch Discord, and go to Settings.
⦁ From the left pane, choose Appearance.
⦁ Under the ADVANCED section, toggle off the button next to Hardware Acceleration.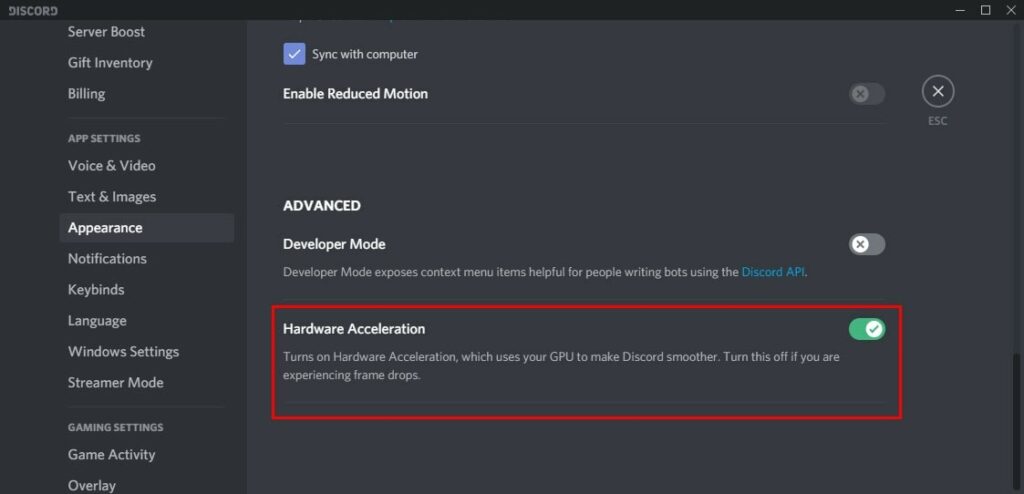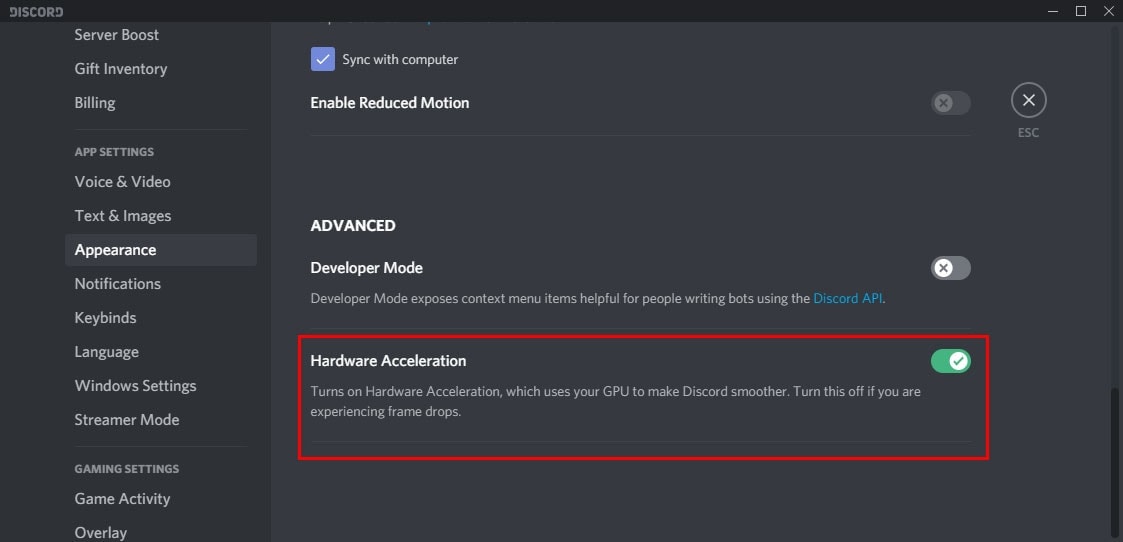 ⦁ Confirm the changes, restart your computer, then relaunch Discord.
3. Turn Off Compatibility Mode
If you continue to experience the same thing with your Discord client, then you may need to turn off the compatibility mode.
Here's what you need to do to turn off Compatibility Mode on Windows 10:
⦁ Close your Discord client, then right-click on the Discord icon from your desktop to launch Properties.
⦁ Click Compatibility, then uncheck the "Run this program in compatibility mode for:" option.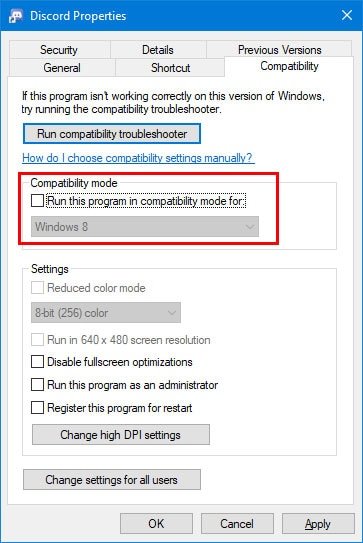 ⦁ Now, click Apply, and OK to save the changes you have made.
⦁ Restart the computer, and relaunch the Discord client.
4. Update Device drivers
If you already did everything above, but still Discord keeps crashing, then you may also need to manually update the device drivers on your computer. Your computer usually does automatic updates for device drivers, but sometimes, third-party apps may stop the automatic device driver update.
Here's how to manually update device drivers on Windows 10:
⦁ In the search bar in the taskbar, search Device Manager.
⦁ You may also select a category to easily see the names of the devices you may want to update.
⦁ Right-click on the driver, to see the option for searching available updates.
⦁ Select Search automatically for updated driver software, then click Update Driver.
5. Delete Discord Cache
There are instances when the app crashes if the cache is either corrupted or incomplete. In this part, we will teach you how to delete and refresh the cache on your Discord client.
Here's how to delete and refresh the cache on the Discord app:
⦁ First, you need to close your Discord client.
⦁ To launch File Explorer, press Windows key + E.
⦁ On the address bar, type %AppData%, then press Enter
⦁ Now, go to the Discord folder and delete both Cache and local storage folder under the Discord folder.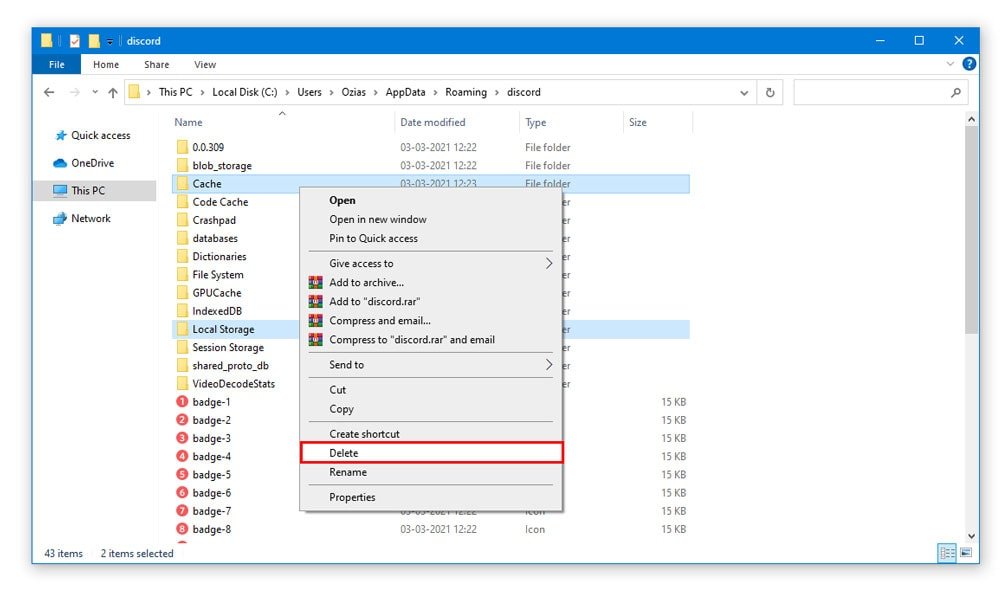 ⦁ Restart your computer, then relaunch Discord to refresh the cache.
6. Install the latest version of Discord
If none of these solutions worked for you, then you may need to download and install a newer version of Discord. This newer version may have some fixes related to your issue and may come with added new features. Of all the previous solutions, this is the easiest as you don't need to tinker with your operating system. Just go launch the Microsoft Store, search for Discord, then update.
Conclusion
Discord is one of the most popular platforms today. Despite its major success, it also, one in a while, show its short-coming. Fortunately, most of these issues can easily be resolved using simple methods. Although most of the issues arise when there is a problem with hardware and software, Discord may also occasionally fail to disconnect or crash due to a large number of users. It is a pretty common situation, which is also affecting other social media platforms like Twitter, and Facebook. In this case, you will have to wait for Discord engineers to fix the issue themselves.